By

Jim Karpen
Wed, 03/12/2014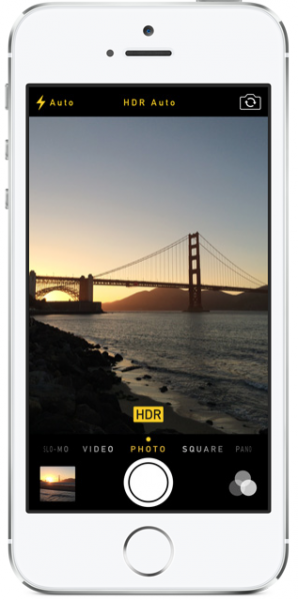 When I tried to download the iOS 7.1 update for my iPad Air in the evening, it took three hours. This morning when I downloaded it for my iPad mini, it took five minutes. Lesson: always download updates as early in the morning as possible. Blogger Todd Bernhard and I have outlined some of the changes in iOS 7.1 in previous posts. In this post I want to highlight several useful new features. One important new feature is ability to have HDR mode be automatically available on the iPhone 5s. It's previously been available, but you had to turn it on when you wanted to take advantage of it. What does HDR mean? HDR stands for high dynamic range, and I'm guessing many people, especially those who aren't camera buffs, don't really know what this is. So I think it's a good thing that you can now have it turned on by default. HDR can have a dramatic effect on the quality of certain photos.
Let's say you're taking a photo of a sunset. You've probably had the experience that because there is so much light in the background, the foreground objects are so dark they are hardly discernable. The HDR feature actually takes a series of different photos, each with a different exposure. One photo will capture the sun in all its glory, another will capture the detail of the objects in the foreground. The HDR feature then combines the most useable parts of each to create a single photo that's better than any of the individual photos. The advantage of having HDR automatically be on is that you don't have to remember to turn it on when the situation warrants it. When your iPhone detects that HDR is needed, you'll see a yellow alert above the shutter button. You simply go ahead and take the photo, and your iPhone will automatically use HDR. You can read more on CNET.
In addition, you can find a good explanation of HDR on Digital Photography School. Some purists think that these combination photos aren't real photos, so if you're one of those, note that you can easily disable the HDR feature. When you open the Camera app, at the top of the screen there's a message that says "HDR Auto." To disable HDR, just tap the message and it will give you the option of disabling the feature.
A helpful post on Computerworld alerted me to several other features I want to highlight. HFP Prompts is an important new feature if you're someone who connects your iOS device to your in-car entertainment system in order to get spoken driving directions. According to the post, in the past if you enabled spoken directions, then you couldn't use your entertainment system to listen to music at the same time. The HFP Prompts feature lets you listen to music, and then interrupts when it needs to speak new information regarding the directions it's giving.
One of the changes to the interface is a new feature that you can enable that makes it more clear when text in an app is actually a button that you can tap in order to perform an action. This helps to distinguish these buttons from simple text labels. You can enable this feature by going to Settings>General>Accessibility>Button Shapes.
Another new feature is a search field in iTiunes Radio to help you find new stations. In addition, if you like what's playing, you can now purchase the song with a button press.