By

Conner Carey
Updated 10/03/2023
What to Know
Lost notes can be restored from iCloud or a recent iPhone backup.
To recover a deleted note, access the Recently Deleted folder in your Notes app. 
If your Notes app is missing, re-install the app if you can't find it when you search your iPhone.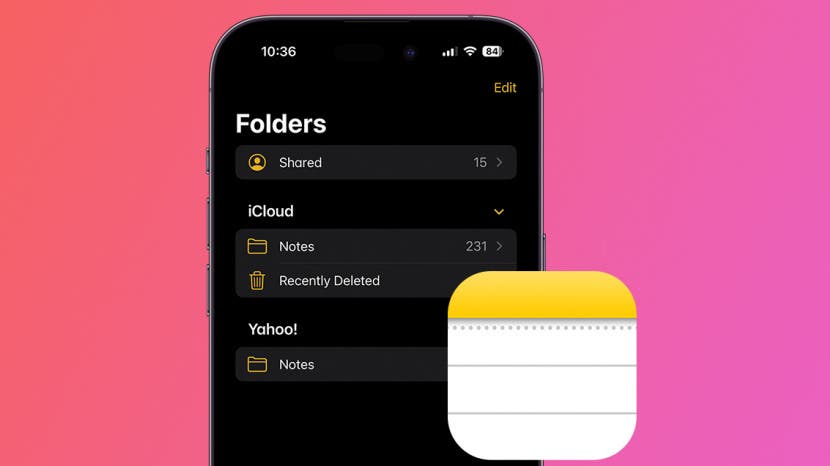 Why did my notes disappear? iPhone notes disappearing or the entire Notes app being lost are common issues for iPhone users, unfortunately. We'll show you how to recover any notes you accidentally deleted, plus how to get the Notes app back on your iPhone if you accidentally removed it. 
Jump To:
How to Recover Notes on iPhone: Reinstall the Notes App
In troubleshooting the Notes app, this is the easiest Notes app problem to fix. If you simply can't find the Notes app, swipe down from the middle of your Home Screen or tap on the search bar at the bottom of your Home Screen. This will open Siri search on your iPhone. Type in "Notes." If the app icon doesn't appear in your search options or if it appears under App Store, it got deleted somehow. For more help with your Apple devices, such as how to save an image as a PDF, be sure to sign up for our free Tip of the Day newsletter.
Now, here's how to get the Notes app back on your iPhone:

Discover your iPhone's hidden features
Get a daily tip (with screenshots and clear instructions) so you can master your iPhone in just one minute a day.
Open the App Store on your iPhone.



Tap into the Search bar.



Search for "notes."



Find Apple's Notes app. You will recognize the Notes app icon from when it was installed on your iPhone.



Download Notes to your iPhone by tapping on the iCloud download icon.


Unfortunately, if you had notes stored locally on your iPhone that weren't in iCloud when you deleted the Notes app, the only way to get those lost notes back is to restore an iPhone backup that included them. If you had iCloud backups automatically turned on, you should be able to restore a recent enough backup that you don't lose other information in the process. I was able to do this after deleting my Notes app for this article. It's not super fun to erase and restore your iPhone, but if those notes were important to you, it's nice that getting them back is possible.
Alternative Solution: If you had important notes that weren't in iCloud, you can still get them back by restoring an iPhone backup. However, the downside is that this will also reset some of your saved settings. 
How to Get Notes Back on iPhone with iCloud
If you have iPhone or iPad notes that have disappeared, there's an easy fix for getting them back—if the notes that disappeared were backed up to iCloud. If the notes you've lost were stored locally, you'll need to restore an older iPhone backup to recover those notes, so be careful to choose an older backup from a time when you know the notes existed on your iPhone. Keep in mind, though, that restoring an older backup may cause you to lose other data more recently added to your iPhone.
Otherwise, getting your notes back is easy, thanks to iCloud. To retrieve iPhone notes that have disappeared:
In your Settings app, tap on your name.


Tap iCloud.



Tap Show All.


Tap Notes.



Make sure Sync this iPhone is toggled on.


These steps will restore your notes from iCloud. If you've lost notes that were not backed up to iCloud, you'll need to restore an iPhone backup, as mentioned above.
How to Recover Deleted Notes on an iPhone
If your iPhone Notes disappeared, it's possible you may have accidentally deleted them. Notes you've recently deleted on your iPhone appear in a special folder dedicated to recently deleted Notes. Notes will stay in the Recently Deleted folder for 30 days, after which they will be completely removed from your device. If you recently deleted a note and realized you need to get it back, here's how to recover deleted notes on iPhone:
We hope this article helped you recover deleted notes that you were missing! Are you having issues not mentioned in a solution above? Let us know in the comments, and we'll update this article to include more guidance! Also, did you know you can tag someone in Notes to collaborate with others? If not, I recommend learning how!
FAQ
Why did my notes on my iPhone disappear? If your Notes app disappeared, you may have accidentally deleted the app or moved it entirely to your App Library. Try searching your App Library to see if it comes up. If not, you can go to the App Store to redownload it.
How can I recover my notes from my iPhone without a backup? Your Notes app has a Recently Deleted folder that will hold deleted notes for 30 days.
How do I get my notes from iCloud? In Settings, go to your profile, tap iCloud, then tap Notes. Toggle iCloud on to connect your Notes app on that device to iCloud.