By

Rhett Intriago
Updated 11/20/2023
What to Know
Optimized Battery Charging is designed to help preserve the battery life of your AirPods.
To turn it off, go to Settings > Your AirPods > Optimized Battery Charging.
Alternatively, you can temporarily turn this feature off by placing your AirPods in the case, opening the lid, and tapping "Turn off until tomorrow."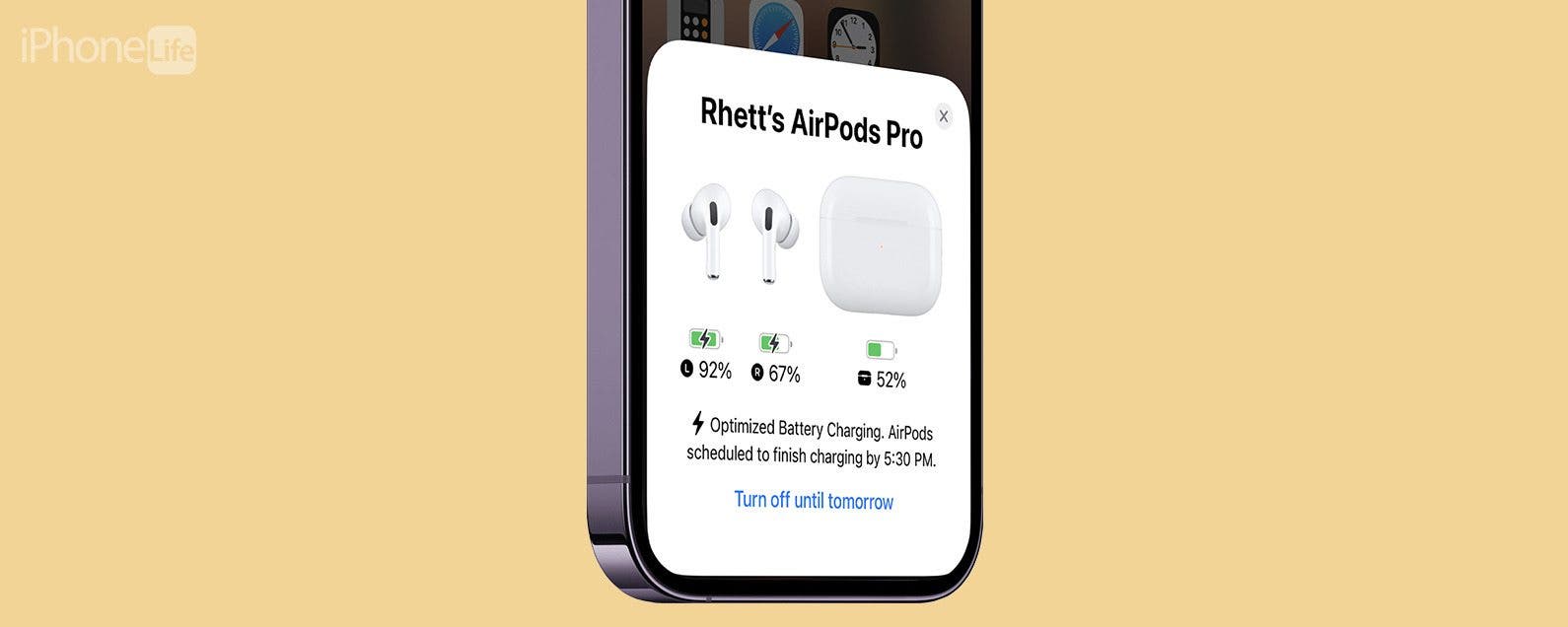 Have you ever popped your AirPods in your ears only to find they're not fully charged? This can happen when you have Optimized Battery Charging enabled. What is Optimized Battery Charging for AirPods? This handy feature is designed to preserve the battery life of your devices, but can sometimes be more annoying than helpful if your listening schedule varies.
Jump To:
What Is Optimized Battery Charging?
Optimized Battery Charging is a feature that is designed to preserve battery life for all your Apple devices. It is turned on by default for any device that supports it. The way it works is that your iOS or iPadOS will learn from your usage and charging habits, and then charge your devices based on your unique routine. For example, if you plug your iPhone in when you go to bed and wake up at 8 a.m. the next morning, your phone will learn to hold off on charging past 80% until you wake up.
To get the most out of your AirPods, be sure to sign up for our free Tip of the Day newsletter. Now, let's get into why your AirPods might not be charging and how to turn off optimized battery charging.

Discover your iPhone's hidden features
Get a daily tip (with screenshots and clear instructions) so you can master your iPhone in just one minute a day.
AirPods Case Not Charging?
Optimized Battery Charging is currently only available for AirPods Pro and third-generation AirPods. If this feature is turned on, your AirPods might not be charging because they are trying to learn your daily routine and how often you use them. If your AirPods determine that you won't use them until a specific time, they will hold off on fully charging the battery until right when you need them. However, if your schedule varies, you might end up with AirPods that won't charge when you need them.
If this tends to happen to you often, there is an easy way to turn this feature off so that your AirPods are charged regularly.
How to Turn Off Optimized Battery Charging
If Optimized Battery Charging seems to be working against you, there is an option to turn it off. Just keep in mind that turning this feature off can negatively impact your battery health. Here's how to do it:
With your AirPods connected to your iPhone, open the Settings app, and tap your AirPods.


Scroll through your AirPods settings, and find the Optimized Battery Charging feature. Tap the toggle to turn it off.


How to Turn Off Optimized Battery Charging Until Tomorrow
Alternatively, if you want to keep Optimized Battery Charging turned on, but just need your AirPods to charge right now, you can use the Turn Off Until Tomorrow feature.
Place both AirPods in the charging case to begin charging them.
Open the charging case lid, and wait for your AirPods to pop up. You should see a Turn off until tomorrow button. Tap that to temporarily turn off Optimized Battery Charging.


As the name implies, this allows you to switch off Optimized Battery Charging until tomorrow, at which point it will automatically turn back on. This can be useful if you need your AirPods to be charged right away but still want the benefits of maintaining your battery health.
Next, find out the best ways to preserve the battery health of your AirPods.