By

Leanne Hays
Updated 10/25/2023
What to Know
Sometimes Apple Watch  software glitches do show up after a watchOS update.
You can typically fix software problems by restarting your Apple Watch or by performing a force restart.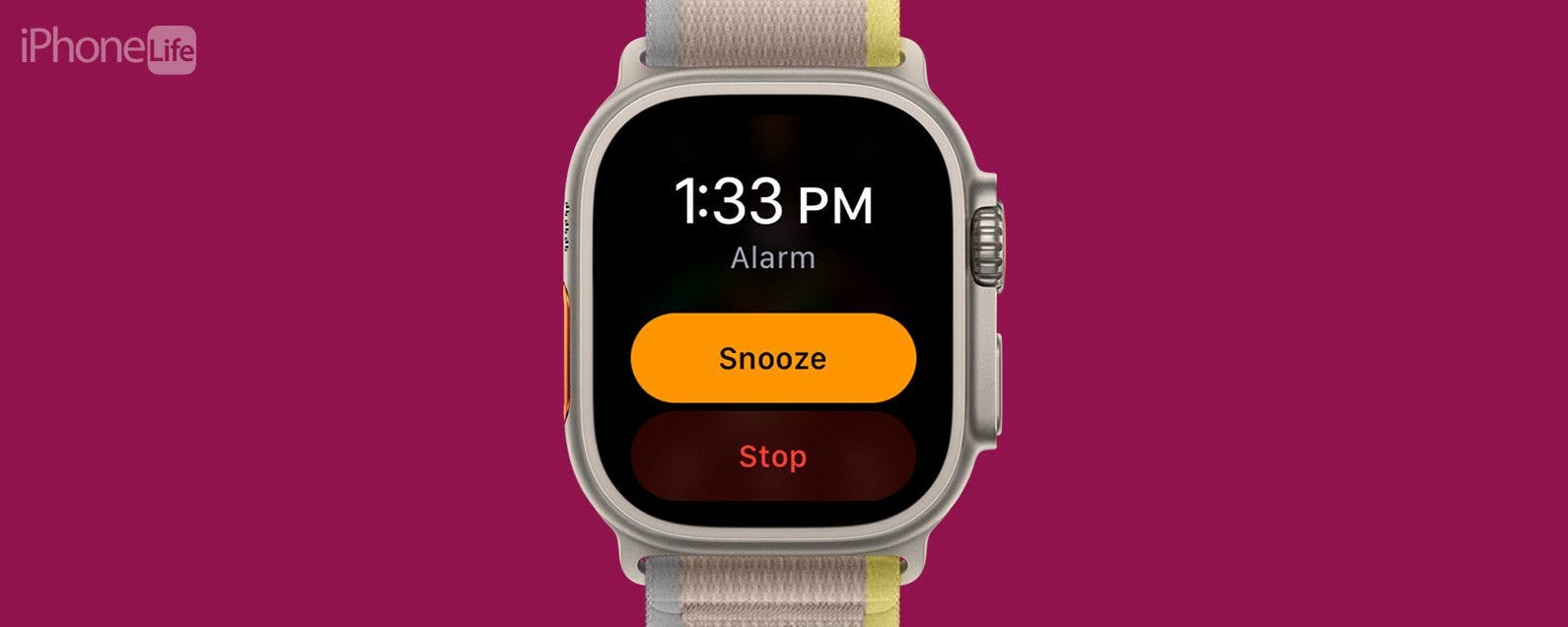 Have you noticed since updating to the latest watchOS that the snooze option is missing from your Apple Watch alarm? Here's how to get snooze to show up again in the Apple Watch Clock app.
Snooze Missing on Apple Watch after Update? Here's How to Get Snooze Back
Normally, you can snooze your Apple Watch alarm by tapping Snooze instead of Stop when the alarm goes off. However, several iPhone Life Insiders have reported that they can't find the snooze function on their Apple Watch alarm after the latest watchOS update. Here's how to get snooze back on your Apple Watch alarm. Also, be sure to check out our free Tip of the Day for more great Apple Watch tutorials. 
Restart Your Apple Watch to Restore the Snooze Option
Restarting your Apple Watch can fix a great many Apple Watch problems, and has worked for several of our Insiders who were struggling with snooze missing on their Apple Watch. Here's how to reset an Apple Watch:

Discover your iPhone's hidden features
Get a daily tip (with screenshots and clear instructions) so you can master your iPhone in just one minute a day.
Press and hold the Side Button until you see Power Off, Medical ID, and Emergency SOS.


Now, check and see if snooze is back on your Apple Watch alarm. If not, here's to hard reset your Apple Watch.
How to Force Restart Your Apple Watch
If the simple restart above didn't fix your issue with the snooze button not showing up, you may need to perform a force restart. This cuts the power to your Apple Watch in a specific way, helping to reset the causes of certain software glitches. To force restart your Apple Watch:
Press and hold the Side Button and Digital Crown for at least ten seconds. 



Keep holding both buttons until you see the Apple logo appear.
FAQ
How do I report Apple Watch problems to Apple? You can visit Apple Watch feedback and let Apple know about the glitch; the more people who report, the more responsive Apple will be!
What if an Apple Watch restart and force restart don't get snooze back on my Apple Watch alarm? This should fix the glitch, but if not, contact Apple Support to see if there's a hardware fix that needs to be done.
What if my Apple Watch doesn't have hardware problems, and I still can't snooze my Apple Watch alarm? In this case, you'll need to wait for the next Apple Watch software update to see if Apple has fixed the issue. 
By now, you should be able to find snooze on your Apple Watch again. Be sure to check back with iPhone Life for more fixes to Apple Watch issues!