Freeform is great for creative projects and planning. Here's how to share a Freeform board on the iPad.
By

Amy Spitzfaden–Both
Updated 12/01/2022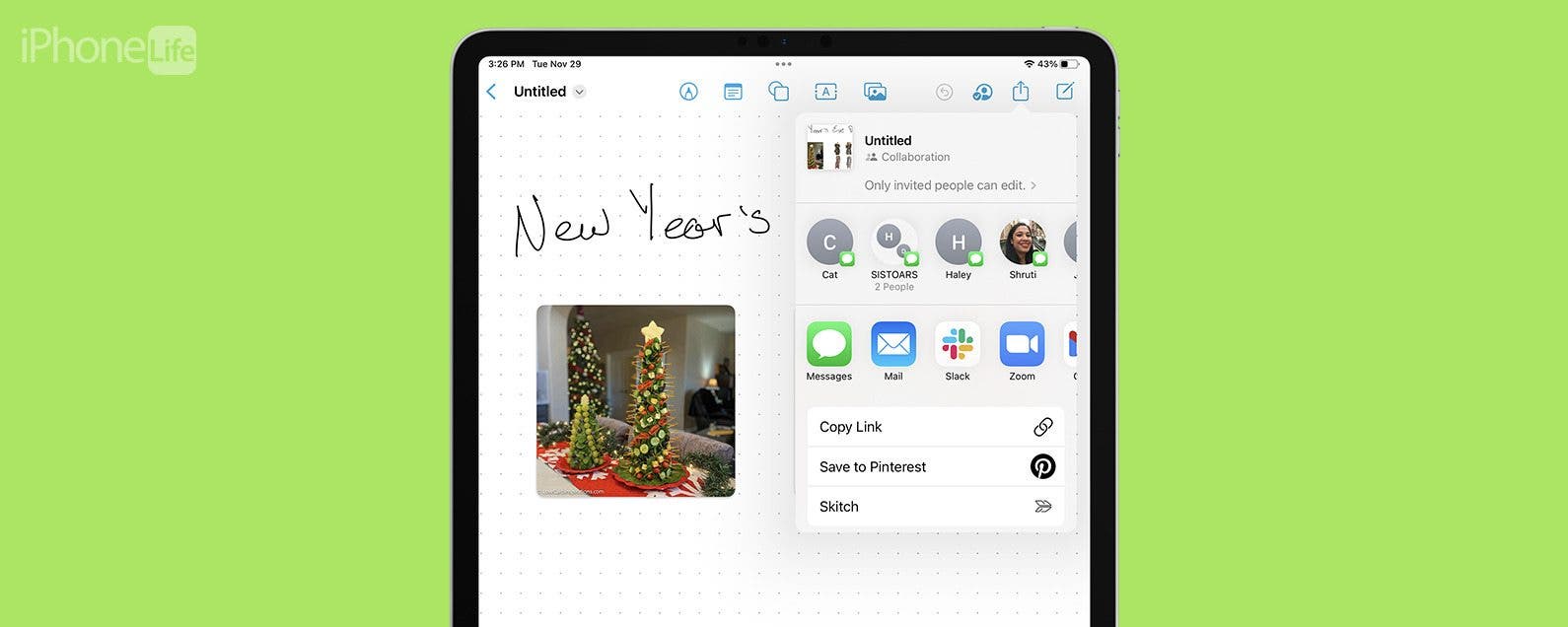 * This post is part of iPhone Life's Tip of the Day newsletter. Sign Up. *
In Freeform, Apple lets you create boards with words, images, scribbles, and more. If you have collaborators using iPadOS 16.2, iOS 16.2, or later, you can share the Freeform board with them and they will be able to contribute. Let's learn how to share a Freeform board on iPad.
Why You'll Love This Tip:
Easily share a board in the Apple Freeform app.
Let others view, edit, and contribute to group projects and ideas.
Get even more familiar with Apple's newest creativity tool.
How to Share a Board in Freeform on iPad
Sharing a board in Freeform on your iPad has two requirements: first, you must ensure the person you share the board with is running iPadOS 16.2 or iOS 16.2 or later. Second, you need to turn on iCloud for Freeform. Then, just open the board, tap the Share icon, and you're good to go! For more ways to stay on top of the new features Apple is always rolling out, check out our Tip of the Day.
In your Settings app, tap your name at the top.


Tap iCloud.


Under Apps Using iCloud, tap Show All.


Scroll down and toggle on Freeform. The slider should be to the right and the bar should be green. If the slider is gray, as shown below, it is not toggled on.


Next, from your Home Screen or App Library, open your Freeform app.


Tap on the board you want to share.


Tap the Share icon at the top.


Select how you want to share it. For this example, I am sharing it through the Messages app. Remember, you'll need to share this will someone who also has iPadOS 16.2 or later in order for them to be able to collaborate with you.


Tap Send.


And there you have it! The other person will get a notification that you want to share the board, and if they have iPadOS 16.2 or later, they will be able to collaborate.