Are incoming phone calls going straight to voicemail without ringing on your iPhone? We'll walk you through several options to fix this issue so you don't have to keep missing important calls.
By

Tamlin Day
Updated 11/03/2020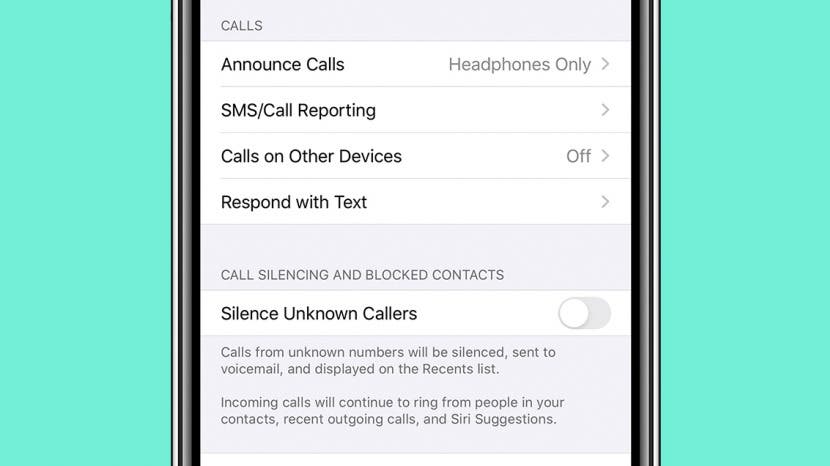 * This post is part of iPhone Life's Tip of the Day newsletter. Sign Up. *
If you're frustrated by missing important phone calls that are sent straight to voicemail, then you might have a settings issue. With iOS 13 and later, users can turn on a feature that blocks unknown callers to prevent harassing robocalls. Unfortunately, privacy settings like Do Not Disturb or Silence Unknown Callers are problematic when you're waiting for a call from a number outside your contact list. Luckily, there are few tricks you can use to maintain your privacy without sending important calls straight to voicemail. Here's how to keep calls from going straight to voicemail on your iPhone.
Related: How to Report & Block Spam Text Messages on the iPhone
What's in This Article:
How to Turn Off the Silence Unknown Callers Feature
The feature your iPhone uses to silence unknown calls can't distinguish between an unknown number that's a robocall and an unknown number that's your pharmacy calling about a refill, and that can lead to important missed calls. If you know when to expect an unknown caller, you could turn Silence Unknown Callers off for a bit and then turn it back on after your phone call. To turn off Silence Unknown Callers, you'll need to go to the Phone menu in the Settings app. Here's how to turn off Silence Unknown Callers:
Open the Settings app.
Scroll down and then tap Phone.
Toggle Silence Unknown Callers to off.


Add New Numbers to Your Contact List
If you know the name and number of the incoming call, you could create a new contact so that the number isn't silenced. The option to create a new contact is in the Phone app under the Contacts tab. Here's how to add a number as a contact:
Open the Phone app.
Tap the plus icon in the top right corner.


 
Enter the name of the person or company.
Tap Add Phone and enter the number.
When you're finished, tap Done.


Now, when someone calls you from that number, it won't be blocked by the Silence Unknown Calls feature.
Turn Off Do Not Disturb
It sounds simple, but it's easy to forget that Do Not Disturb directs all your calls to voicemail. A crescent moon icon on the top of your iPhone's screen indicates that your iPhone is in Do Not Disturb mode. Here's how to quickly disengage the Do Not Disturb feature:
Open the Control Center.
Tap the crescent moon button, which is the icon for the Do Not Disturb setting.


Now, you should receive all incoming calls. If you have Silence Unknown Callers turned on, any unknown numbers will still go straight to voicemail.