By

Hallei Halter
Updated 09/16/2021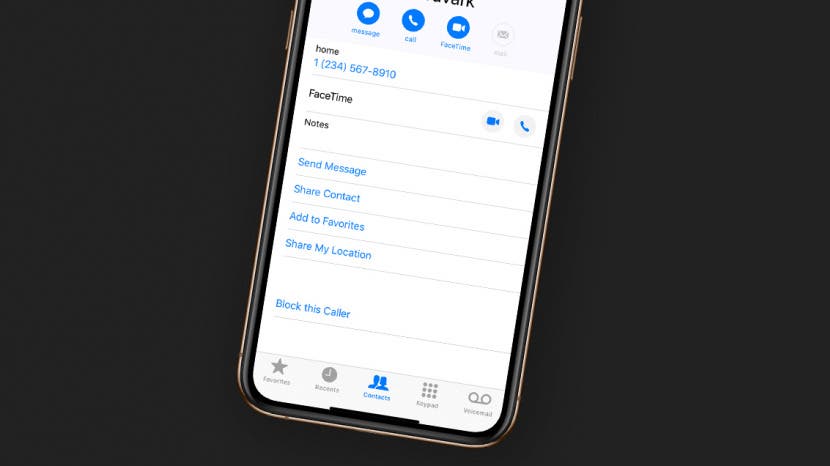 * This post is part of iPhone Life's Tip of the Day newsletter. Sign Up. *
The Contacts app keeps all your phone numbers and other contact info in one place, and also integrates in really useful ways with Maps, Siri, and other iPhone features. Here's how to add a contact on your iPhone.
Related: How to Block a Phone Number on an iPhone: Texts & Calls

Discover your iPhone's hidden features
Get a daily tip (with screenshots and clear instructions) so you can master your iPhone in just one minute a day.
How to Add a Contact to Your iPhone
We've gone over how to share a contact from your iPhone, how to search contacts on your iPhone, and how to create a contact group on an iPhone. For more tips about the Contacts app and Phone app, check out our free Tip of the Day. Now, let's learn how to add a contact on your iPhone.
Open the Phone app and tap the Contacts tab.


 
Alternately, open the Contacts app.


 

Tap the plus icon in the upper-right corner.


 
Type the person's name.


 

Tap the green dot next to add phone and enter your new contact's phone number.


 
You can also add a company name, email address, URL, address, and more.

Tap Done when finished.


How to Add a Contact After a Call
If someone called you and you want to save their information as a contact:
Tap Recents.


 
Tap the circled info icon to the right of the phone number you want to save.


 

Select Create New Contact.


 
The phone number is already filled in, so just add the person's name.

Tap Done.​
Add Additional Contact Details to the Contacts App
You can tap on any contact in the Contacts tab of the Phone app or the Contacts app to add information to the contact card. You can add multiple phone numbers for the same contact and label them as home, work, and more. Then, if you ask Siri to call or text this person, you can easily specify which number to call by saying something like, "Hey Siri, call [contact name] at home." To do this:
Tap Edit.


 
Tap add phone to add more phone numbers for this contact.


 

Tap the tag next to the number you've already entered to add a different label to the number.


 
Choose the new label.


 

Scroll further down the Contact page, and you'll see you can add emails, addresses, and more. Fill these in and designate what type of information it is so you can use Siri commands like "Hey Siri, give me directions to Bill's house." Or, "Hey Siri, email Bill at work."


 
Siri will use the address you've designated as "home" or the email you've designated as "work" in Bill's contact info. You don't have to take the extra step, but then Siri will not always understand these commands.



 

Once you've entered all the contact information, tap Done to save.





​​​​
Now you know how to add and fill in contacts in the Contacts App! Next, consider personalizing by giving your favorites a personalized text tone and ringtone!