Learn how to create a group of contacts on an iPhone so that sending a group text or group email is easy!
By

Becca Ludlum
Updated 10/06/2021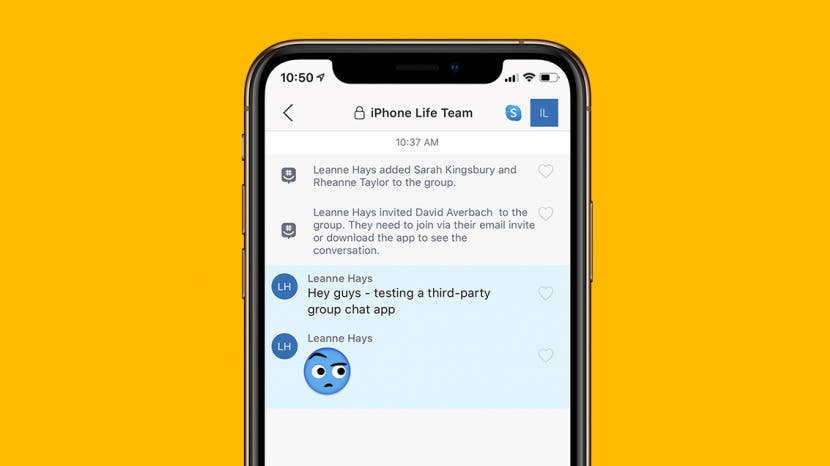 Making iPhone contact groups allows you to quickly send a message or email to a group. However, you can only create a group directly on your iPhone using a third-party group messaging app like GroupMe. If you want to create a group in the Apple Contacts app that you can use on your iPhone, you'll need to do so on a PC or Mac using iCloud or on a Mac using the Contacts app. We'll teach you how to create a contact group on your iPhone using these methods.
Related: iCloud Guide: Top Tips for Understanding and Using iCloud
Jump To:
How to Create a Group on iPhone (3rd-Party App)  
If you've found an alternative method or app for how to make a group text on iPhone and send group messages, please share it with us in the comments below. For more tips about the Contacts app and Phone app, check out our free Tip of the Day.
How to Use GroupMe to Create a Contact Group on an iPhone
If you don't use iCloud or just prefer to create your contact groups directly on your iPhone, you can download the GroupMe app instead. The app is free, and allows you to organize your iPhone contacts into groups of friends, family, coworkers, or whomever else you need to contact in a group. The people you're communicating with don't need the app to receive your messages or calls, and you'll be able to chat and share photos, videos, tweets, emojis, and more. To begin, download the app, then follow the steps to learn how to create a group text:
Create an account using either your Facebook or Microsoft account or use Sign in with Apple by selecting Continue with Apple.


If using Sign in with Apple, choose whether to share or hide your email address, then tap Continue.

 
 
Choose whether to use your iPhone's number, or a different phone number.


Start a New Group and name it, then choose whether or not to make it a closed group, meaning only you can change group settings.


 
Add group members and tap Done when finished.


Begin chatting using your group!


 
You can add or remove group members as needed, and also change the group avatar, name, and topic. If group chat members have already downloaded GroupMe, they'll need to join your group via an email invitation, like David in the screenshot above.
How to Set Up a Contact Group with iCloud on Mac
To get started with this process, you'll first need to enable contacts in iCloud, so that you contacts can be accessed on your Mac. Once this setting is enabled, you can create a contact group in iCloud.
How to Enable Contacts in iCloud So You Can Set Up an iPhone Contact Group on a Computer 
The first thing you need to do is turn on iCloud Contacts on your iPhone, if it's not already enabled, then you can create a contact group on your computer. To do this:
Open the Settings app on your iPhone.


Tap your Name at the top of the page.


 
Tap iCloud.​


Make sure Contacts is toggled on. 


 
​That's it. Now you're ready to grab your computer and set up your group.
How to Create a Group in Contacts on Your Mac
The first steps of creating a Contacts group are different depending on whether you're using a Mac or a PC. To create a group in Contacts on a Mac:
Open the Contacts app on your Mac. You must be logged in with the same Apple ID as on your iPhone.
How to Create iPhone Contact Groups for Your iPhone on a PC
To set up a contact group for your iPhone on a PC:
Open a web browser and visit iCloud.com.
Log in using your Apple ID and Password.


 
Click Contacts.


How to Complete Your iPhone Group Contacts (Mac & PC)
Now you're ready to create your contacts group in either your Mac's Contact app or on iCloud.com:
Click All Contacts on the top left side of the screen. On the bottom, click the + icon.
Choose New Group. 



Enter the name of your group and tap Return on your keyboard.



Click All Contacts again, so you can add contacts to your group.

Drag and drop the contacts you'd like to add to your new group.


 

Click on your new group to make sure the correct contacts were added.
Your new contact groups are now available on your iPhone, iPad, and any other iCloud-connected devices. You can view your contact groups on iPhone by opening your Phone app, tapping Contacts, and selecting Groups in the upper-left corner. 
Note: If your new group doesn't appear, go back into the Settings app, tap your name at the top of the page, tap iCloud, and under Apps Using iCloud, toggle Contacts off, then on again, making sure to select Keep Contacts on My iPhone when your Turn Off Contacts options appear. 
How to Email Your Contact Group on an iPhone
Open the Mail app on your iPhone.


Start a new draft by tapping the new email icon in the lower right corner.


 
In the To: line, begin to type the name of the contact group you're trying to email. Locate your group name and tap it.



*Note: Make sure your contacts include email addresses. If a contact only contains phone numbers, then you won't be able to include that contact in the group email.*
 
How to Send a Message to Your Contact Group
Follow the steps below to learn how to send a group message on iPhone. If you've updated to iOS 15, another handy shortcut is to pin the group contact to the top of the Messages app, so you can find and message your group quickly. 
Open the Messages app.
Start a new thread by tapping the composition icon in the upper right corner.


 
In the To: field, being typing the name of your contact group.
Tap on the Group name.


 
Type your message and tap the send arrow.