By

Olena Kagui
Updated 08/31/2023
What to Know
You can use Find My iPhone for someone else thanks to the app's Help a Friend feature.
Once they sign in with their Apple ID, you can help a friend find their iPhone, as well as enable Lost Mode to protect their data until the lost iPhone is recovered.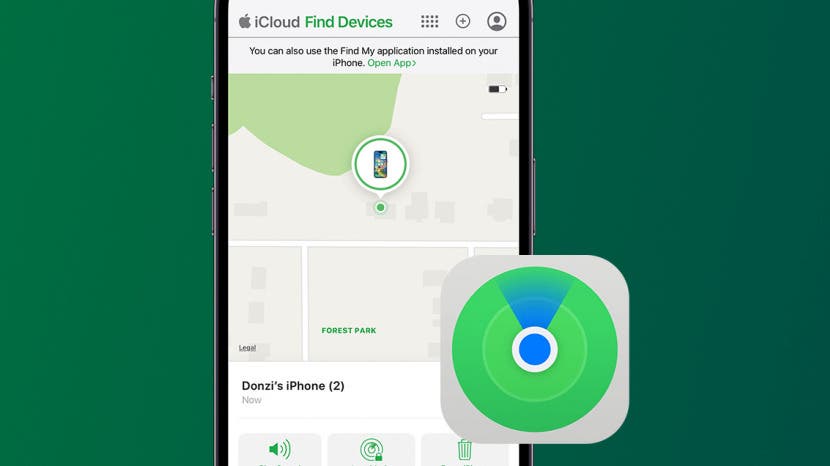 The iPhone Find My app is a great tool to find a misplaced, lost, or stolen iPhone. While it is most commonly used to locate your own devices, you can also find someone else's iPhone using this feature. The Find My app allows you to help a friend find their iPhone, since it now cleverly combines the Find My iPhone and Find My Friends functions. Let's learn how to track an iPhone using your friend's iPhone. 
Related: How to Find Your iPhone Even If It's Dead or Offline
How to Help a Friend Find Their iPhone
So, how do you find someone else's iPhone? Whether you have the latest iOS 17 or an older software version, you can find a friend's iPhone (or find your own iPhone from someone else's iPhone) by signing into the Help a Friend feature within the Find My app. Once you master this move, sign up for our free Tip of the Day newsletter to find more ways to be your friends' iPhone savior. Let's cover how to use Find My iPhone for someone else:

Discover your iPhone's hidden features
Get a daily tip (with screenshots and clear instructions) so you can master your iPhone in just one minute a day.
How to Find Someone's iPhone: Important Notes
Follow the steps below and use the Help a Friend feature within the Find My app. The Help a Friend feature bypasses the two-factor authentication. If you just sign in to iCloud on your friend's iPhone browser, you'll be asked to enter a 6-digit passcode (a definite problem if your device is lost). 
Once you have logged into iCloud from the Help a Friend feature, do NOT sign out until you find the device. Multiple login attempts trigger extra iCloud security, so if you sign out and try to log back in, you might be asked to enter an authentication code from your lost device. 
If the lost iPhone is dead, you can see the last known location but not the current location. As long as you have Send Last Location enabled (this feature is enabled by default, so you would have had to manually switch it off), you can still see the last known location. 
If the lost iPhone is offline, the Find My app can still find the lost iPhone's current location using nearby Apple devices. So as long as other Apple devices are nearby, you will be able to track it. 
If the lost iPhone is turned off, it is still trackable as long as you have iOS 15 or later and haven't disabled Find My. Otherwise, you'll be shown the last known location of your iPhone.
FAQ
Does Find My iPhone work when phone is off? Find My will still show you your iPhone's last location even if it's powered off or the battery has died, but only for a limited amount of time: up to seven days in the Find My app and only 24 hours on iCloud.com.
Can you enable Find My iPhone from another device? Unfortunately, no. You must enable Find My on your iPhone or other devices before it goes missing.
What's the difference between Find My iPhone and Find My Friends? Find My iPhone and Find My Friends used to be separate apps, but are now part of the same Find My app. Your friends' location is the location of their default location-sharing device and is now shown in the People tab. The location of your iPhone and other Apple devices can be found in the Devices tab.
While searching for your lost device, I don't recommend using the third option in that bottom menu—deleting everything from the iPhone with the Erase iPhone button—unless you're sure the phone is in danger and the private data is at risk of being stolen. To help make this decision, you can read up on what Lost Mode does, and see if it will do an adequate job of protecting the compromised iPhone.
Now that you know how to find someone else's lost iPhone, you'll be very popular with your more forgetful friends! Read about how accurate Find My iPhone really is next.