Here's how to enable Apple's strongest iPhone security feature yet: Lockdown Mode.
By

Leanne Hays
Updated 01/09/2023
What to Know
Lockdown Mode is the most secure defense Apple offers against hackers and cyberattacks.
Lockdown Mode will improve security, but reduce the capabilities of some iPhone apps and features.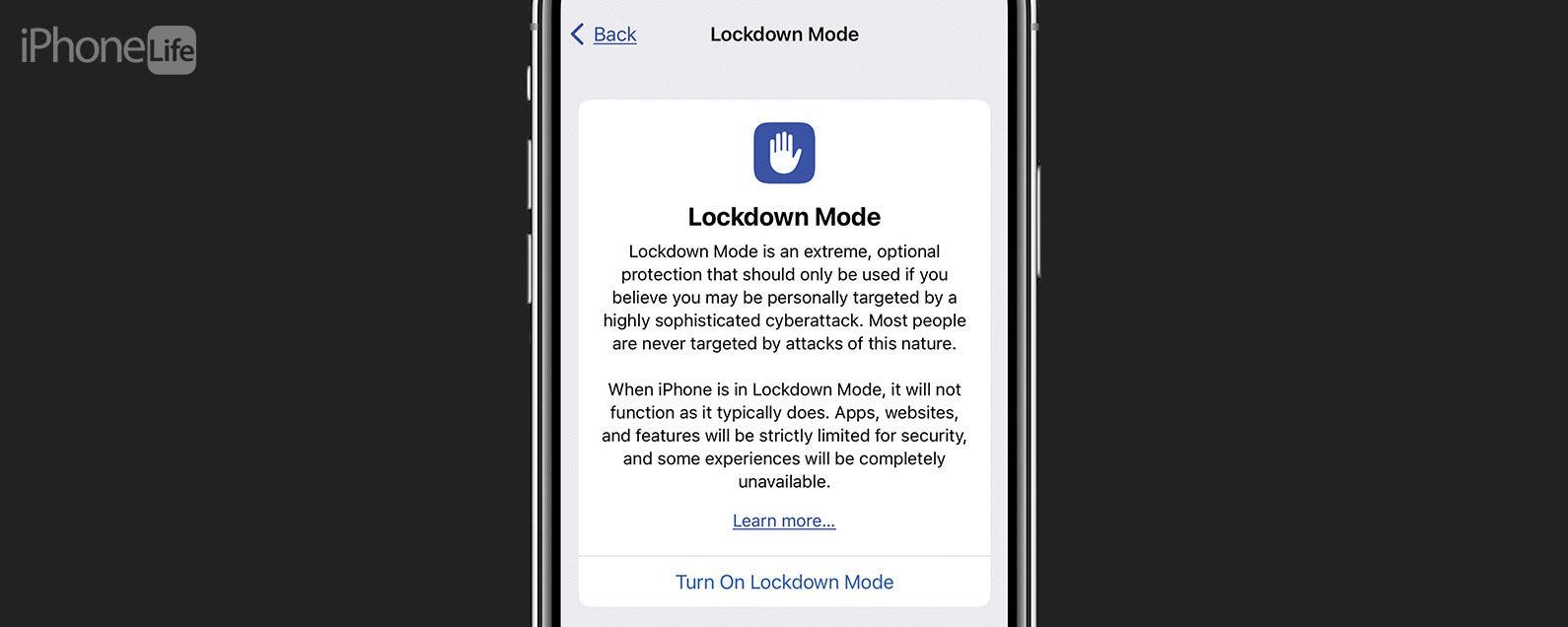 Apple's Lockdown Mode is a new Mac, iPad, and iPhone security feature that defends your devices against cyberattacks. Here's how to keep your iPhone from getting hacked with Lockdown Mode. 
What Is Lockdown Mode?
Apple introduced Lockdown Mode with iOS 16 as "an extreme, optional protection for iPhone that should be used only if you believe you may be targeted by a highly sophisticated cyberattack, such as by a private company developing state-sponsored mercenary spyware." People who may need to enable Lockdown Mode to protect against spyware and hacking include activists, protesters, journalists, government employees, and people in the private sector who have sensitive data or trade secrets on their Apple devices. 
How to Enable Lockdown Mode on an iPhone
Here's how to turn on Lockdown Mode, the latest Apple iPhone security feature. Keep in mind that you can't turn on Lockdown Mode if your device can't be managed (like a work iPhone that's managed by an administrator). You also can't have any configuration profiles downloaded on your iPhone, like the one for the iOS beta software. Check out our free Tip of the Day for more great iPad and iPhone security tutorials. 
Open the Settings app.


Tap Privacy & Security.


Tap Lockdown Mode. 


Tap Turn On Lockdown Mode. 


Tap Turn On Lockdown Mode one more time. 


Related: Protect Your iPhone from Hackers with These Essential Tips
What Does Lockdown Mode Secure & Limit?
So, what happens when you enable Lockdown Mode? 
When Lockdown Mode is enabled, some iPhone apps and features will function differently. Here's a list of changes you'll see when you turn on Lockdown Mode:
Messages: Most attachment types are blocked, with the exception of some audio, photos, and videos. Links and link previews are completely unavailable. 
Browsing Online: Some fonts won't be displayed, and you may see missing image icons in place of photos. Some web technologies that cause websites to load slowly are also blocked.
FaceTime Calls: Unless you've previously used FaceTime to contact someone, you won't be able to FaceTime them when Lockdown Mode is on.
Photos: You'll notice your Shared albums are missing, and you won't be able to send or receive new Shared Album invitations. Once Lockdown Mode is off, you can turn Shared Albums on again by opening the Settings app, tapping Photos, and toggling on Shared Albums.
Connecting Your iPhone: You'll have to unlock your iPhone before connecting it to another device.
Apple Services: You won't receive incoming invitations unless you've previously invited that contact person before. 
Phone calls and plain text messages continue to work while Lockdown Mode is enabled. Emergency features, such as SOS emergency calls, are not affected.