If you have an old iPhone, iPad, or another device that's too outdated for Apple Trade In, Apple will recycle it for free!
By

Leanne Hays
Updated 04/26/2023
What To Know
You can return any Apple device except computers—even batteries and small products like old iPhone chargers—to any Apple Store for free recycling.
You have to buy an Apple computer or monitor to recycle your old computer and monitor for free.
If you don't live near an Apple store, you can request a free mailing label, then mail your old iPhone, iPad, or other device for electronics recycling.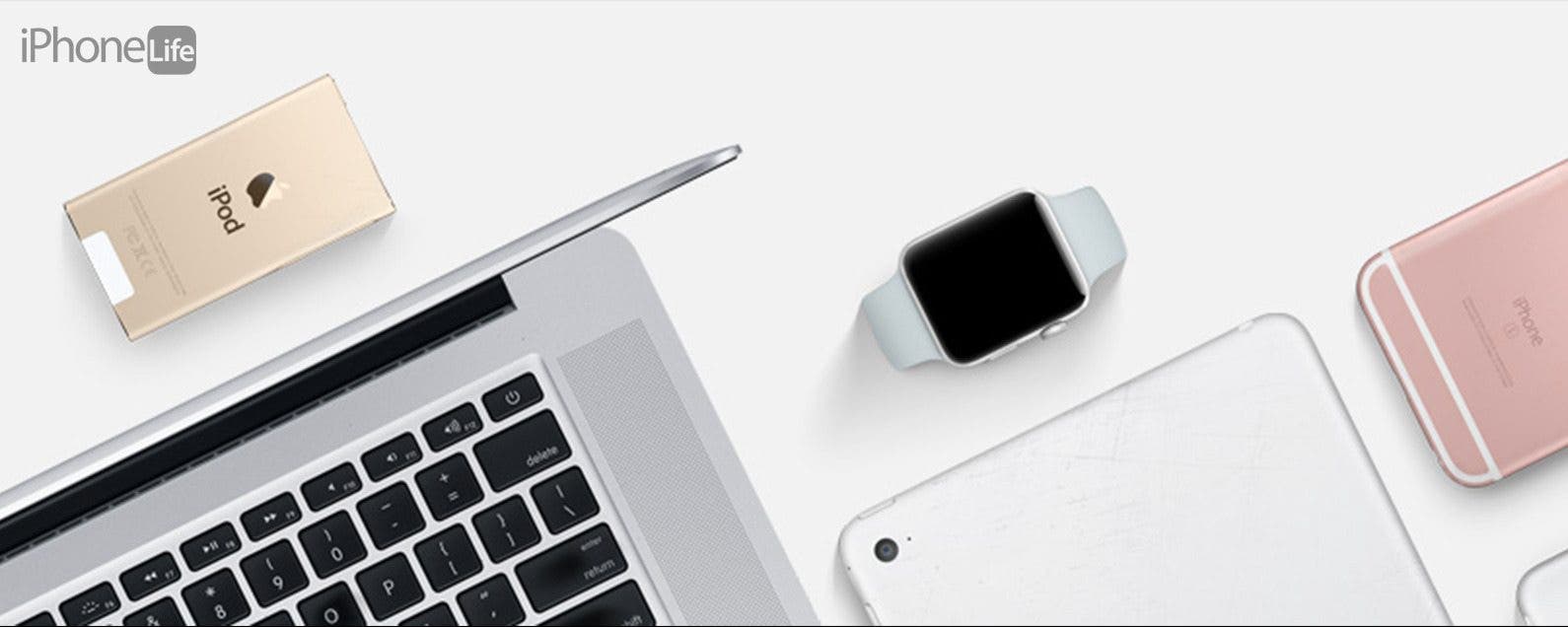 If you're wondering what to do with an old iPad, iPhone, Apple Watch, or other Apple device, you'll be happy to know that Apple has its own electronics recycling program. Here's how to use the Apple Recycle Program, and why you should. 
The Apple Recycle Program: Sustainable, Easy & Free
If you're wondering what to do with an old iPad, iPhone, Mac, or other Apple device, we're here to help. If your device is only a few years old, you may be able to use Apple Trade In, or even sell to a third-party company or a private party. But if your device is too old or damaged, you can still dispose of it in a responsible, environmentally friendly way, and we'll show you how. Check out our free Tip of the Day for more great ways to sell and recycle old Apple devices. 
FAQ
What percentage of materials used in Apple products come from recycled sources? According to Apple, almost 20 percent of materials used to manufacture Apple devices come from recycled materials.
What type of recycled materials does Apple use in manufacturing? 45 percent of rare earth elements come from recycled sources, as well as 30 percent of tin, 13 percent of cobalt, and now, Apple has started using exclusively certified recycled gold.
How much waste has the Apple Recycling Program diverted from the landfill? Apple has recycled more than one million devices and diverted more than 48,000 metric tons of electronic waste from landfills as of 2019.
Can I recycle my Mac? You can recycle your Mac computer for free with Apple only if you purchase a qualifying Apple computer or monitor.
How to Use the Apple Recycle Program
To recycle your Apple device, you'll need to follow these directions to wipe your iPhone or iPad, and Mac or MacBook. This is an important step to both back up your data, then wipe your device so no personal data is left. Next, you can bring your old devices to any Apple Store for recycling or ask for a mailing label to send them back to Apple. Apple says, "You can bring your batteries and old Apple products to any Apple Store, and we'll recycle them responsibly, free of charge. We accept any small product or battery without purchase of a new product or battery." Keep in mind that this does not apply to Macs, which can only be recycled for free after the purchase of a qualifying Apple computer or monitor.
Image courtesy of Apple.com
If your nearest Apple Store is too far away, you can navigate to the Apple recycling program page and select your region. 
You'll be walked through a few steps to determine whether your device should be traded in or recycled. You'll usually be directed to recycle your device if it's damaged, malfunctioning, or too old; click Recycle if this is the case. 


Enter the address where you want the shipping label sent.



Now that Apple has your address, they can mail you your shipping label. Click Close, and your label should come in the mail shortly.


Once you've received your mailing label, it's time to send your device off to Apple. There are shipping guidelines you'll need to follow; Apple requests that:
Devices that contain batteries should be packed in compliance with all applicable laws, regulations, and industry best practices, which typically include the guidelines below:
Discharge the unit to less than 30%.
Do not ship electronics that are disassembled into parts.
Do not ship electronics with swollen or damaged batteries.
For whole units, surround the product with at least 2.5 inches of suitable filler material, such as recycled or reused packaging, on all sides before placing inside a corrugated box.
Ship only one device per box.