By

Ashleigh Page
Updated 01/17/2023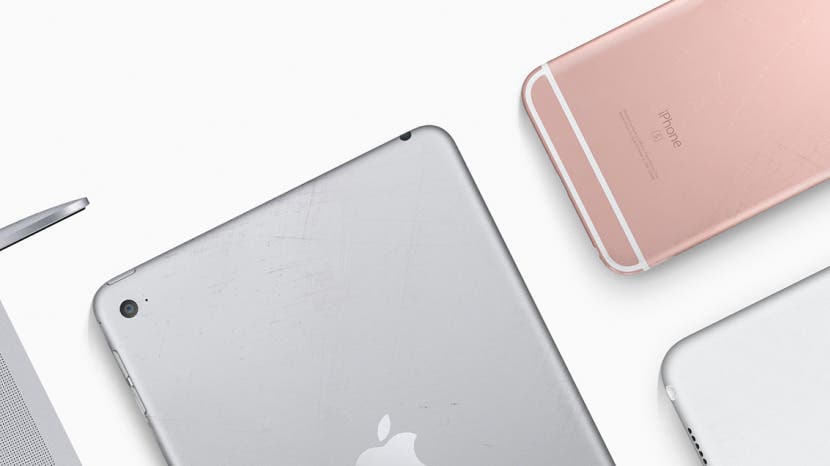 While Apple's Trade-In Program will offer store credit in exchange for most used iPhones, iPads, Apple computers, and Apple watches, the only option the company offers for some Apple products is to have them recycled. In this article, we'll cover what devices Apple won't accept in trade, how to prepare your device to sell, and how to sell your device to a third-party service or private party. 
Related: How to Sell or Trade In Your iPhone So You Can Get the New One
Jump To:
Devices Accepted by Apple Trade In
Apple will accept any of the following devices for its trade-in program. The credit you receive will be based on a number of factors and will be given to you on an Apple gift card to be used like store credit.

Discover your iPhone's hidden features
Get a daily tip (with screenshots and clear instructions) so you can master your iPhone in just one minute a day.
Devices eligible for Apple Trade In:
iPhone 6s, iPhone SE (2nd generation), and newer
iPad mini, iPad, iPad Air, iPad Pro
Mac mini, Mac Pro
iMac, iMac Pro
MacBook, MacBook Air, MacBook Pro
Apple Watch Series 3, Apple Watch SE,  and newer
Google Pixel 3, and newer
Samsung Galaxy Note 8 and newer
Samsung Galaxy S8, and newer
Apple maintains this list of eligible devices for Apple Trade In on its site if you need further clarification. Otherwise, if you know your model isn't eligible for Apple Trade In, keep reading to learn about other options.
Devices the Apple Trade-In Program Won't Accept
If the device is not on the list above, it's not eligible for Apple Trade In. The list below expands on that a bit by naming some items that users commonly ask about, but which are also not accepted for trade-in credit by Apple.
AirPods
Apple TV
Cases & Protection
Displays
Hard Drives & Storage
Headphones & Speakers
HomePod
iPods
Mice & Keyboards
Networking Devices
Power Cords & Cables
Printers & Scanners
If you are interested in selling one of the devices listed here (or are just unhappy with the values offered by Apple Trade In), I'd recommend reading the following sections for the best sites and suggestions on how to sell your used Apple device. 
What to Do before You Trade In or Sell Apple Products (Important!)
Before your sell your iPhone, iPad, or other Apple device, it's really important to go through a series of steps to not only remove your personal data, but also to get the device reset so that a new owner can use it. If certain steps are not performed, you could accidentally cause serious functionality issues, which could, in turn, leave your buyer unhappy with their purchase. But as long as you follow the steps to prepare your iPhone or another device to sell, you should have no problems!
Option 1: Trade In Old Apple Products to a 3rd-Party Service
If you want to trade in your Apple device to a third-party service, you'll want to begin by doing some quick research. There are a lot of sites willing to offer cash for your used Apple product, and some offers are much better than others.
For example, while you cannot trade in AirPods with Apple, the Amazon trade-in program will offer store credit for the devices listed above, but the offers tend to be a bit low (up to $15 for a pair of used AirPods 2 with their charging case). In contrast, BuyBackWorld will pay $31 for a pair of AirPods 2 in excellent condition. However, BuyBackWorld is only a good deal if your device is in good or excellent condition, as cash quotes will drop to almost nothing for damaged items.
If you want to sell broken AirPods or another device with heavy wear and tear, your best options are likely GoRoostr or SellYourMac. These sites will accept used Apple products even if they are broken, have spill damage, or are heavily dented or scratched. Quotes are available online after a series of questions about the model you're selling and its condition.
Once you've found a third-party website and an offer you are comfortable with, the process is usually pretty simple. Each program has its own process, but you can expect that you'll need to package up the device and send it with a shipping label provided by the buying service.
Once your device has been received and evaluated, your third-party service will either send payment or contact you with an updated quote. An updated quote typically happens if your device doesn't meet specifications, like if the condition is not as good as described. At this point, you can either accept or reject the updated offer. In case this happens, it's important to check whether the buying company will cover the cost of return shipping, as shipping may cost more to get your device back than you could get for selling it!
Option 2: Sell Your Device to a Private Party
If you're willing to do a little extra work to post and manage a listing, you can sell used Apple products to a private party via Craigslist, Facebook Marketplace, or eBay. The benefit of selling through these websites is that you can potentially sell at a higher price or have multiple offers that raise the amount you sell your product for. Selling to a private party can potentially be the most lucrative option, but the downside is that you run the risk of being contacted by a shady customer. If you sell your device through these websites, just be smart and play it safe. 
Pro Tips for Selling Your Device
Never meet a stranger at your home. Arrange a public place to meet, and do so during daylight hours.
Never send an item to the buyer before collecting payment. Many private sellers have tried this, only to be left without payment and without their device.
Clean the item carefully with device-safe cleaning techniques and package it up nicely with its original power cord and any other accessories it came with. This will help ensure that you get the highest price possible, and will hopefully discourage further haggling by the buyer.
Final Thoughts
Ultimately, how and where you sell your device is your decision, and it is important to do so in a manner that is comfortable to you. Facebook Marketplace has continued to grow in popularity, and can be a rewarding way to sell your device locally. If you simply don't have a lot of spare time, I would recommend trading in your device through a third-party service. While you might make slightly less, it is the simplest option and you avoid having to evaluate buyers and manage a listing.