By

Rhett Intriago
Updated 05/09/2023
What to Know
If you dropped your iPhone and the screen has lines, it could be a hardware or software issue.
Confirm whether the issue is hardware- or software-based by force restarting your phone, checking for updates, and, if all else fails, restoring your device.
If you still have red or green lines on your iPhone screen, the issue is likely hardware-related, in which case, you will need to take your device to a professional for repairs.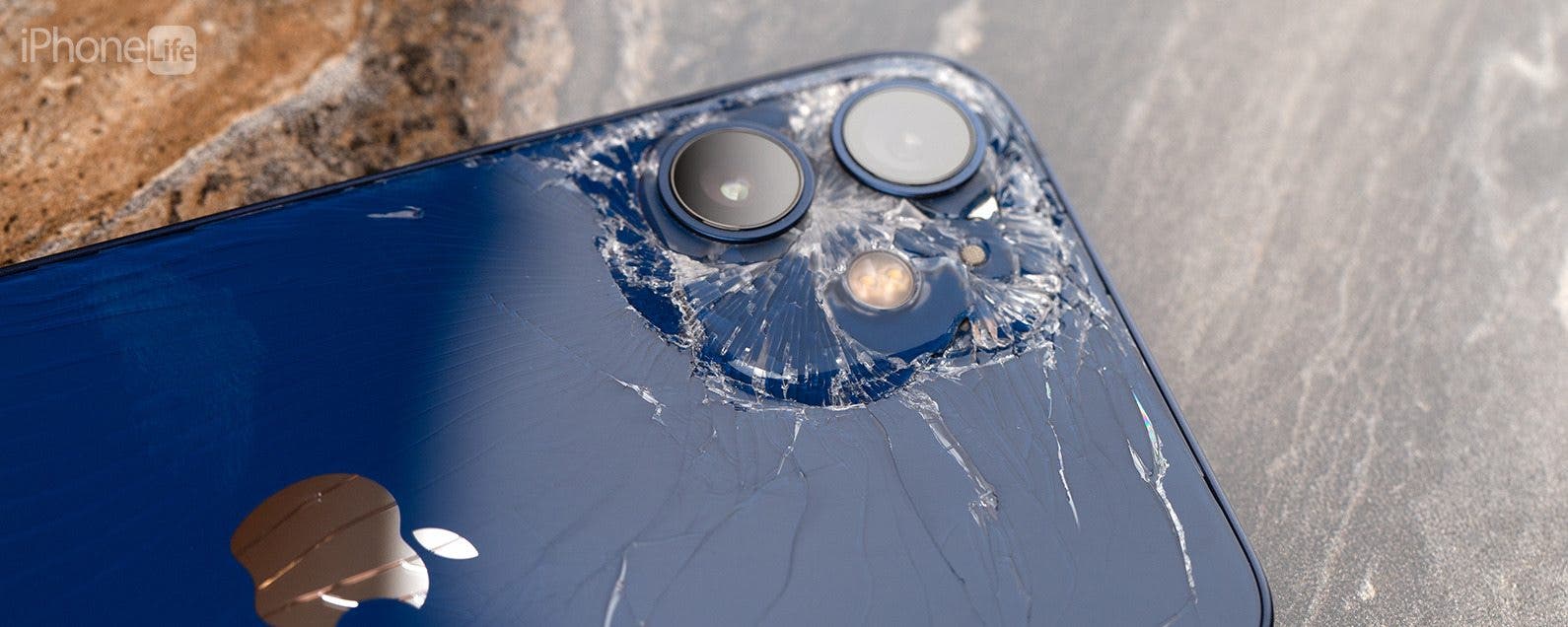 Everybody drops their phone at some point, which is why it is a good idea to use a case with your device. Luckily, iPhones are built to be much more durable now than in the past, so when you drop your phone, it's usually fine. However, sometimes something breaks, and you might end up with red or green lines on your iPhone screen. Before you shell out for an expensive repair fee, let's make sure the problem is hardware-based and not a software-related issue.
Jump To:
How to Fix Lines on iPhone Screen
After you've dropped your phone, it's important to answer two very important questions. Is the glass broken? Is the screen still responsive to touch? If the glass panel is still intact and the screen is still responding to your touch, all may not be lost. For more handy iPhone advice, be sure to sign up for our free Tip of the Day newsletter.
Make Sure iOS Is Up-to-Date
First, let's make sure your device is up-to-date with the latest version of iOS. If the lines on your phone screen are a software bug, an update may resolve the issue. However, if you dropped your phone and the screen is glitching or the screen is not working at all, there may be another problem.
Force Restart When iPhone Screen Is Not Working but Phone Is On
This could be a serious issue that requires hardware repair, but first, let's try force restarting your phone. You can do this by briefly pressing the volume up button once, then briefly pressing the volume down button once, and then pressing and holding the side button. Continue holding the button until the Apple logo appears on your screen, then release the button. Volume buttons not working? Check out this article for how to fix them.
If you don't see the Apple logo or your phone does not seem to be turning back on, try plugging it in to ensure the battery is charged. If you are still having trouble getting your iPhone screen to turn on, you can always try restoring it.
Restore iPhone When Screen Is Not Working
Before you get started with restoring your iPhone, you'll want to make sure your device has been backed up to iCloud. If you do not have enough iCloud storage, you may be able to use iCloud's temporary storage. You can also try backing up your device to a computer.
Warning: Restoring your device will erase all data and set it up as if it were new. All the data on your iPhone will be erased. If you do not have a backup of your iPhone, there is no way to recover this data. Only do this as a last resort.
Once you have confirmed that your iPhone has been backed up, you can try restoring your device by putting it into recovery mode. Check out our article on what to do if you forget your iPhone password to see the step-by-step process of restoring your iPhone by putting it into recovery mode.
If none of the above worked for you, it is very likely that the lines on your iPhone screen are a hardware-related issue. If you dropped your iPhone and the screen has lines, there is a good chance you will need to have the device repaired. While it is possible to repair your iPhone yourself, you could end up causing further damage, so it is highly recommended that you contact Apple Support, and take your device to a nearby Apple Store or an Apple Authorized Service Provider. If you're thinking about just replacing your phone, check out this article on how to know when to upgrade your iPhone.
Top image credit: Sergey Eremin / Shutterstock.com