By

Olena Kagui
Updated 03/02/2023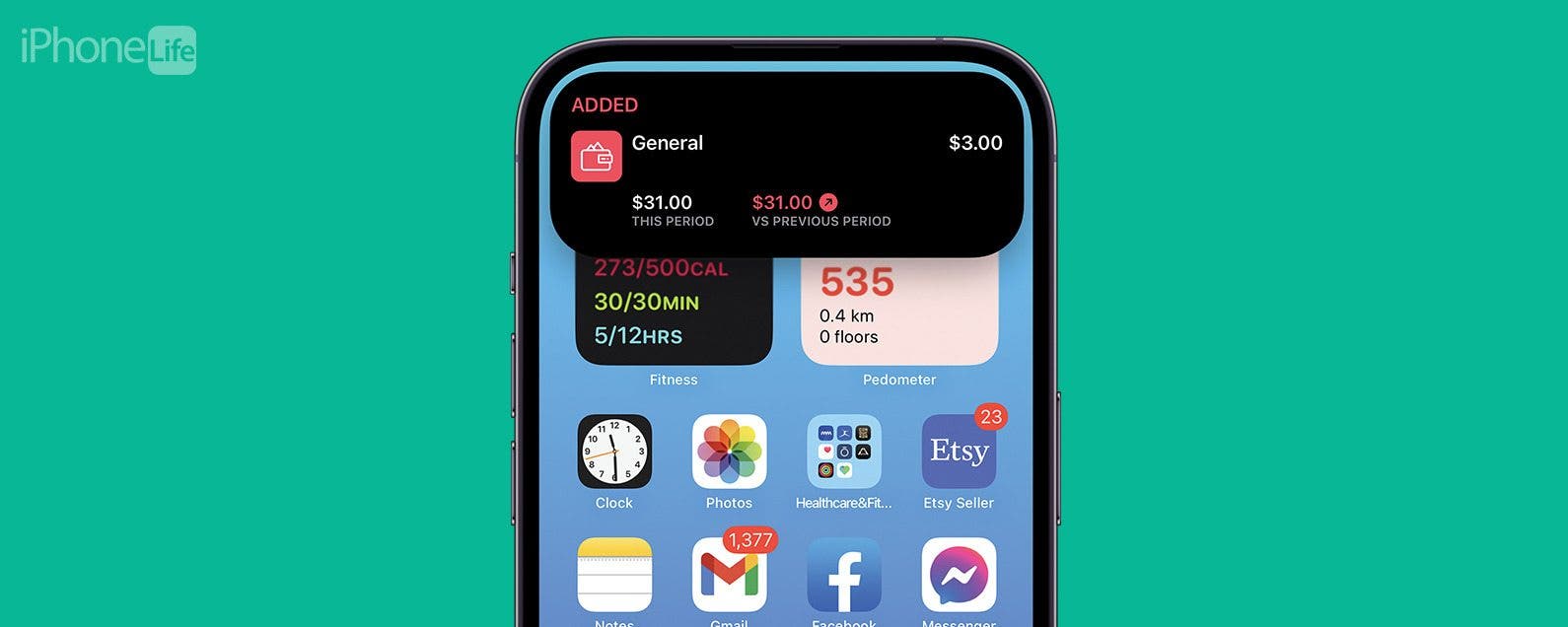 The new iPhone 14 Pro and Pro Max ditched the notch and introduced the Dynamic Island. What makes the Dynamic Island so unique is that it merges hardware with software. While this rounded area of your iPhone screen primarily houses the front camera, the software behind it allows for the shape to "change" when you get a notification or when using compatible apps. Let me show you how it works!
Jump To:
How Does Dynamic Island Work?
Before I show you the various apps that use Dynamic Island on your iPhone 14 Pro or Pro Max, you should know a few things. First, you don't need to enable it; it will work automatically as soon as you take your new phone out of the box. To get updates on all new iPhone features and more, don't forget to subscribe to our free Tip of the Day Newsletter. Now, let me show you the built-in Dynamic Island features you can try immediately!
Dynamic Island works with various built-in apps and basic iPhone features such as Face ID unlock, AirDrop, Personal Hotspot, etc. You can see examples and learn examples in this article on how the Dynamic Island works on the iPhone 14 Pro and Pro Max. It also works with some third-party apps; with time, we can expect more apps to become compatible with this new feature. Since only two iPhone models have it, it may take time for developers to prioritize adding Dynamic Island features to their apps.

Discover your iPhone's hidden features
Get a daily tip (with screenshots and clear instructions) so you can master your iPhone in just one minute a day.
10 Best Third-Party Apps for the Dynamic Island
There are quite a few apps using the Dynamic Island in many different ways! Below you'll find my favorites, with a bonus list of other apps that I've discovered but haven't tested yet.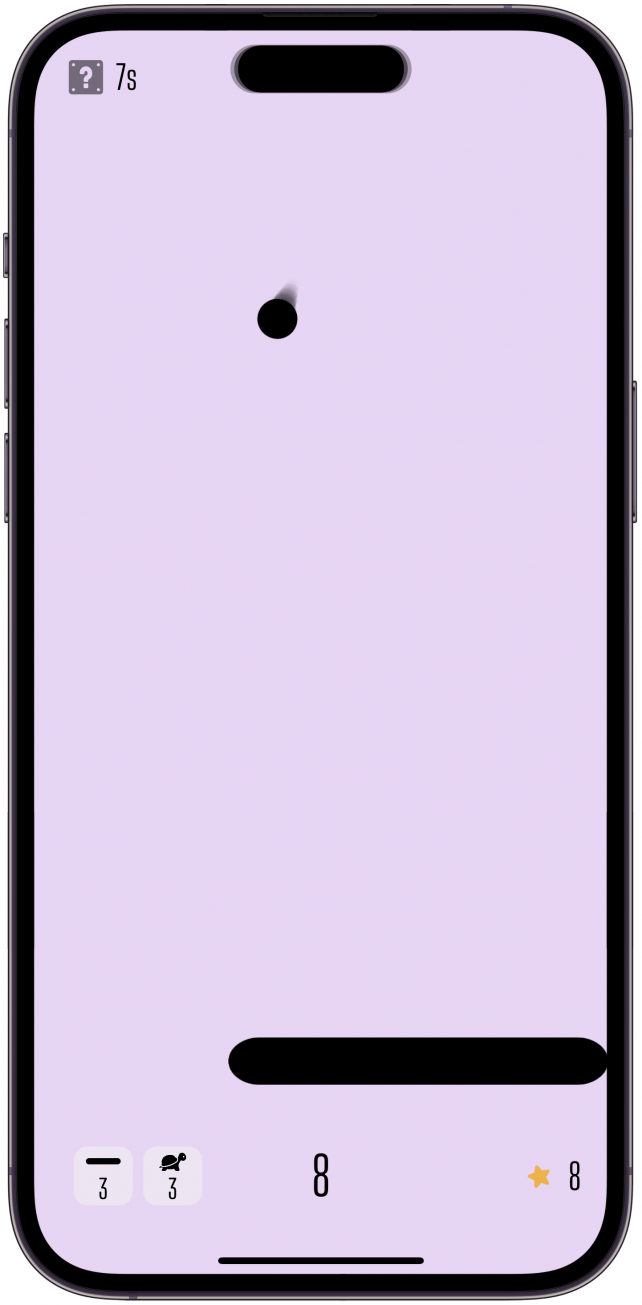 Although this is a game rather than a practical app, it is a fun way to experience the Dynamic Island and see it in action! The game is simple and Pong-style, with a paddle that you control with your finger while trying to hit the Dynamic Island with the ball. When you hit it, it shakes. It starts out as a simple game but gets hard quickly. The ball speeds up and multiplies, the paddle shrinks, and so much more.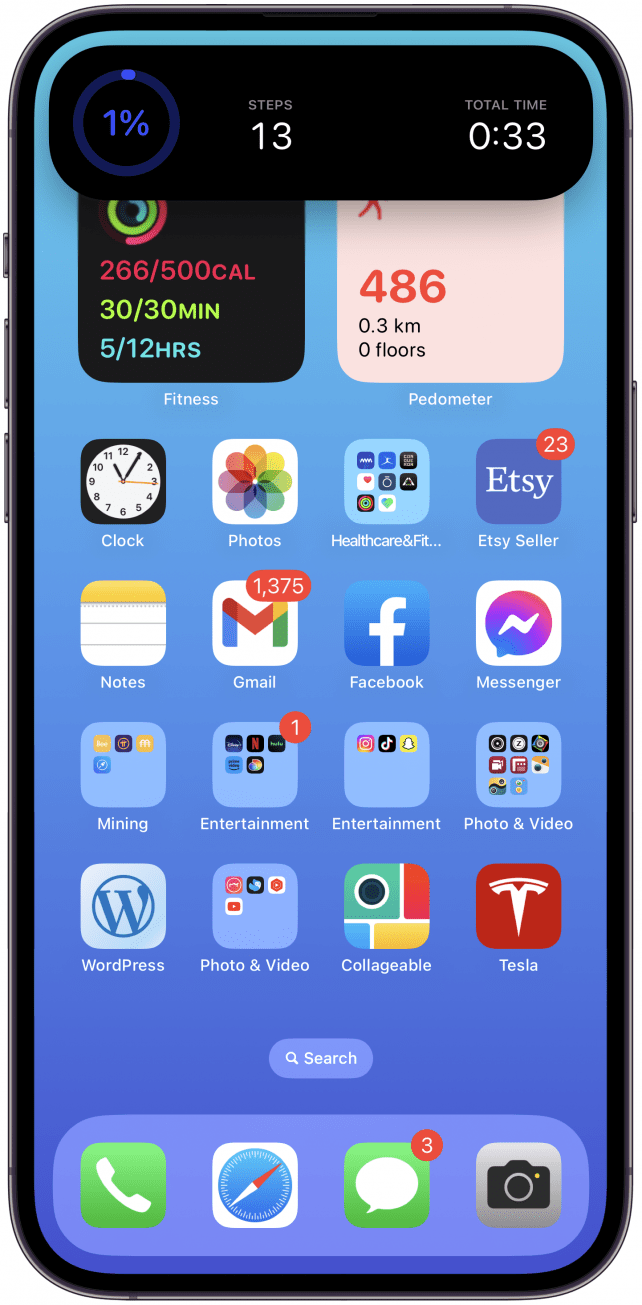 Steps is a free app with an optional $2.99 one-time fee to upgrade to the premium version for a few extra features. With Steps, you can begin a workout that aims at getting you to a certain number of steps, a chosen time spent walking, and more. These will appear in your Dynamic Island for quicker reference so you can do something else on your phone, like checking your hiking route in Maps. I like setting a specific step goal, like 1,000 steps, because most other apps don't offer this option. I don't like that it lags a bit, so it always shows you being behind on steps before it catches up, but this could get better in time!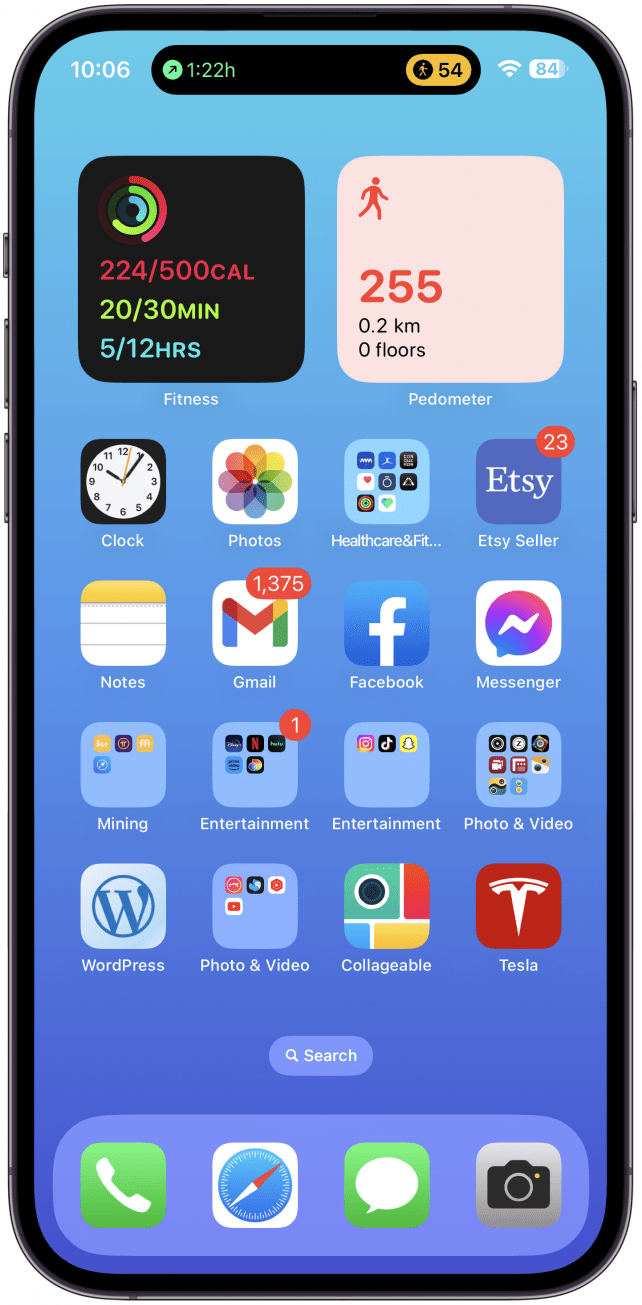 Flighty is a useful app for globetrotters who want to keep track of their flights and have a smoother airport experience. Since I like to be extra prepared before every flight, I love that Flighty lets you test the features so you can get to know them in a stress-free environment by picking a random flight to track. You can long-press it for more detailed info and tap it to return to the app.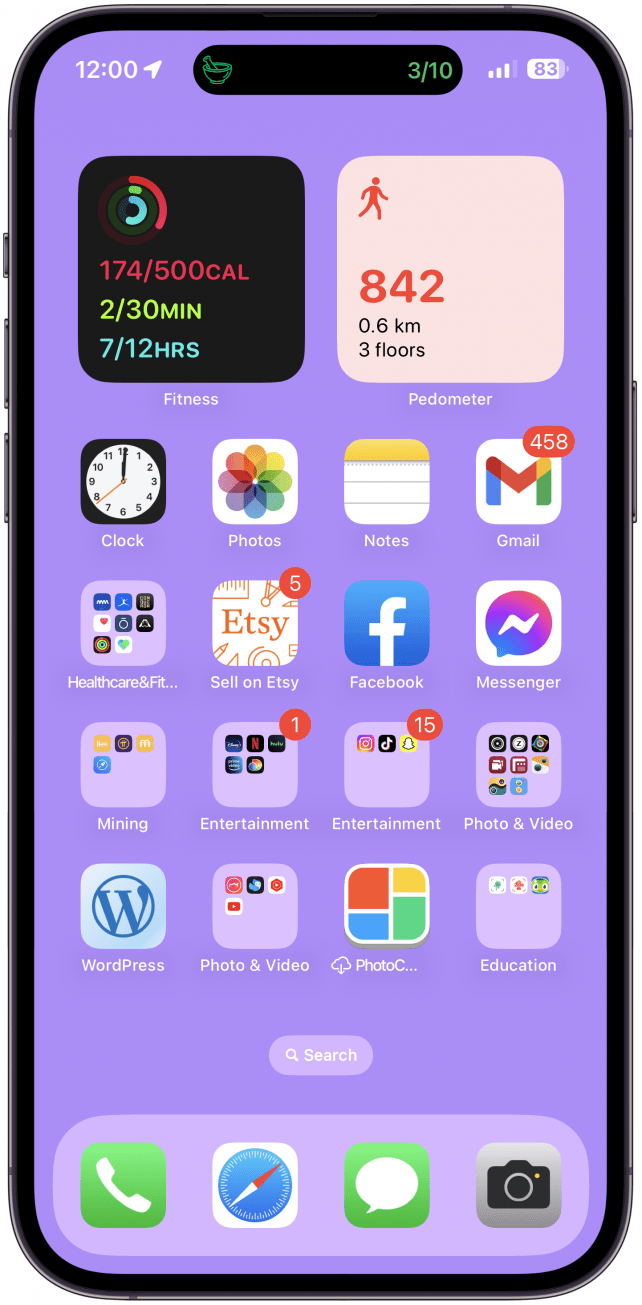 Pestle is a popular app for foodies and recipe collectors! It quickly grabs recipes by only taking the ingredients and instructions from a recipe link. Once you are ready to try a recipe, tap Start Cooking, and if you navigate away from the app, you'll see what step you are on and the Pestle logo in the Dynamic Island. You can tap it to return to the app and see the detailed step.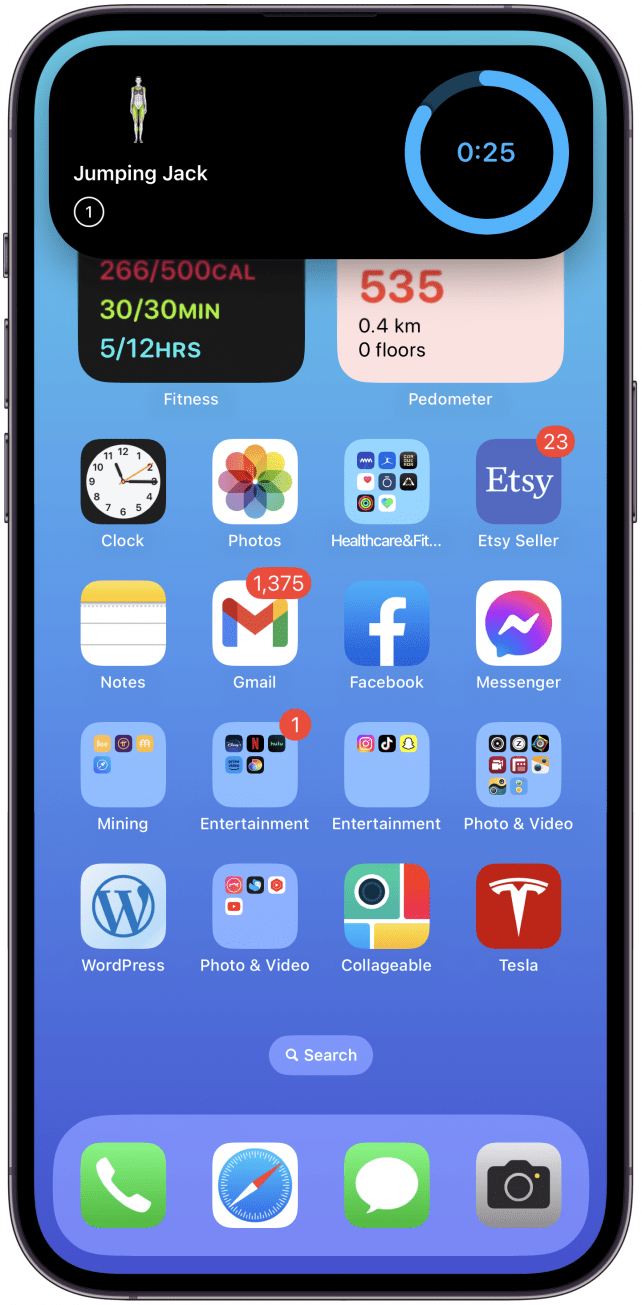 Working out by following instructions on your phone can be challenging, but SmartGym makes it much more doable. When you start a SmartGym exercise routine or sequence, you'll be able to hear your phone call out what you should be doing while also seeing the activity and your countdown/timer in the Dynamic Island. If you long-press it, you'll be able to see more detailed information while still playing other apps in the background, like your favorite workout inspiration music song or video.
If you love to Ski or Snowboard, Slopes is the app for you! It helps keep track of all your ski or snowboarding activities, trips, and stats! If you start recording a ride down a slope, you can tap Record, then Go, and record your activity. You will see the Slopes icon and the time of your recording in your Dynamic Island even if you navigate away from the app. You can long-press it for more detailed info and tap it to return to the app.
If you use Reddit, you'll love this free app. However, I'm only here to talk about Apollo for Reddit's Pixel Pals feature. This is a cute but useless way to spruce up your iPhone with a pixelated animal pet "living" in your Dynamic Island! They have recently created a new app just for the pets, Pixel Pals - Widget & Activity (free), where you can do even more quirky things with these digital pets.
Get on top of your finances with MoneyCoach! This app helps you stay on top of your bills, expenses, payments, and anything related to your financial health. When you add a purchase, you will see it in red in your Dynamic Island. As someone who tends to overspend, I find it helpful to see this accusatory red number right on my screen to encourage me to spend less. If you long-press the Dynamic Island, you'll see how you spent during the entire period, which can be very eye-opening if you tend to make many small purchases because the total is always more than one may expect. If you want to access all of MoneyCoach's featured, you'll have to pay for the premium, which is $44.99 annually.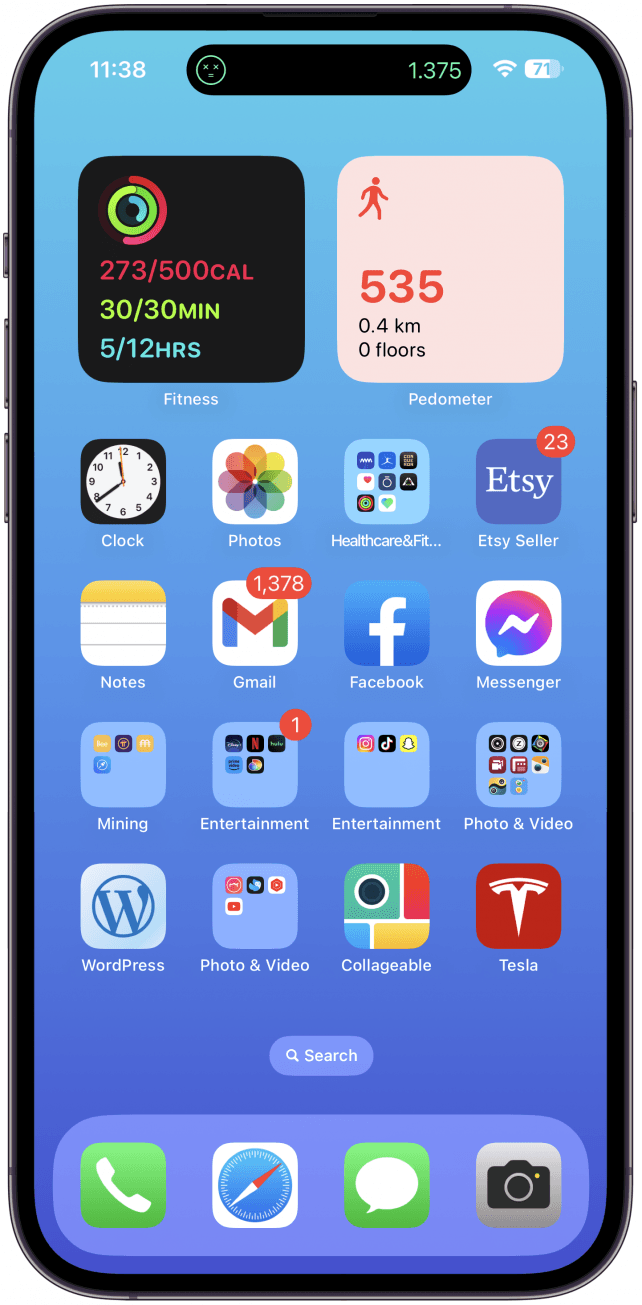 Calzy is a fun app for those who want to do math on the go or while using other apps. If you turn on Live Activities in Calzy's settings, you'll be able to see a number, calculation, and the result of the equation in your Dynamic Island. Before you buy it, I recommend checking out some of the other apps made by this developer. Raja V offers a three-app bundle for $10.99 that includes Lumy ($6.99), which also works with the Dynamic Island by alerting you of upcoming solar events such as a sunset or sunrise!
This popular app is the winner of various awards, has been featured in the New York Times and other publications and has a rating of 4.7 stars despite being reviewed by over 48,000 users in the App Store! This weather app offers detailed information about weather near and far, plus it can be customized to make political jokes and use profanity. Carrot Weather also stays on top of every iOS update, and with the release of iOS 16, it came out with a new Dynamic Island, Lock Screen widget, and Live Activity features! The app uses the Dynamic Island to show you upcoming rain and let you track approaching storms at the top of your screen. (Un)fortunately I live somewhere where the weather is consistently sunny and dry, so I wasn't able to see it in action, but once there's an unexpected flash flood, it'll come in handy!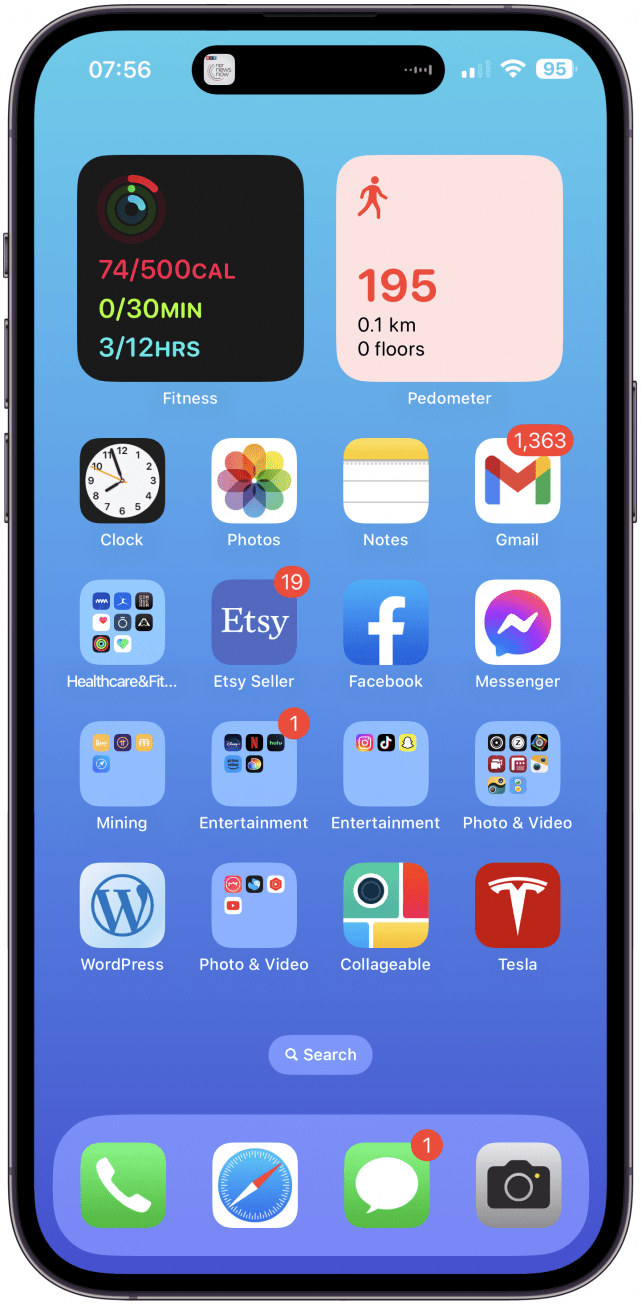 Bonus Apps:
So many other apps use Dynamic Island, and more will be added to the list with time! Here are a few others that I have not tried yet, but have on my app bucket list. Please keep in mind that the free apps may have premium and in-app purchase offers:
How to Find Out if An App Works with Dynamic Island?
The best way to find out if an app works with the Dynamic Island is to open up an app you like or want to learn about/have heard of in the App Store and look for the words" Dynamic Island". You could also try "Live Activities," as these two features often come hand-in-hand. I prefer to do this on a computer so that I can quickly press the 'Command' and 'F' keys on a Mac ('Control' and 'F' on a PC) and type "Dynamic Island" first, then "Live Activities" if it doesn't work. 
You can also search for these terms in the App Store. From my experience, this will mostly direct you to gimmicky apps and games. But it is a great way to discover new apps if you are looking to find the perfect digital pet, create wallpapers incorporating the Dynamic Island, or other fun but not practical apps.
Now you know how to get started with the Dynamic Island! If you find a third-party app that you love that we forgot to mention, please let us know in the comment section below! Next, learn how to temporarily hide Now Playing in the Dynamic Island.