By

Amy Spitzfaden Both
Updated 05/16/2023
What to Know
If your iPad is not charging, it could be a hardware problem: check your charging port, cable, charging block, & power outlet.
You may need to charge your iPad for longer before any indication of charging shows up.
If your iPad is not charging but has a lightning bolt, it may be a power source issue.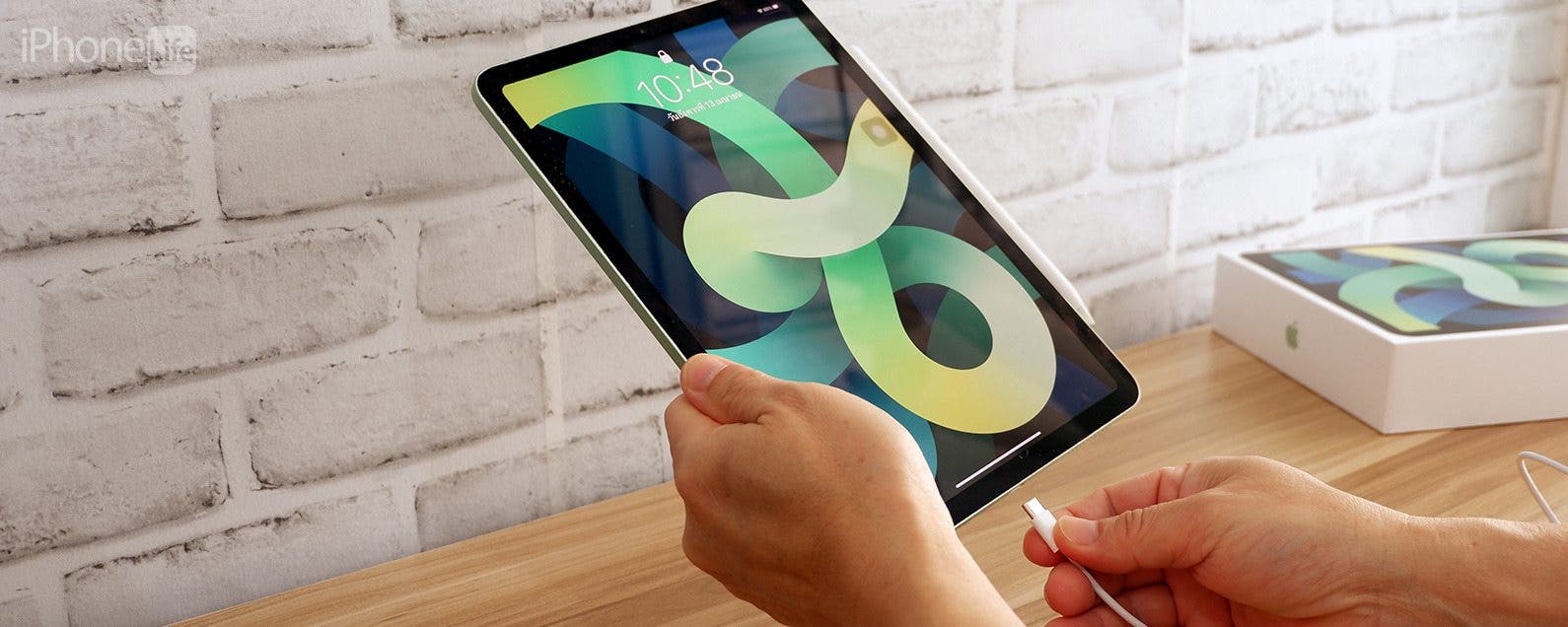 Your iPad not charging can be frustrating. Whether you urgently need to get work done or just want your device to function properly, you'll want to know what to do if your iPad will not charge. Here are a few quick and easy fixes to try before going to the Apple store.
How to Fix iPad Not Charging When Plugged In
If your iPad won't charge, it's likely an issue with the hardware, but it could also be a power-source issue or a problem with your software. Here is everything to try when your iPad is not charging to get it back on track.
1. Check Your Charging Cable, Charging Block & Power Outlet
The most common reason for an iPad not charging is an issue with the hardware. The first thing to do is check your cable, charging block, and power outlet. If you have another cable available, test to see if that one works instead. Do the same with the charging block to see if the issue is there, or plug the cable right into a compatible wall outlet. To check your power outlet, move to one that you know works (for example, one that has a light that's on plugged in). If you've checked all three of these variables at once and your issue isn't resolved, move on to the next step.

Discover your iPhone's hidden features
Get a daily tip (with screenshots and clear instructions) so you can master your iPhone in just one minute a day.
Note: If your iPad is not charging but has a green lightning bolt, the issue may be a limited power supply. I've had this issue recently with a third-party charger. My iPad won't charge but will show the charging symbol. I've discovered it's a blend of a low-quality cable and a charging strip that has too many other things plugged into it, fighting for power. However, if everything is up to snuff and your iPad still won't hold a charge, it may be an issue with the battery.
2. Check & Clean Your Charging Port
A dirty charging port can lead to connection issues, which can mean your iPad will not charge. First, check to see if your charging port is on or off. Next, clean your charging port and see if that fixes the issue. Be careful how you clean it, though! Doing it incorrectly can damage it further or even void a warranty.
3. Restart Your iPad
This one only works if your iPad has enough battery to perform this task. If there's a software glitch causing your iPad to not charge, restarting it may fix this issue. Try restarting it without the charging cable plugged in for better results.
4. Update Your iPad
Again, this one is dependent on how much battery life you have. Updates frequently take care of bugs and issues, so if you've gone through all the above steps and are still having iPad charging issues, an update might do the trick.
5. Charge Your iPad for an Hour
If your iPad isn't so much as showing a charging symbol, it might be that it's just so dead that nothing is displaying at all. When this happens, you can't always tell it's charging right away. Plug your iPad in, leave it for an hour, and then come back to see if it's working yet.
If none of this works, it might be time to contact Apple Support.
FAQ
What is the repair cost of an iPad charging port? Depending on your iPad, repairing a port can cost as little as $49 with AppleCare+. However, if you don't have this coverage, you can be looking at a bill of a couple hundred dollars.
How long does an iPad battery last? Your iPad battery should last at least two years before it starts losing capacity. Some estimate an iPad battery will last roughly 5,000 full cycles of recharging, so it really depends on how frequently and how fully you charge your battery. An iPad battery is very likely to suddenly die without any warning, though, especially if it's within the first two years of purchase, so if that's the case, this may not be the issue.
How much battery life do you need to update an iPad? You'll need at least 50% battery life to update your iPad's OS.
Top image credit: waller66 / Shutterstock.com