The next generation of iPad Pros are here along with a revamped entry-level iPad
By

Leanne Hays
Tue, 10/18/2022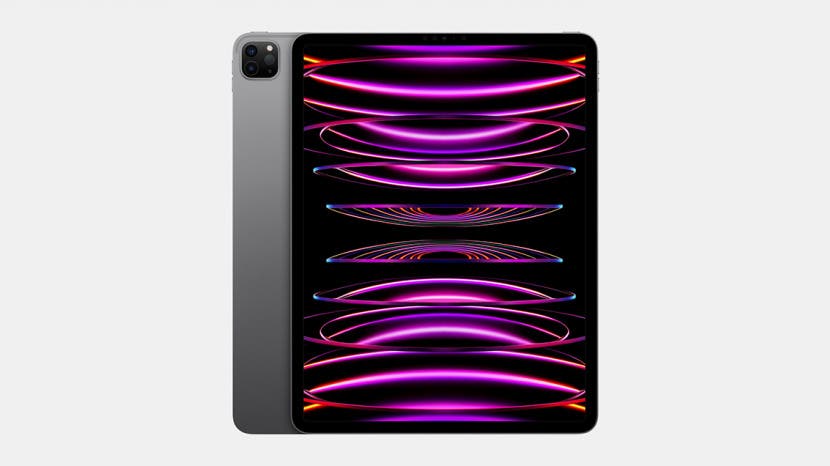 On October 18, Apple forwent a fall event and announced the iPad 10 and M2 iPad Pro via press release. Apple's entry-level iPad 10 got a new USB-C port, its own Magic Keyboard Folio, a bigger display, an upgraded camera, and a Touch ID button in place of a Home Button. The 11-inch and 12.9-inch iPad Pros announced today are powered by the M2 chip, the same one that can be found in the 2022 MacBook Air, and they support fancy new Apple Pencil capabilities. Let's go over the specs, when you can buy the newest iPads, how much they will cost you, and, of course, colors!
Related: Apple Announces iPhone 14 & iPhone 14 Plus: Here's What's New
Tenth-Generation iPad Gets 10.9-Inch Display, 12 MP Camera & Loses the Home Button
This year, Apple is really shaking things up when it comes to its entry-level iPad. For the tenth-gen iPad, Apple has ditched the Home button in favor of a top button with Touch ID. Apple also replaced the Lightning port with USB-C, added a 12 MP camera, and extended the Liquid Retina display edge-to-edge, allowing for a 10.9-inch display in a chassis nearly the same size as that of its predecessor. The 2022 iPad model's True Tone Liquid Retina display also has an improved 2360-by-1640-pixel resolution at 264 pixels per inch (ppi). The iPad 10's processor got an upgrade as well, from the A13 Bionic to the A14 Bionic (the same chip as the iPhone 12), which Apple says will provide a 20 percent increase in CPU and a 10 percent increase in graphics performance compared to last year's ninth-generation iPad. And how about those colors? This year we can choose from pink, yellow, blue, or a classic silver finish, and even buy a Smart Keyboard Folio case to use with the colorful new iPad. 
Another design change for the tenth-generation iPad comes via camera location and quality: the front camera has moved to the landscape edge of the tablet, which means we'll finally face the camera directly when filming or using FaceTime. The tenth-gen's front-facing camera now also includes a 12-megapixel Ultra Wide lens with a 122-degree field of view, compared to the 8 MP camera in the ninth-generation iPad. Finally, the tenth-generation iPad also adds a helpful, fun new feature I can't wait to try out: Time-lapse video with stabilization. 
Wi-Fi and cellular connections have improved this year, too. The 2022 iPad offers Wi-Fi 6 and 5G capability, which Apple says will increase connection speeds by 30 percent compared to the iPad 9. 
One thing Apple didn't change with the tenth-generation iPad? The new model is still not compatible with the Apple Pencil 2. Instead, buyers who want to use an Apple Pencil with their new iPad 10 will need to settle for a first-generation Apple Pencil. This may not seem like a big deal until you consider that the Apple Pencil 1 charges via Lightning port, and the iPad 10 no longer has one. In order to charge an Apple Pencil with the iPad 10's USB-C port, iPad buyers who already own an Apple Pencil 1 will need a $9 adapter. The adapter is included free with the purchase of a new Apple Pencil 1. (You can also charge your Apple Pencil via your iPhone's Lightning port, but some of my iPhone cases make this difficult.)
New iPad (10th Gen) Price & Availability
How Much Does the iPad 10 Cost?
Wi-Fi models start at $449
Wi-Fi & Cellular models start at $599
When Can You Buy the iPad 10?
Pre-order October 18
Available October 26
What Colors Does the iPad 10 Come In?
2022 iPad Pros Come with M2 Chip, Apple Pencil Hover
There aren't huge differences, appearance-wise, between the 2021 iPad Pros and the 2022 models. Color options are still silver or space gray, size options are still 11 or 12.9 inches, and the display options are Liquid Retina XDR for the 12.9-inch or Liquid Retina for the 11-inch model. The new iPad Pro offers the same Thunderbolt port as last year's model. Thunderbolt transfers data twice as fast as USB-C, which allows for the connection of external monitors and docks and is compatible with USB-C cables.
There are some pretty cool upgrades when it comes to accessories, though. Thanks to a new feature called Apple Pencil Hover, the 2022 iPad Pros can detect the Apple Pencil 12 mm above the screen. Apple says this will allow for even more precision when using the Apple Pencil. Users will be able to see a preview of their pencil strokes before they make them, and text fields will get bigger when the iPad detects the Apple Pencil is near, making Scribble easier and faster to use. 
The 2021 iPad Pro, running on an M1 chip, offered up to a 50 percent faster processing speed over the 2020 model, and up to a 40 percent speed increase for graphics. This year the iPad Pro is powered by the M2 chip, which Apple says is 15 percent faster than the M1, with up to 35 percent faster graphics.
Apple didn't make a whole lot of camera improvements this year, unfortunately. The 2021 iPad Pro included a new Ultra Wide camera with Center Stage, while this year's models didn't see major changes to the camera system. Both year's models have Wide and Ultra Wide cameras with a 125-degree field of view, the same Panorama and True Tone features, and capture HEIF and JPEG formats. The biggest difference is that this year's iPad Pros offer Smart HDR 4, while last year's had Smart HDR 3.
Finally, the latest iPad Pros, available in Wi-Fi or Wi-Fi and cellular connection models, offer Wi-Fi 6E and 5G capability, which Apple says will make downloads two times faster than on the previous generation. 
If you're an iPad Pro fan and have been waiting to update your device, this might not be the year to do it. Other than better connectivity and the new M2 chip, the 2022 iPad Pros don't have a lot of new features to offer.
2022 iPad Pro Price & Availability
How Much Do the 2022 iPad Pros Cost?
New iPad Pro 11-inch start at $799
New iPad Pro 12.9-inch starts at $1099
When Can You Buy the New iPad Pro?
Pre-order October 18
Available October 26
What Colors Do the New iPad Pros Come In?