By

Leanne Hays
Updated 04/03/2023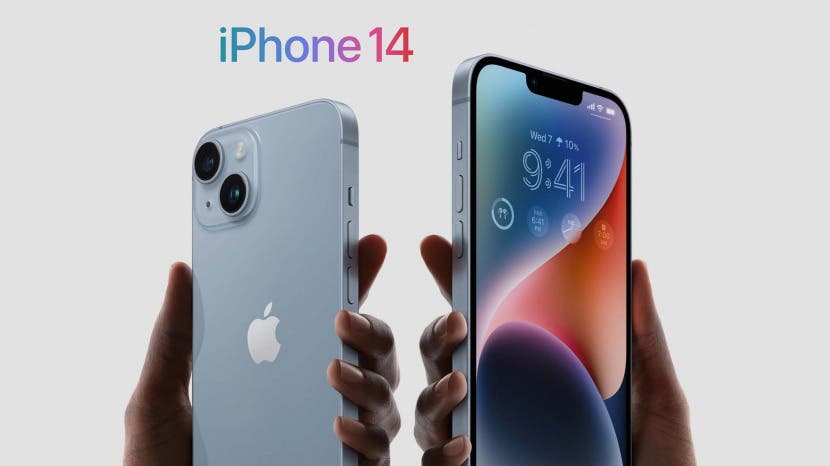 The iPhone 14 family made its debut today, and the two lower-priced models are fairly modest in terms of new features. That being said, Apple has switched some things up, and introduced several convenient improvements. Let's get started learning about everything Apple has added to the iPhone 14 and iPhone 14 Plus.
Related: Which iPhone Is Right for You?
Both the iPhone 14 and iPhone 14 Plus maintain many of last year's upgrades, but Apple has thrown several convenient improvements and new features into the mix. These include better battery life, camera updates enabled by a new image processing technology Apple is calling Photonic Engine, emergency satellite SOS, Crash Detection, and eSIM replacing the physical SIM card and tray. Curious to see what Apple has added to the iPhone 14 and 14 Plus? Here's what's new!

Discover your iPhone's hidden features
Get a daily tip (with screenshots and clear instructions) so you can master your iPhone in just one minute a day.
2022 iPhones Release Date
Availability:
Pre-order September 9
iPhone 14 Available September 16
iPhone 14 Plus Available October 7
iPhone 14 Prices
In a year marked by price gouging and inflation, Apple has done us a solid by maintaining last year's base-model price for the iPhone 14, and starting the iPhone 14 Plus at just $100 more. This is the first time a base model iPhone has been available with the largest display size in the line, and it will be interesting to see how sales play out.
iPhone 14
$799 or $33.29/month for 128 GB
$899 or $37.45/month for 256 GB
$1099 or $45.79/month for 512 GB
iPhone 14 Plus
$899 or $37.45/month for 128 GB
$999 or $41.62/month for 256 GB
$1199 or $49.95/month for 512 GB
The iPhone 14 & iPhone 14 Plus at a Glance
Here are iPhone 14 and iPhone 14 Plus features at a glance. Wondering how the lower-priced models stack up against their spendier siblings? Check out Olena's Kagui's article about the iPhone 14 Pro and Pro Max.

iPhone 14 Plus has arguably the best battery life we've seen in an iPhone so far
Super Retina XDR displays with OLED technology and Dolby Vision
Advanced dual-camera system 
2X Optical Zoom Range
5G capability 
Compatibility with MagSafe accessories and wireless chargers 
A15 Bionic chip with 5-Core GPU 
Cinematic mode in 4K HDR up to 30 fps 
New Action Mode 
New Photonic Engine 
Uses eSIM, eliminates physical SIM card and tray 
Crash Detection with automatic call to emergency services for severe crashes 
Emergency SOS via Satellite with two years of free service 
The iPhone 14 and iPhone 14 Plus come in midnight, starlight, blue, purple, and PRODUCT(RED) 
Size Switch & Display 
The iPhone 14 has the same 6.1-inch screen size as last year's iPhone 13, but this year Apple replaced the unpopular iPhone 13 mini with the iPhone Plus, which features a sizable 6.7-inch display. Materials, as well as splash, water, and dust resistance, remain the same as those offered by the iPhone 13. That means aerospace-grade aluminum with a ceramic shield screen, with water resistance of up to 6 meters for 30 minutes. 
Display features between the iPhone 13 and 14 comps remain largely unchanged. Both the iPhone 14 and 14 Plus offer a Super Retina XDR and all-screen OLED display, though the iPhone 13 Pro and 13 Pro Max also offer ProMotion technology with adaptive refresh rates up to 120 Hz. There is also a small difference in screen resolution; the iPhone 14 offers a 2532-by-1170-pixel resolution at 460 ppi, while the iPhone 14 Plus offers a slightly improved 2778-by-1284-pixel resolution at 458 ppi.
Overall, the differences in display size and quality are almost indistinguishable between last year's iPhone 13 Pro Max and this year's iPhone 14 Plus.
A15 Bionic Chip 
This year Apple decided to stick with the A15 Bionic Chip for the iPhone 14 and iPhone 14 Plus models. This is the same chip used in last year's iPhone 13 Pro and Pro Max; it has a 6-core CPU with 2 performance and 4 efficiency cores, a 5-core GPU, and a 16-core Neural Engine. The chip can process 15.8 trillion operations per second, improving power and efficiency for extended battery life, as well as better graphics and display appearance. The chip also enables improved Camera features like Photonic Mode, which we'll cover later on. 
Battery Life 
The iPhone 14 has a slightly better battery life than the iPhone 13; one extra hour of video playback, five of audio, and the same Fast-Charge capabilities (Up to 50 percent charge in 30 minutes with a 20W adapter or higher). The improvements really show up in the iPhone 14 Plus, though. According to Apple, this model offers "the best battery life ever in an iPhone." I'm not sure exactly how the company determined this, since the iPhone 13 Pro Max offers 25–28 hours of video playback in comparison to the iPhone 14 Plus with 20–26, 95 hours of audio playback versus the 100 hours offered by the iPhone 14 Plus, and the same fast-charging speed. It seems more neck-and-neck to me; but still, not too shabby considering that the iPhone Pro Max started at $1,099 and the 14 Plus is $200 cheaper!
Camera Upgrades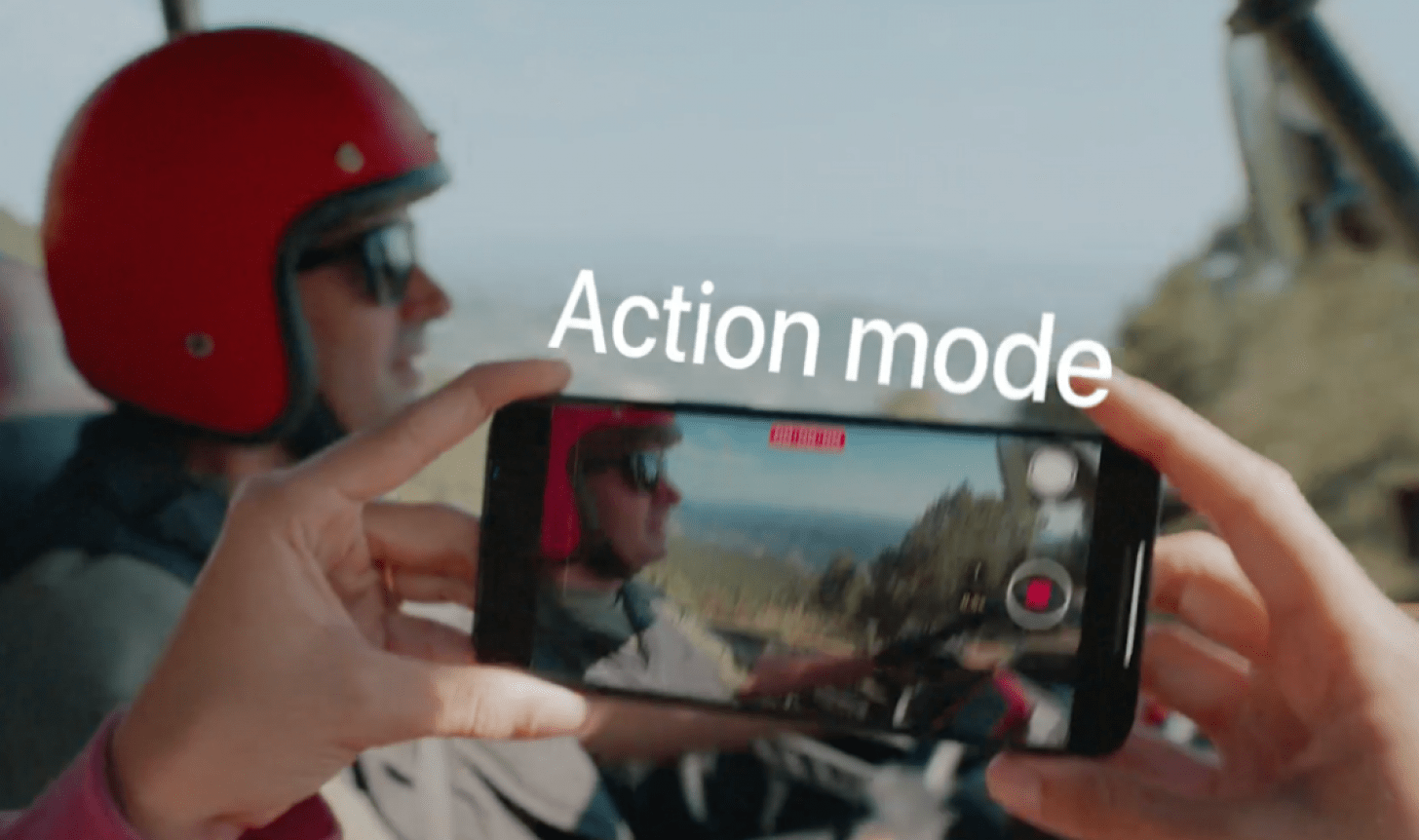 The iPhone 14 and 14 Plus cameras got an upgrade, although not one as dramatic as the 48 megapixel rear-facing camera of the Pro models. The iPhone 14 and 14 Plus still has a 12 MP main lens and has improved True Tone flash and a brand new Action mode. True Tone flash will help make your photos look more natural, while Action mode smooths out bumpy shaky videos, even if you begin recording mid-action. Finally, Cinematic mode on the entire iPhone 14 lineup can record up to 4K HDR at 30 fps which is higher quality than on the iPhone 13.
One of the most interesting things about this year's announcements wasn't that there were exciting new camera features—this is Apple, after all—but that two of the shiny new features were available to all four models. Typically, the headlining camera features are reserved for the Pro models, while the base models get reliable yet less exciting upgrades. But both the new Cinematic mode and Photographic Styles will grace every member of the iPhone 14 line, which begs the question, is it worth going Pro this time around at all? Perhaps. The Telephoto lens is still exclusive to the Pro models, so if you've gotten used to that, you might not want to downgrade. 
Expanded Night Mode
The iPhone 14 and 14 Plus now take better low-light photos than ever before. When you tap that shutter button, your iPhone takes nine photos and uses machine learning to select the best photo. It selects photos that have the best texture, color, and resolution. Plus, it has a larger aperture and a brighter flash which is always a plus for low-light photography.
Crash Detection & Emergency Satellite SOS 
An all-new feature debuts this year with the iPhone 14 line: Crash Detection. Every iPhone 14 comes equipped with older features, including GPS, a microphone, and a barometer that helps detect sudden changes that indicate a crash has happened. These instruments work together with a new high-dynamic range gyroscope and dual-core accelerometer that can detect G-force measurements of up to 256 Gs. When Crash Detection on an iPhone 14 detects a severe car crash, it automatically calls emergency services if the iPhone owner doesn't make the call or cancel it themselves. 
To improve user safety even further, all iPhone 14 models can use Find My to share their location via Find My when out of Wi-Fi and cellular range. Better yet, users in the US and Canada can contact emergency services even when out of Wi-Fi or cellular range. In the event of an emergency, your iPhone 14 will direct you to point your phone's antenna toward a satellite and answer a few questions to get the help you need ASAP. Your answers are sent to an Apple-trained specialist who will call for assistance. Service is free for the first two years. 
Which iPhone Should I Buy & Apple Trade-In 
If you're wondering which of the iPhone 14 line is right for you, check out Ashleigh Page's article for guidance. Once you've decided, look into your trade-in options to see how much you can save on your favorite iPhone 14. 

Something to consider when deciding whether or not to purchase a new iPhone 14 is Apple's Trade-In program. iPhone owners can exchange their current device for credit toward their next iPhone. The newer your current phone, the more credit you'll get! If your current iPhone is too old to exchange for credit, Apple will recycle it for free. If you have an Apple Watch and want to learn how to pair it to your new iPhone, read this!