By

Rhett Intriago
Updated 02/20/2023
What to Know
Make sure Auto-Correct and Spelling Check are enabled in Settings. 
Add words or phrases to your iPhone Dictionary to stop unwanted corrections.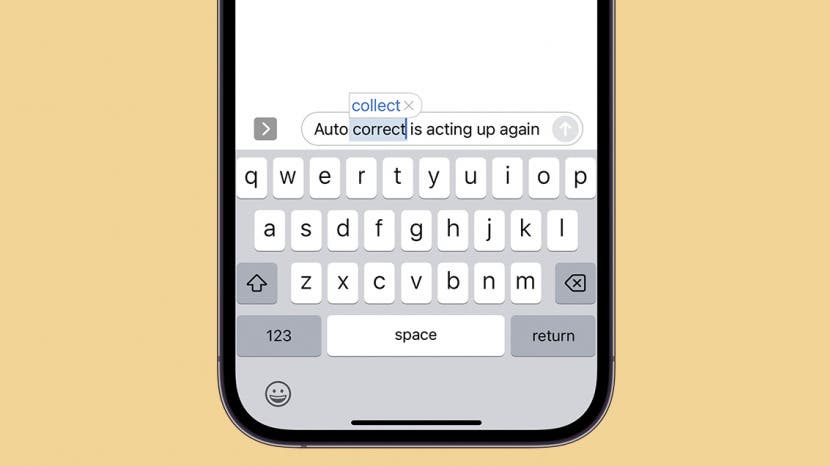 Autocorrect is an exceptionally useful feature built-in to iOS, as long as it works right. Sometimes it doesn't correct the words you want it to or it will change a word to something that you didn't mean. When that happens, you want it fixed right away. Fortunately, we have solutions for when autocorrect is not working on iPhone.
Jump To:
How to Fix Autocorrect on iPhone
Autocorrect on iPhone not working could be caused by a number of things, from certain settings not being turned on to software glitches. We'll go over the best ways to fix any issues that you may be experiencing with autocorrect. Be sure to sign up for our Tip of the Day newsletter so that you can continue learning more about how your device works and why specific features might not function properly.
Check That Autocorrect Is Turned On
The first thing to check is to make sure that autocorrect is turned on. If your phone's settings got switched around somehow, autocorrect could have been switched off by mistake.

Discover your iPhone's hidden features
Get one daily tip each day (with screenshots and clear instructions) so you can master your iPhone in just one minute a day.
Open the Settings app.


Tap General.



Scroll down and tap Keyboard.


Check that the toggle next to Auto-Correction is switched on.



Other toggles that you'll want to make sure are turned on are Check Spelling and Predictive.


If all of those options are toggled on already, you can also try turning autocorrect off and back on again. Simply tap the toggle next to each setting to turn it off and tap it again to turn it back on.
How to Add Words to iPhone Dictionary
Autocorrect sometimes just doesn't know certain words, so adding words to iPhone dictionary can prevent autocorrect from changing them in the future.
Open the Settings app.


Tap General.



Scroll down and tap Keyboard.


Tap Text Replacement.



Tap the + icon to add a word to your iPhone dictionary.


In the Phrase field, type the word you want to add.



You can also add a shortcut so your keyboard will automatically know what you are trying to type (e.g. typing the shortcut omw can automatically correct to On My Way).


With the word in your text replacement dictionary, autocorrect will now recognize what you are trying to type and stop changing your words around. You can even use the text replacement dictionary to set up text shortcuts for special symbols like the degree symbol.
How to Reset Autocorrect on iPhone
If your text replacement is not working properly or autocorrect seems to not recognize words in your dictionary, it might be a good idea to try resetting it.
Open the Settings app.


Tap General.



Scroll down and tap Transfer or Reset iPhone.


Tap Reset.



Tap Reset Keyboard Dictionary.


This will wipe your iPhone's text replacement dictionary, resetting it to how it was when you first set up your iPhone.
Try Turning Your iPhone Off & On Again
Restarting your phone is always a good solution to any issue you are facing. Sometimes your device just needs to be power cycled once to reset things and try again. You can do this easily by pressing and holding both the power button and either one of the volume buttons at the same time. From there, slide the switch (shown below) to the right to power off your device. After a few seconds, press and hold the power button to turn your iPhone back on.


If you find that your iPhone is still acting up after trying these solutions, you may want to try switching keyboards. However, if all else fails, it might be a good idea to contact Apple Support or visit a nearby Apple Store to receive further assistance. Next, discover how to text like a pro with these typing tricks!