By

Abbey Dufoe
Updated 01/17/2023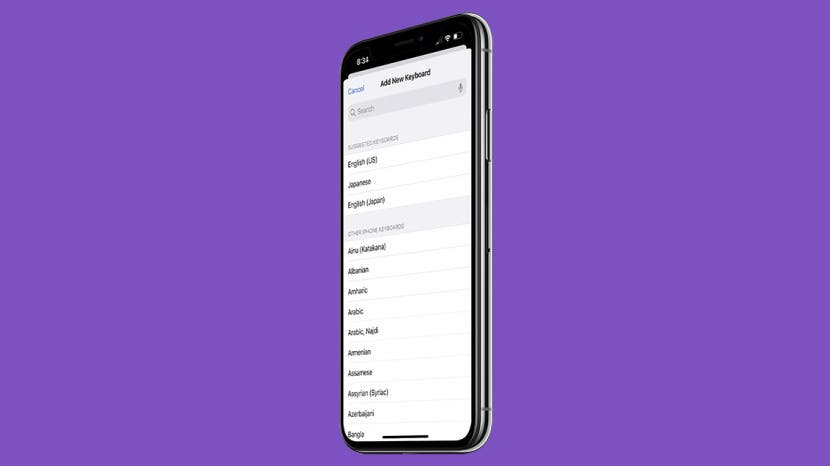 * This post is part of iPhone Life's Tip of the Day newsletter. Sign Up. *
If you are bilingual, either between English and Spanish or between English and emoji, chances are you've had some experience with keyboards on your iPhone.
You can access new iPhone keyboards whether you're fluent in another language, have a need to use emojis to express yourself, or want to use a third-party keyboard. Once you've set up the multiple keyboards, it's easy to switch between them. Here's how to switch keyboards on iPhone.
Related: How to Add a Third-Party Keyboard
We've already gone over how to fix unwanted predictive text suggestions, how to use Slide to Type (Swipe Type) on the iPhone keyboard, and how to type numbers and stay in the standard iPhone keyboard. For more great iPhone texting tricks and keyboard shortcuts, check out our free Tip of the Day. If you want to switch between keyboards when typing on the iPhone or iPad, first you need to have more than one keyboard enabled in Keyboards settings.
How to Enable New Keyboards on the iPhone:
Open the Settings app.


Tap General.



Tap Keyboard.


Tap Keyboards.



You'll see a list of the keyboards you've already enabled. To add a new one, tap Add New Keyboard.


On this screen you can find other language keyboards, also any added by third-party apps. You can scroll through the list or use the search field to fine the one you want. Simply tap it to enable the keyboard.



After adding a keyboard, you will return to this screen. If you'd like to reorder, or remove a keyboard, tap Edit.


In edit mode, you can tap and hold on the three lines icon on the right side of a keyboard, then slide your finger to reorder the keyboards. This will allow you to make a different language your primary keyboard.



To remove a keyboard you no longer wish to use, simply tap the red minus icon to the left of the name.


When you're finished rearranging and removing keyboards, just tap Done.


How to Switch Keyboards on iPhone
Now that your keyboard is set up, head over to Messages or another app that uses the keyboard, such as Notes.
You can access the other keyboards in two ways:
Tap the globe to switch through the keyboard selections in order.


Or hold down on the globe icon and simply select the desired keyboard from the menu that appears. Also, note that the Keyboard Settings option that appears here will send you directly to the relevant screen of the Settings app.


Now you can switch between keyboards as quickly as you can use them!