Need to type numbers on your iPhone keyboard? You don't have to change keyboards to access iPhone symbols and digits.
By

Leanne Hays
Updated 09/07/2021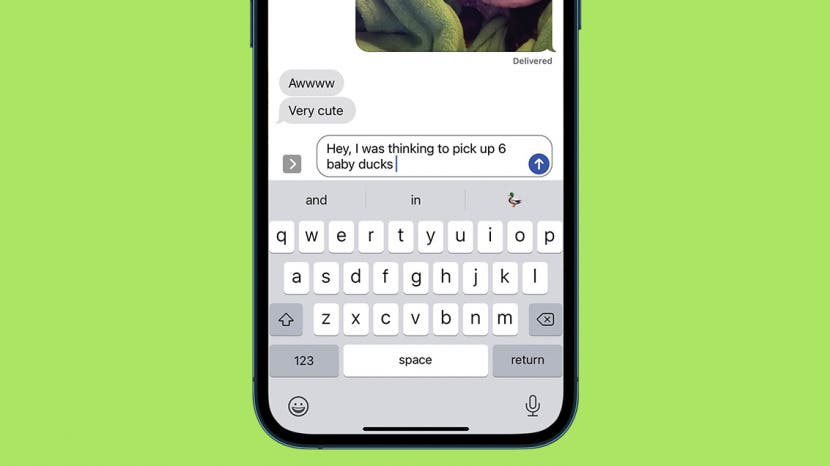 * This post is part of iPhone Life's Tip of the Day newsletter. Sign Up. *
It would be convenient if Apple would add a numbers row to the standard iPhone keyboard, but it hasn't happened yet. In the meantime, here's an iPhone texting trick: how to access iOS keyboard symbols and numbers without leaving the standard keyboard. 
Related: How to Add Emojis to a Text without Opening the Emoji Keyboard
Why You'll Love This Tip
Type numbers quickly and efficiently without having to switch to the number keyboard.
Impress your friends with your keyboard-shortcut knowledge.
How to Type a Number without Switching Keyboards on iPhone
For more great iPhone texting tricks and keyboard shortcuts, check out our free Tip of the Day. Now, let's go over how to access numbers and symbols without leaving the ABC keyboard on your iPhone.
To begin, open an app where you use your iPhone's keyboard, such as Messages or Notes. 
Tap the text field to reveal the standard iPhone keyboard, and begin typing.
Touch and hold the 123 button. It works best to do this with your non-dominant hand, as you'll need to keep holding it while you type the numbers and/or symbols.


 
Type the numbers or symbols you need using your other hand, then release the 123 button.


 
Carry on typing in the standard iPhone keyboard to complete your text.


For those who already type with two hands, this will be a breeze. If you typically type with only one hand, this may take a little bit of getting used to, but it's still faster than having to navigate from the ABC keyboard to the 123 keyboard and back! For more easy shortcuts, check out these tips on how to type faster on iPhone.