Access this hidden menu to easily save Safari photos.
By

Belinda Sanmiguel
Wed, 10/26/2022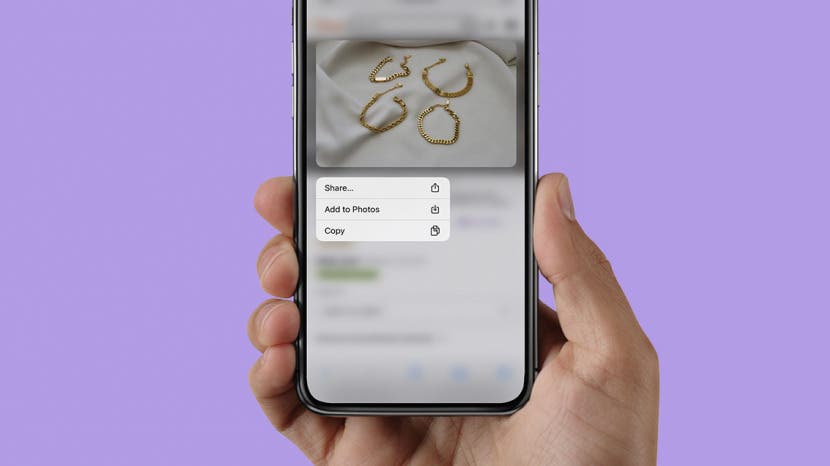 Perhaps you've found an image you love online and want to save it as a gift idea or an inspiration for your latest creative endeavor. The problem is, how do you save a photo from Safari on your iPhone? To save a photo from Safari, you can either long-press an image to download it, or copy and paste it from Safari into one of your iPhone apps.
How to Save a Photo from Safari to Your iPhone Photos App
Saving images to your Photos app is the easiest and most reliable way to download photos from Safari on your iPhone. To learn more about your iPhone features and fun Safari browsing tricks, sign up for our free Tip of the Day Newsletter. Now, here's how to save an image from Safari on your iPhone:
Open the Safari app and navigate to the image you want to save.


Once you've located your image, long-press on the Safari photo. 


Tap Save to Photos to save the image in your iPhone Photos app. 


Now when you open your Photos app, you'll see your newly saved image! This method is great for saving pictures; however, it's important to note that if you try to save an animated GIF using this process, it will only save as a static image. To properly save a GIF, read this article to learn how to save a GIF and preserve the fun animation. 
Copy & Paste an Image from Safari into an iPhone App
You can also save an image from Safari by copying the image and pasting it into an iPhone app with a text field. This method is ideal if you want to insert the image directly into a document, text message, or email. Here's how to save Safari images using copy and paste: 
Open the Safari app and locate the image you want to save. Long-press the image.


From the menu that appears, tap Copy.


Now, swipe up from the bottom of the screen to close Safari. Open the app you want to paste the image into, such as the Notes app. 


In a text field, press and hold on the screen. Tap Paste.


Now your image should appear in the text field you've pasted it into! The downside of using this method is that if the image you've copied was a linked file (and not directly inserted into the Safari article you copied it from) you might see a link instead of an image. In this case, use the steps in the section above to save it to your Photos app. Then, you can easily insert the image from your Photos app into your Notes or Messages app. Also, if you've been looking for ways to back up your photos to your laptop, check out these easy methods to transfer photos from your iPhone to computer.