By

Rhett Intriago
Wed, 11/01/2023
What to Know
If you receive an unsolicited text telling you that your package can't be delivered, do not interact with it.
A USPS text scam can only harm you if you willingly provide personal information.
You can avoid a USPS text scam by checking the sender, the URL, and the spelling and grammar.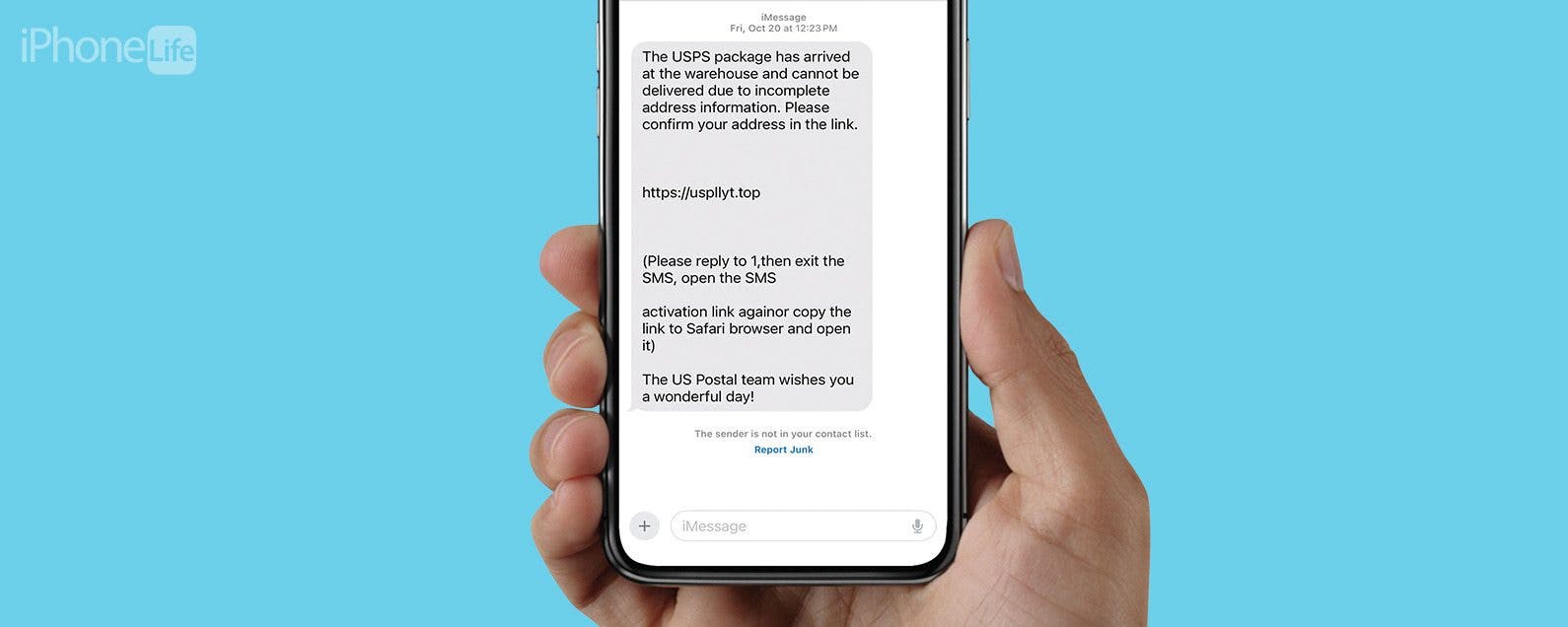 USPS text scams are becoming more and more common lately. You've probably received a text recently saying that your package is being held at a warehouse because it can't be delivered for one reason or another. The text might even provide a URL to a website that looks exactly like the United States Postal Service website. However, these texts are almost always a scam. Let's go over how to avoid falling for these USPS scam texts.
Jump To:
How to Avoid USPS Text Scam
Whenever you receive a USPS scam text, do not interact with it. Don't reply to the text, and definitely don't click on any links. The best thing you can do is simply ignore the text because the sender won't be able to do anything if you don't give them any information. 
USPS text scams are referred to as "smishing," which is essentially phishing through an SMS text message. The only way a smishing text can harm you is if you text back or willingly provide them personal details or financial information. For more iPhone security and safety advice, be sure to sign up for our free Tip of the Day newsletter.

Discover your iPhone's hidden features
Get a daily tip (with screenshots and clear instructions) so you can master your iPhone in just one minute a day.
How to Identify a Fake Text Message
When it comes to the USPS text scam, there are a couple of easy ways to quickly figure out if it's real or fake:
Check the sender. If the sender is an email address or if you notice that it's been sent as an iMessage instead of a text message, it's definitely fake. The USPS sends texts over SMS, not iMessage.


The URL is another dead giveaway. The only official USPS website is USPS.com. If the text is advising you to visit any other URL, it's a scam.


When in doubt, check the USPS text tracking FAQs for examples of what official texts from the USPS look like to help you identify if the text is real or fake.
FAQ
Does USPS send text messages? The USPS will only text you if you have already registered to receive text messages about a specific package on the tracking page. You will only receive texts about that specific package, not any others. If you have not registered to receive text updates about your package, then the USPS will not text you.
What happens if you click on a smishing text? In most cases, you should be safe to open text messages. As long as you don't text back or interact with the message, the sender can't do anything to you.