By

Rachel Needell
Tue, 10/31/2023
What to Know:
To disable Apple Watch keyboard notifications on your Apple Watch, go to the Apple Watch Keyboard section of Notification Settings and toggle Allow Notifications off.
For Series 7 Apple Watches and later, a full onscreen keyboard is available as long as your watch is running watchOS 8 or later.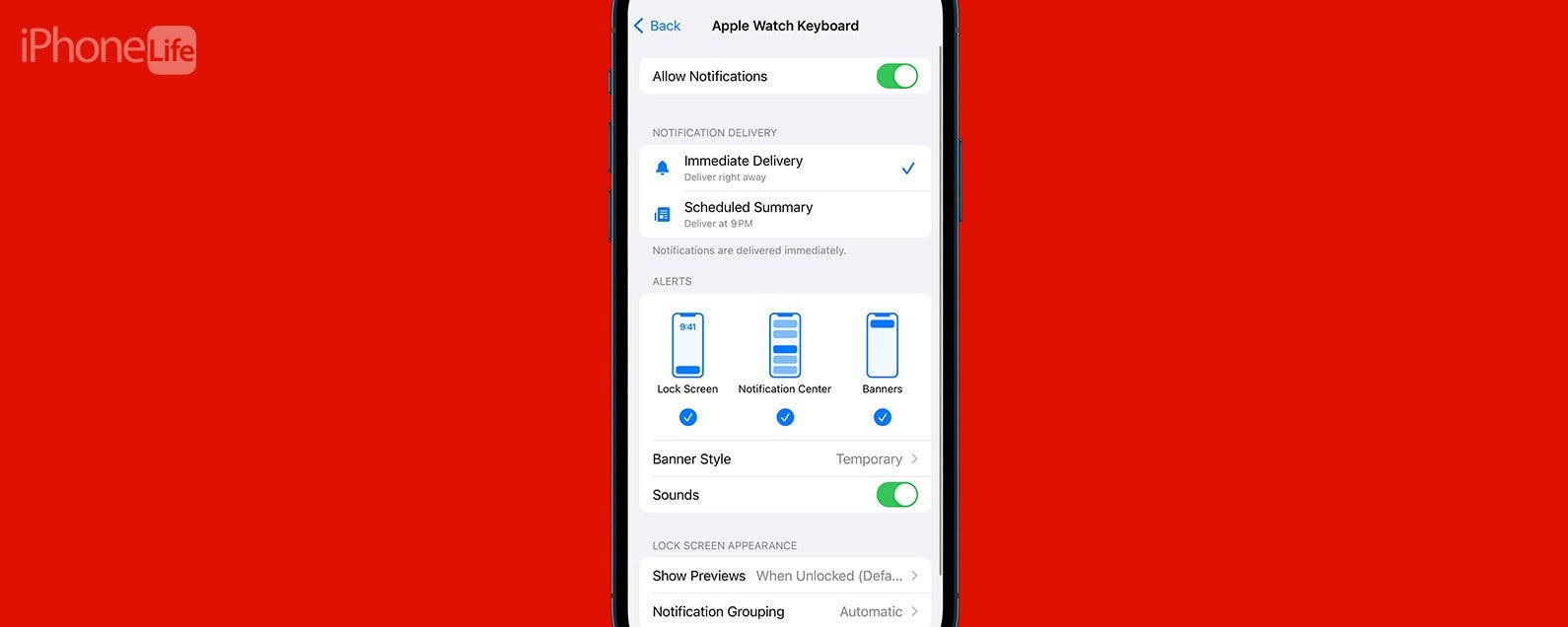 Typing on the Apple Watch can be a little tricky because the screen is so small. That's why after watchOS 8, Apple released a feature that allows you to utilize your iPhone's keyboard to type on the Apple Watch instead. However, this notification popping up on your iPhone can get a bit annoying. Here's how to stop the Apple Watch keyboard notification that keeps popping up.
Jump To:
Turn Off Apple Watch Keyboard Notification
Even though using your iPhone as an alternate keyboard can be super convenient, it can also be annoying when you're constantly getting the keyboard notification. If you like learning tips about your Apple Watch, be sure to sign up for our free Tip of the Day!
Customize Apple Watch Keyboard Notification
If you don't want to turn off the keyboard notification completely, but find the way it currently pops up to be annoying, you can customize the notification settings via your iPhone.

Discover your iPhone's hidden features
Get a daily tip (with screenshots and clear instructions) so you can master your iPhone in just one minute a day.
Alerts controls where the Apple Watch keyboard notification pops up on your iPhone.


Banner Style will control how long the banner stays present on your iPhone's screen.



Sounds controls whether or not the notification will make an audible alert.


Show Previews will determine whether the notification will be viewable on your Lock Screen.


FAQ:
How do I turn off autocorrect on Apple Watch? In order to turn off autocorrect on Apple Watch you need to turn it off across all devices, which may make you think twice about doing so. To turn off autocorrect, go to keyboard settings on your iPhone and turn off autocorrect.
How do I get keyboard messages on Apple Watch? If you want to ensure that you continue to get the keyboard notifications on your iPhone, follow the steps above and toggle Allow Notifications on. It will be green when enabled.
How do I change my Apple keyboard settings? To change your Apple Watch keyboard settings, you will need to go to Keyboard Settings on your iPhone and change the settings from there. Do note that doing this will change they keyboard settings across devices.
And that's how you turn off keyboard notifications from the Apple Watch on your iPhone!