Which cable is better, USB-C or Lightning? Let's talk compatibility, data transfer & power delivery.
By

Leanne Hays
Thu, 11/17/2022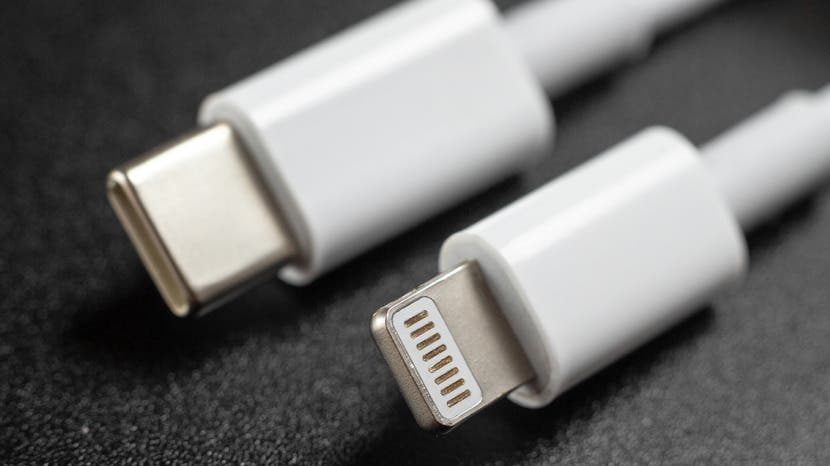 USB-C cable vs. Lightning cable: both cables charge, transfer data, and connect devices, but how are they different? Which is better, Lightning or USB-C? And which cable is set to become the industry standard? We've got the answers to all your questions.
Jump To:
Let's start with the similarities. Both USB-C and Lightning cables can be used to charge your iPhone, iPad, and other Apple devices and accessories, but that's not all. You can use your USB-C or Lightning connector to transfer photos, videos, files, and more between devices. For more great Apple charger cord and adapter articles, check out our free Tip of the Day.  
So, what are the differences between the two cables? A Lightning cable is an Apple proprietary cable that has a Lightning connector at one end, which fits, of course, into a Lightning port. The Lightning connector has eight pins and can be inserted into the port face up or face down. The other end of the cable can have a USB or USB-C connector, or an alternate connector, depending on the purpose.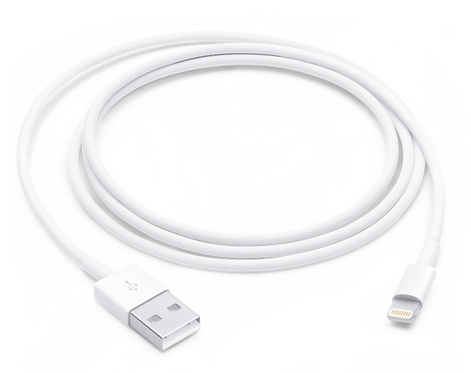 A USB-C cable has a USB-C connector on one end, which fits into a USB-C port. This connector can also be inserted face up or down and has 24 pins arranged around the interior of an oval-shaped plug. As with the Lightning cable, a USB-C cable can have a USB or USB-C connector at the other end, but can also have a Lightning connector or other connector, depending on its purpose.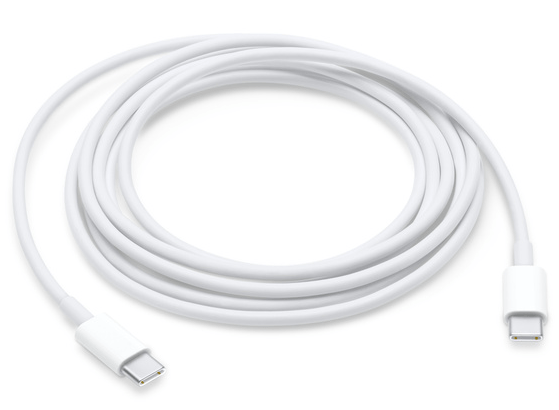 Beyond differences in shape, the USB-C cable performs all the functions a Lightning cable does as well or better. Let's go over why the USB-C cable is set to become the industry standard.
Related: Phone Battery Myths, Fast Charging, Charger Cable Safety & More
Here are the differences between USB-C and Lightning cables at a glance.
| | | |
| --- | --- | --- |
| | USB-C Cable | Lightning Cable |
| Charging Speed | 100 W/3 A up to 250 W/5 A | 12 W/2.4 A and higher |
| USB Support | USB4 | USB2 |
| Data Transfer Speed | up to 40 Gbps | up to 480 Mbps |
As mentioned before, both Apple's Lightning cable and the USB-C cable can power your device. The difference is that Lightning cables support a maximum current of 2.4 amps, while USB-C cables carry 3 amps with support for up to 5 amps. So, USB-C cables are able to charge your devices faster and support Apple's fast charge feature. 
To fast charge your iPhone, you'll need an iPhone 8 or later and a USB-C to Lightning cable with a USB-C power adapter that delivers between 8 and 140 W. The fast charge feature can recharge your iPhone's battery up to 50 percent in only half an hour!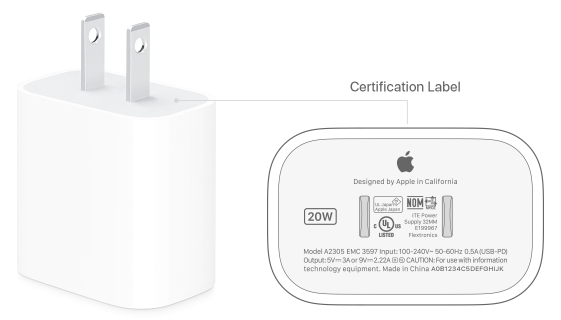 Sorry, Lightning cable, the USB-C beats you in upload and download speeds, as well! The USB-C cable supports USB4 specification, the latest update that enables the highest USB bandwidth to date, and offers up to 40 Gbps of data transfer speed. While Apple hasn't released the exact technical specifications for the Lightning cable, it performs at a USB2 standard speed and transfers data at up to 480 Mbps.
Here's where the Lightning cable really loses out to the USB-C. Apple's Lightning cable compatibility is far more limited than USB-C, extending only to most (but not all) iPhones, iPads, and iPods released since 2012, as well as adapters and Lightning-compatible accessories. 
Meanwhile, the USB-C connector is becoming universal and is supported by newer PCs and Android phones, as well as the Xbox series X, Nintendo Switch, the PS5, and even the third-generation iPad Pro and later, and the latest iPad, iPad Air, and iPad mini.
The European Union passed a law in October 2022 that makes the USB-C cable the universal charging standard for personal electronics by the end of 2024. This means that manufacturers, including Apple, will need to make separate electronics for the European market or standardize their charging ports to USB-C on all their devices. With Apple's move to USB-C ports on its latest iPads, I think it's pretty much inevitable that the USB-C cable will become the new industry standard, at least until there's an even more powerful option on the market! 
Top image credit: Ivan_Shenets / Shutterstock.com