By

Leanne Hays
Updated 11/07/2023
What to Know
To turn Screen Distance pop-ups off, open the Settings app, tap Screen Time, then tap Screen Distance. Toggle Screen Distance to the left.
Apple introduced the new Screen Distance feature as part of iOS and iPadOS 17.
Screen Distance reminds iPad and iPhone users to hold their devices to reduce eye strain.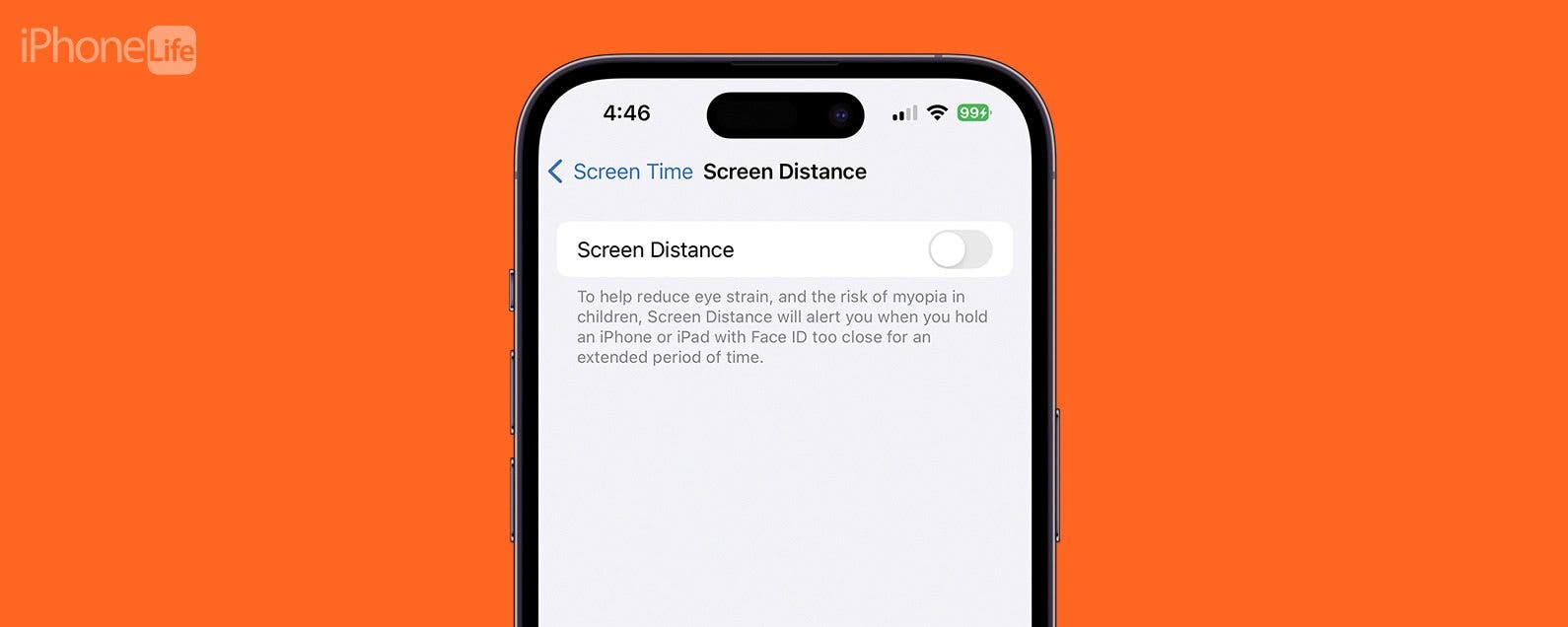 It's a good idea to leave Screen Distance notifications on for kids, or if you're already suffering the effects of visual health problems like myopia or eye strain. But, here's how to turn off Screen Distance notifications if they're bothering you. 
How to Turn Off Screen Distance Notifications on Your iPhone
Screen Distance uses your device's TrueDepth camera system to let you know when your iPhone or iPad is fewer than 12 inches away from your eyes. Check out our free Tip of the Day for more great Apple Health app tutorials. Now, let's learn how to turn off vision health pop-ups on your iPhone or iPad. 
FAQ
Is it bad to have your phone too close to your eyes? Yes, as Scientific American reports, "Ophthalmologists, optometrists, and other eye professionals note a seeming link between myopia, also called nearsightedness, and 'near work'—visual activities that take place at a distance of about 40 centimeters (16 inches) from the eye." If you want to keep these notifications on, make sure to read our article on how to reduce eye strain with screen distance alerts.
How far should my iPhone be from my eyes? Apple recommends that screens should be at least 12 inches from your eyes, while Scientific American recommends at least 16 inches. 
Can phones damage kids' eyes? According to kidspot.com, "Watching screens on smartphones and gadgets for long periods of time raises the risk of eye conditions like myopia and eye fatigue. Children can experience less sleep and are less able to focus. This leads to an unhealthy sleep cycle as kids sleep more during the day and less at night."
I hope this article has helped you turn off those annoying Vision Health notifications. Be sure to check back with iPhone Life with any other questions you have about iPad or iPhone notifications!

Discover your iPhone's hidden features
Get a daily tip (with screenshots and clear instructions) so you can master your iPhone in just one minute a day.