Whether you're wondering about the water symbol, the orange face masks, or the various arrows and dots you see on your Apple Watch on a regular basis, we'll help take the mystery out of reading your watch's icons.
By

Hannah Nichols
Updated 06/16/2021
If you've ever wondered what the icons and symbols on your Apple Watch are, this guide is for you! On the Apple Watch, icons and symbols are quite small and don't come with much explanation, but they can be extremely useful. To get the most out of your Apple Watch, you need to know what these symbols are so you can turn on Water Lock or interpret when your watch is low on battery or disconnected from your iPhone. Here's a guide to the wonderful world of Apple Watch icons.
Related: New Apple Watch Series 6: Blood Oxygen Level Monitoring, Watches for Family Members & More
What's in This Article:
What Do the Symbols Mean on the Apple Watch?
Each of the symbols and icons on your Apple Watch has a purpose. In general, these images are colorful methods for your watch to communicate with you without disrupting you by sending a formal notification. They can be very helpful if you know how to interpret them! We'll go over the common Apple Watch symbols and icons, and teach you their meanings so that you can use your watch more efficiently.
Status Icons & Symbols on the Apple Watch


Green Lightning Bolt 
When the lightning bolt is green, it means that your Apple Watch is charging. If your watch is on the charger, you'll see a ring around this icon indicating to what percentage your watch is charged.
 

Image courtesy of Apple.com
Red Lightning Bolt
When you see a red lightning bolt on your watch, it means that your battery is low. If you've just put it on the charger and that's when you saw the icon, just keep charging it. If you're seeing the red lightning bolt and your Apple Watch is locked up, it means your watch is in Power Reserve mode and will need to be charged and restarted.


Orange Airplane 
Airplane Mode is on. When you see this symbol, all wireless features (cellular data and Wi-Fi) are off until you turn this setting off in the Control Center of your Apple Watch. You can still use your watch for anything that does not require wireless features. You can also turn Airplane Mode off on your watch but keep Airplane Mode on for your iPhone, if you choose to do so.


Purple Moon
The purple moon icon means that Do Not Disturb is on. You will not receive Apple Watch notifications for calls or alerts until you turn off Do Not Disturb.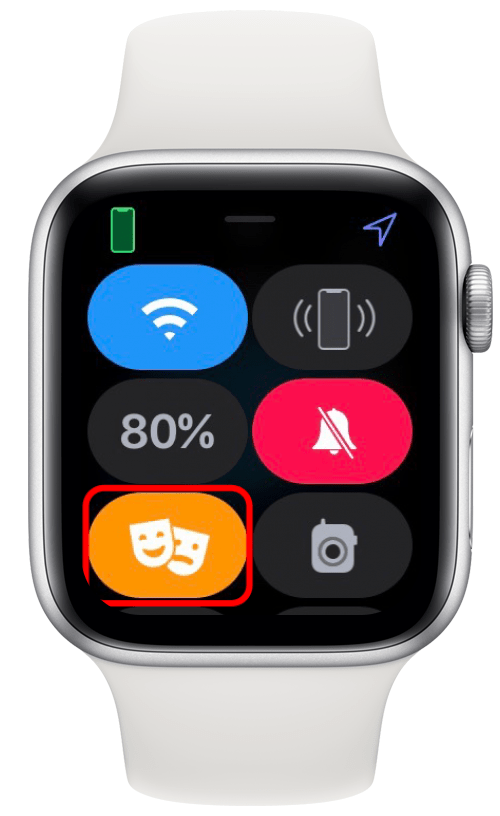 Two Orange Masks or Faces
These two faces are theater masks, and they indicate that Theater Mode is on. This means Silent Mode is also on, and that the watch screen will stay dark until you tap the screen. This mode is useful when seeing a movie in a movie theater, or another dark performance that you don't want to interrupt with bright screen displays from your Apple Watch. Theater Mode keeps the screen dark even when you use the Always On feature.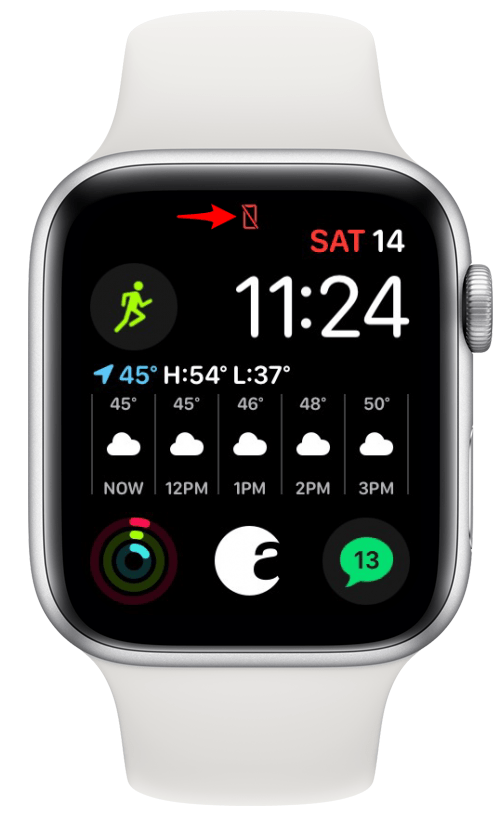 Red Rectangle with a Diagonal Line
This icon indicates that your Apple Watch is not connected to your iPhone. You may need to move your devices closer together, or turn off Airplane Mode.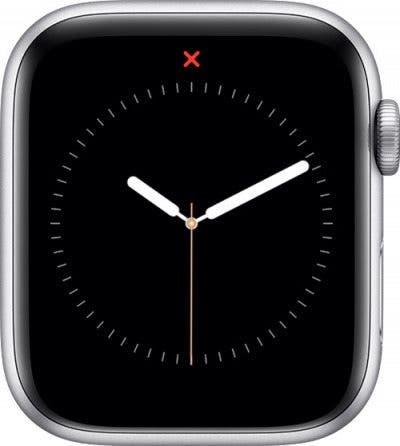 Image courtesy of Apple.com
Red X 
This red X means your Apple Watch with GPS + Cellular has no connection to the cellular network.
Blue or Turquoise Water Drop
Wheen you see this little drop on your watch screen, it means Water Lock is on and the screen will not respond to taps. To unlock your Apple Watch, turn the Digital Crown (the dial on the side of the watch). The Water Lock is only available on Apple Watch Series 2 or later and Apple Watch SE. Do not swim with Apple Watch 1st Generation or Apple Watch Series 1.
Pro Tip: The Digital Crown does way more than just unlock your Apple Watch! Check out these 15 ways to use the Digital Crown on your watch.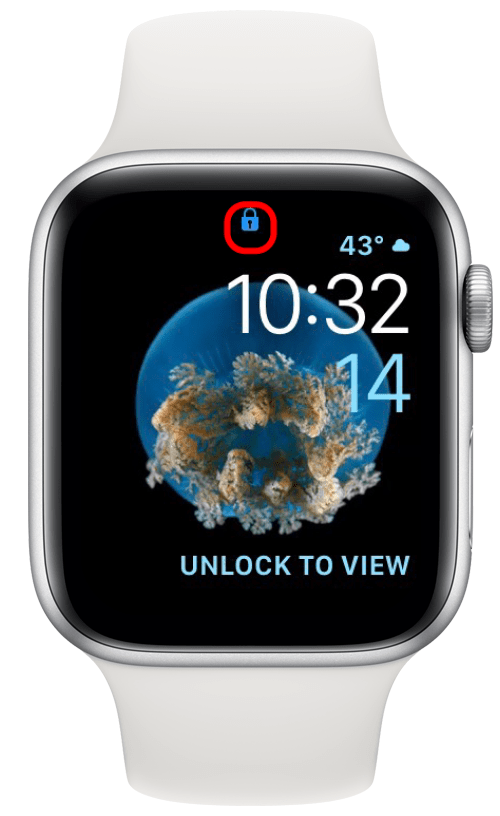 Blue Lock
This icon indicates that your Apple Watch is locked. Tap to enter the passcode and unlock your watch.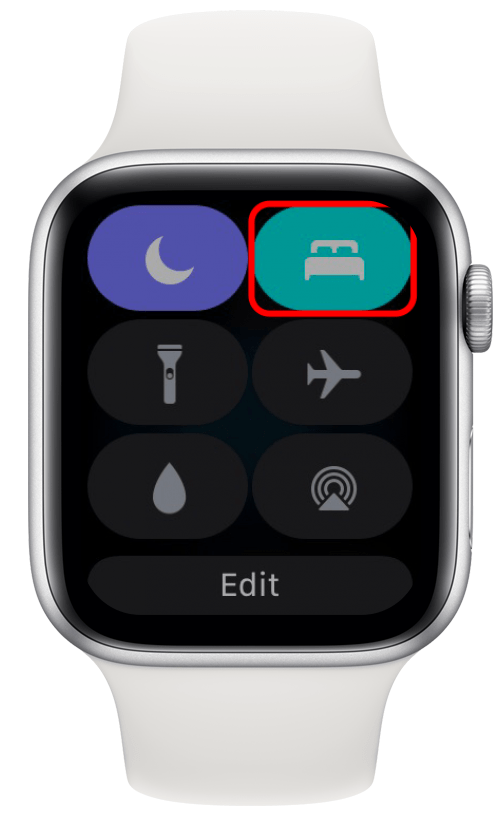 Teal or Blue Bed
This symbol tells you that your Apple Watch is in Sleep mode. To exit Sleep mode, swipe up to the Control Center and tap the Sleep icon.
Apple Watch Icons for Active Apps
With watchOS 5 or later, your Apple Watch will show active apps. To open the app, tap the icon. The following icons are some examples of active app icons and which apps they correspond with.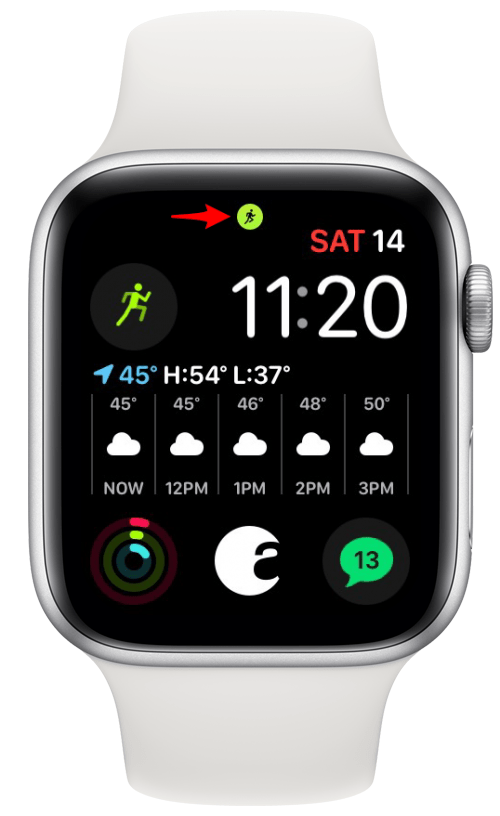 Green Circle with a Running Stick Figure
This icon appears when you use Workout. It means there is a workout in progress and your watch is currently tracking it. You can navigate to the Workout app to start and stop workouts. If you still see this icon after your workout has ended, simply restart your watch to reset it.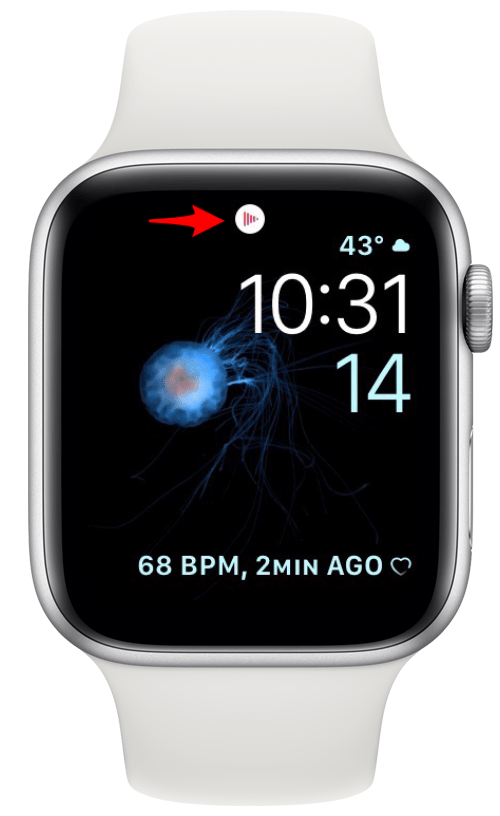 Five Red Lines from Largest to Smallest in a White Circle
These lines form a triangle shape like the play button on many devices, so it makes sense that this icon is the Now Playing icon. It indicates that audio is currently being played via a connected or paired device, such as CarPlay or your AirPods. Sometimes this feature auto-opens when you play audio on another Apple device, so it can be confusing.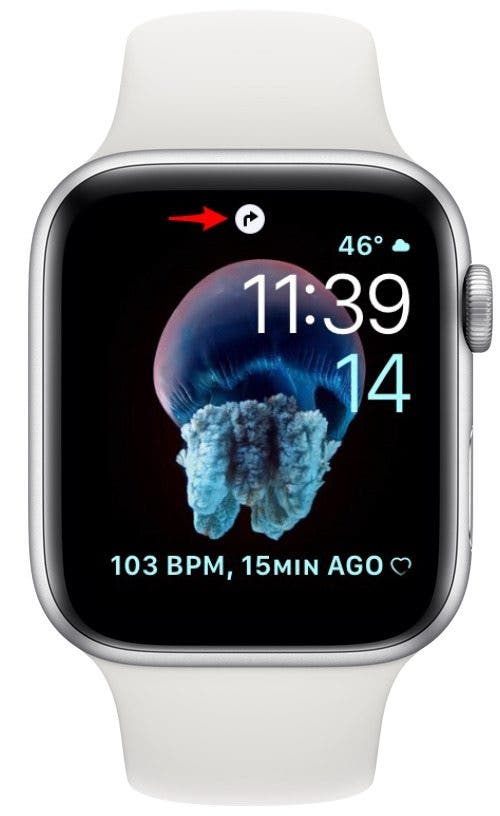 Black Turn Arrow Pointing to the Right
This arrow indicates that you are using a third-party navigation app.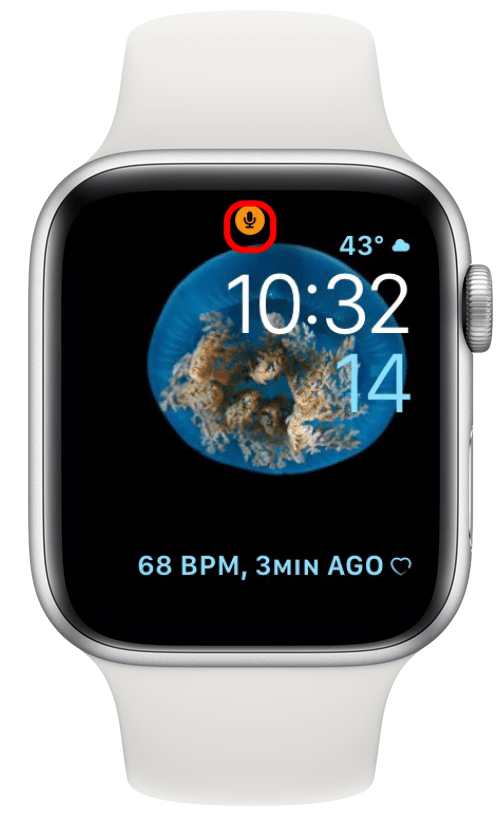 Orange Microphone
This icon means your Apple Watch mic is active. It appears when you are using Siri, recording a voice memo or text, or using the microphone with another app like Handwashing.

Image courtesy of Apple.com
Yellow Radio
This is the Walkie-Talkie icon, and it allows you to open the Walkie-Talkie app for quick communication with your contacts via your Apple Watch.
Control Center Icons on Your Apple Watch
These icons can be found in the Control Center of your Apple Watch, which you can access by swiping up from the bottom of your watch screen.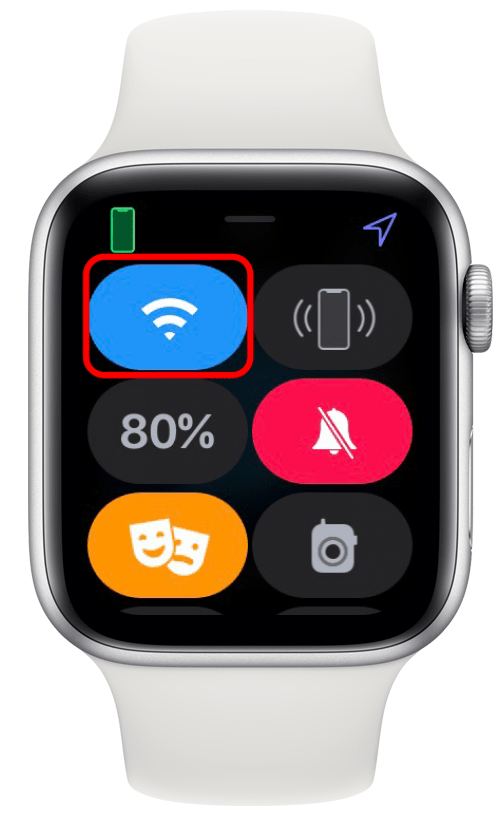 Three Curved Blue Lines in the Shape of a Wedge
This icon means your Apple Watch is connected to Wi-Fi. It looks like a beaming or radiating signal, and is similar to other images used to indicate Wi-Fi.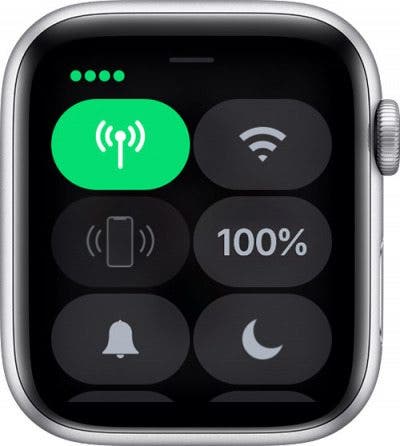 Image courtesy of Apple.com
One, Two, Three, or Four Green Dots
Your Apple Watch with GPS + Cellular is connected to a cellular network. The number of dots indicates cellular network strength.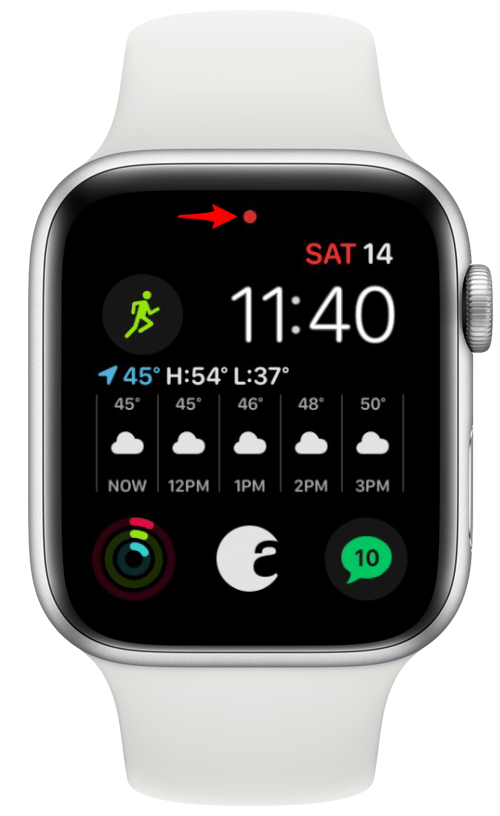 Red Dot or Circle
This icon indicates that you have received a notification. To read the notification, swipe down on the watch face.
Blue & White Triangle with Three Partial Rings at the Top of It
This is the audio output button. To switch the audio output between paired Bluetooth headsets, speakers, and accessories tap this button.
Purple Arrow
This icon in the upper-right corner lets you know that one of the apps on your Apple Watch is using location services.

Knowing the different symbols and icons on your Apple Watch helps you use your watch to its fullest, and as efficiently as possible. Wondering about an unmentioned icon? Apple maintains a list of icons for Apple Watch as well.