Find out exactly what's included in the $9.99 per month Tesla subscription so that you can decide if the Tesla monthly subscription is right for you.
By

Olena Kagui
Updated 05/08/2023
What to Know:
Tesla Premium Connectivity costs $9.99 per month and offers various features—some practical and others purely for entertainment.
Without Tesla Premium Connectivity, you can still navigate using Google Maps, listen to the radio, connect to Bluetooth devices to make hands-free calls and listen to music, and stream when connected to Wi-Fi.
With Tesla Premium Connectivity, you can view your Sentry Mode cameras live on your phone, get live traffic visualization and Satellite-View Maps, use Caraoke, and stream without a Wi-Fi connection.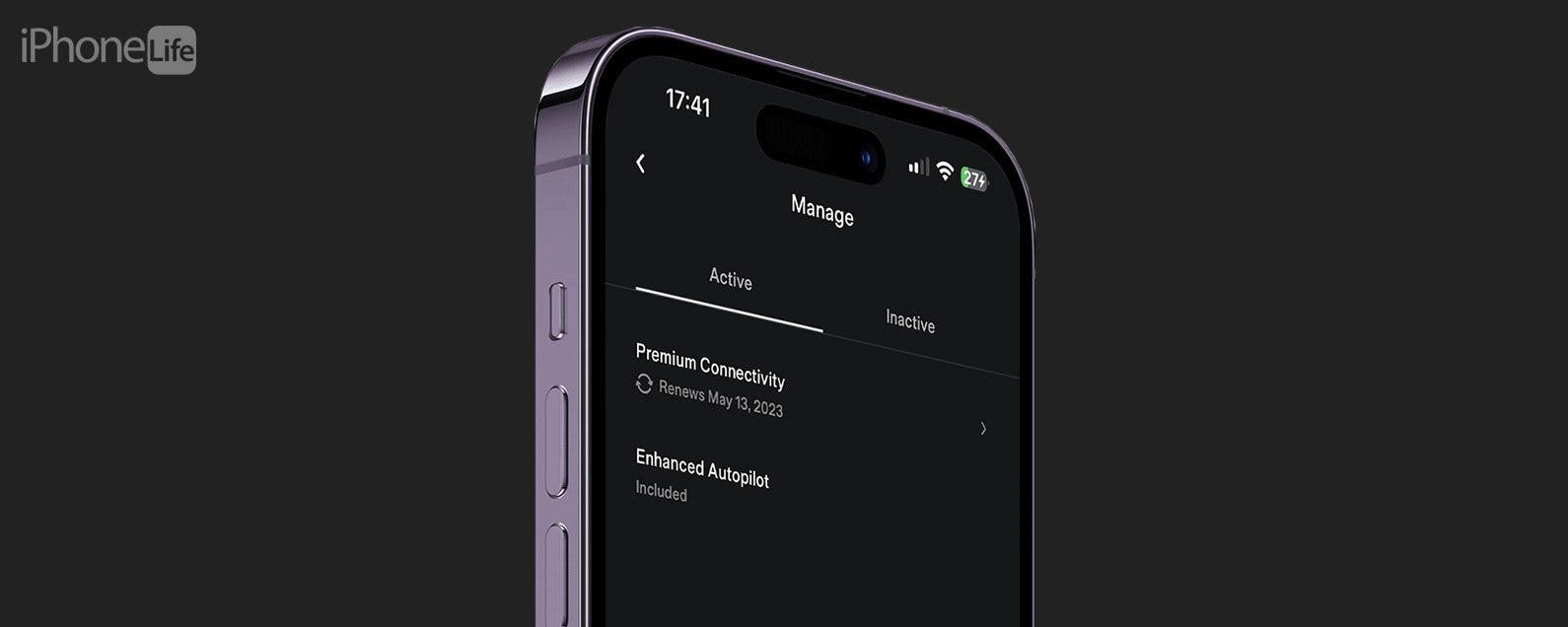 Tesla Premium Connectivity is an affordable way to upgrade your Tesla and gain Wi-Fi-free access to a wide variety of features. With Premium Connectivity, Tesla drivers can enjoy extra security benefits, stream music and videos, and browse without needing to connect their Tesla to Wi-Fi. I'll help you determine if Premium Connectivity is right for you and teach you a little workaround to save money.
Is Tesla Premium Connectivity Worth It?
There are only a few features that you absolutely cannot access without Tesla Premium Connectivity. These are Sentry Mode's View Live Camera, Live Traffic Visualization, and Satellite-View Maps. Everything else can be accessed without Premium Connectivity, also known as Standard Connectivity, but only if you have access to Wi-Fi. So is Tesla Premium Connectivity worth it? Yes! I think it is; let me explain why I've been happy to pay $9.99 per month for these features since buying my Tesla Model 3 in 2019.
Sentry Mode Live View 
Sentry Mode with Standard Connectivity will send you an alert that a security event occurred and will provide footage of the last 10 minutes before the event occurred, as long as you have a compatible USB drive set up in the car. This means that you get a notification that something is wrong, but you don't know if someone keyed your car or just walked by too closely until you go check it out yourself. With Premium Connectivity, you can set up Live View and check your cameras at any point from your phone from anywhere in the world. 
Sentry Mode Live View alone makes the monthly Tesla subscription worth it for me, and I use it primarily when an alert goes off or if I have my dogs in the car and get worried. Depending on the Tesla model, you can also view the cameras inside your Tesla. Even though my Model 3 isn't able to do it, I can still view the outside cameras. If I see suspicious people or burglars standing around the car, I can rush over or call 911.
Live Traffic Visualization & Satellite-View Maps
I share my car with my husband, who uses Premium Connectivity specifically for Satellite-View Maps. With Standard Connectivity, you can navigate using an all-gray map comparable to the Default View on Google Maps. With Premium Connectivity, you can switch to Satellite-View. Satellite-View is not only in color but also makes it a lot easier to navigate because you can see buildings and landmarks more clearly. Plus, it looks a lot nicer. 
Live Traffic Visualization is also super useful because it will show you unexpected traffic. If you are using Tesla's navigation, you may be redirected automatically to avoid traffic, and if you have Premium Connectivity, you will clearly see why your car is picking certain roads over others. If you are driving without your navigation on, you can still see if there's heavy traffic ahead so that you can easily avoid it.
Streaming Music, Videos & Internet Browsing without Wi-Fi
You can stream Netflix, Hulu, Spotify, etc., without Premium Connectivity. But you'll have to connect to Wi-Fi. This means that you either need to park close enough to your home router or a public area that has Wi-Fi. Otherwise, you will not be able to access any of these services or browse the web. 
With Premium Connectivity, your Tesla will use its built-in cellular data and Wi-Fi modems to access the internet on the go so you can listen to music or play Careoke while driving. You will still need to be parked to stream video due to safety regulations, but you'll be able to do so without securing a Wi-Fi connection. 
Warning:
While I do believe that Tesla Premium Connectivity is worth it, streaming and especially internet browsing can be slow depending on where you are. If you live in a remote area without a reliable cellular connection, you might reconsider getting Premium Connectivity.
Do keep in mind that in addition to paying for Premium Connectivity, you will need to pay for each individual service you wish to use. If you're not paying for Apple Music, for example, you won't be able to listen to it even if you pay for the Tesla Premium Connectivity package. For more tech tips, such as how to add Apple Music to your Tesla, don't forget to subscribe to our free Tip of the Day newsletter.
Pro Tip:
If you don't care for Sentry Mode's View Live Camera, Live Traffic Visualization, and Satellite-View Maps, you can save $9.99 per month by using your phone as a hotspot. Depending on your network provider and location, this may not work perfectly and might be spotty or even unavailable at times.
Conclusion
The bottom line is that Tesla Premium Connectivity is worth it for some and not for others. While $9.99 seems like a low cost compared to the price of a Tesla, many find it ridiculous to have to pay for add-on services after already paying so much for the car. The best thing about this Tesla subscription is that it is monthly, so you can pay for one month, see if you like it, and cancel at any time. Next, learn how to unlock your Tesla with an Apple Watch key.
FAQ:
How much is Tesla Premium Connectivity? The Tesla Premium Connectivity package costs $9.99 per month or $99.00 per year plus tax. When you purchase a new Tesla, you will get a free trial of either one year or 30 days from the day of delivery. The trial period depends on the year and model of the car and can be found on Tesla's website.
Do Teslas have Wi-Fi hotspots? You can connect your Tesla to a hotspot either on your iPhone or another compatible cellular device. Unfortunately, even if you pay for Tesla's Premium Connectivity, you cannot use your car as a hotspot for other devices like your iPhone.
Do Tesla cars use Starlink? While originally, Elon Musk claimed that Tesla cars would not use Starlink, he has since confirmed via a comment on Twitter that Starlink will be used by Teslas in the future. He did not specify any details or timelines.