Are you dreading AirTag battery replacement? Find out how long AirTag batteries last and how to check AirTag battery life for peace of mind.
By

Olena Kagui
Updated 05/03/2023
What to Know
Apple AirTag battery life is estimated at around a year but can vary depending on usage.
AirTags cannot be charged; they use CR2032 lithium coin batteries that can be bought in most stores, including CVS, Target, Walmart, and Lowe's, and they can be ordered online.
You can use Find My to check if your Apple AirTag battery is low.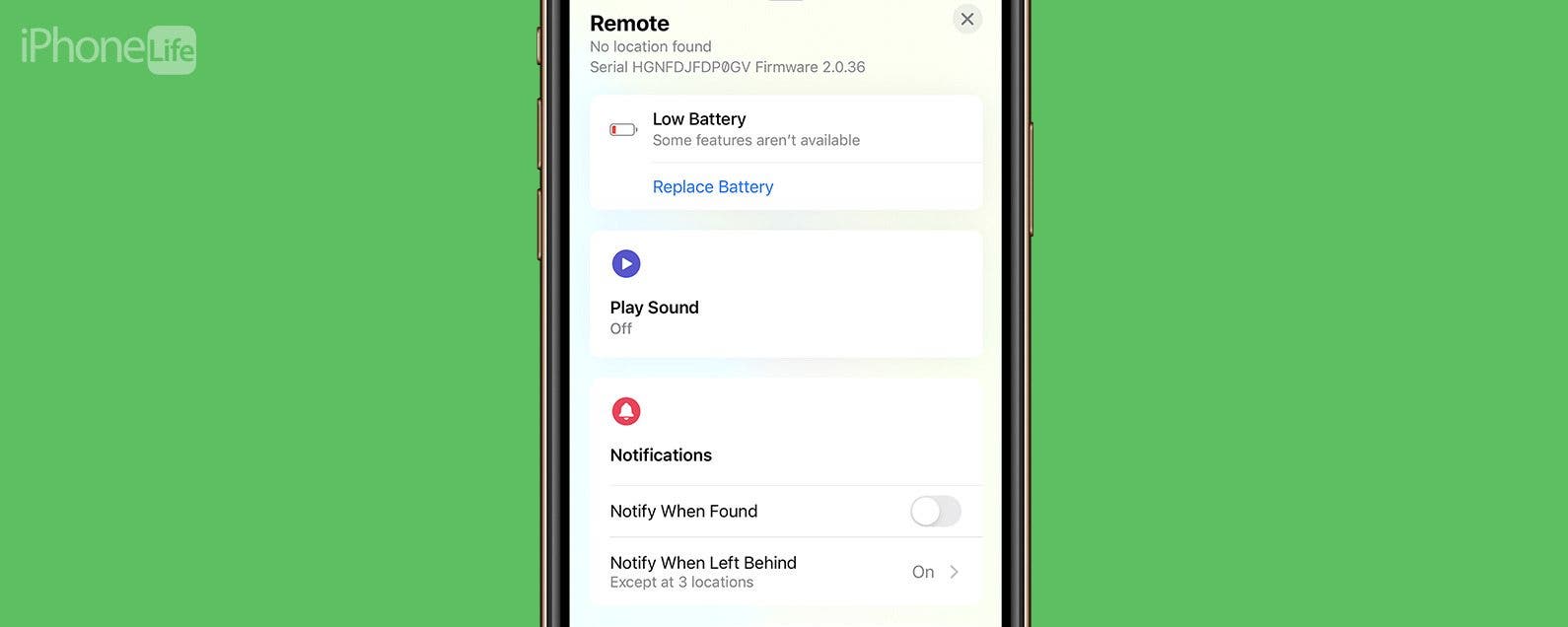 If you're in the market for an AirTag or already have one, you may be wondering, "How long do AirTags last?" As long as you keep your AirTag safe and dry, it should last you years, but you'll have to replace the battery every year or so. I'll teach you everything you need to know about AirTag battery life and replacement.
Jump To:
How Long Do AirTag Batteries Last?
According to Apple, AirTag batteries should last for about a year or even longer. However, this depends on usage. I miraculously stopped losing my items after attaching AirTags to them, and even the AirTags that I only pinged once or twice ended up giving me a low battery warning less than a year later. 
There are several factors that can impact AirTag battery life, such as checking on them in Find My often, which drains the battery even if you aren't pinging them. Another reason why I believe my AirTags ran out faster than expected is that I live in a tropical climate that is both hot and humid, which may negatively impact batteries. 
Also, while AirTags are moderately water-resistant and can spend up to 30 minutes underwater with a maximum depth of 1 meter (3.2 feet) without experiencing permanent damage, exposing them to water could be a factor in battery life as well. This is important to keep in mind, especially if you have an AirTag attached to your dog's collar and they get it wet. Luckily, you can check if your AirTag battery is running low so that you don't run out unexpectedly and lose your item!
How to Check AirTag Battery Life
When your AirTag runs out of battery, you will get a notification on your iPhone. While you cannot find out the exact percentage of battery left on your AirTag, you can manually check if the battery is low.
To check your AirTag's battery life, you need to first open Find My on your iPhone (or another Apple device).


Tap Items if you are not already there.



If your AirTag battery is low, you will see the low battery icon.


If you see the low battery icon and your AirTag says No location found, it is possible that it ran out of battery.


Any AirTag set up with your Find My account will alert your iPhone that the battery is low. From my experience, an AirTag with this warning can still last for weeks, if not months. However, I do recommend replacing the battery immediately to avoid losing your AirTag and the item it is attached to. To learn more about your AirTags, sign up for our free Tip of the Day newsletter.
How to Replace AirTag Battery
If you get the Find My low battery warning for your AirTag, it is time to get a replacement battery. Here's how to change your AirTag battery:
Before you open your AirTag, make sure that the outside of your AirTag is dry and clean, then open the AirTag by placing your fingers on either side of the Apple logo and turning the cap counter-clockwise.


Remove the cap and battery.



Make sure to dispose of the old battery correctly, it can be dangerous to throw a battery in the trash, and it is terrible for the environment. Place the new battery inside and turn the cap clockwise until it is sealed tight.


Warning:
When you replace the AirTag battery, your AirTag will make a beep sound once closed, but this doesn't mean that it is fully sealed. Make sure to close it tightly so that no liquid can get inside and damage your AirTag or the battery.
Since you now know how long AirTag batteries last, you could set up Calendar reminder(s) to manually check your AirTag battery based on the date of purchase or the latest battery replacement. This isn't necessary since your iPhone will warn you in time, but it can provide peace of mind and ease low-battery anxiety. 
Now you know all about AirTag batteries from AirTag battery type for easy at-home replacement, how long they last, and how to check battery life. I hope this cleared up all your Apple AirTag battery life questions. If not, check out the FAQ below or leave a comment below.
FAQ:
Do AirTags need to be charged? No! AirTags cannot be charged via cable or wirelessly; they contain CR2032 lithium coin batteries that need to be replaced annually on average.
How much does AirTag battery replacement cost? Depending on where you live, a six-pack of CR2032 lithium coin batteries will cost around $10. You may be able to buy a single battery at your local supermarket, convenience, or drug store, and they are available for online purchase as well.