What do all the iPad and iPhone symbols and icons mean? Learn about iPhone symbols at the top of the screen, iPhone Control Center icons, and even new iPhone icons from iOS 15.
By

Conner Carey
Updated 05/05/2022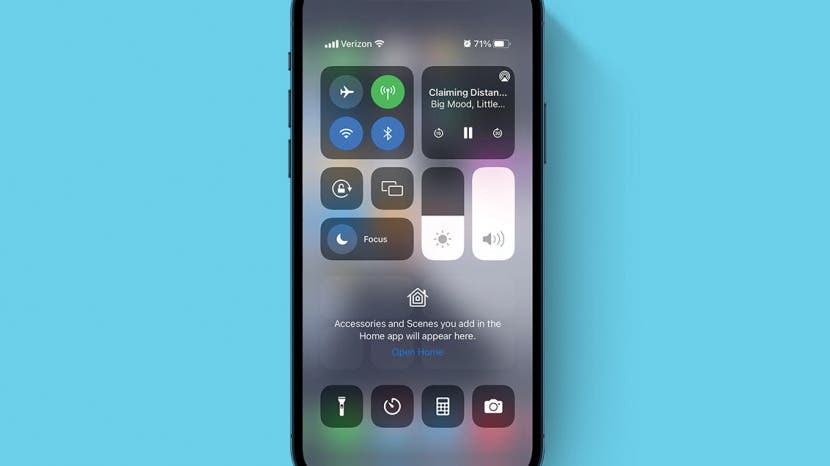 If you've ever wondered what the iPhone symbols on top of the screen (in the status bar) or in the iPhone Control Center are trying to tell you, then you've come to the right spot. Apple uses iPad and iPhone status icons and symbols to show a lot of information in a very small space. Here are iPhone symbols and their meanings explained; your guide to the most common iPad and iPhone status icons.
Related: iPad Multitasking: The Complete Guide to Split Screen, Slide Over & Picture in Picture
iPad & iPhone Symbols: Their Meanings on Home Screen & in Control Center
Some iPhone icons (symbols on an iPhone) are more commonly known, such as the Wi-Fi icon and Bluetooth icon, but some, like the Orientation Lock icon, mystify many. It's good to know what every iPad and iPhone icon means, so you can utilize their features or make sure at a glance that they're turned on or off. These iPadOS and iOS status icons are mostly the same for every iPhone generation, whether you have an iPhone 8, an iPhone 11, or the very latest iPhone. There are a few new iPhone symbols Apple introduced with iOS 15, though, and there will no doubt be more new iPhone icons in the future. 
Let's learn the meanings of iPhone symbols and icons, whether they're at the top of your iPhone screen in the Status Bar or Control Center icons. For more tutorials on how to navigate your iPhone and iPad, check out our free Tip of the Day. 
Home Screen Icons in the Status Bar (iPhone Symbols at the Top of Your iPhone Screen)
Let's start at the top of the Home Screen, in the status bar. These iPhone icons can also be seen within apps, but instead of appearing white, they may appear black.
If you have an iPhone X, XS, XS Max, 11, 11 Pro, 11 Pro Max, 12, 12 mini, 12 Pro, or 12 Pro Max not all these icons will appear at the top of your display the way they do on earlier iPhones. To see your Home Screen icons on all models of the iPhone X and later:
Touch and drag slightly down on the spot just underneath the three icons at the top-right corner of your display. 


 
This will reveal hidden icons, as well as the battery-charge percentage. If you pull down too far, you'll open the Control Center instead. 


What Does It Mean When You See Blue, Green, or Red in the Status Bar?
If you own an iPhone X or later, you may have noticed that sometimes there's a colored bubble behind the time. So, what do these colors mean? If you see a blue bubble, it can mean that an app is currently using your location or your iPhone is Screen Mirroring. The bubble is green when you're on a call or FaceTime, or when another device is connected to your personal hotspot. The bubble is red when your iPhone is recording sound or your screen. 
Recording Indicator: The Orange & Green Dots
In iOS 14 and later, you'll see a small, green or orange dot in the upper-right corner of your display.
The orange dot means an app is using your microphone.


 
The green dot means an app is using your iPhone's camera or camera and microphone.


SharePlay Symbol
SharePlay is a new feature in iOS 15, and it also comes with a new symbol. When you are sharing media with a friend on FaceTime, you'll see the SharePlay symbol.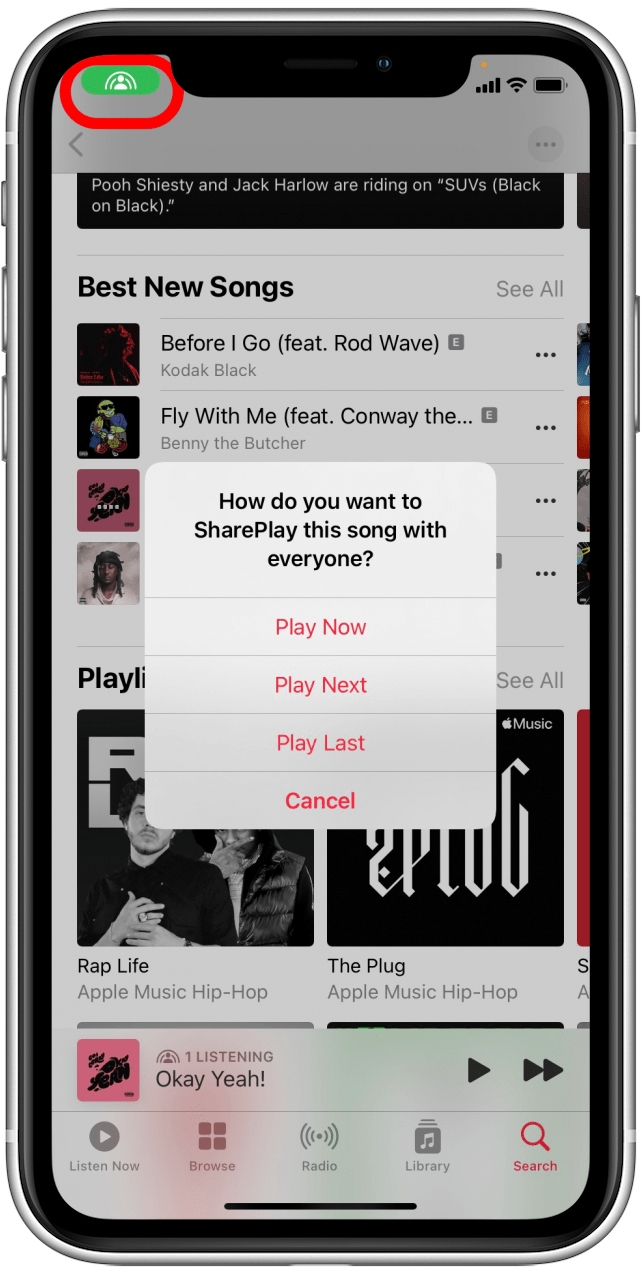 Wi-Fi Symbol 
The Wi-Fi icon at the top of your screen represents your internet connection. When present, it means your Wi-Fi is turned on and connected. It also shows you how strong your Wi-Fi connection is by how many bars are filled, one bar being the weakest signal, and three being the strongest.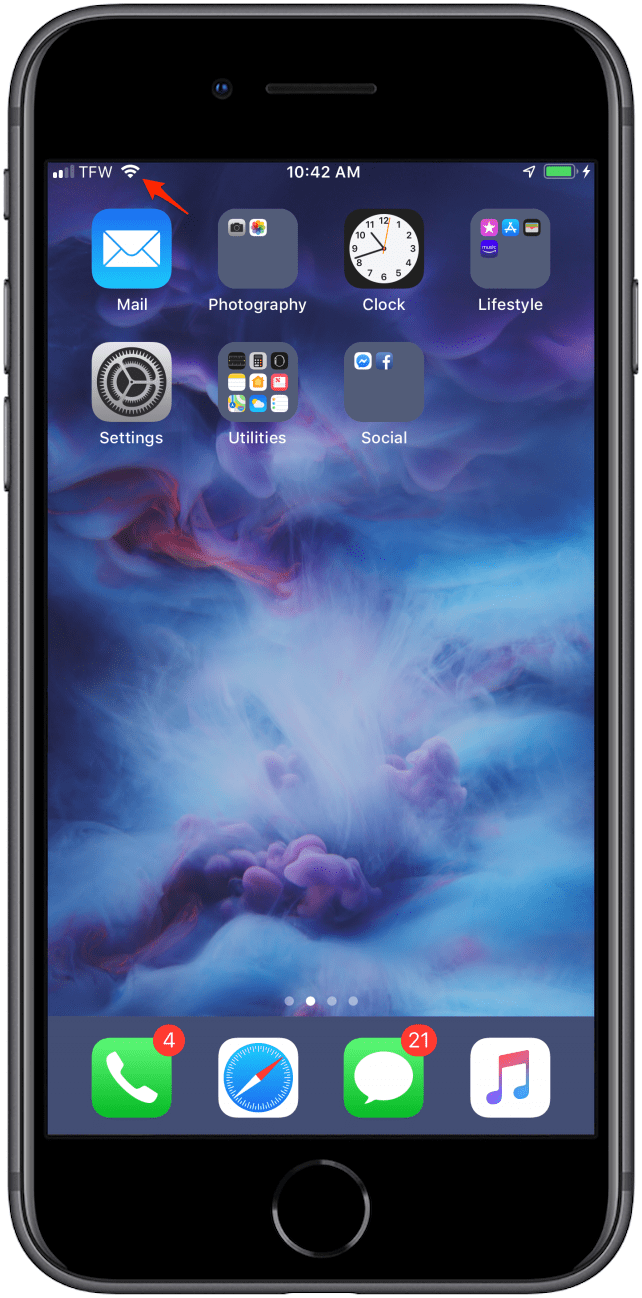 Data Type: 5G or LTE Symbol
If your Wi-Fi is turned off or you're out of range, you might instead see LTE instead of the Wi-Fi icon. This signifies that your cellphone carrier's network is available, and you can connect to the internet using your data.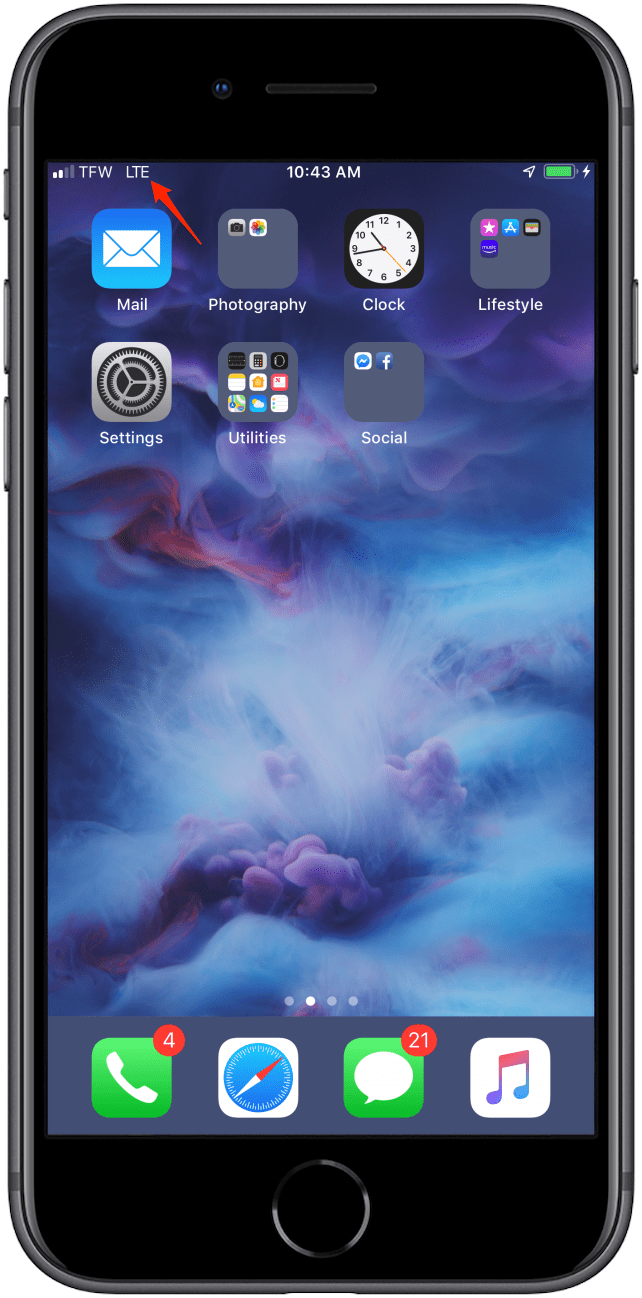 If you have any iPhone 12 model or later and a compatible carrier, you may see a 5G symbol, which also represents the availability of your carrier's network and the speed of that network. Users with older iPhones might also see 3G or 4G, the predecessors of 5G.


Cellular Connection Strength 
The four bars in your status bar represent your cellular connection strength. If all the bars are filled white, you have a very strong connection. If only one bar is white, your internet will be extremely slow, if it works at all.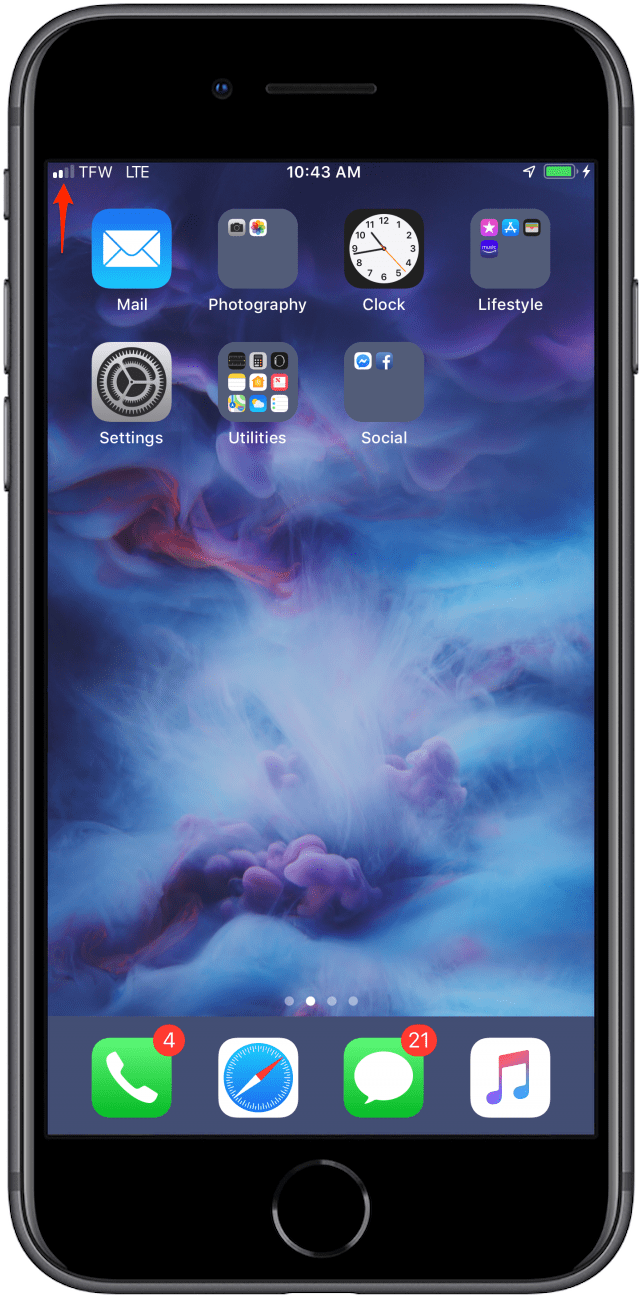 Cell Phone Carrier Name 
Depending on the length of your carrier's name, you will either see the carrier name or an abbreviation of that name in your status bar.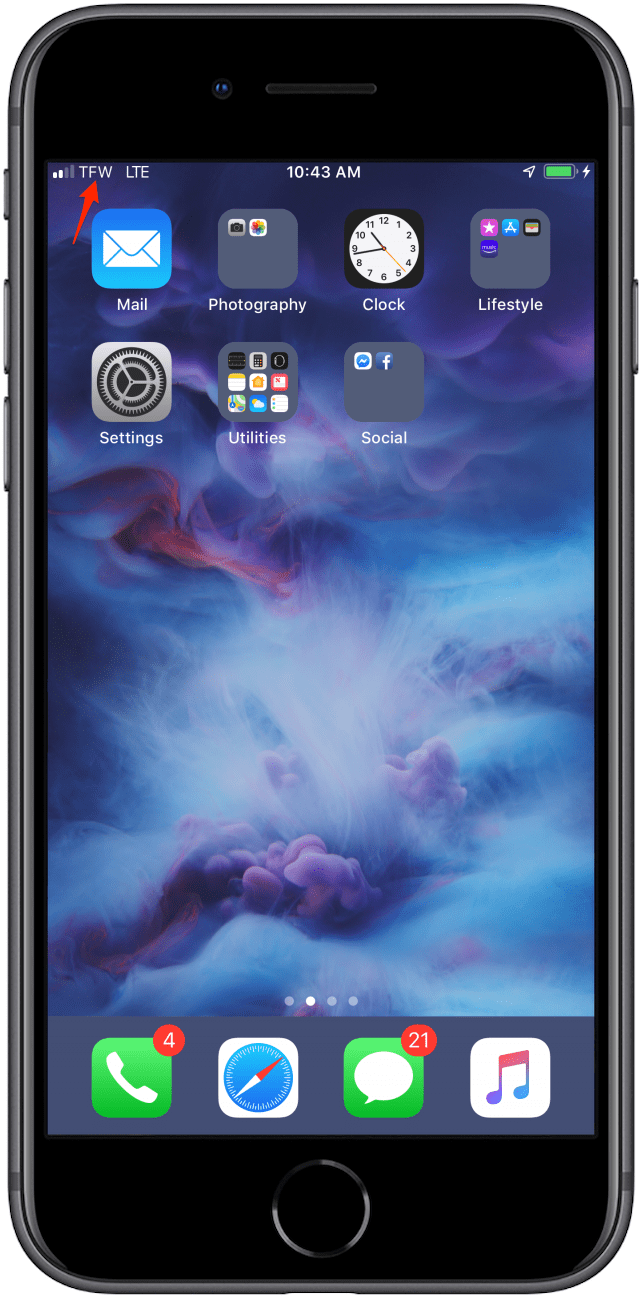 Battery Charge Indicator 
On the top right of your iPhone's Home screen, you'll see the battery icon. The fuller the battery icon is on your screen, the more battery life your iPhone has. Many people wonder why their iPhone battery icon is yellow or another color. This is what the different battery icon colors mean:
White battery icon: Indicates battery status when your iPhone is unplugged
Yellow battery icon: Indicates Low Power Mode is enabled.
Red battery icon: Indicates that your iPhone's battery has less than a 20% charge.
Green battery icon: If the battery icon is green and there is a white lightning bolt, then your iPhone is charging.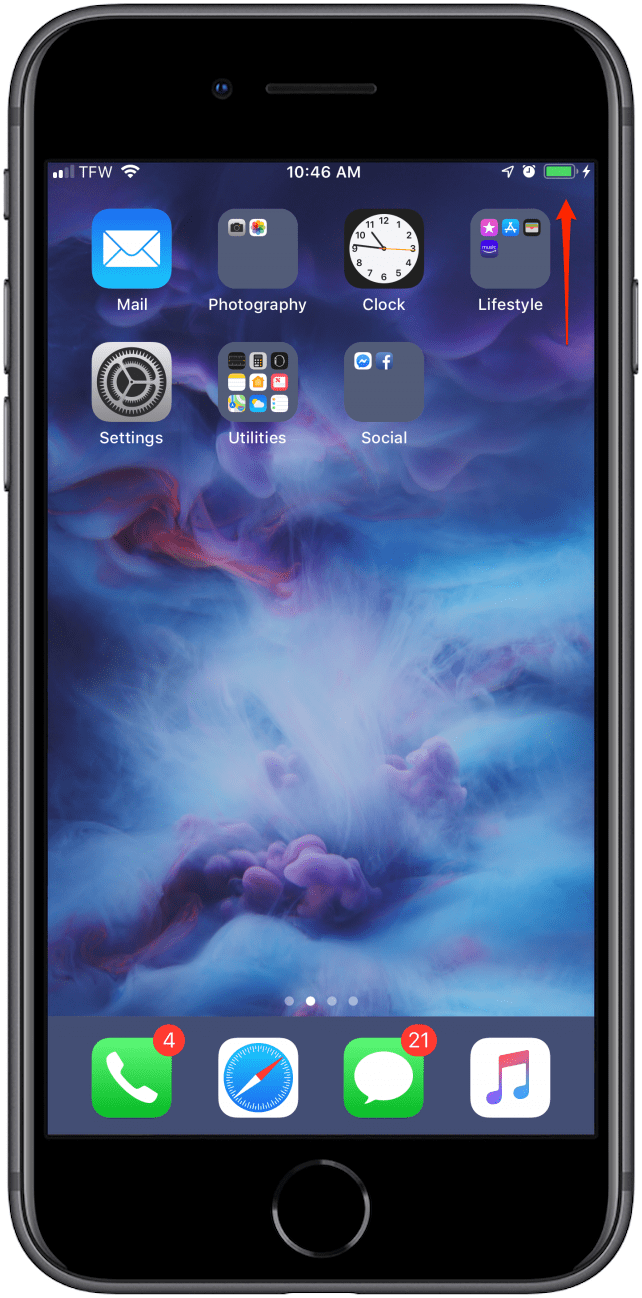 Headphones Icon
When you are connected to a pair of Bluetooth headphones, earbuds, or a speaker, then the headphones icon will appear to the left of your battery. You may see a vertical battery icon as well. This icon represents the battery life of your headset, speaker, or earbuds.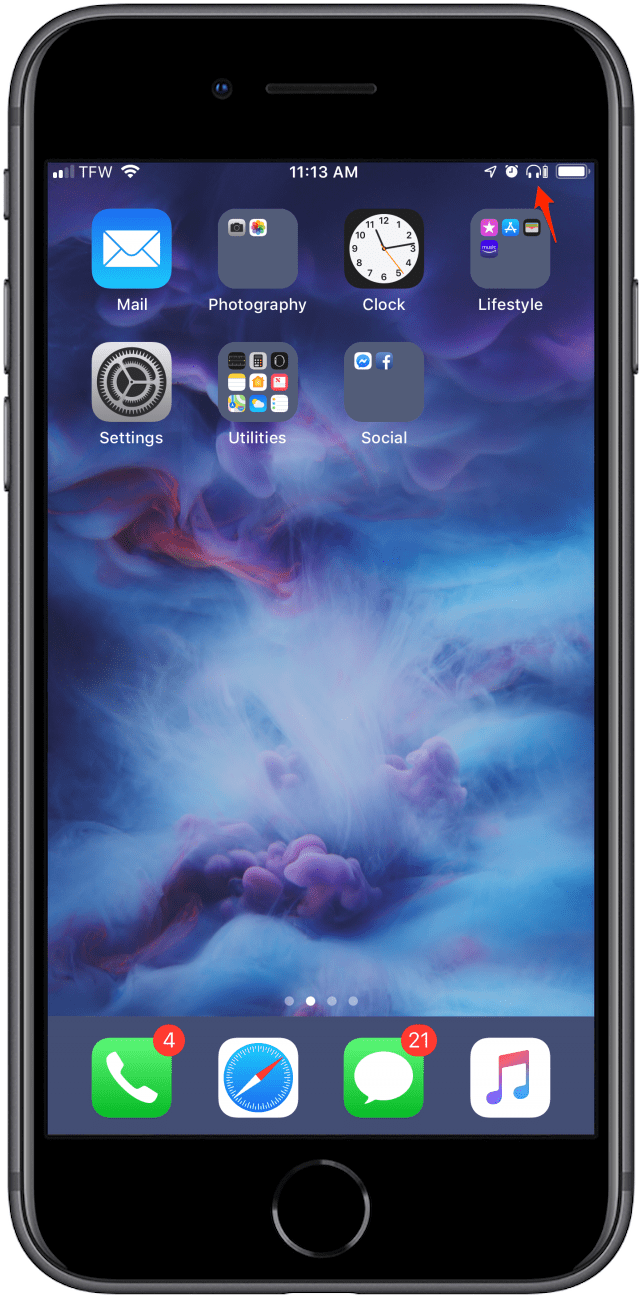 Hotspot Icon
The hotspot icon looks like two links in a chain. If your iPhone is connected to the internet via the Personal Hotspot of another iOS device, then this device appears to the right of your carrier instead of the data type or Wi-Fi icons.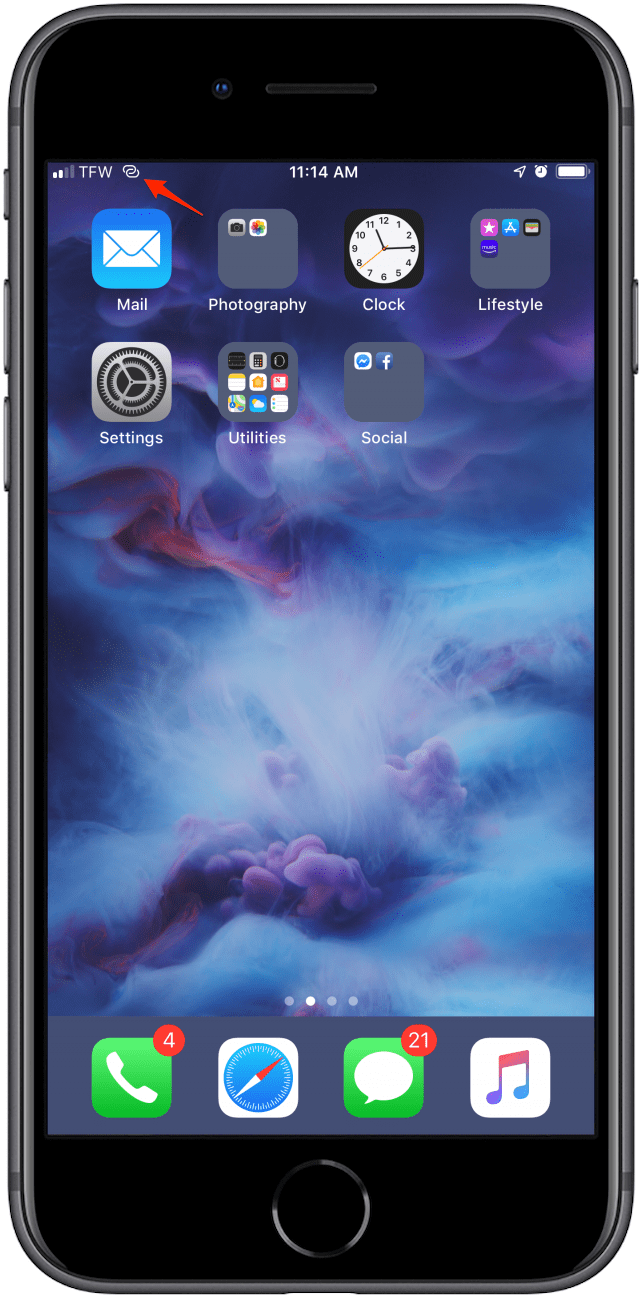 If your device is running iOS 15, you may not see the hotspot icon anymore. Instead, you may see a green bubble in your status bar.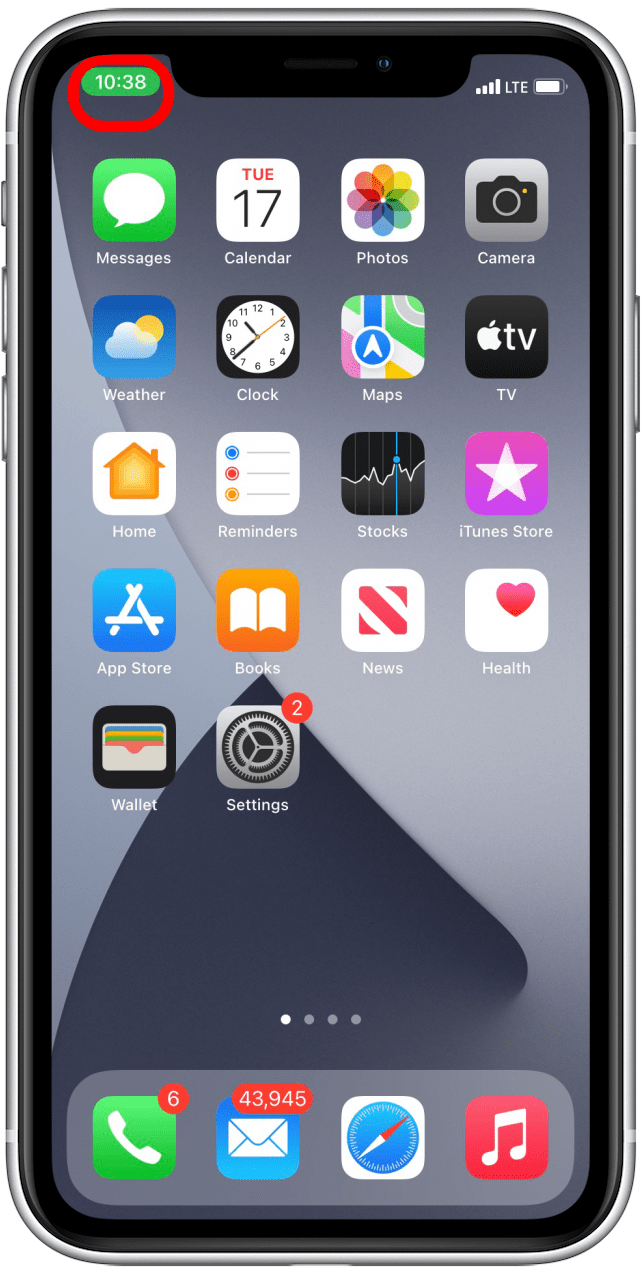 Alarm Icon
To the left of the headphones symbol (when on), you'll see a small clock icon. If present, that means you have an alarm set in the Clock app. If not present, your alarm is turned off. This is a quick way to double-check whether your alarm is set for the next morning.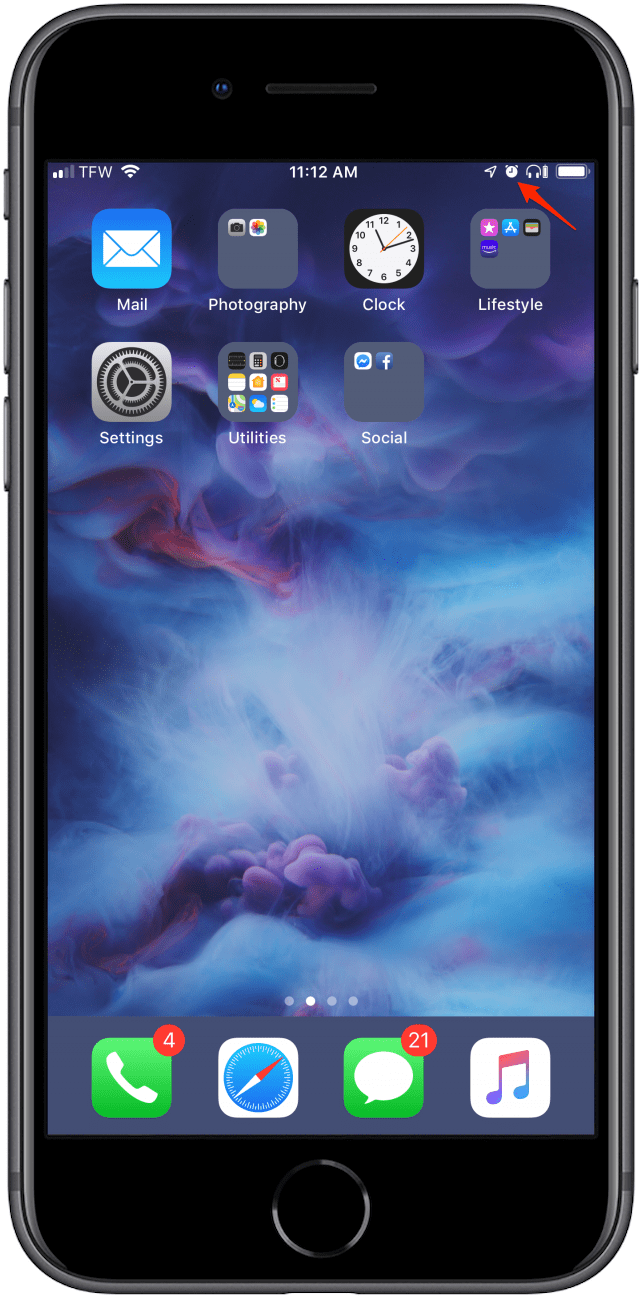 Location Services Icon 
When an app is using your location, you will see this icon (an arrow pointing up at a diagonal). A solid Location Services icon indicates that a website or app is currently tracking where you are located using Location Services. A hollow icon means that your location may be shared under certain conditions. Location Services is used in apps such as Maps to give you directions, or in Safari when looking for something nearby.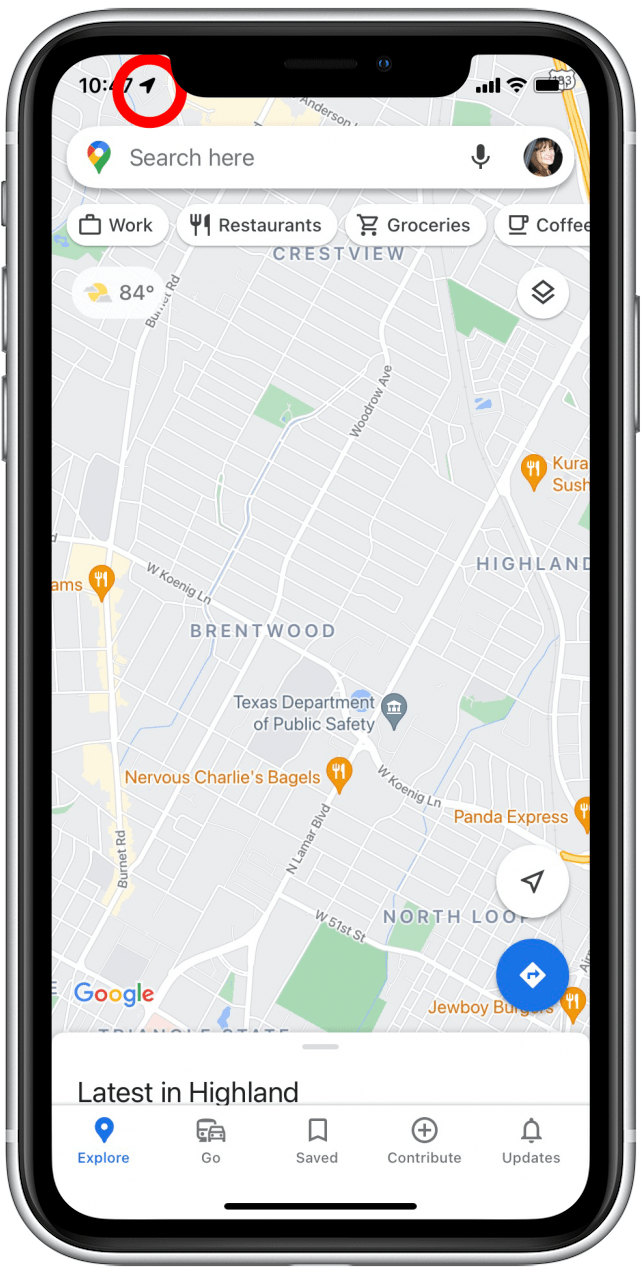 When you are not in the app that is using your location, you may just see a blue bubble in your status bar.

​​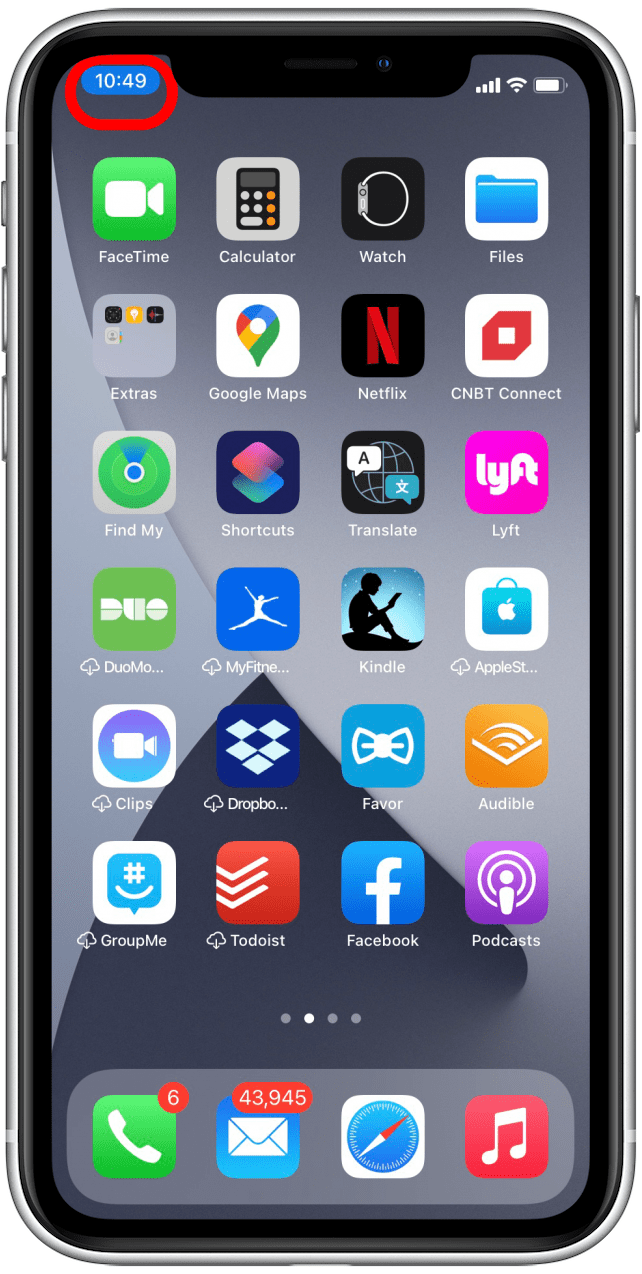 iPad & iPhone Control Center Icons
Access the Control Center by swiping up from the bottom of your screen if you have an iPhone 8 or earlier, or down from the upper right corner of your screen if you have an iPhone without a Home button. Some of the icons in the Control Center are the same for every iPhone, but the icons at the bottom of the Control Center are determined by how you choose to customize your Control Center. You can add or take away Low Power Mode, the Flashlight, the Calculator, Voice Memos, and more.
New iPhone Symbols in the Control Center 
With iOS 15, Announce Notifications got an updated icon, as did Sound Recognition. Here's what they look like for those who have updated to iOS 15, so if you have them in your Control Center, you'll know what you're seeing: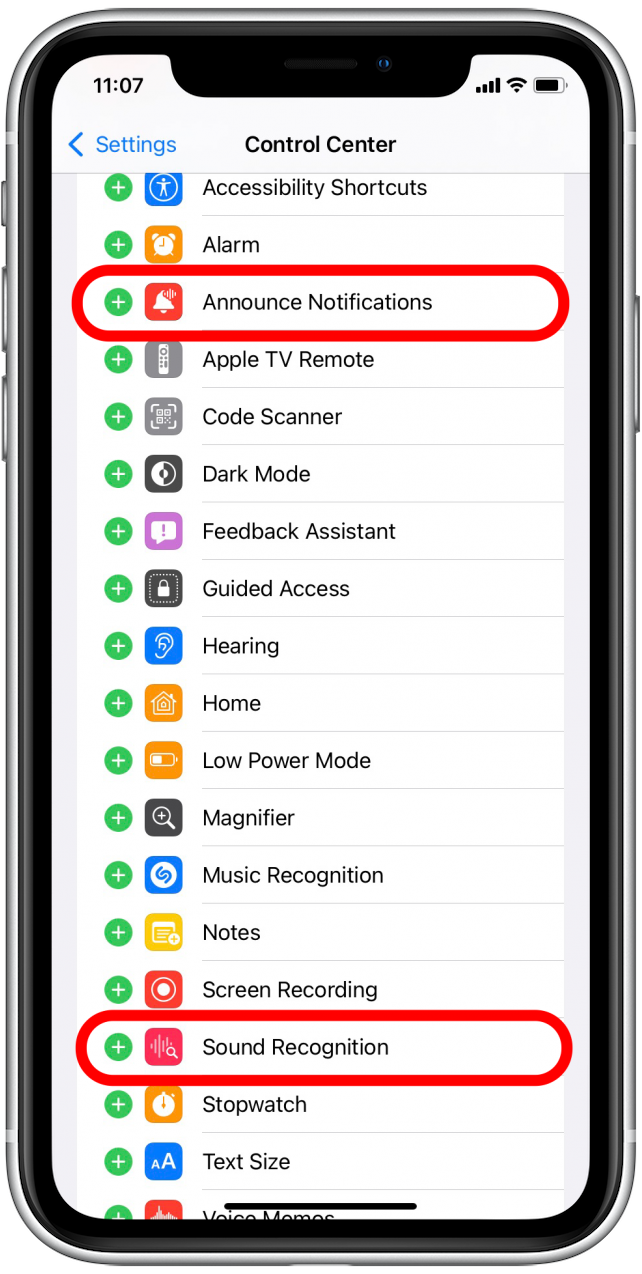 What Are the Symbols in the iPad & iPhone Control Center?
Here's a list of all the controls in your iPad or iPhone Control Center. Below, we'll go over what these symbols are, how to use these controls, and what each control does.
Airplane mode icon
Cellular Data icon
Wi-Fi icon
Bluetooth icon
Orientation Lock icon
Screen Mirroring icon
Focus icon
You'll also see a variety of different icons depending on which controls you have added to the Control Center from the Settings app. While we won't be going over all of these in detail, there are some common control icons to see in the Control Center:
Flashlight icon


 
Timer icon


 
Calculator icon


 
Camera icon


Airplane Mode Icon
In the upper-left network settings card of the Control Center, to the very left, is an airplane symbol. When highlighted orange, your cellular connection is turned off, and calls and texts will not be received. This function is intended for exactly what the picture suggests—being on an airplane. However, you can also use it to save battery life if your iPhone is running dangerously low. Just remember that you won't receive any cellular calls or messages when this mode is turned on, though you can turn Wi-Fi, Bluetooth, or both off or back on by tapping the Wi-Fi or Bluetooth icons in the same network settings card.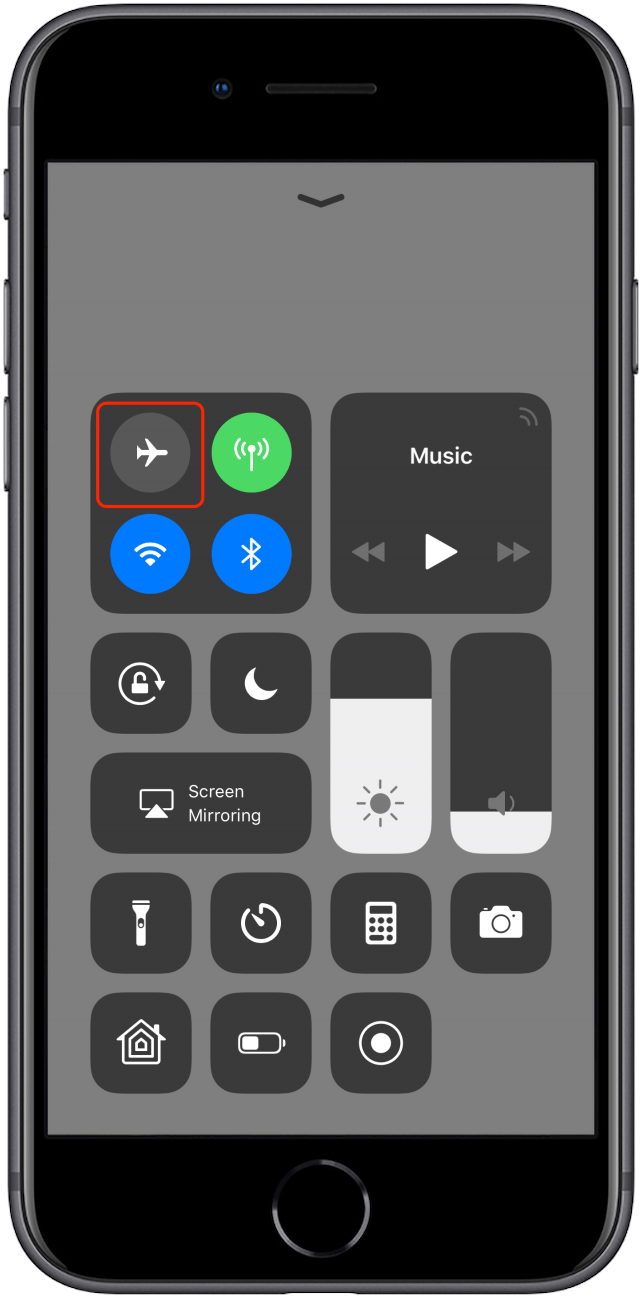 ​​
Cellular Data Icon 
To the right of the Airplane Mode icon is the Cellular Data icon. If this icon is highlighted green, it means your iPhone can use cellular data.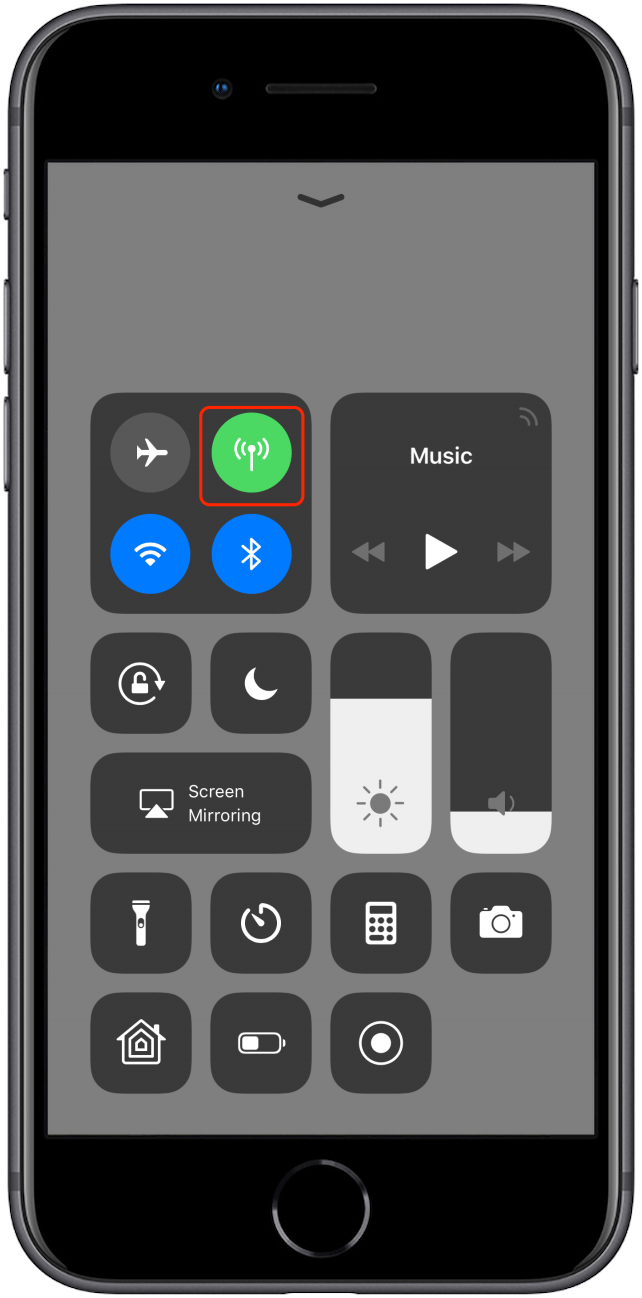 Wi-Fi Icon
Below Airplane Mode is another Wi-Fi icon. When highlighted blue, it means your Wi-Fi is turned on. It does not necessarily mean that you are connected to a network, though. You can quickly disconnect from Wi-Fi by tapping this icon.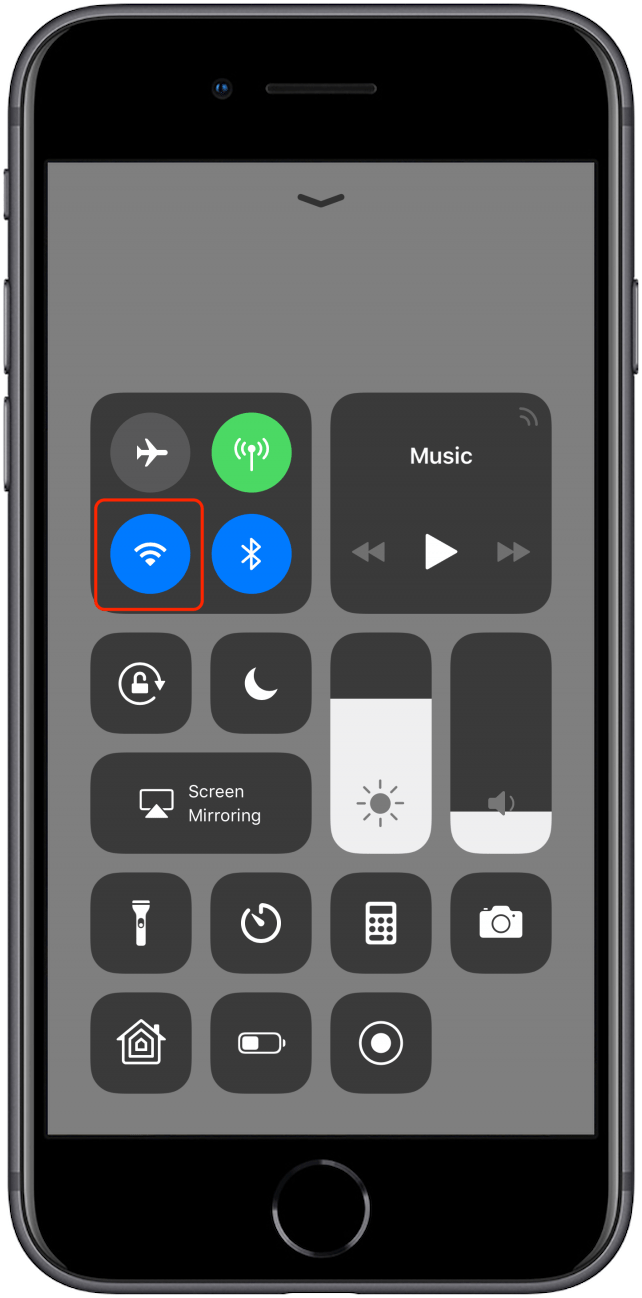 Bluetooth Icon
To the right of the Wi-Fi icon is a Bluetooth icon. When highlighted blue, it means your Bluetooth is on. However, it does not mean you are connected to a device, but that your iPhone is available to pair with a device through the Settings app. You can quickly turn Bluetooth on or off by tapping the Bluetooth icon in Control Center.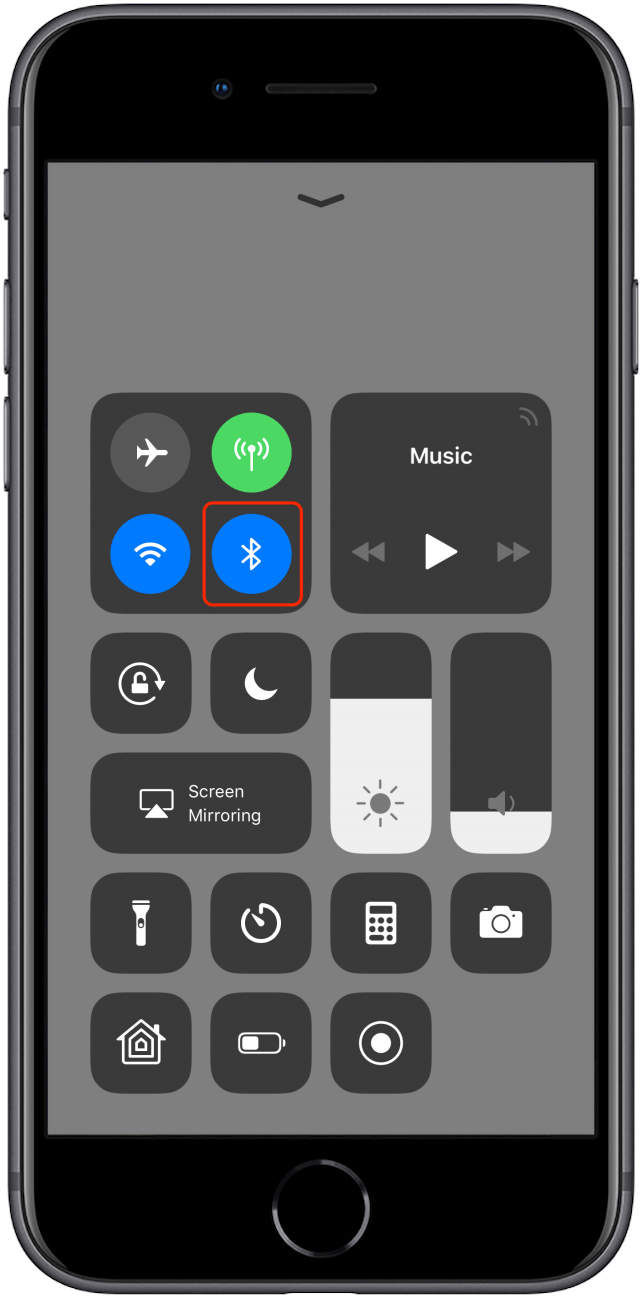 Focus Icon
Formerly Do Not Disturb mode, the moon icon in Control Center now represents Focus mode in iOS 15.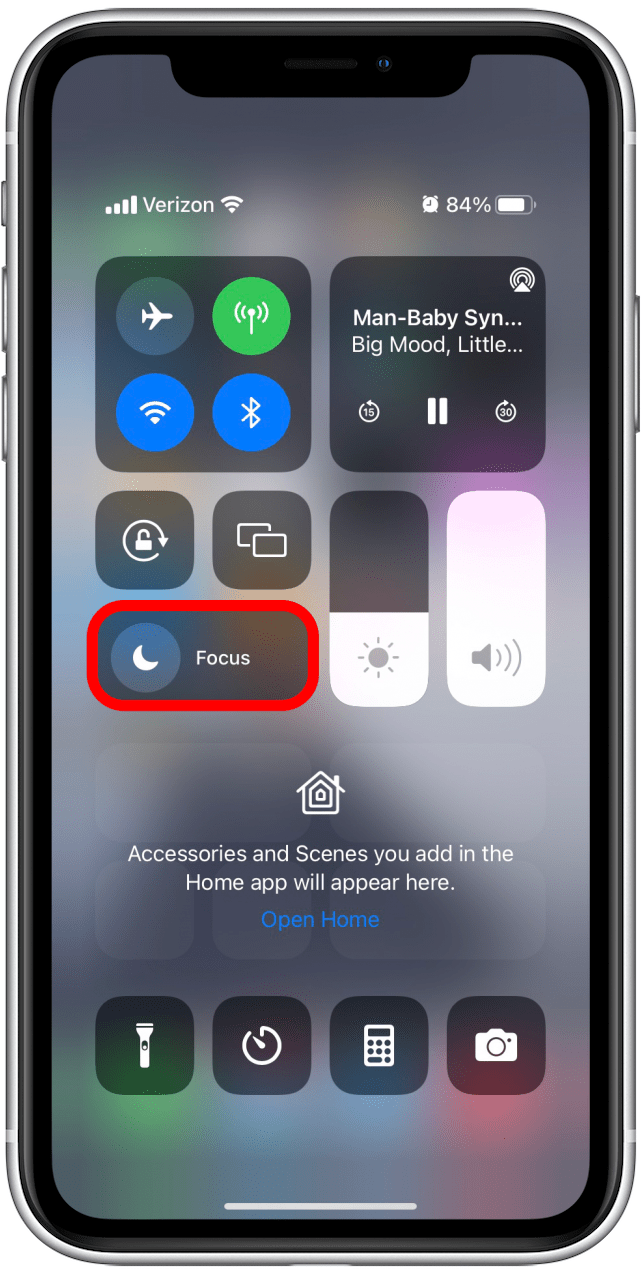 Now, when you tap on the Focus icon, you'll see a list of different, configurable Focus modes: Do Not Disturb is still represented by the crescent moon, Work is represented by an ID badge, Driving by a car, Personal by a bust, and Sleep by a bed.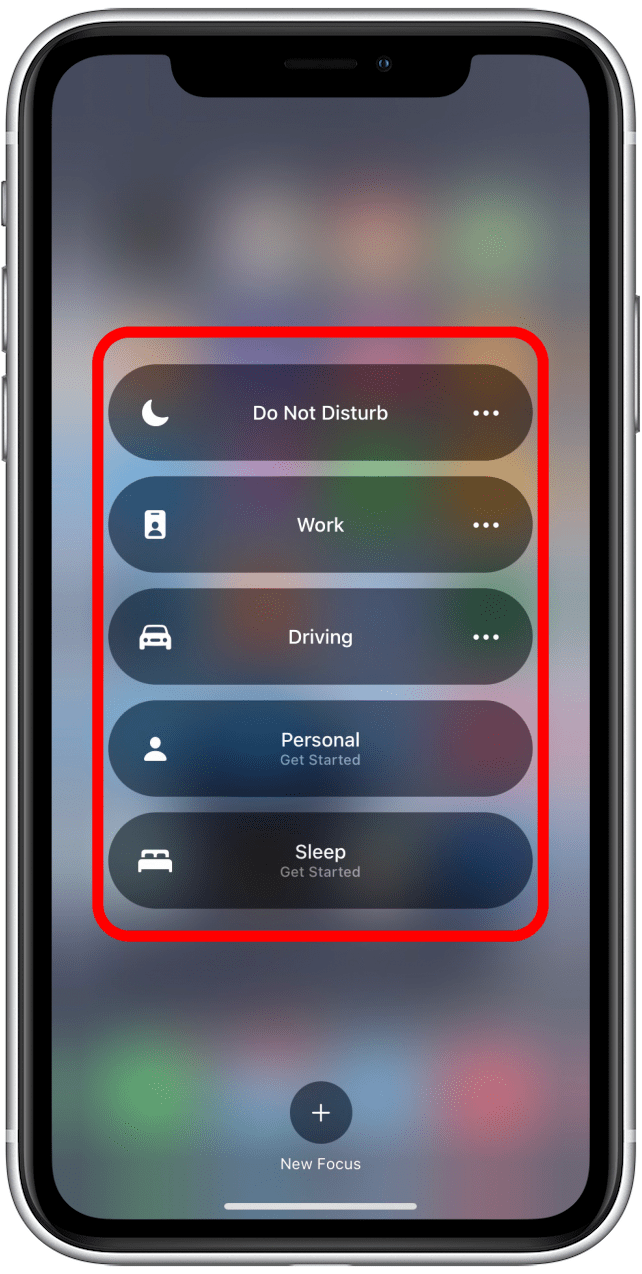 When any Focus mode is activated, you'll also see the corresponding icon displayed on your Lock Screen and Home Screen.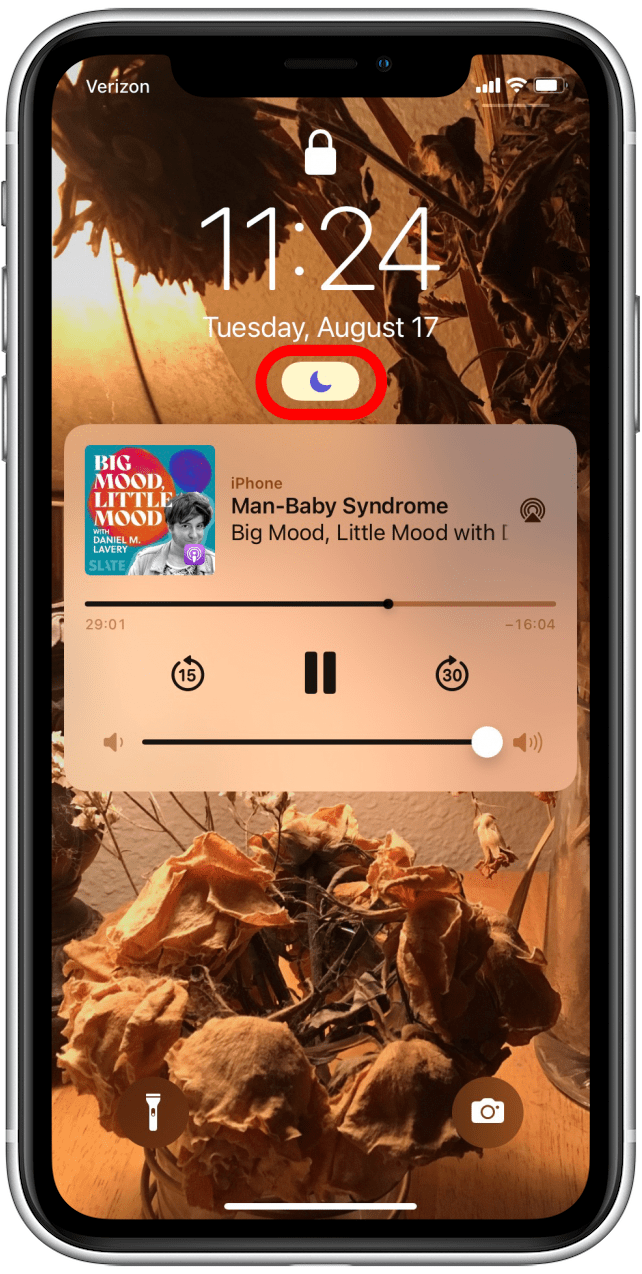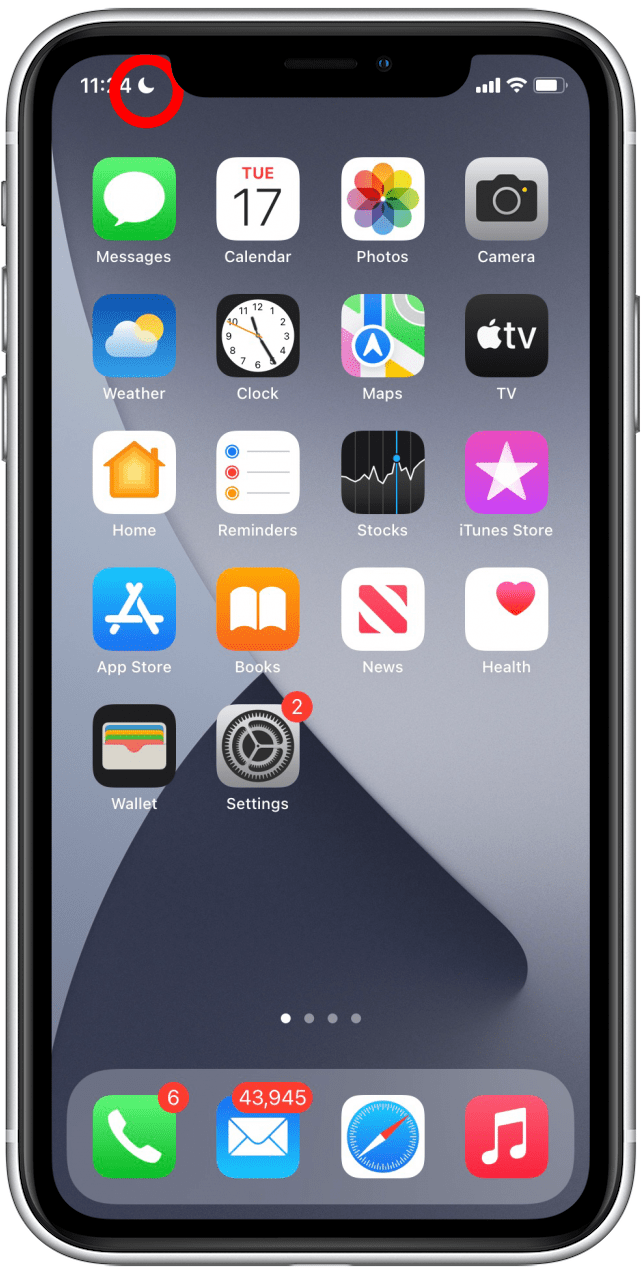 When Focus mode is activated, the background is white, and the appropriate symbol is colored in. Focus modes can prevent you from being disturbed in certain situations, according to rules you create in Focus mode settings. You can easily turn Focus mode on or off by tapping this icon in Control Center. You may want to learn how to configure different Focus modes before activating them.
Orientation Lock Icon
Underneath the Wi-Fi icon, there is a lock icon with a circle around it. When the background turns white, and the lock and arrow turn red, this means you've turned the Portrait Orientation Lock on. That means your screen will not turn on its side when you turn your iPhone on its side. The iPhone automatically flips the screen orientation between landscape and portrait to fit the way you're viewing it, but if you want to keep it from doing that for any reason, tap this icon to turn on Orientation Lock.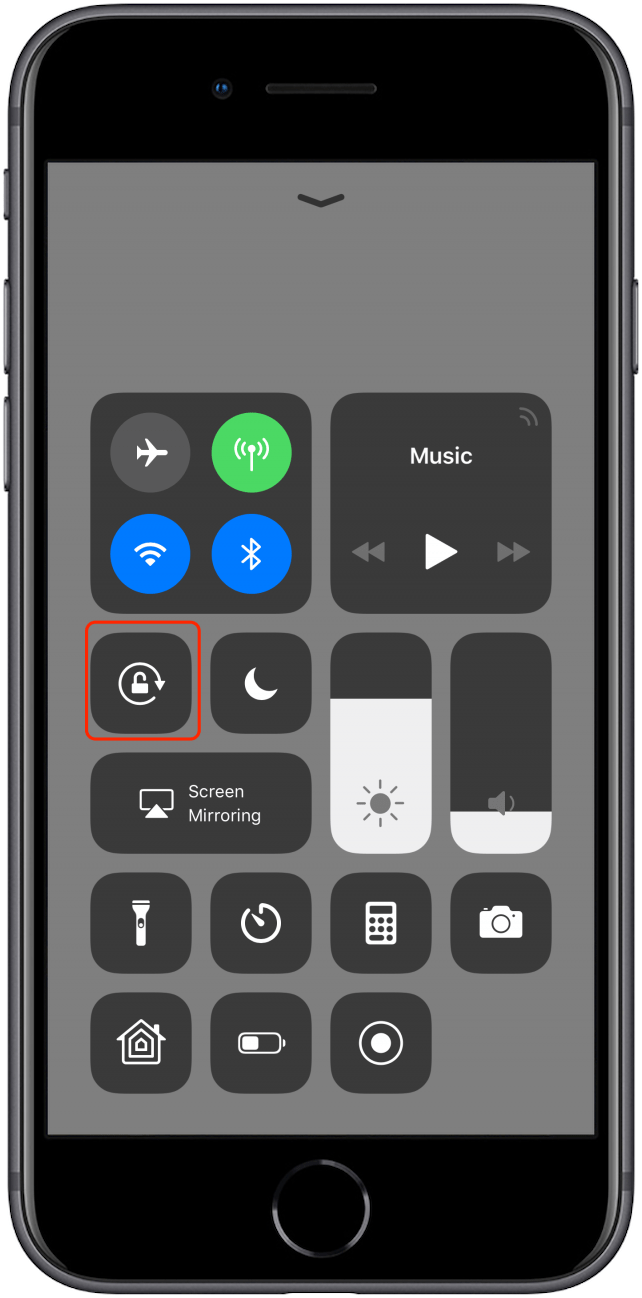 Screen Mirroring
In iOS 15, the Screen Mirroring icon has been moved to the right of the Orientation Lock icon, above Focus mode. It is now represented by one rectangle partially occluding another.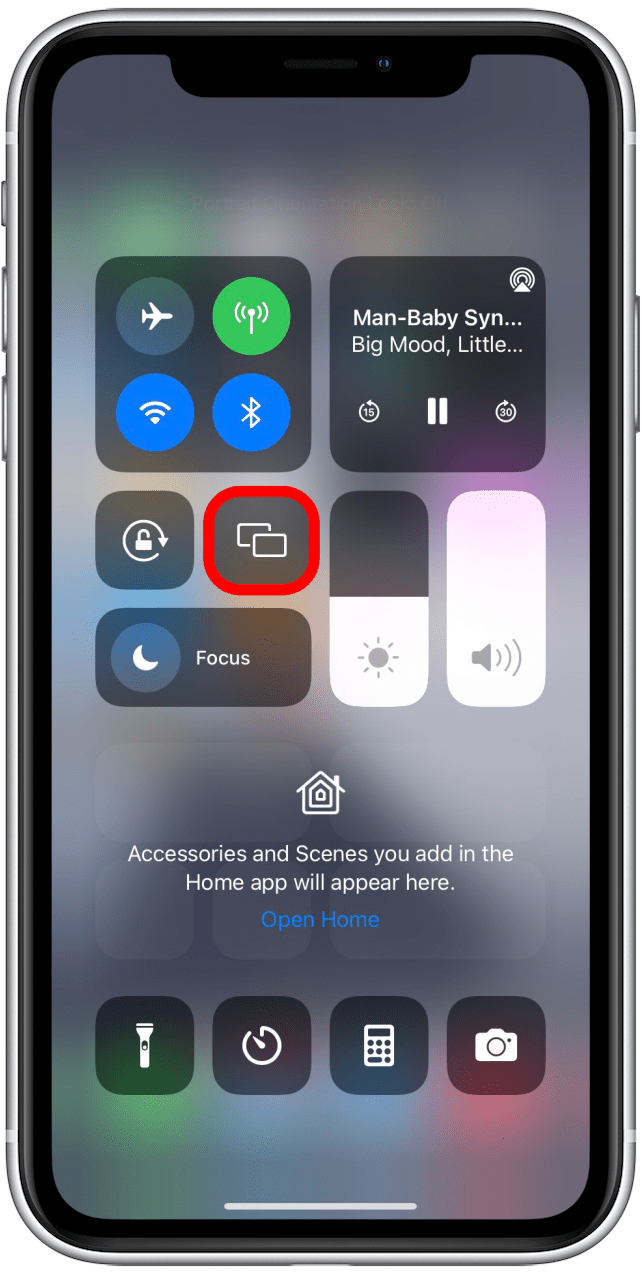 When you tap the Screen Mirroring icon, you'll see a list of other screens you can mirror your device's screen on.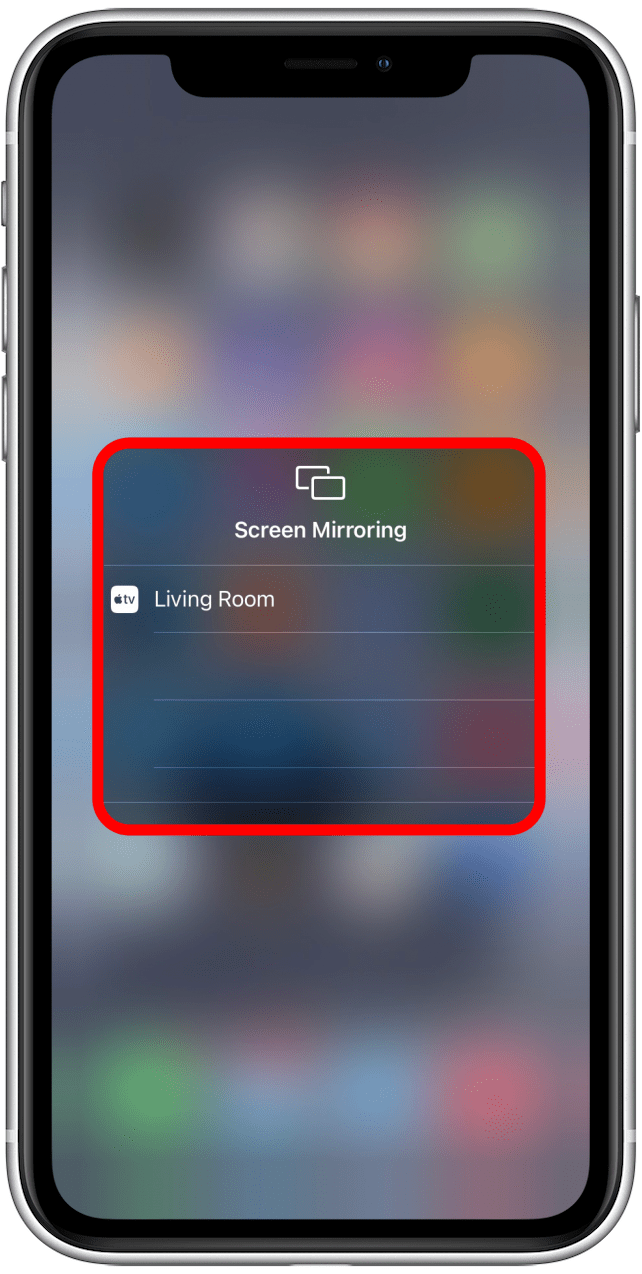 Bonus Controls: Network Settings Icons
When you touch and hold any of the four icons in the network settings card of the Control Center, a menu pops up, allowing you to turn off or on not just Airplane Mode, but also Cellular Data, Wi-Fi, AirDrop, Bluetooth, and your Personal Hotspot.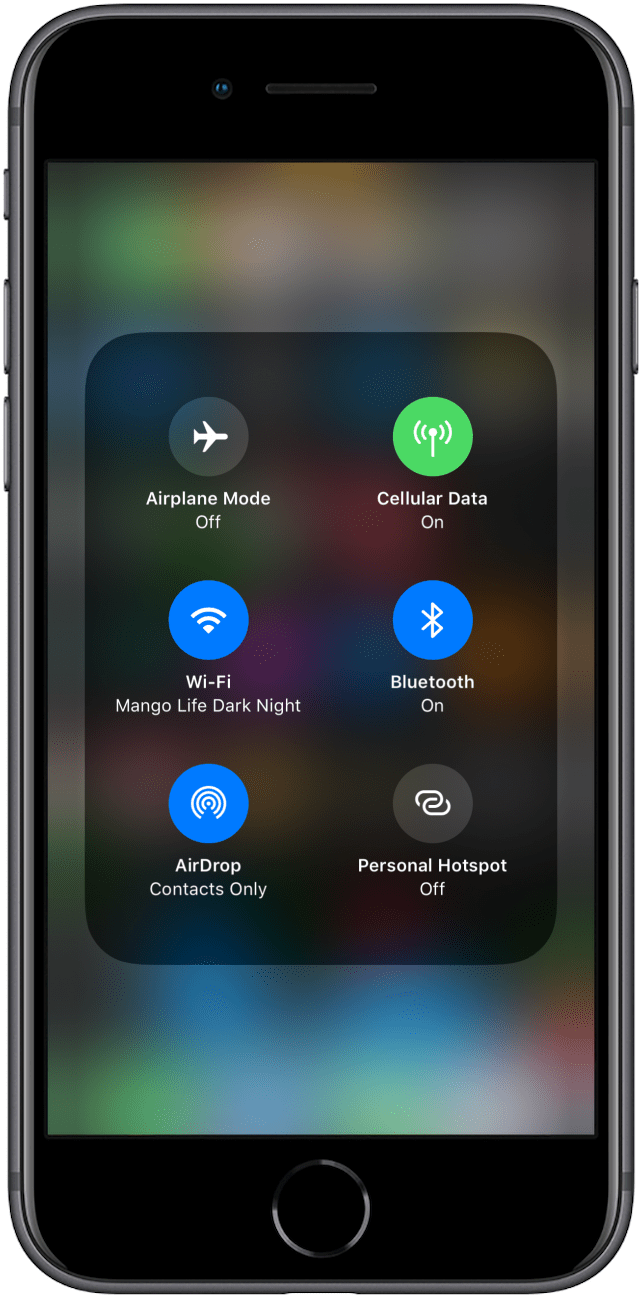 Check out our free Tip of the Day for more great Apple device tutorials. Next, master the buttons and port on your iPhone for even quicker navigation!