Apps and widgets in iOS 14 are useful, but they do tend to take up a lot of Home Screen real estate. We've put together some tips to declutter your iPhone without sacrificing convenience.
By

Erin MacPherson
Updated 06/30/2022
I love my apps and widgets, but I can't stand clutter. It drives me nuts to have to spend several minutes looking for an app on my iPhone. If you're suffering from the same frustrations, you've come to the right place! I've put together some tips and tricks to help you remove clutter while still keeping your apps and data easy to access, and looking cool at the same time. Let's look at the eight best ways to declutter your iPhone Home Screen while still keeping things easy to find.
Related: How to Hide Apps on the iPhone & Find Them Later
What's in This Article:
How to Organize Your iPhone Home Screen
There are a lot of ways to personalize and organize your iPhone Home Screen, Dock, and folders. These are my favorite methods to remove clutter, keep things easy to find, and add a little bit of visual appeal to your iPhone Home Screen.
Move through these tips in order; they're set up so that as you move through them, you've already minimized the number of steps you'll have to take on later steps. I also recommend thinking carefully as you move through these about what you want your screen to look like. The first thing you notice about your screen is how it looks and how it flows. The next thing you notice is whether it's easy or difficult to find what you're looking for. 
If you mess up and go a little too declutter-happy on any steps, don't worry! There' a section at the end to help you undo the more major iPhone organizing steps in case you change your mind or accidentally delete something you need.
1. Customize Your iPhone Dock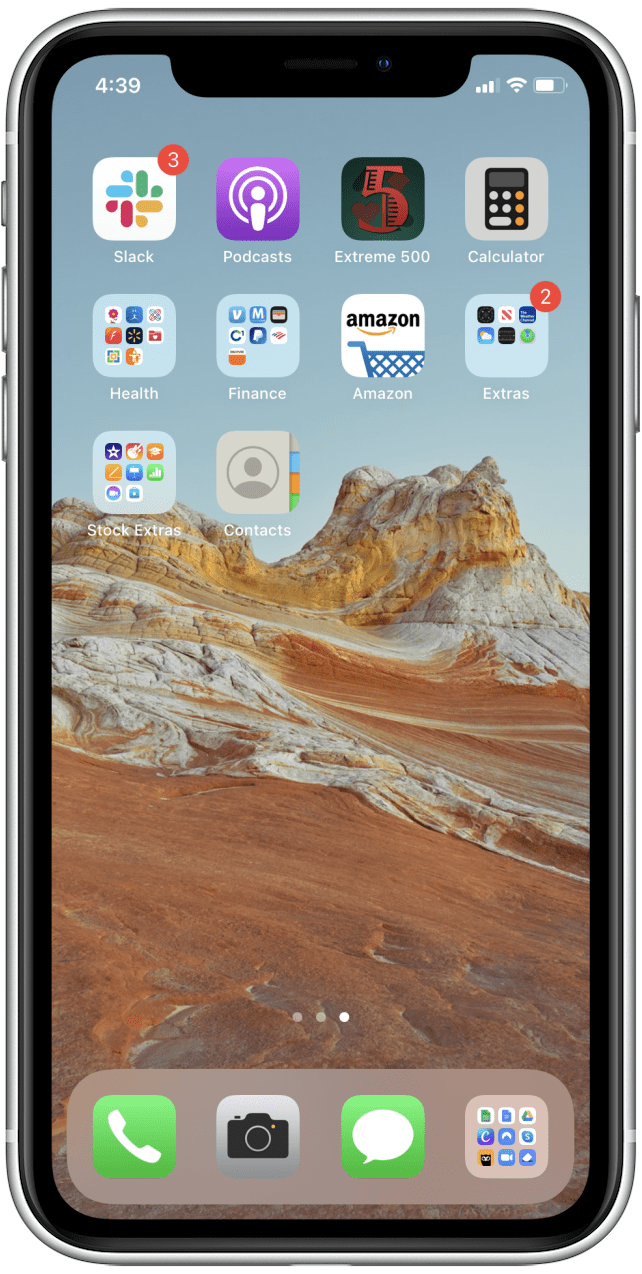 Did you know you can customize what appears in your iPhone's Dock? You can select exactly which apps appear in the fixed menu bar at the bottom of your Home Screen—a tip that has made my life much simpler. As an added bonus, you can even place a folder into your Dock for easier access! That's where I store my Productivity folder so that I never have to swipe through Home Screen pages to find it when I'm in a hurry.
2. Add Widgets That Save Space & Look Cool
I'll freely admit I'm obsessed with widgets. My primary Home Screen is filled with only widgets, and I rearrange them according to what I think looks best at any given time. You can use widget stacks to save space, or you can simply choose Apple or third-party widgets that give you the information you need without ever having to open the app. If you're looking for even further customization of your widgets, we recommend an app called Widgetsmith.
My favorite Home Screen widget is the Smart Stack that predicts what I need based on my activity. It offers me music selections during the times of day when I normally play background music from my iPhone, it suggests news articles each day during the time when I typically sit on my couch and relax while catching up on headlines, and it even reminds me to text my mom mid-afternoon when I usually check in with her.
3. Delete Unnecessary Apps & Bookmarks from the Home Screen
This may seem like a no-brainer, but it's actually multi-faceted, since iOS 14 allows users to either remove items from the Home Screen or delete them entirely from the device. I go through the items on my Home Screen about once per month (yes, I hate clutter that much) and see if I've held onto any Safari bookmarks I no longer need, or if  I have any apps I thought I'd use that I actually don't. If I want to keep the app on my iPhone, I simply delete it from my Home Screen but don't remove it from my phone. If I want to remove it entirely, I go ahead and delete it from my iPhone.
4. Hide Infrequently Used Apps in the App Library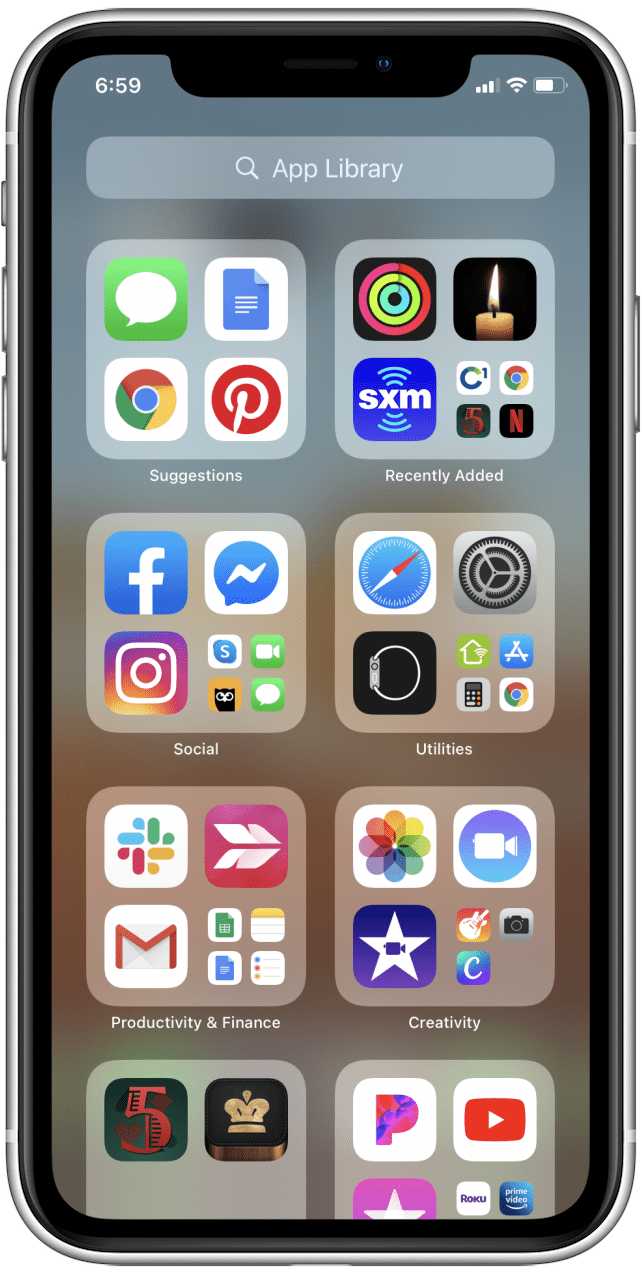 iOS 14 brought us the App Library, which is a bit of a blessing and a curse to many users. Personally, I treat my App Library like a vault. It holds the things I don't want to get rid of entirely, but that I don't want to have lying around where just anyone can see them. Complaints about the App Library are usually centered around the fact that it's massive, and a little awkwardly organized. Your iPhone does the compartmentalizing of apps in the App Library; users can't actually move the apps around inside it.
Not to worry, it's still pretty easy to navigate, as it comes with a search function. This means you can hide apps in the App Library to remove them from your Home Screen but still rest assured that you'll be able to find them when you need to.
5. Organize Necessary Apps into Folders


If your apps are spread out across your Home Screen pages or jumbled up in a labyrinth on fewer pages, you may enjoy the relief that comes from sorting apps into folders. When organizing my app folders, I give myself the same advice I give my son when he cleans his room: if you dump items into containers of similar items, it'll be much easier to find them later while still looking tidy on the outside. Whatever works, right?
Folders can be named and organized however you like! I used to organize my DVD shelves by color because I'm a very visual person, so naturally I organize apps this way as well. 
Other folder organization ideas include:
Social
Business
Creative
Private
Health
Kids
Education
Games
Home
Basically, you can get as creative as you like! If you find yourself needing to remove app folders, you can do that as well.
6. Hide or Unhide Home Screen Pages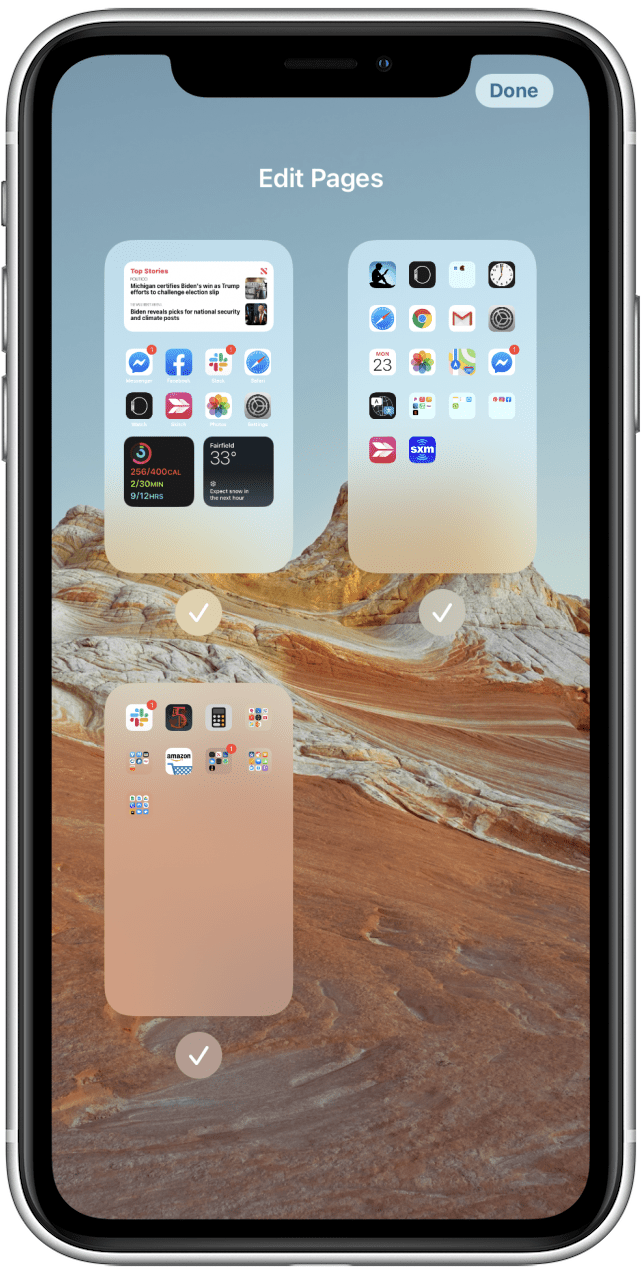 If you have a lot of apps or folders that you need to keep but don't use often and don't want to have to scroll through or look at often, you're in good company. 
The solution is to make a page of apps you want to be able to get to quickly without searching, but that you don't have to scroll through when flipping through your Home Screen pages. Once you've placed all of these apps and folders that you only infrequently use onto one page, you hide that page in an easy-to-find place so that if you ever need it, it's there and takes just seconds to restore. Essentially, it's a half-measure between hiding the apps (making them harder to find) and just leaving a collection of apps or folders on a later Home Screen page. You can restore the hidden Home page and scroll through the apps anytime without losing the organization you put so much time into.
7. Customize Your App Icons
At the beginning we talked about how much the aesthetics of your Home Screen contribute to your perception of its organization. This may seem silly, but customizing your app icons can actually trick your mind into thinking your iPhone is more organized than it actually is. Using a common color scheme or design style for your app icons makes things look more cohesive, reducing the disorienting effects of a messy Home Screen. You can create custom app icons using the Shortcuts app, which is a simple way to go about it if you don't want to download a third-party app. Or you can search and download a third-party app icon customizing app from the App Store.
8. Change Your Home Screen or Lock Screen Background
Last but not least, choosing a different background for your Home Screen can completely change how it looks. Opt for one that makes you smile whenever you see it, and that isn't obstructed by your chosen method of laying out your Home Screen icons and folders.
How to Fix It If You Accidentally Get Rid of Something You Need
Whoops! Did you accidentally delete an app that you needed? No worries. If you've gone overboard and taken your organization a little too far, here are some fixes for the most common issues:
Now that you know the top tips for organizing your iPhone screens, you can fiddle with them and see what works best for you!