By

Olena Kagui
Updated 03/30/2023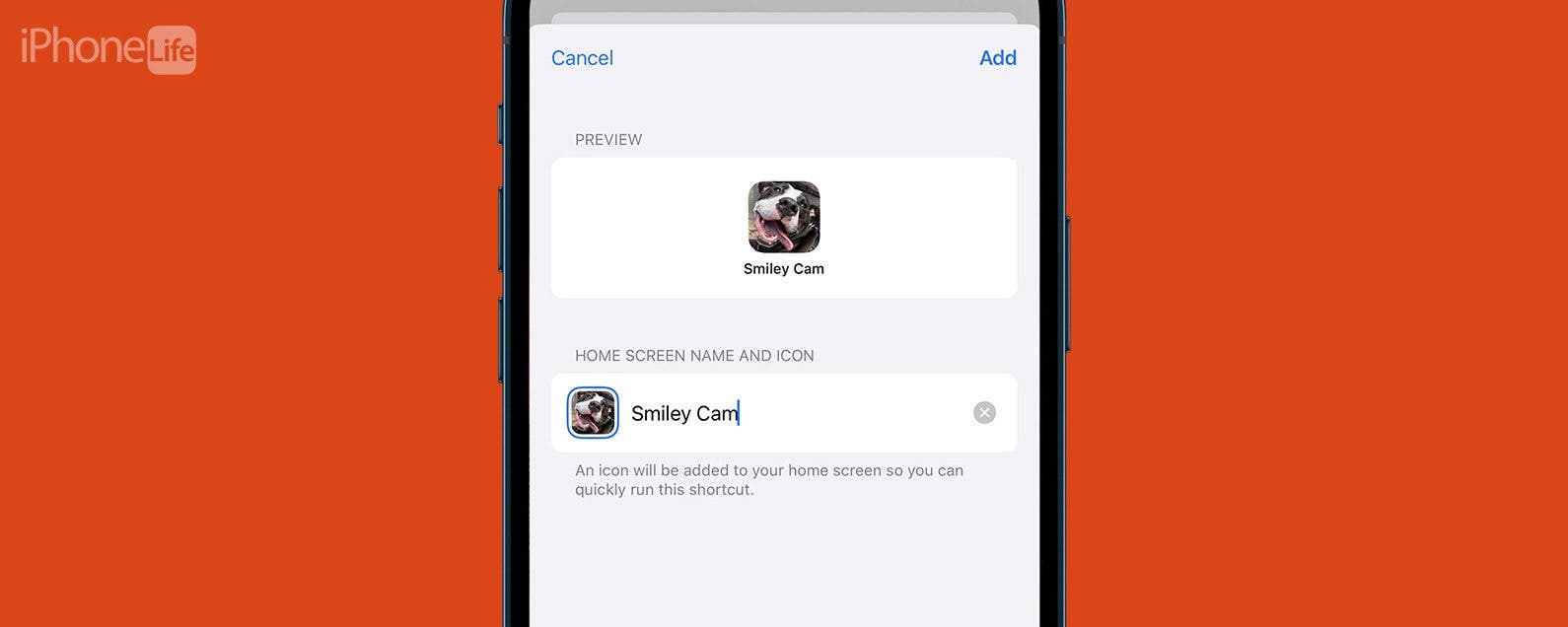 * This post is part of iPhone Life's Tip of the Day newsletter. Sign Up. *
iPhone app icon customization is a great way that iOS 16 allows you to personalize your device or hide apps by disguising them. There are two ways to do this: you can download a third-party app to change your icons or use the free Apple Shortcuts app to create a custom aesthetic for your Home Screen. We'll show you how to customize your iPhone icons using the Shortcuts app, as well as recommend some great ways to find alternate app icon images.
Why You'll Love This Tip
Create a rockin' personalized iPhone Home Screen that perfectly suits your aesthetic taste and style. 
Change app icons to help you find the app more quickly or hide apps by disguising them. 
How to Change an App Icon with Shortcuts
If you don't already have the Apple Shortcuts app, you'll need to download it from the App Store before getting started. Using the Shortcuts app, you can set any image to be used as an app icon. This custom app icon then functions as a shortcut to the corresponding app in the App Library, so you can still tap your custom icon to open the app as you usually do. Here's how to change app icons using the Shortcuts app:

Discover your iPhone's hidden features
Get one daily tip each day (with screenshots and clear instructions) so you can master your iPhone in just one minute a day.
To change your app icons, start by opening the Shortcuts app.


Navigate to the Shortcuts tab if you're not already there, and tap on the + icon located in the top right corner of the main app screen.



Select Add Action.


Use the search bar at the top of the screen to type Open App.



Tap on Open App.


Next, tap App.



Tap the app you want to create a custom icon for. If you don't see the app you're looking for, you can also type the app name in the search bar at the top of the screen.


Tap on the "i" icon at the bottom of your screen.



Tap on Add to Home Screen.


Tap on the app icon under Home Screen Name and Icon.



From the drop-down menu, select Take Photo, Choose Photo, or Choose File. For this example, I will tap Choose Photo.


Select the image you would like to use and tap Choose to confirm.



Tap on New Shortcut to rename the app. (You can use the app name or create your own name for the app.)


Tap Add in the top right corner of the screen.



The new app icon will appear on your Home Screen.


As a final note, creating a custom iPhone icon using the Shortcuts app doesn't replace the original app icon on your Home Screen, so you'll need to hide the original app to avoid seeing it. For more creative ways to customize your iPhone, sign up for our free Tip of the Day newsletter.
Where to Find & Download iPhone App Icons
You don't need to pay for an app icon package when you have sites like Pinterest and Google Image search. Here are some examples of what my iPhone has looked like in the past. For the Home Screens below, all the images for the icons and widgets were sourced for free simply by surfing the internet.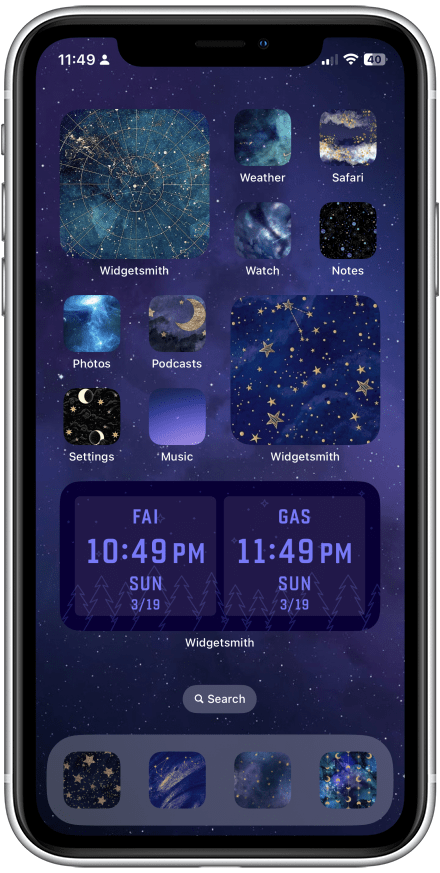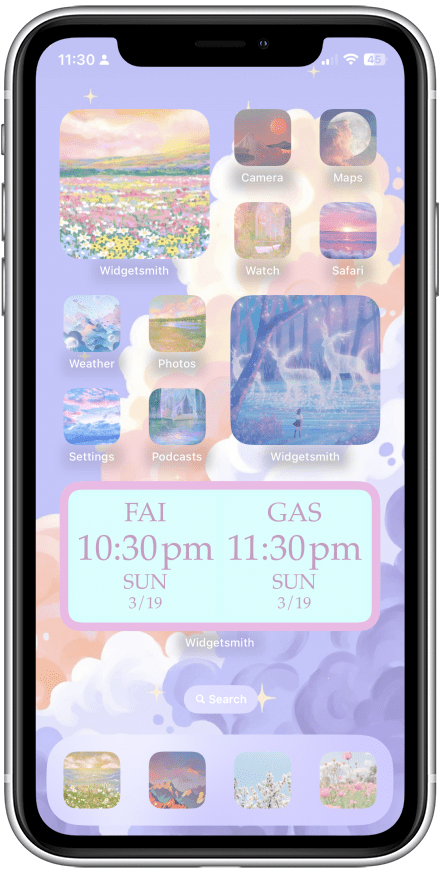 However, if you want the icons to look more familiar, there are plenty of options out there. It is possible to download free iPhone app icons, but you can also purchase premium packs online. Icons 8 is a great website that offers a wide selection of free icons with a specific section for iOS-friendly designs. Both Iconscout and Flaticon also have some free packs for Apple products.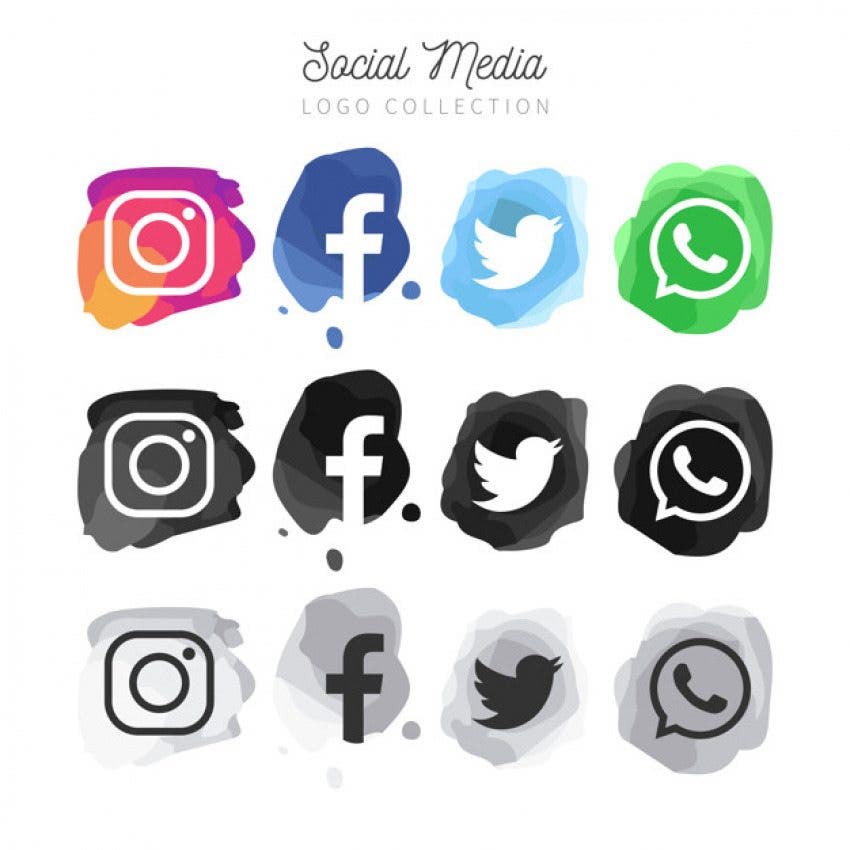 For a more creative selection, a quick search on Pinterest can find you various free and paid collections. The great thing about searching on Pinterest is that it shows some of the best icons from different stores and websites, such as this free watercolor set (pictured above) that you can download via Freepik. Finally, Etsy is a great place to find packs of icons ranging under ten dollars, depending on the seller. Sometimes they are even paired with great screensavers and more to create a cohesive theme. Once you download iPhone icons, they'll be stored in your Photos, and you can add them using the steps above. 
You can also design your own using a third-party app! The ability to make your own iPhone icons is exciting but can be a little daunting. There are many ways to create your own designs. The old-school way is to hand draw the icons, then scan the art or simply take a photo of the drawing directly via the Shortcuts app. Another option is to create a design using software such as Photoshop, Adobe Illustrator, or Procreate if you're familiar with those applications. But for those who are neither talented in fine arts nor proficient in computer design, the Canva app is the way to go.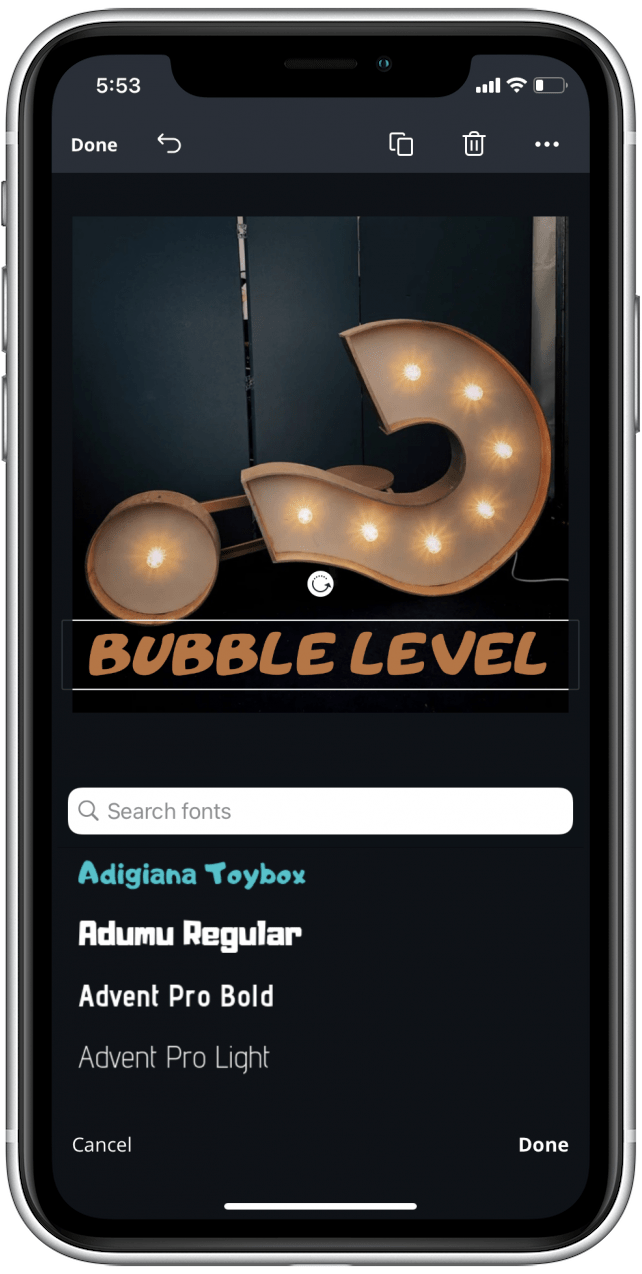 Screenshots above are from the Canva app
Once you get the hang of it, your iPhone can look as unique as you do. Next, learn how to make new shortcuts from scratch.