By

Rhett Intriago
Updated 10/03/2023
What to Know
The iOS 17 update allows you to summon Siri by just saying, "Siri."
If you prefer "Hey Siri" instead, you can switch it back in your iPhone settings.
Open the Settings app, tap Siri & Search, tap Listen For, then tap "Hey Siri."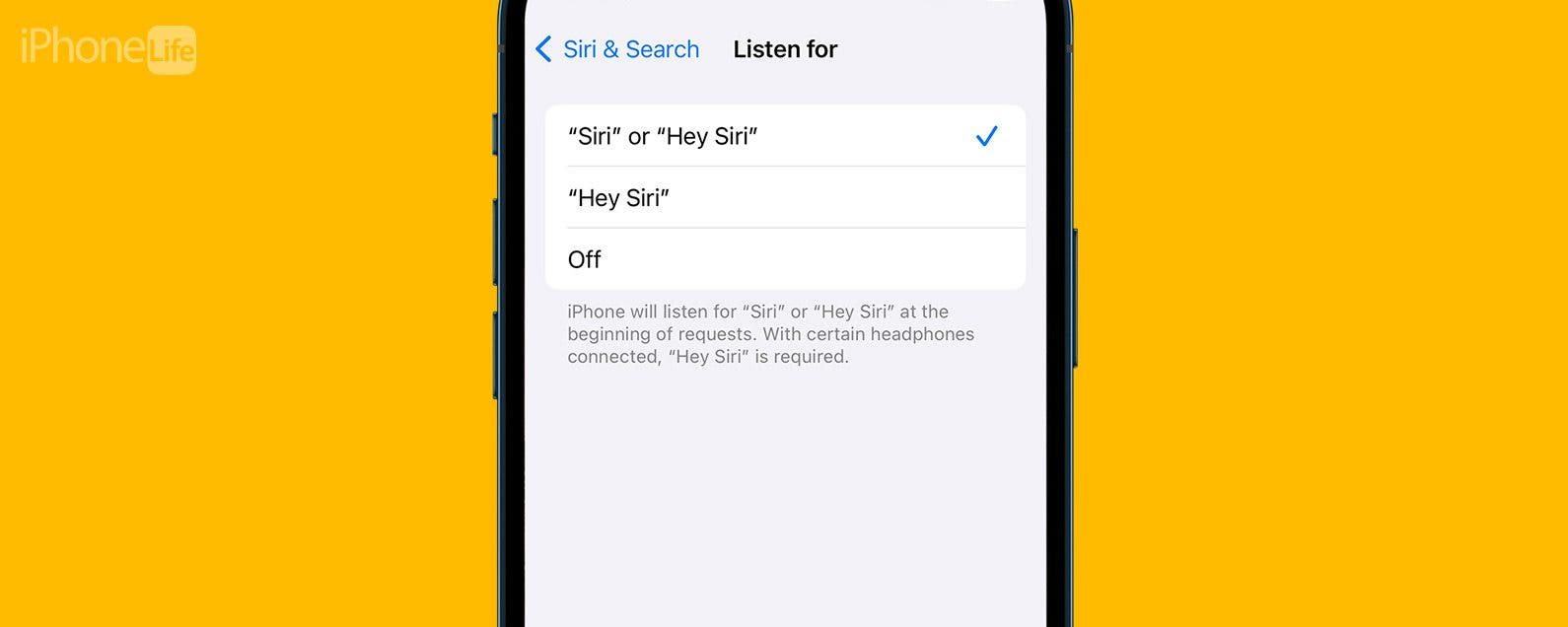 While previous versions of iOS required you to say, "Hey Siri," to activate Siri, iOS 17 drops the "Hey" and now allows you to summon your virtual assistant with just a simple "Siri." Some may find this more convenient, while others may find it more frustrating since simply saying Siri's name is enough to accidentally make unneeded reminders, set random timers, or search the web.
Jump To:
How Did Siri Change in iOS 17?
In iOS 17, Apple made it so that you can activate Siri by simply saying, "Siri," instead of "Hey, Siri." This change brings Siri more in line with other virtual assistants, such as Alexa or Google. However, I worry about how often I'll accidentally invoke Siri thanks to this change, considering the word "seriously" seems to be enough to activate Siri for me. If you find that you're activating Siri when you don't mean to, now, we'll show you how to change it back to "Hey, Siri." To stay updated on the latest changes to iOS, be sure to sign up for our free Tip of the Day newsletter!
How to Set Up Hey Siri on iOS 17
If you want to switch back to "Hey Siri," you can do so in the Settings app:

Discover your iPhone's hidden features
Get a daily tip (with screenshots and clear instructions) so you can master your iPhone in just one minute a day.
Now, you can use "Hey, Siri" instead of just "Siri" to activate your virtual assistant.
FAQ
Do I have to say, "Hey, Siri," every time? In addition to Siri's new trigger phrase, Apple has added the ability to issue follow-up commands and requests to Siri after the first one. For example, you can say, "Hey, Siri, set a timer for five minutes," allow Siri to start the timer, and then immediately ask, "What's the weather like?" without having to activate Siri again. So after saying, "Hey, Siri," once you don't necessarily have to say it again unless you dismiss Siri.
How do I use Siri to speak? While you can't use Siri to speak, iOS 17 does include a new feature called Live Speech, which allows you to type out what you want to say and then has your iPhone speak it aloud. You can set this up by going into Settings, tapping Accessibility, and then tapping Live Speech.