By

Olena Kagui
Updated 07/11/2023
What to Know
All Tesla models can connect to the internet and require Wi-Fi in order to download software updates.
Premium Connectivity is a paid service that enables your Tesla's built-in modem so you can stream without using Wi-Fi.
If you don't have Premium Connectivity, use your phone as a hotspot for your Tesla.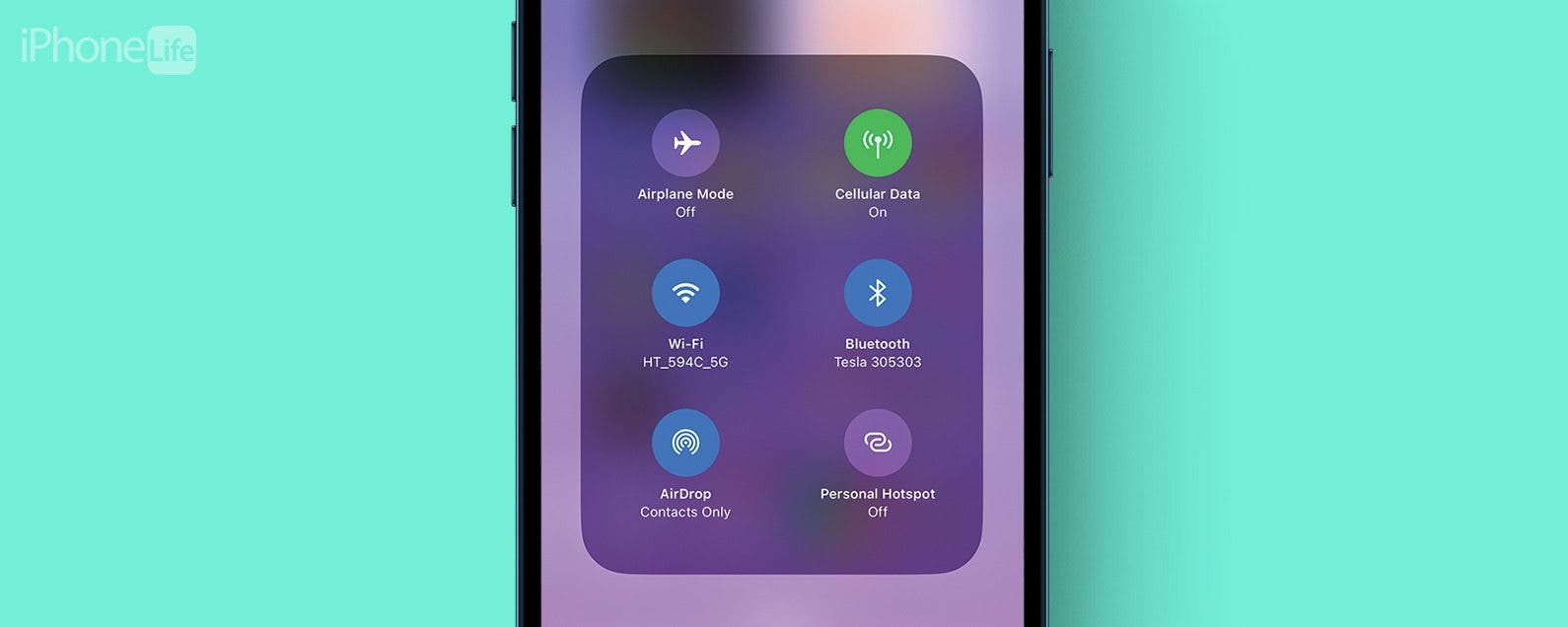 Your Tesla connects to Wi-Fi to download updates, but it does have a built-in modem that you can enable by paying for Premium Connectivity. It is also possible to use your phone's hotspot to stream on your Tesla. Despite having its own modem, for now, a Tesla cannot function as a hotspot.
Jump To:
How to Connect Tesla to Wi-Fi If Your Wi-Fi Is Toggled Off
Even if you pay for Tesla Premium Connectivity to give your Tesla internet access via the built-in modem, you still need to connect to Wi-Fi to download over-the-air software updates. Here's how to connect to the internet in your Tesla the first time or if your Wi-Fi is toggled off:
Now you know how to get Wi-Fi on your Tesla! You should be able to connect your Tesla to any Wi-Fi network that you can connect your phone to. For more tech tips, sign up for our Tip of the Day newsletter.

Discover your iPhone's hidden features
Get a daily tip (with screenshots and clear instructions) so you can master your iPhone in just one minute a day.
How to Connect Tesla to Wi-Fi If Your Wi-Fi Is Toggled On
If you've already connected to the Wi-Fi or have your Wi-Fi toggled on, here's how to connect to the internet in your Tesla:
Tap the car icon in the bottom left of your display.


Tap the LTE or Wi-Fi icon in the top right of the Controls tab.



Select your Wi-Fi network and enter the password if prompted.


Now you should be connected to your Wi-Fi network of choice.
How to Connect Hotspot (iPhone & Tesla)
If you want to skip the Tesla monthly payment, you can connect your Tesla to your phone's hotspot. This lets you stream music and videos on your Tesla display even if you are away from your home, for example, in a public parking lot or at a Tesla Supercharger. Be warned: using your iPhone's hotspot does eat up a lot of data, so if you are low on data, you might not want to do this. Here's how to connect to a hotspot with your Tesla:
Turn your iPhone's hotspot on. You can also use a different Cellular device.


Next, follow the steps in the section above and select your Hotspot.



Enter the password and tap Confirm.


Now you know how to connect to a hotspot with your Tesla!
Note
Even if you pay for Premium Connectivity, you currently can't use your Tesla as a hotspot. However, many Tesla owners do hope that this will change in the future so that they can connect their laptops or other devices to the internet without paying for an extra service.
Now you know how to get Wi-Fi in your car for free by using your phone as a hotspot! This may be slower than using Premium Connectivity, but it is the most affordable option. Of course, you can also connect to your home or work Wi-Fi if your parking situation allows it. Next, learn how to increase hotspot speed on iPhone.
FAQ
How much does Tesla Premium Connectivity cost? $9.99 per month or $99 per year. Learn more about Tesla Connectivity here.
What to do if your Tesla won't connect to Wi-Fi? There are a few troubleshooting steps you can take if you experience your Tesla not connecting to Wi-Fi, like forgetting your Wi-Fi network or turning your Tesla off and then back on again to fix any software glitches.
What is Telsa internet? The same company that makes Teslas also created Starlink Internet. On August 25th, 2022, Elon Musk Tweeted confirming a T-Mobile partnership that will provide Tesla cars with Starlink satellite cellular service. This partnership has yet to materialize, however.