By

Olena Kagui
Updated 06/22/2023
What to Know
Since they don't have engines, Teslas don't "turn off" like traditional cars; they go into standby automatically.
To troubleshoot tech issues while driving, you can turn off the Tesla display and reboot it without having to pull over.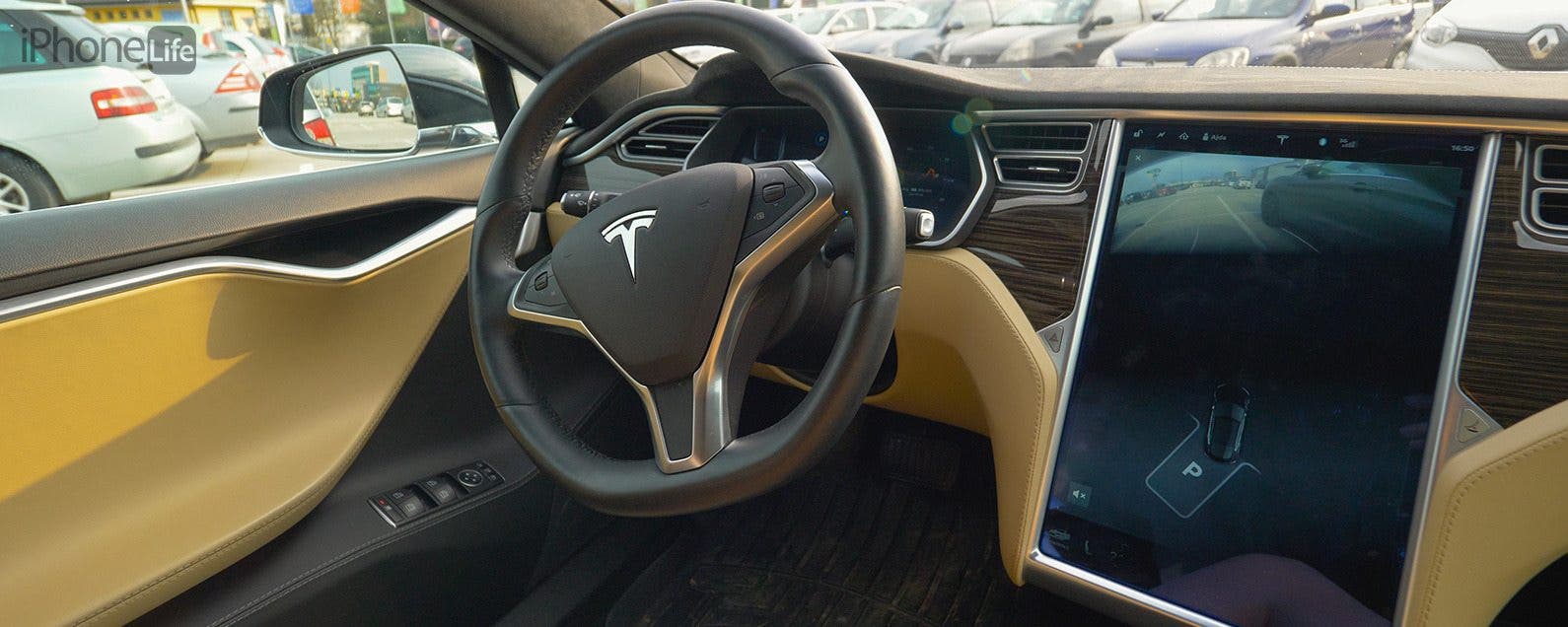 Unlike gas cars, Teslas don't need to be turned off because they don't have an engine. Teslas turn off automatically, but they can be reset manually to fix glitches. I will also teach you how to turn off your Tesla's display to troubleshoot tech problems, even while you're driving.
Jump To:
How to Turn Off Tesla Model 3, S, X, or Y Manually
You might be surprised, but turning off Teslas completely is impossible without disconnecting the batteries. There is, however, a manual 'Power Off' button in the car's Safety settings. Powering the car off manually is no different than letting it go into standby mode automatically. Here's how to turn a Tesla off:
If you want to power cycle the car to reset it and fix any software glitches, wait for two minutes without touching the screen(s), pedals, doors, or windows. Once two minutes have passed, wake your Tesla by opening the door or stepping on the pedals. Many people wonder if they can turn off their Tesla via the phone app, but the answer is no. For more tech tips, sign up for our free Tip of the Day newsletter!

Discover your iPhone's hidden features
Get a daily tip (with screenshots and clear instructions) so you can master your iPhone in just one minute a day.
Pro Tip:
If you want to keep the fan on during a power cycle, make sure it is on before you take the steps above. Your climate controls won't work, but your fan will keep blowing.
Why You Don't Need to Turn Off Teslas
Since getting my Tesla Model 3 in 2019, I have never turned my Tesla off like this because, in most cases, it isn't necessary. Getting out of the Tesla and closing the door will turn your car off automatically after 15-30 minutes, depending on the model of your car. Some people believe that turning off a Tesla using the steps above will save battery life, but it doesn't because you can't leave the car without powering it on again.
The only perk to doing the manual power-off described above is to troubleshoot any glitches that may be happening. However, you can restart your Tesla's software by holding down both of the scroll buttons on your steering wheel simultaneously until your display turns off. This can be done while you're driving, and it takes a few minutes, so be aware that you will not be able to rely on autopilot or the GPS until your Tesla's computer is rebooted. 
If you ever hear someone complain that their car turns off while driving but turns back on after a while, they probably initiated the software restart without realizing it. Fortunately, you can still drive your Tesla safely during a manual reboot!  
How Do You Turn Off a Tesla Completely
In order to actually turn your Tesla off completely, you will have to disconnect the ​​low-voltage and high-voltage batteries.
Warning:
Disconnecting your Tesla's batteries yourself can damage your batteries, so it is best not to do it on your own. It is also easy to accidentally lock yourself out of the car because the doors, windows, trunk, and frunk lock automatically when they close and require the batteries to be connected to re-open.
Now you know how to turn off Tesla model Ys, Xs, 3s, and Ss, although you may no longer want to! You also know why your car turns off while driving if you press the two scroll buttons, which can be scary if you don't expect it!
Top image credit: Flystock / Shutterstock.com