By

Olena Kagui
Updated 06/05/2023
What to Know:
Data roaming lets you send text messages, make/receive calls, and have internet access abroad and in areas not covered by your network carrier.
You can manually turn data roaming on or off to avoid overpaying.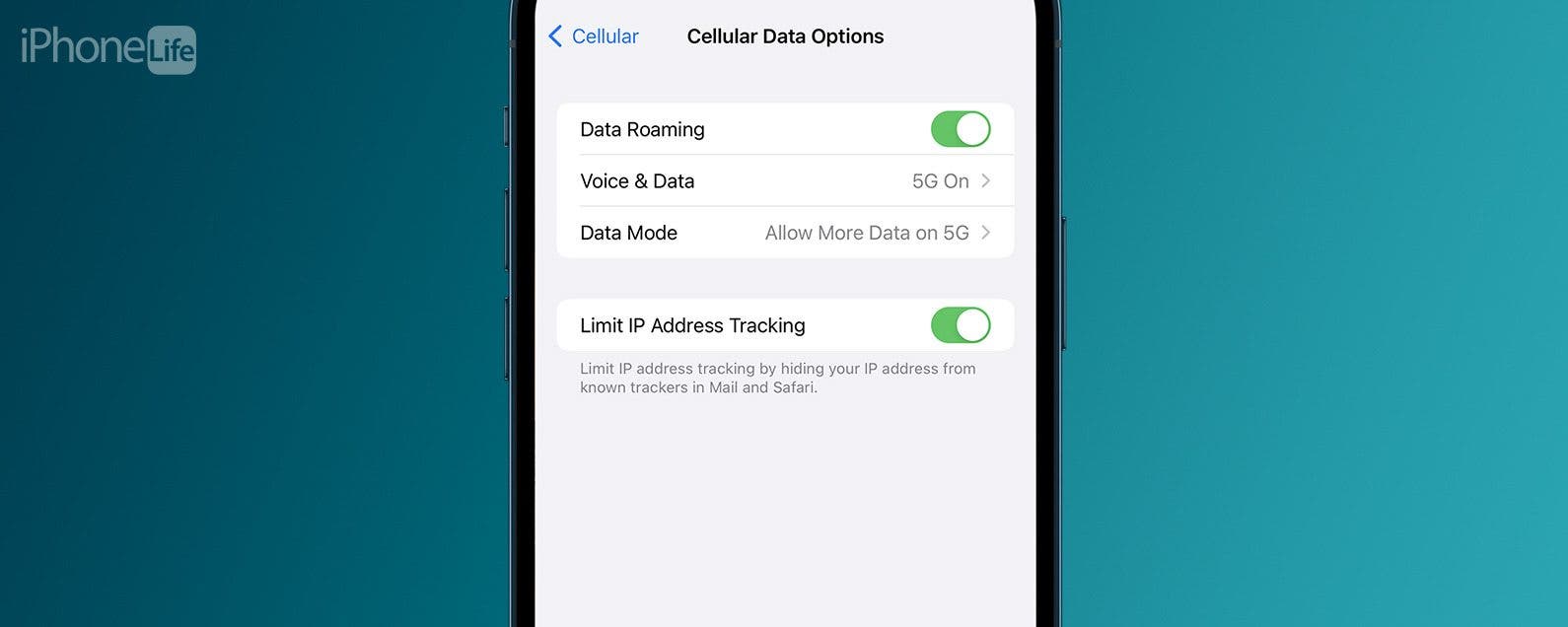 Is iPhone data roaming a bit of a mystery to you? We'll clear up all your questions! Get clarification on what cellular data roaming is and answer the question, should data roaming be on or off? Plus, I'll tell you some tips on how to cut down data roaming costs without turning it off completely.
Jump To:
What Is Data Roaming on iPhone?
Data roaming, also called international data roaming, lets you use the internet, send texts, and make/receive calls in locations where your primary network carrier doesn't offer coverage. If you live in the USA, for example, your phone will automatically connect to the carrier you have a contract with. It may even work for free in neighboring countries, such as Canada. However, if you travel outside of the coverage region, you will need to enable data roaming to access the internet and send messages or make calls. 
Enabling data roaming on your iPhone will let your phone use foreign network carriers to connect to the internet. You will be charged based on data use since you do not have a contract with these foreign carriers. When you enter an area where international data roaming is available, you'll usually receive a text message explaining the cost of using data (per megabyte), making calls, and sending texts. Roaming charges do vary across the world!

Discover your iPhone's hidden features
Get a daily tip (with screenshots and clear instructions) so you can master your iPhone in just one minute a day.
How to Turn Data Roaming On or Off on Your iPhone
In order to use data roaming, you will have to enable it. If you want to make sure that you don't use it, the best thing to do is to disable it altogether.
To access the settings for data roaming on iPhone, open Settings.


Tap Cellular.



Select Cellular Data Options.


Make sure Data Roaming is toggled on (green) if you want to enable it or off (gray) if you want to disable it.


Now you know how to turn on roaming on iPhones or turn it off. For more iPhone tips, don't forget to sign up for our free Tip of the Day newsletter.
How to Save Money When Using Data Roaming iPhone
Many people are rightfully nervous that data roaming will accidentally rack up their phone bills. This can happen if you run an app that uses a lot of background data or you have your phone set to automatically download any media that is sent to you; the list goes on. If turning roaming off on your iPhone isn't an ideal solution, you can minimize international roaming costs by following these iPhone roaming tips:
Turn on AirPlane mode so that you can only use the internet when you have access to Wi-Fi. It can be a good idea to do this even when connected to Wi-Fi because your phone might switch to a cellular network without you realizing if the connection is weak.


Disable background app refresh to minimize the amount of background data your apps are using.



Before or during your trip, check your data usage to see what uses the most data and make a conscious decision to use certain apps less or not at all unless you have a Wi-Fi connection.


Contact your network carrier and inquire about purchasing an international data roaming plan. Doing this can save you money if you plan on using a lot of data while abroad.


We hope you have a better understanding of data roaming! Next, learn
how to make international calls for free on your iPhone
.