By

Olena Kagui
Updated 04/13/2023
What to Know
You can send AirPods and AirPods Pro to Apple for recycling, but not for trade-in credit.
Your warranty may cover repairs or replacements if you have AppleCare, AppleCare Plus, or are eligible for an AirPods Pro recall.
Instead of a traditional trade-in, you can also purchase a replacement AirPod or case, or you can use a third-party website to trade in or sell your old AirPods.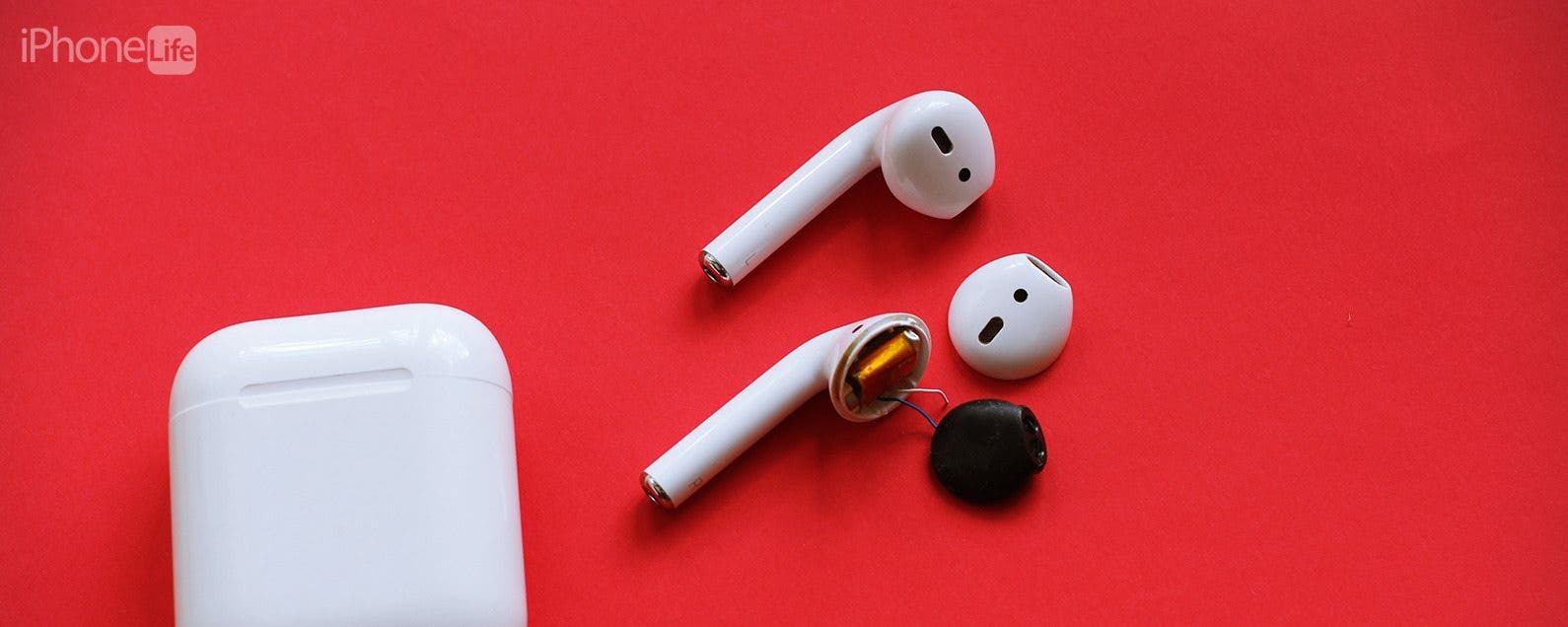 You've probably wondered if you can trade in AirPods or AirPods Pro, and the answer is "yes" followed by a really big "but." Sending your AirPods to Apple will ensure proper recycling, which is great for the planet, but it won't get you any trade-in credit. I'll explain why and how to do this, plus I'll give you some unusual money-saving alternative options.
Jump To
Can You Trade in Airpods or AirPods Pro for Trade-In Credit?
Apple's AirPods return policy allows you to send in your used AirPods to be recycled but not for trade-in. This means that they will not give you any trade-in credit like they would for traded-in iPhones, iPads, Apple Watches, Macs, or even certain Android devices. However, it may be possible to replace or repair them. For more valuable AirPods and Apple product tips, don't forget to sign up for our free Tip of the Day newsletter!
AppleCare for AirPods & AirPods Pro & AirPods AppleCare Plus Coverage
Like any other Apple product, AirPods come with a limited warranty plus 90 days of complimentary technical support. This covers manufacturing issues but not problems such as theft, loss, or battery deterioration that occurs due to regular use. This means that if there is an issue with the product caused by Apple within the first 90 days, you can get free repairs, as long as there is no evidence that the buyer caused the problem. 

Discover your iPhone's hidden features
Get a daily tip (with screenshots and clear instructions) so you can master your iPhone in just one minute a day.
It is possible to get AppleCare Plus or even third-party insurance for your Apple earbuds or headphones. You can get AppleCare Plus within 60 days of your purchase. AppleCare Plus costs $29 for two years of AppleCare Plus for AirPods, AirPods Pro, and Beats, and $59 for AirPods Max. Even with AppleCare Plus, there will be a fee for repairs and replacements. You can calculate the estimated cost on Apple's website: the cost of repair will vary depending on the service type, product or accessory, and model.
If you're experiencing a problem with just a single AirPod or the case, you can get a replacement. Apple does not sell single AirPods through the Apple Store, so you will have to go through Apple Support to replace a single AirPod. How much is one AirPod? Buying a replacement costs $89 for one AirPod Pro and $69 for one AirPod. Fixing a damaged AirPod costs the same out-of-warranty or just $29 per incident if you have AppleCare+. Reach more about fixing or replacing a single AirPod or the AirPod case only here.
Can You Sell AirPods or Make a Third-Party Trade In?
If you don't have AppleCare+ and your AirPods still work or are fixable, you may consider selling them or look into a third-party website for a trade-in. Your best bet is to sell them at a local flea market or look into online options like Facebook Marketplace or local online selling groups. You could also list them on a website like eBay or Craigslist if you are willing to ship them to potential buyers. 
If you prefer to do a trade-in, look into Decluttr, one of the only third-party websites that offer trade-in value for AirPods. Keep in mind that trade-ins are usually less profitable than outright selling, but they can be much faster and hassle-free. If your AirPods are beyond repair and selling, I highly recommend handing them over to an Apple Store or sending them in. Apple will properly recycle any device or accessory you send them, which is much better for the environment than having it polluting the planet from a landfill.
FAQ
Can I get new AirPods if I have a warranty? Maybe. If your AirPods have a manufacturing defect caught within 60 days of purchase, then you likely can! If you have AppleCare Plus, you might be able to purchase a replacement for a much lower fee than buying new AirPods.
What to do with old AirPods? If you are unable or unwilling to get your AirPods repaired, the most environmentally friendly thing to do is send them to Apple or bring them to a local Apple store. When you do this, your old AirPods are guaranteed to be recycled properly, and any functional parts may even be reused in a refurbished pair of AirPods, giving them a second life.
Do my AirPods qualify for recall? Apple discovered that there were some sound issues affecting AirPods Pro manufactured before October 2020. Only a small percentage are affected, and you can contact Apple to see if you qualify for free replacement due to the recall.
Now you know how to approach an AirPods or AirPods Pro trade-in! While it is more challenging and less profitable than trading in an iPhone, you still have options to consider. If you believe that your AirPods can be fixed, check out our article on how to fix your AirPods when they're not working next!
Top image credit: RaffMaster / Shutterstock.com