Are you experiencing Netflix, Hulu, or YouTube TV audio out of sync on your Apple TV? Learn how to fix Apple TV audio and video out-of-sync problems!
By

Olena Kagui
Updated 04/19/2023
What to Know
Once your Apple TV audio and video are out of sync, it can get progressively worse with longer delays.
If you experience video and audio out-of-sync issues on Apple TV, you may need to tweak your settings to fix the issue.
Apple TV app sound delays can also be caused by running an outdated tvOS version or faulty cables.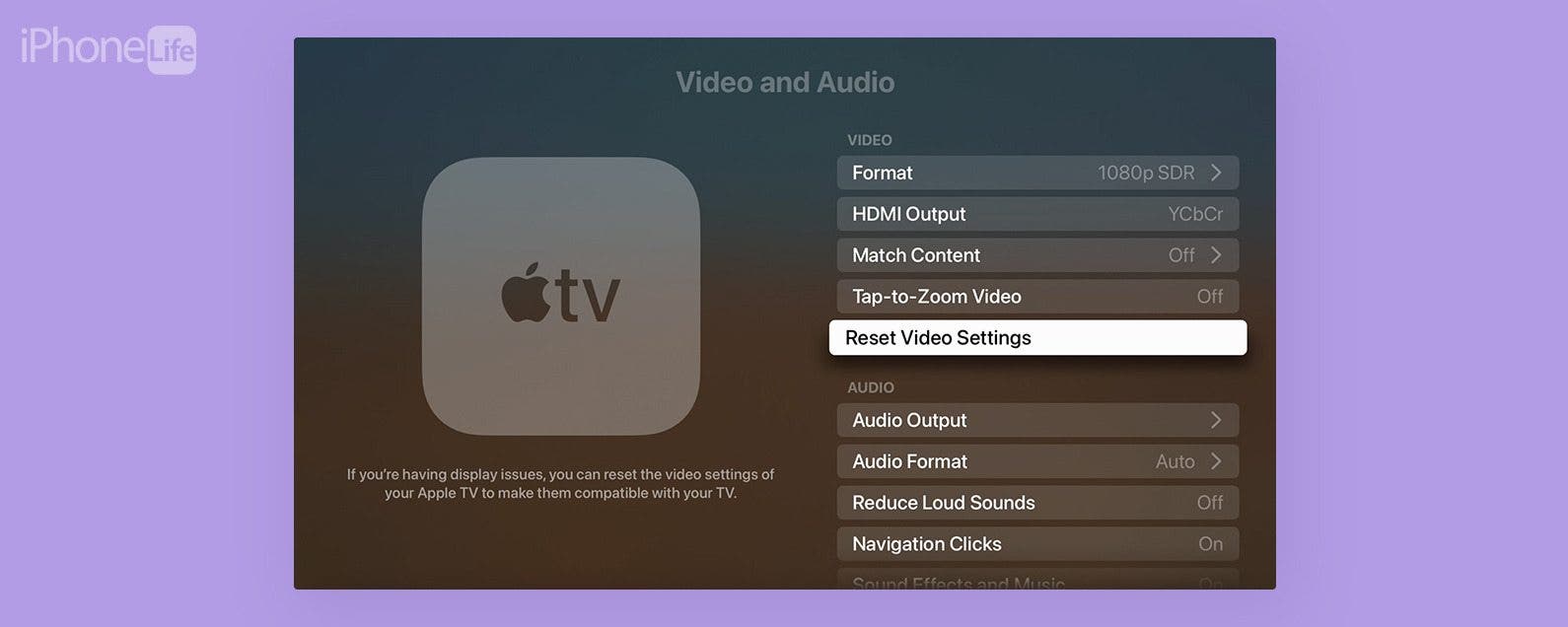 Is your Netflix audio out of sync? Or maybe another app on your Apple TV? Don't worry! Audio and video out-of-sync problems are common and easy to fix! Learn what to do if you experience sound delays, glitches, or lags once and for all.
How to Fix Sound Delay on TV Streaming Apps on Apple TV
Have you ever started watching your Apple TV, then after a while, the audio is no longer synced to the video? This is more common than you think. For more Apple TV tips, don't forget to sign up for our free Tip of the Day newsletter. If you experience your Hulu audio out of sync (or another streaming app), there are a few surefire ways to fix it:
Make sure your Apple TV is up to date. First, navigate to your Apple TV's Settings. If you have a Siri remote, you can activate Siri and say, "Open Settings."


Select System (for Apple TV 4K or HD) or General (for older Apple TVs).


Select Software Updates.


Select Update Software.


If an update is available, select Install or Download and Install, depending on which is available. Consider turning Automatic Updates on to keep things running smoothly in the future.


Next, if you still experience a lag, you may need to adjust your audio and video settings. To do this, select Video and Audio in Settings.


Under Video, select Format.


Select a different format. It is possible that certain apps work best with some formats and experience delays with others, so you may need to experiment to see which format works best for the app that is experiencing audio sync problems. If you use a speaker for your TV, you may need to restart it before you test each format, which may include unplugging it and waiting before plugging it back in.


Next, in your Video and Audio settings, tap Match Content.


Make sure Match Frame Rate is turned off, as this could cause audio sync problems.


If none of the steps above have helped and you are using a speaker for your TV, consider changing back to using your TV's built-in speaker. To do this, tap Audio Output under Audio.


Select TV Speakers.


If you are still experiencing audio and video sync issues, tap Reset Video Settings in the Video and Audio settings.


You'll have to confirm that you want to Reset Video Settings to do this.


That's it! The steps above will resolve most audio syncing problems. However, if you keep experiencing out-of-sync audio, check your TV, Apple TV, HDMI, and speaker cables for any visible damage and replace them if necessary. As a final measure, reach out directly to the official Apple Support team.
We hope that once you follow the steps above, you will never experience Netflix sound delays, YouTube TV sound out of sync, HBO Max audio out of sync, or any audio and video out-of-sync Apple TV issues ever again!