Protect your iPhone from water damage.
By

Rhett Intriago
Updated 04/13/2023
What to Know
Most iPhones are water resistant, but none of them are waterproof.
There is a handy shortcut for getting water out of your iPhone.
When you run the shortcut, it will emit a sound to expel water from your phone speakers.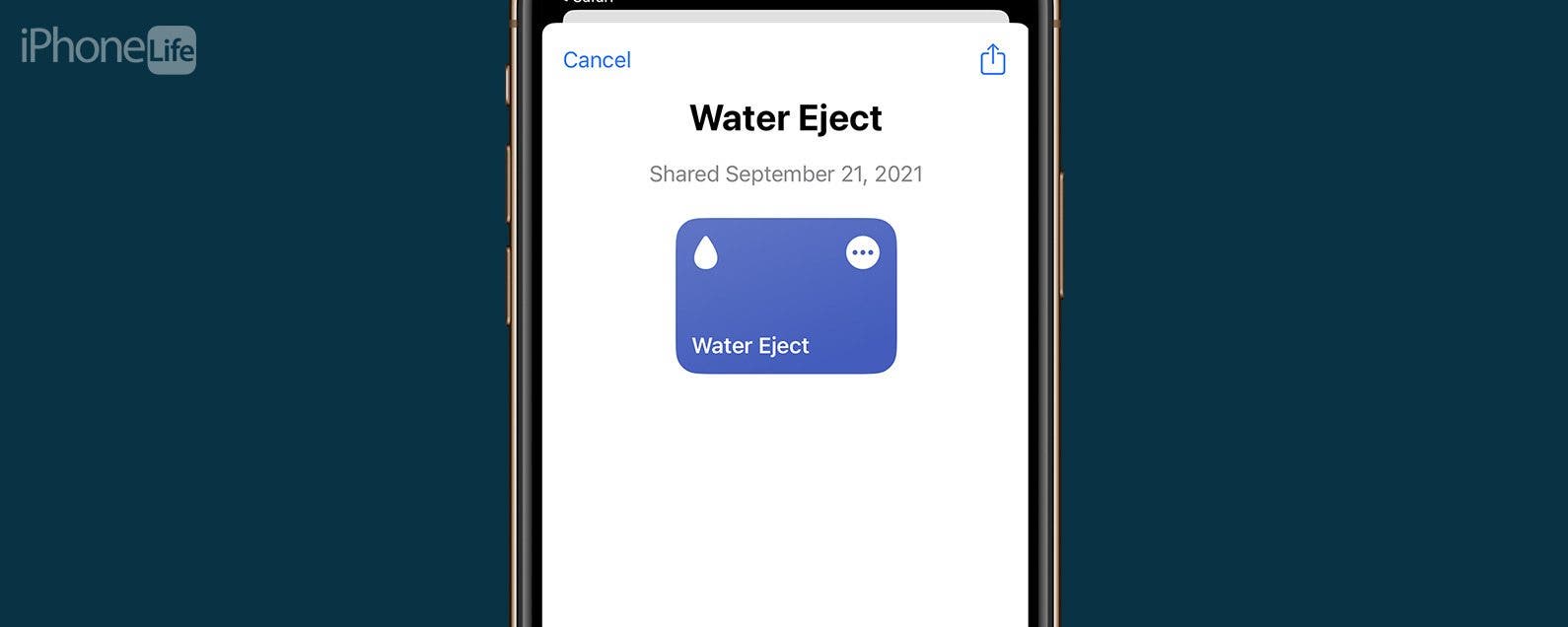 The Apple Watch has a nifty feature that ejects water from the speaker after you've been for a swim. The iPhone doesn't have the same feature, sadly, so if your iPhone ever takes a dive, there's no option to clear water from your speakers. However, some tech-savvy iPhone users have found a way to create a water eject shortcut that performs a similar function. Check it out below!
Jump To:
Is the iPhone Waterproof?
Before we get started, every iPhone owner should know that iPhones are not waterproof. They are water resistant, but that is not the same thing. Depending on which model you have, your iPhone likely is designed to survive being submerged about 6 meters underwater for 30 minutes. This does not mean you should take your iPhone for a swim or try to use it for underwater photography without a case. The iPhone's water resistance is meant to protect it from accidents involving water, like if you accidentally drop it in the pool or spill a drink on it. For more advice on protecting your iPhone, be sure to sign up for our free Tip of the Day newsletter. Now, let's move on to how to get water out of iPhone with the water eject shortcut.
How to Get Water Out of iPhone
When your device gets wet, liquid can easily make its way into the speakers. The quickest way to remedy the situation is with this handy water eject shortcut. Here's how to use it:
Note: This article requires adding a shortcut from a third party. Always be careful when adding third-party shortcuts. We cannot guarantee the safety of all third-party shortcuts.
First, you'll need to install this Water Eject Shortcut from Shortcuts Gallery.
Tap Get Shortcut.


Tap Add Shortcut.


Now that you have the shortcut installed, you can run it two different ways. The first is to just tap it in the Shortcuts app.


Tap Start to start up the shortcut.


Select an intensity level.


Your iPhone will emit noise to get water out of the phone speakers for a few seconds, depending on the intensity level you selected.
When you run the shortcut for the first time, it will ask for a few permissions. Tap Allow.


Tap Always Allow.


This simply allows the shortcut to display a notification once it has finished ejecting water.


You can also run this shortcut with Siri. Activate Siri either by saying, "Hey, Siri," or by pressing and holding the side button, then saying, "Water eject."


Now, if you ever accidentally drop your phone in the sink while doing dishes or spill a drink on it, you can easily use the water eject shortcut to get the water out of your iPhone speakers. Next, find out how to create your own shortcuts!