Can you shower with your Apple Watch? Take it to the beach? Wear it while scuba diving? Find out once and for all!
By

Olena Kagui
Updated 08/04/2022
Water to most electronics is like kryptonite to Superman. Liquid spills can cause permanent damage; oxidation is notorious for destroying devices. Between different Apple Watch models and unclear terms like "water resistance" and "water ejection," many people ask, "is my Apple Watch waterproof?"
Related: Are AirPods Waterproof? The Ultimate Apple Device Poolside Guide
Questions:
Are All Apple Watches Waterproof? 
According to Apple, all models of the Apple Watch are water-resistant. However, if you are wondering what Apple Watches are waterproof, the answer is none. But what is the difference between a waterproof watch and a water-resistant watch? Waterproof is defined as impervious to water. On the other hand, water resistance is the ability to resist the penetration of water to some extent.
Not only are no Apple Watches waterproof, but there are varying levels of water resistance depending on the model. The Apple Watch Series 1 and the first-generation Apple Watch are splash resistant; however, submerging them is not recommended. The Apple Watch Series 2 and newer are significantly more water-resistant. If you're unsure of which model you have, don't take the risk. Learn how to tell what Apple Watch you have, and if you are thinking of upgrading, check out this article on which Apple Watch you should buy in 2021 and our review of the Apple Watch Series 8.
So is the Apple Watch Series 3 waterproof? The answer is no, but you can use it for shallow-water activities, including swimming. Apple Watch Series 2, 3, 4, 5, and 6 have a water resistance rating of up to 50 meters (164 feet) of depth under ISO standard 22810:2010. To learn more about using the Apple Watch, sign up for our free Tip of the Day newsletter.
Can You Swim with an Apple Watch?
Okay great, the watch is water-resistant! But you probably still wondering, "Can I swim with my Apple Watch?" If you have the Apple Watch Series 1 or the first-generation Apple Watch, you should not take it to the pool. Although they are splashproof, they should not be submerged.  
You can go swimming with an Apple Watch Series 2 or newer. These newer models offer swimming as a workout. I have personally used models 3, 5, and 6 in the swimming pool, ocean, and lake without any issues.
When using your Apple Watch to track swimming, there are a few things you should know. When you start a swimming workout, your Apple Watch will automatically activate the Water Lock. When it's locked, you will see a water drop icon on your display.
After you go swimming, make sure to clean your Apple Watch. You can hold it under clean running water to get the chlorine or saltwater off. Keep in mind that even though your watch is waterproof, your Apple Watch band may not be. If you are looking for waterproof Apple Watch bands, check these out!
Which Apple Watch Is Best for Swimmers?
Although no Apple Watch is waterproof, any watch newer than Series 2 is designed with swimming in mind. Apple Watch Series 2, 3, 4, 5, and 6 are all excellent choices for swimmers. They all track swimming as a workout; however, newer models may have more fitness features that might appeal to active people and more serious athletes. If you love your Apple Watch but are excited for the release of the Series 8 in the fall of 2022, check out our Apple Watch Rumors article, updated weekly to keep you in the know about what's coming!
What Is the Water Drop on Apple Watch?
The Apple Watch water drop or water icon means that your phone has the Water Lock activated. When it is activated, it protects your watch from water damage. It also locks the screen, making it impossible to click, swipe, or tap any buttons.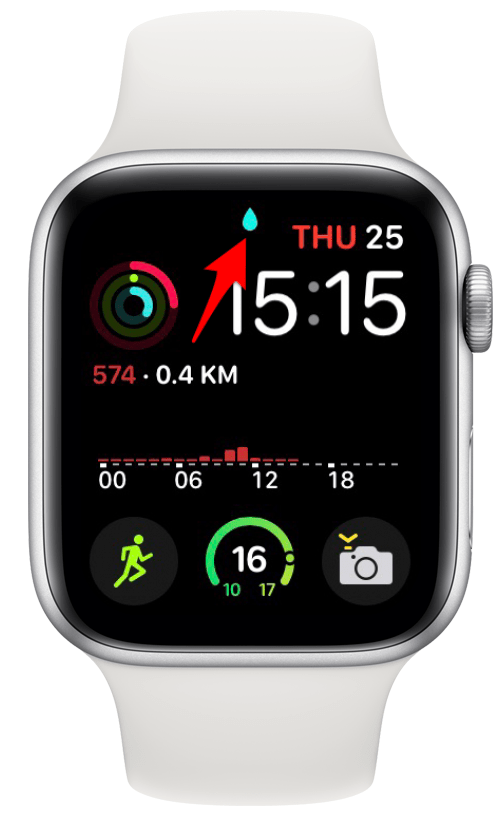 You can turn the digital crown to unlock and eject water. This will create a vibration and sounds that will remove the water from the speaker. It should only take a few seconds, and you will be able to use your watch again. There are some other great uses for the Water Lock that have nothing to do with swimming. It can also be a good idea to use if you are running in the rain.
How to Get Water Out of an Apple Watch
You do not have to acticate the Water Lock before you get your Apple Watch wet. You can manually clear water by turning on the Water Lock.
Swipe up from the bottom of the watch face to open Control Center.


 
Tap the water droplet (Water Lock.)


 
Turn the Digital Crown to unlock the screen and clear water from the speaker.


Turning off the Water Lock using the digital crown on your Apple Watch creates a vibration and sounds that results in water ejection.
Do You Have to Use Water Lock on Apple Watch?
According to Apple, the Apple Watch Series 2 or newer will remain equally water-resistant regardless of whether or not Water Lock is turned on. So can an Apple Watch get wet unexpectedly without causing any damage? Yes, definitely! To expel any water from the speaker, just turn the Water Lock on and off.
Pro Tip: There are other great things you can do with the Digital Crown. Read this to learn more ways to use the Digital Crown on your Apple Watch.
Can You Shower with an Apple Watch? 
As we have already established, Apple Watch Series 1 and the first-generation Apple Watch are only splash resistant, so you shouldn't shower with them. However, Apple Watch Series 2 and newer are safe to join you and your rubber ducky.
Even though you won't damage your watch with water during your shower, you should keep soaps, shampoos, conditioners, lotions, and perfumes away from your Apple Watch. These can negatively affect the water seals and acoustic membranes.
Can You Wash Your Hands with an Apple Watch? (or Handwash Laundry?)
Even the Apple Watch Series 1 and the first-generation Apple Wash are splash resistant, so you shouldn't have any issue washing your hands while wearing your watch. Apple Watch Series 4 and never even have a Handwashing feature that requires you to wear your watch to record automatically. Although you can also manually enter your hand washing time.
Since you should avoid soaps and other ingredients that aren't freshwater, it is a good idea to avoid wearing your Apple Watch while handwashing laundry. If you like to apply a lot of lotion to your hands after washing them, you may want to remove the watch and wait until your skin dries before you put it back on.
Can I Wear My Apple Watch for Water Aerobics & Other Water Sports?
Your Apple Watch Series 2 and newer can be used for shallow-water activities such as swimming. However, do not use your watch for water skiing or other activities involving high-velocity water, as the water could be forced into the ports. Deep submersions should also be avoided. 
Remember that the Apple Watch can only be submerged up to 50 meters. How deep is 50 meters? It is 164 feet or 54 yards. So you can safely go snorkeling but not scuba diving. 
When it comes to water aerobics, you should be okay wearing your Apple Watch. You can even select Water Fitness, Water Polo, and Water Sports workouts on your Apple Watch. 
Will My Apple Watch Always Be Water-Resistant? 
It is important to keep in mind that water resistance isn't permanent. Your Apple Watch may get less water-resistant over time. Unfortunately, you can't check your watch for water-resistance, and you cannot have it resealed.  
A dropped watch, especially one with a cracked display, might no longer be water-resistant. Wearing your watch in a steamy room such as a sauna could also cause issues. Exposing your Apple Watch to high-velocity water, such as going water skiing, is a bad idea. Of course, you should also avoid submerging it below 50 meters (164 feet) of water. 
According to Apple, exposing your watch to anything other than freshwater can result in water-resistance diminishing over time. This includes soap, soapy water, perfume, solvents, detergent, acids, acidic foods, insect repellent, lotions, sunscreen, oil, and hair dye. If these get on your watch, you should gently wash them away with freshwater and a nonabrasive, lint-free cloth.
Now you understand Apple Watch's water mode and what water-resistance means in practical terms. If you have an Apple Watch Series 2 or newer, you can shower and swim with your watch without giving it a second thought. When it comes to more extreme water sports or saunas, you should not wear your watch. In case of accidental water exposure, turn the Water Lock on and off to expel water from the speaker. If you are shopping around for a watch that you can swim in, read this Fitbit vs. Apple Watch article to decide which is best for you.