By

Rhett Intriago
Updated 12/07/2023
What to Know
If your Apple Watch is not tracking activity, try resetting your sync data in the Watch app.
You can also re-calibrate your Apple Watch by going for a walk or a run and recording the workout. 
As a last resort, you can reset your fitness data which will wipe all workouts and related fitness data.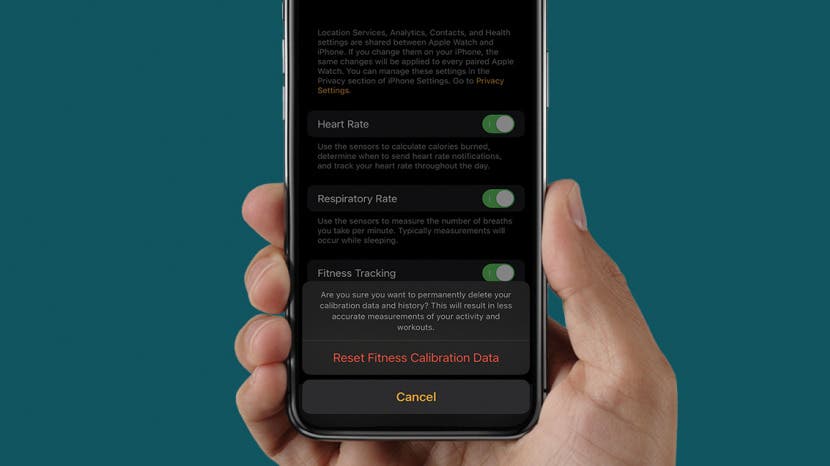 The Apple Watch is a gadget with many capabilities, but its most attractive feature has always been its use as a fitness device. It can track your steps and workouts, log your heart rate, and calculate the calories you burn throughout the day. However, if you find your Apple Watch is not counting steps or tracking your activity properly, we're here to help!
Jump To:
First Steps to Troubleshooting Apple Watch Not Tracking Activity
Confirm that fitness tracking is enabled in the Watch app: Tap Privacy and look for the Fitness Tracking toggle.
Try restarting both your watch and your phone. On an iPhone, press and hold both the power button and the volume up button. On your Apple Watch, press and hold the side button and then tap the power button in the upper right.
Check that both devices are still connected. On your Apple Watch, press the side button once to bring up the Control Center. A green iPhone icon at the top indicates that the connection is good. A red iPhone icon with a slash through it indicates that the devices are disconnected.
Confirm that your iPhone has Bluetooth enabled. Your Apple Watch connects to your phone via Bluetooth, so if the connection is disabled, your Apple Watch may not be able to sync with your phone.
Diagnosing Why Your Apple Watch Is Not Tracking Activity
If the above quick fixes did not work, there are a few more options for troubleshooting the issue. If your Apple Watch does not track activity or count steps, you are likely experiencing a software problem, so you'll need to try to narrow down the cause. For more Apple Watch and iPhone tips, sign up for our free Tip of the Day newsletter. If your iPhone is not tracking steps, we have the answer for that, too.
Fix #1: Reset Apple Watch Sync Data
If your Apple Watch is not tracking activity after an update, the first thing you'll want to try is resetting your Apple Watch's sync data. This can be done in the Watch app on your iPhone.

Discover your iPhone's hidden features
Get a daily tip (with screenshots and clear instructions) so you can master your iPhone in just one minute a day.
Open the Watch app on your iPhone.


Tap General.



Scroll down and tap Reset.


Tap Reset Sync Data.


This essentially forces your phone and Apple Watch to re-sync. If you're seeing inaccurate step counts on your phone, the issue could simply be that your iPhone is out of sync with your Apple Watch data. Now, check to see if your steps and activity are being recorded correctly. 
Related: How to Add Workout to Apple Watch Manually
Fix #2: Calibrate Your Apple Watch
If the above solution didn't work, it's time to try re-calibrating your Apple Watch. This process involves taking a 20-minute walk (or run) with your Apple Watch. If your Apple Watch does not have GPS built-in, be sure to bring your iPhone so that it can record your workout accurately. Now, here's how to calibrate your Apple Watch: 
On your iPhone, open the Settings app.


Scroll down and tap Privacy.



Tap Location Services.


Confirm you have Location Services toggled on.



Scroll down and tap System Services.


If it is not already on, tap the Motion Calibration & Distance toggle to enable it. 



Go for a walk and open the Workout app on your Apple Watch.


Tap Outdoor Walk (or Outdoor Run, if you prefer running over walking).



Walk for at least 20 minutes and then swipe right.


Tap End.


That's how to calibrate your Apple Watch. It should be counting steps accurately now. However, if the step counter on your Apple Watch is still reading incorrectly, there is one more solution you can try.
Fix #3: Reset Fitness Calibration Data
If the above solutions didn't fix your Apple Watch not tracking activity or counting steps accurately, the final solution is to re-calibrate your Apple Watch fitness data. This option will wipe all previously collected fitness data and history. Until your Apple Watch is re-calibrated, it may also cause other inconsistencies when recording your activity. Because of this, resetting your fitness data should be your last option when trying to fix your Apple Watch not counting steps. After you complete this process, be sure to calibrate your Apple Watch by following the steps in the previous section. Here's how to reset your Fitness Calibration Data:
Open the Watch app.


Tap Privacy.



Tap Reset Fitness Calibration Data.


Tap Reset Fitness Calibration Data again to confirm.


Now, check your steps to see if your Apple Watch is counting them accurately. Hopefully, your steps and activity will now be recording properly! However, if your device is still not functioning properly, you will likely need to contact Apple support or visit the nearest Apple Store for further assistance. Next, learn how to measure your respiratory rate with Apple Watch.
FAQ
How do I see my steps on Apple Watch? You can see your steps on your Apple Watch by opening the Activity app, and scrolling down to the second to last slide. You'll see the number of steps you've taken, the distance you've traveled, and how many flights of stairs you've climbed today. Alternatively, you can install a third-party pedometer app.
Why isn't my Apple Watch tracking my Heart Rate? The heart rate sensor is on the back of your Apple Watch and it needs to be snug against your skin to be able to properly read your pulse. Make sure your Apple Watch is tight enough on your wrist that it can accurately record the data. If the heart rate sensors aren't working, this could be a hardware problem that would require assistance from Apple Support or a visit to a nearby Apple Store.
What happens when you reset calibration on Apple Watch? Resetting your fitness calibration data will wipe your fitness data, including all previously recorded workouts. Only reset fitness calibration data as a last resort.