By

Rhett Intriago
Thu, 10/26/2023
What to Know
The green light on the back of your Apple Watch is the heart rate sensor.
It will turn on periodically throughout the day to measure your heart rate but it does not stay on.
You can disable the heart rate sensor in the Watch app. Tap Privacy and tap the Heart Rate toggle.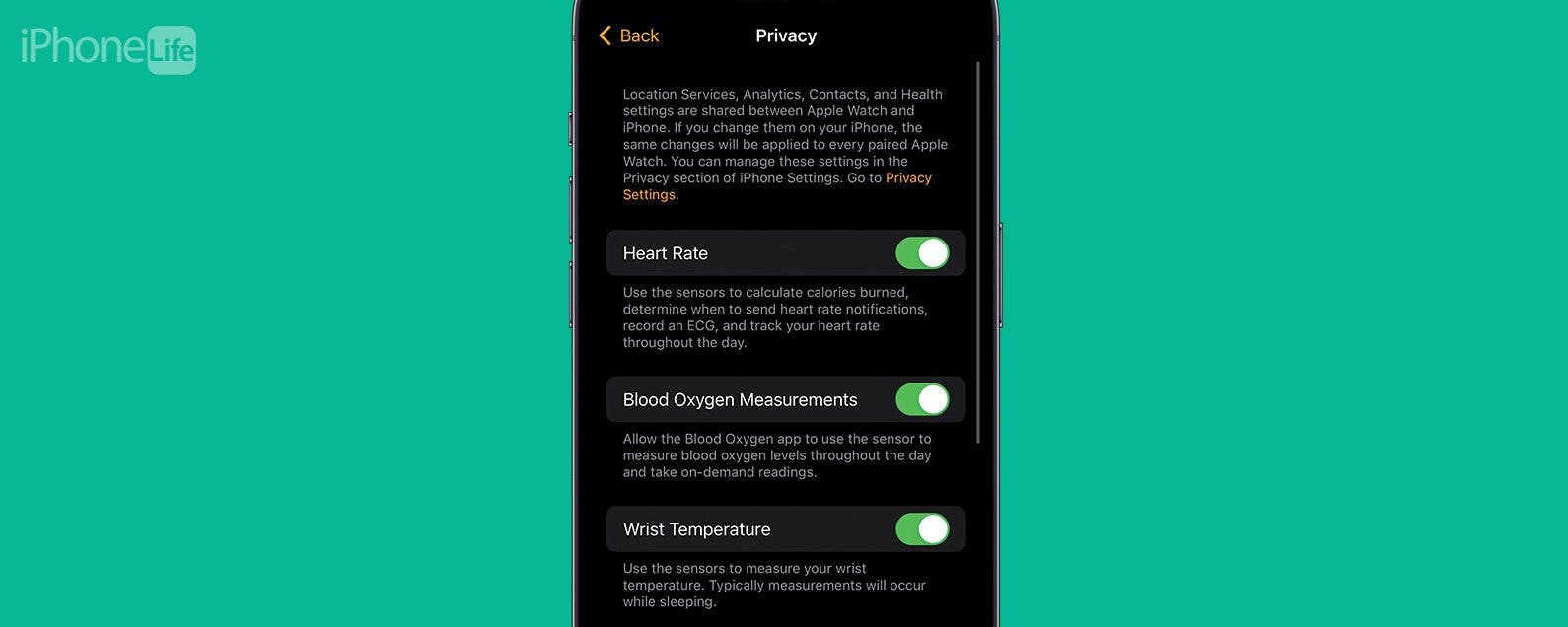 Ever noticed a green light shining from underneath your Apple Watch? These lights appear on every currently available Apple Watch model, as they are required for the heart rate sensor to work. If you found this article while looking for what these mysterious lights mean, you've come to the right place. Read on to find out what the Apple Watch green light means and how to turn it off.
Jump To:
What Is the Apple Watch Green Light?
While wearing your Apple Watch, you might sometimes notice a pair of green lights illuminate on the back of the device. These lights indicate that the heart rate sensor is active and currently measuring your heart rate. This sensor is also used to calculate your burned calories throughout the day. To continue learning about your Apple Watch and how it works, be sure to sign up for our free Tip of the Day newsletter.
How to Turn Off the Green Light on Your Apple Watch
If the Apple Watch green light is bothering you, you can disable it. Here's the easiest way:

Discover your iPhone's hidden features
Get a daily tip (with screenshots and clear instructions) so you can master your iPhone in just one minute a day.
Note: With the heart rate sensor disabled, you will not be able to see your heart rate or calories burned throughout the day, which will significantly limit the watch's fitness tracking capabilities.
Now that the heart rate sensor is disabled, you will no longer see a green light on your Apple Watch.
FAQ
What is the Apple Watch red light? A red light on the Apple Watch means the Blood Oxygen sensor is measuring your blood oxygen levels. This feature is only available on Apple Watch Series 6 and newer.
Should the green light always be on the Apple Watch? The heart rate sensor will turn on throughout the day to measure your heart rate and then turn off. It should not stay on indefinitely. If it does, there may be an issue with the hardware, in which case you will need to contact Apple Support or visit an Apple Store.