Apple Maps has an EV Route Planning feature in CarPlay that shows charging stops en route to your destination.
By

Olena Kagui
Updated 04/25/2023
What to Know
You can automatically map electric car charging stations in Apple Maps using their CarPlay-only feature.
If you have Apple Maps, you don't need third-party EV trip-planning apps to add charging stops to your route.
This EV route planner feature is only available on CarPlay-compatible EVs or hybrid cars.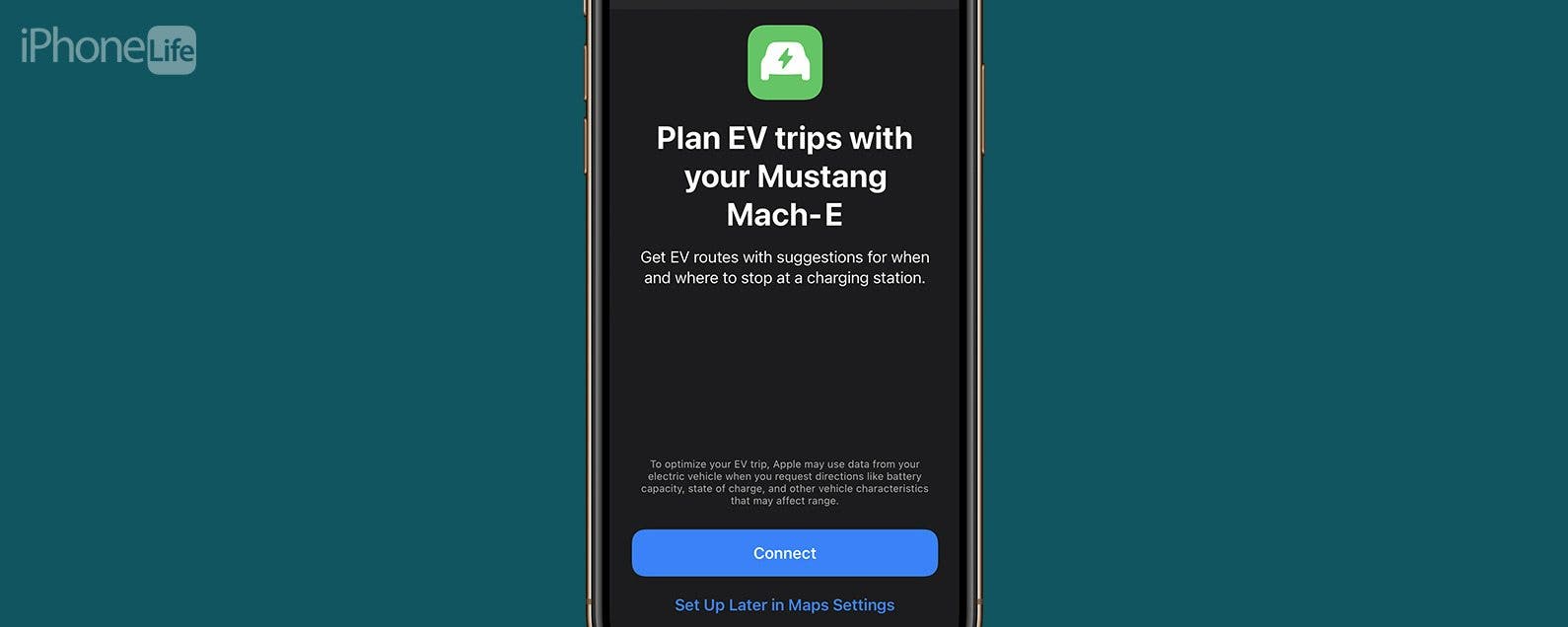 Apple Maps is full of surprises, including a hidden electric car-charge station map that can be activated via CarPlay! So the good news is you don't need a third-party EV route planner app or a separate map of charging stations. I'll teach you how to unlock this valuable Apple Maps EV routing feature that will make charging your vehicle a breeze!
How to Use Apple Maps Free EV Route Planner Feature
Between range anxiety and the hassle of finding EV charging stations, the idea of owning or renting an electric vehicle can be daunting. However, every EV is either CarPlay compatible or has its own maps app. For more Apple Maps tips, don't forget to sign up for our free Tip of the Day newsletter! To incorporate EV charging points in Apple Maps using CarPlay:
To enable your Apple Maps EV route planner feature, you'll need to get in your vehicle and connect to CarPlay.
On your iPhone, open Apple Maps.

Tap on your avatar to the right of the search bar to open up your preferences.
Between Reports and Preferences, you will see Vehicles, but only if you are actively connected to CarPlay. Tap it.

Tap Connect Your [Car Name]. 
When you see the Plan EV trips with your car page, tap Connect.



Now you'll get to decide if you wish to anonymously share your data with Apple to improve this feature. You can either tap Share Vehicle Data to agree or Not Now to keep it private.
Now you should see your car or multiple cars if you have more than one or are connecting a rental. Make sure the correct car is selected, then tap Done in the top right corner.

Now, on your car, pull up the search bar on your CarPlay screen.
Type and select a destination, and you'll see that it will include convenient EV charging stops along the route!
Now you know
how to unlock this seemingly secret Apple Maps
feature that makes driving an EV much easier and more enjoyable! If your car isn't CarPlay compatible, you will have to use your car's built-in infotainment system, like
Tesla Maps
if you drive a Tesla, or a third-party app instead. Or, you can search for the charging stops on your iPhone and learn how to add stops to Apple Maps manually.