Does Tesla have Apple CarPlay? No, and I'll explain why. But there is a third-party Tesla Apple CarPlay adapter that does the trick!
By

Olena Kagui
Updated 05/25/2023
What to Know
Teslas do not have CarPlay or Android Auto apps. 
You can purchase a third-party CarPlay adapter.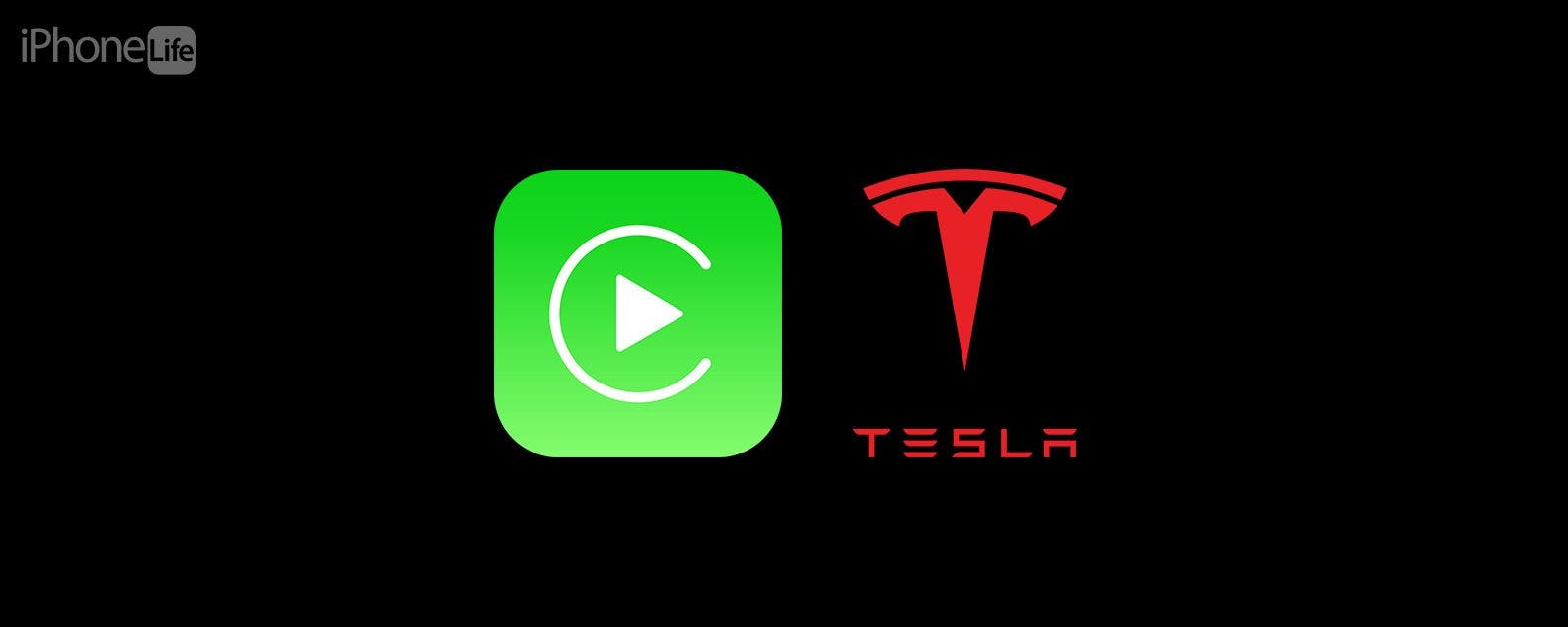 CarPlay is used to integrate your iPhone with your car, allowing you to navigate using Apple Maps and see your favorite apps on your car's display. Teslas are smart cars, so they have their own built-in touchscreen display with a selection of compatible apps, and CarPlay is unfortunately not included. I'll cover several Tesla CarPlay solutions, including getting a CarPlay adapter.
Warning:
We do not recommend jailbreaking your Tesla or using risky third-party hardware. The suggestions in this article are for informational purposes only.
Jump To:
Apple CarPlay vs Tesla's Built-In Software
The unique thing about Teslas is that the company developed its own software that runs carefully selected third-party apps and nothing else. Tesla Maps uses Google Maps as a base with MapBox to get data about routes for navigation. This means that the view of the map comes from Google, but when you are looking to go somewhere, the best route and traffic information comes from MapBox, which Tesla deems most accurate.
Plus, you can still do things like share a location or route you find on your iPhone using Google Maps and share it with your car. You can also locate your Tesla from your phone when you forget where you parked—you can even honk the horn so you can start heading in the right direction in a busy parking lot. You can even use your car to summon your Tesla and make it pick you up on its own if you don't want to walk in the rain, a feature that CarPlay will likely never have.
Another perk of going with Tesla's option, is that if you pay for Connectivity, you can enable satellite view on your Tesla Map. Connectivity ($9.99 per month) also gets you access to Netflix, Hulu, Spotify, and other Tesla-approved third-party apps. Tesla does vigorous testing before adding new apps, such as Apple Music, so that everything works seamlessly. If it isn't on your Tesla, there is probably a good reason for it. 
The goal is to have the best, fastest, and easiest infotainment system, and Tesla does a great job. If you try to use third-party solutions to add CarPlay, it could make your car run less smoothly. Since most Tesla features require the display, it is risky to take the chance to mess up any features—especially the safety of your car.
Apple CarPlay is a great solution for cars that don't have their own navigation system. I love using it when I rent a car, because it lets me use apps that I'm familiar with, even in an unfamiliar place or vehicle. CarPlay uses Apple Maps, which only recently became a real competitor to Google Maps. 
There are still glitches and because of this, using CarPlay still has its downsides, such as not integrating well with some cars and making navigation more of a hassle than it should be. Plus, when it comes to driving a Tesla, it takes extra steps to navigate with charging stations in mind. When you plug a destination into Tesla maps, you will find out immediately whether or not you need to charge, how much battery a roundtrip will take, and if there are any chargers nearby.
I did an 11-day cross-country road trip from New Jersey to Seattle in my standard-range Tesla Model 3 and navigated the entire way using Tesla Maps. It was the only way I felt secure in knowing when to stop to charge, even in areas where superchargers are less common, like Yellowstone National Park. While I could have done this using CarPlay, it would have been more time consuming and stressful. So while CarPlay is a great solution for many vehicles, I don't understand why so many people want to use it on their Tesla. I would only do it if Tesla configured it to have more Tesla-specific features that we get when using Tesla Maps.
Why Doesn't Tesla Have CarPlay and & Android Auto?
Does Tesla have Apple CarPlay? No, but why? Most newer cars are compatible with CarPlay and Android Auto, so drivers have gotten used to using these to enhance their driving experience. iPhone users especially love to stay within the Apple ecosystem when picking out tech so that everything is perfectly integrated and synchronized. However, Tesla decided not to follow suit and developed its own software that uses Google Maps for navigating. 
GM recently followed Tesla's lead and also discontinued both Android Auto and Apple's version of Android Auto, CarPlay. Unfortunately, it is not possible to download third-party apps as there is no Tesla app store. In order to get Apple CarPlay, Tesla owners either need to get technical and jailbreak their Tesla, which we don't recommend doing, or get a third-party CarPlay adapter, which is still questionable because it isn't Tesla-certified and could potentially compromise your car. 
Since Tesla's 2022 holiday update added Apple Music to Tesla's apps, some users are hopeful that CarPlay may be added next. However, this has not been confirmed and might never happen. For more articles about CarPlay and other Apple features, don't forget to sign up for our free Tip of the Day newsletter.
Related: Easiest Way to Unlock Tesla: Apple Watch Car Key 2023
Tesla Apple CarPlay Adapter: CarlinKit T2C Wireless Adapter
CarlinKit is a company that creates gear to customize cars and upgrade them. They create adapters that can get CarPlay in any car, including Teslas. Even though I've been perfectly satisfied with Tesla's infotainment system since getting my Tesla Model 3 in 2019, I decided to test this myself and it works really well. A fun perk is that you can use it to access the Google Maps app and access satellite view and live traffic updates without paying for Tesla's Premium Connectivity. The CarlinKit T2C Wireless Adapter for Tesla is well known in the Tesla world. There are many reviews and video tutorials out there explaining this CarPlay adapter and how it works.
As with any third-party gear for Tesla, it is important to be careful and make sure you buy it from a reputable source. Googling CarlinKit T2C will give you dozens of buying options, including AliExpress, so you'll have to make sure you're not buying a knock-off, which could increase the risk of using a CarPlay adapter in your Tesla.
Other Tesla CarPlay Solutions
Developer Michał Gapiński's Tesla Android Project is another solution to using Carplay in a Tesla. But it requires a lot of technical knowledge and willingness to take risks to implement. Please keep in mind that we do not recommend hacking into your Tesla or doing anything that is not Tesla-approved. 
Gapiński's solution includes using two differently programmed Raspberry Pi computers plus radiators and housing for them. For those who don't know, the Raspberry Pi Foundation developed a series of tiny single-board computers that can be coded. While I have a Raspberry Pi for my 3D printer, I will not risk attempting to install CarPlay on Raspberry Pi to use in my Tesla. 
So now you know several Tesla CarPlay hacks that could bring Tesla into your Apple ecosystem. However, until Tesla releases proper Tesla CarPlay or Android Auto Tesla support, no workaround is perfectly safe or even guaranteed to run smoothly. I recommend waiting for Tesla to release compatible CarPlay because, when it comes to self-driving cars, there is too much at stake to take unnecessary risks. Next, check out our list of the
best Tesla apps
 for iPhone!