By

Olena Kagui
Updated 04/05/2023
What to Know
Apple Music is finally available for all models of Tesla cars.
You can access your Apple Music account directly on your Tesla display.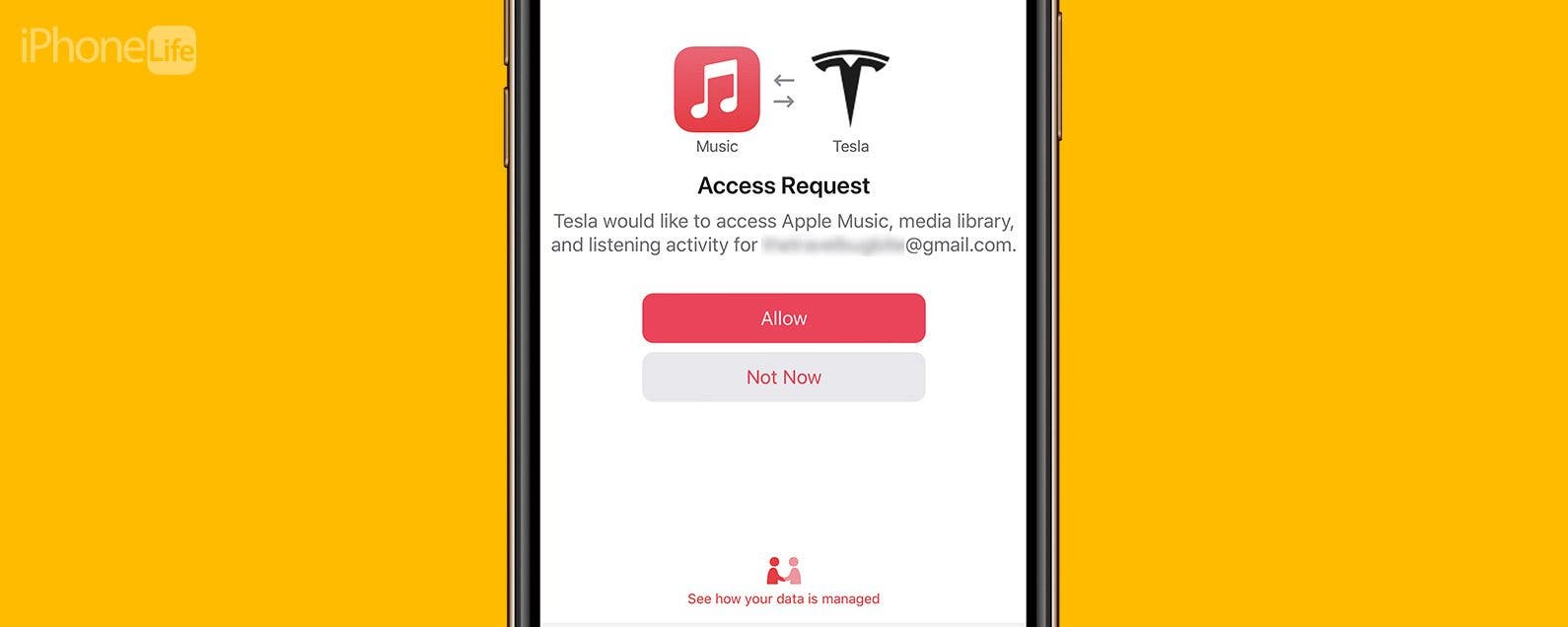 Seeing Apple Music appear in Tesla's All Apps folder was one of the best surprises of the December 2022 Tesla software holiday update. The lack of Tesla-Apple Music integration has been a pain point for Apple users who own Teslas. However, thanks to the Tesla update, Apple Music is now available in Tesla's running 2022.44.25 or newer.
How to Sign In to Your Apple Music Tesla App
First, make sure your Tesla is up to date. Tesla's native Apple Music app is available on Tesla's running 2022.44.25 or a newer software version. For more articles about iPhone apps, Tesla for Apple user tips, and other tech topics, remember to sign up for our free Tip of the Day newsletter. To access and set up the Apple Music Tesla app:
On your Tesla display, tap All Apps (the icon with three dots) in the Launcher. 


Tap Apple Music.



You'll see an Apple Music scan code or QR code.


Using your iPhone, open your camera to scan the code. Tap the link.



Sign in with your Apple ID and password.


If you have two-step authentication set up, you'll need to verify using a code that will be sent to your Apple devices.



Tap Allow to give Tesla access to your Apple Music account.


You'll get a sign-in confirmation screen on your iPhone. Your Tesla display will refresh in a few seconds.



You will now have access to Apple Music on your Tesla!


Pro Tip: 
If you return to the All Apps folder, you can tap and hold the Apple Music icon until it wiggles. Now you can drag it into your Launcher for quicker access or rearrange it within the All Apps folder.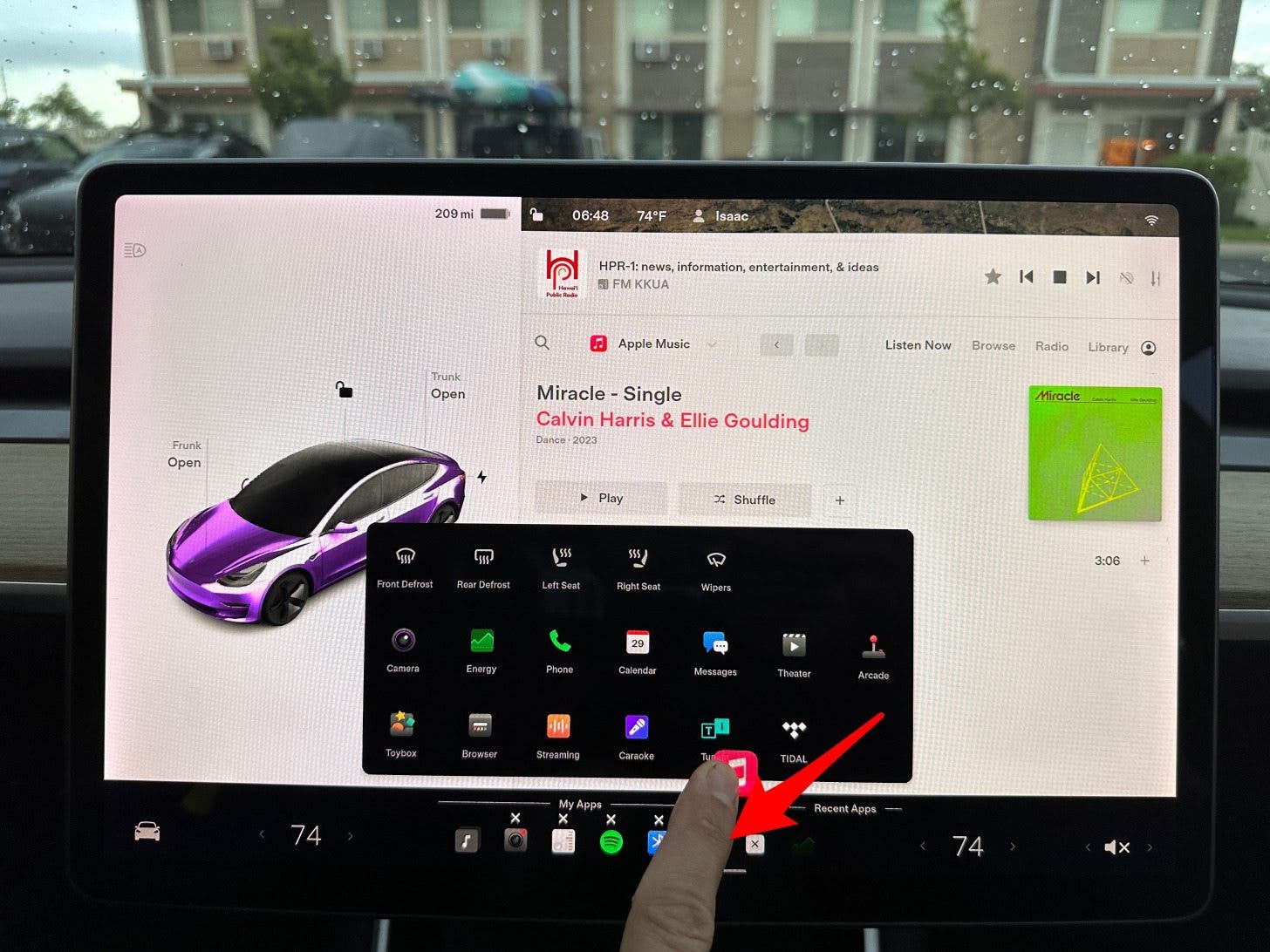 Tesla Apple Music Integration FAQ
When will Tesla Apple Carplay be released? Unfortunately, there is no information on when or if Tesla will get Carplay. At the moment, Tesla isn't compatible with Carplay or Android Auto. The only way to do it is via a complex workaround that could damage your car.
Can you add third-party apps to Tesla? No. Tesla doesn't have an App Store, so it isn't possible to download third-party apps.
Can I mirror my iPhone to my Tesla? It is only possible to cast your iPhone's screen onto the built-in Tesla display by downloading third-party apps on your iPhone that may not be supported by Tesla.
Is Tesla Apple Music lossless? No, the December 2022 Tesla software holiday update did enable Apple Music on Teslas, but lossless audio, Spatial Audio, or Dolby Atmos is not available on Tesla. However, it may be added in the future.
How many kbps is Apple Music on Tesla? According to someone on Reddit, "Apple is using the HE-AAC codec at 64 kbps when streaming Apple Music via the Tesla UI". However, Not a Tesla App reports that Dan Burkland finds that Apple Music streams at an average bitrate of approximately 118 kbps.

Discover your iPhone's hidden features
Get a daily tip (with screenshots and clear instructions) so you can master your iPhone in just one minute a day.
You've added Apple Music to your Tesla music app arsenal! Unfortunately, audiophiles have found that Apple Music could sound better in their cars compared to the other Tesla streaming app options for music, like Spotify. I'm one of many crossing my fingers for some added Tesla-Carplay integration ASAP! Next, learn the
easiest way to unlock your Tesla with just your Apple Watch
!