By

Olena Kagui
Updated 06/05/2023
What to Know
The dreaded iPhone black screen of death can be caused by hardware issues, such as dropping your phone or getting water in the charging port.
Software issues such as an incomplete software update can also cause a blank or black screen on your iPhone.
If a force restart or restoring your phone from iTunes doesn't help, you may need to contact Apple Support.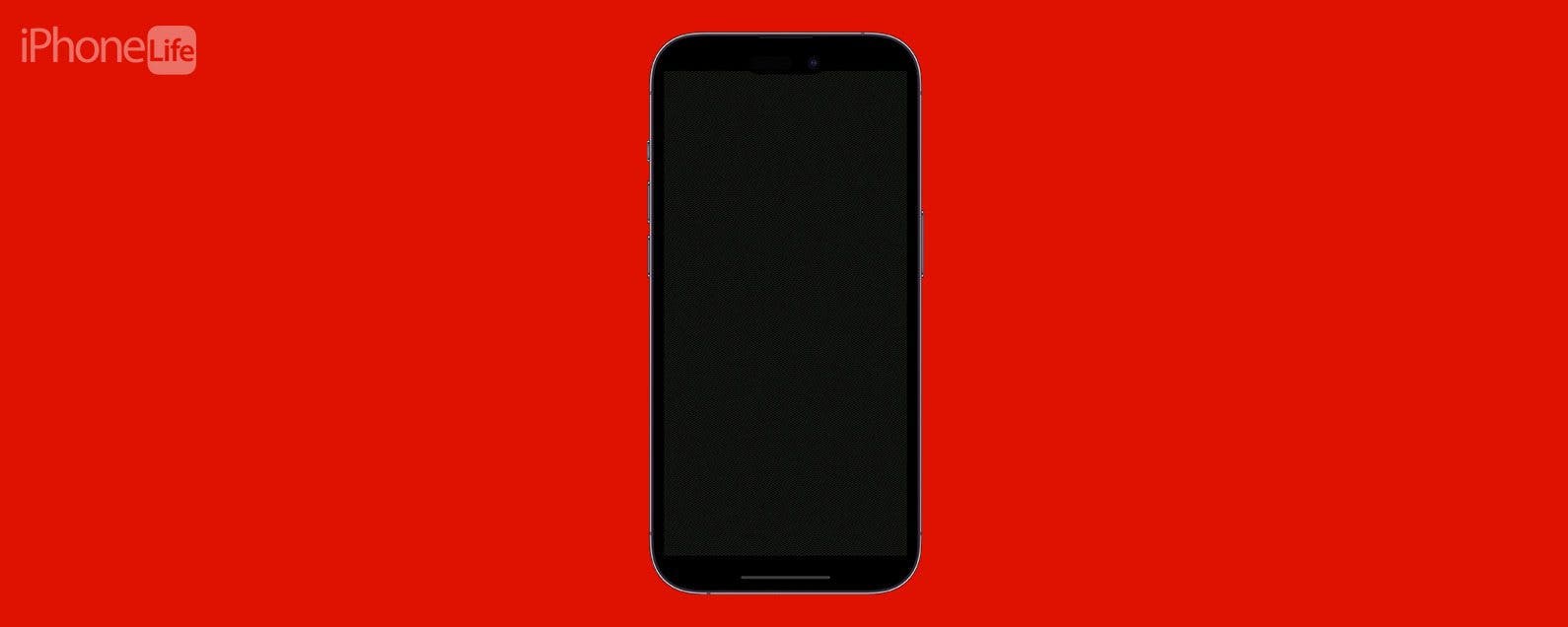 If your iPhone screen is black or blank, but your iPhone is on, you may be able to fix it with a quick force restart. I will also teach you some causes and prevention techniques for the stubborn iPhone black screen of death! Plus, we'll cover what to do in more extreme scenarios.
Jump To:
Why is My iPhone Screen Black or Blank?
Understanding why your iPhone screen won't turn on and stays black or goes black although your phone is on can help you troubleshoot and prevent the issue in the future. The most common causes for a black screen on iPhone are:
Hardware problems caused by faulty design, dropping your iPhone, or water damage.
Software problems such as a wrong, faulty, or incomplete iOS download.
How to Fix the iPhone Black Screen of Death
If your iPhone was recently dropped or got wet, these steps may not work for you. Make sure to check out our article on how to tell if your iPhone has water damage if you suspect that it got wet. Next:

Discover your iPhone's hidden features
Get a daily tip (with screenshots and clear instructions) so you can master your iPhone in just one minute a day.
If you managed to get rid of your iPhone's black screen of death, there are a few steps you should take to prevent it from happening again. For more iPhone troubleshooting tips, check out our free Tip of the Day newsletter!
How to Prevent iPhone Black Screen of Death
If your iPhone screen goes black once, it isn't unlikely for it to happen again. While it could be a glitch that your iPhone screen went black, there could be an underlying issue. If you recover your iPhone from a blank or black screen on your own, you may want to follow these steps to keep your phone screen working normally:
Get a good case for your iPhone to protect it from accidental drops, and consider using a waterproof case when you use your phone near water.
Make sure you have at least 5 gigabytes of storage available on your iPhone before you download an iOS update. Read this for tips on how to check and free up storage on your iPhone.

Only download reputable apps and software on your iPhone. If you are running the beta iOS version when you experience a black iPhone screen, you may want to remove the beta software.
Back up your iPhone regularly so that you can restore it without losing data any time you have more serious iPhone issues.
Now you know how to deal with the dreaded iPhone black screen of death and prevent it from happening in the future. Next, learn how to fix the iPhone's pink screen of death.
FAQ:
How much to replace iPhone screen? A broken iPhone screen can cost as little as $25 to replace if you have AppleCare Plus or a lot more if your phone is out of warranty. You can learn more about iPhone insurance here.
Why does my screen keep going black? If your screen flickers to black randomly, it may be a storage issue. It is a good idea to keep your storage free even if you aren't actively downloading a software update.
My iPhone background is black; how can I fix it? If your iPhone background turned black, but you can still see your apps and widgets on your Home screens, it may be a storage issue. It can also help to restart your phone and get the images to reload together. Finally, it is possible that you changed the background color accidentally, read this on how to change your Home screen background.