By

Conner Carey
Updated 09/20/2023
What to Know
Open Settings, tap General, and tap iPad or iPhone Storage to do an iPad or iPhone storage check.
iPhone storage full? Clear space on an iPhone by deleting unneeded photos, music, and apps.
You can also clear your website browsing data and optimize photos to get more storage on an iPhone.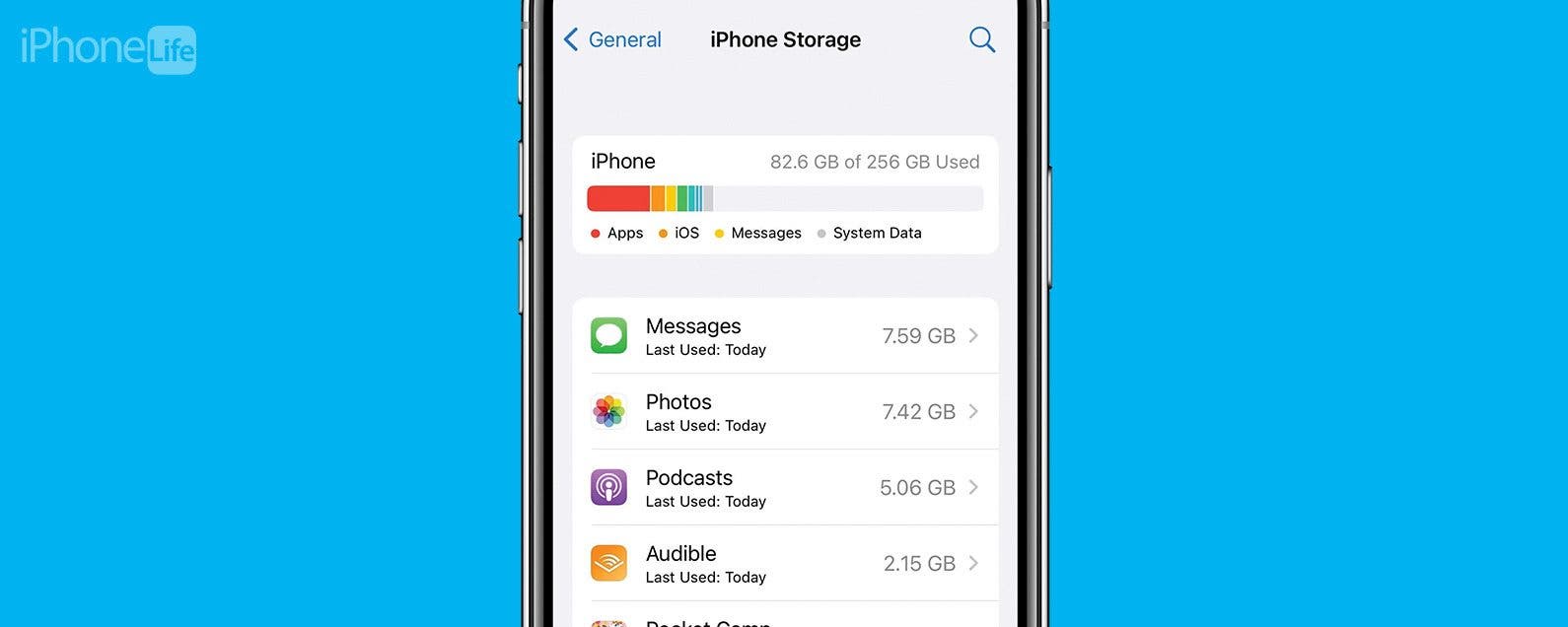 Here's how to check storage on an iPhone or iPad and free up space. We'll go over the fastest and easiest way to optimize storage, clear space on an iPhone, and get more storage!
Jump To:
How to Check iPhone Storage, Plus 8 Ways to Optimize iPad & iPhone Storage 
Some people get confused about the difference between iPhone storage and memory. iPhones use storage whenever they needs to permanently store data. Running out of storage is annoying, so, let's go over how to check storage on an iPhone or iPad, and how to optimize, clear, and free up storage space on your iPhone. For more great Mac, iPad, Apple Watch, and iPhone storage tutorials, check out our free Tip of the Day. 
How to Check Storage on an iPhone
If you're getting iPhone Storage Full, Storage Almost Full, or Cannot Take Photo notifications, your iPhone storage is low or full, and you need to review which apps and data are currently taking up space. Here's how to check iPhone storage:

Discover your iPhone's hidden features
Get one daily tip each day (with screenshots and clear instructions) so you can master your iPhone in just one minute a day.
Open the Settings app and tap General.


Tap iPhone Storage.



On this screen, you can see how much storage space your iPhone has.


In some cases, your iPhone may also prompt you to enable certain settings or delete specific items, like in the suggestions below to optimize photos or offload unused apps. However, if these options do not appear for you, we will be going more in-depth on how to enable them.


Luckily, whether you're looking for how to free up space on an iPhone or get more iPhone storage, we're here to help. Continue reading for the eight easiest ways to free space on your iPhone.
Remove Downloaded Music from an iPhone 
When you need to clear storage, remember that music takes up a lot of space. If you have iTunes, Apple Music, or iCloud music, there's no need to keep everything downloaded on your phone. You can remove downloads from your iPhone or iPad, but keep the songs in your collection.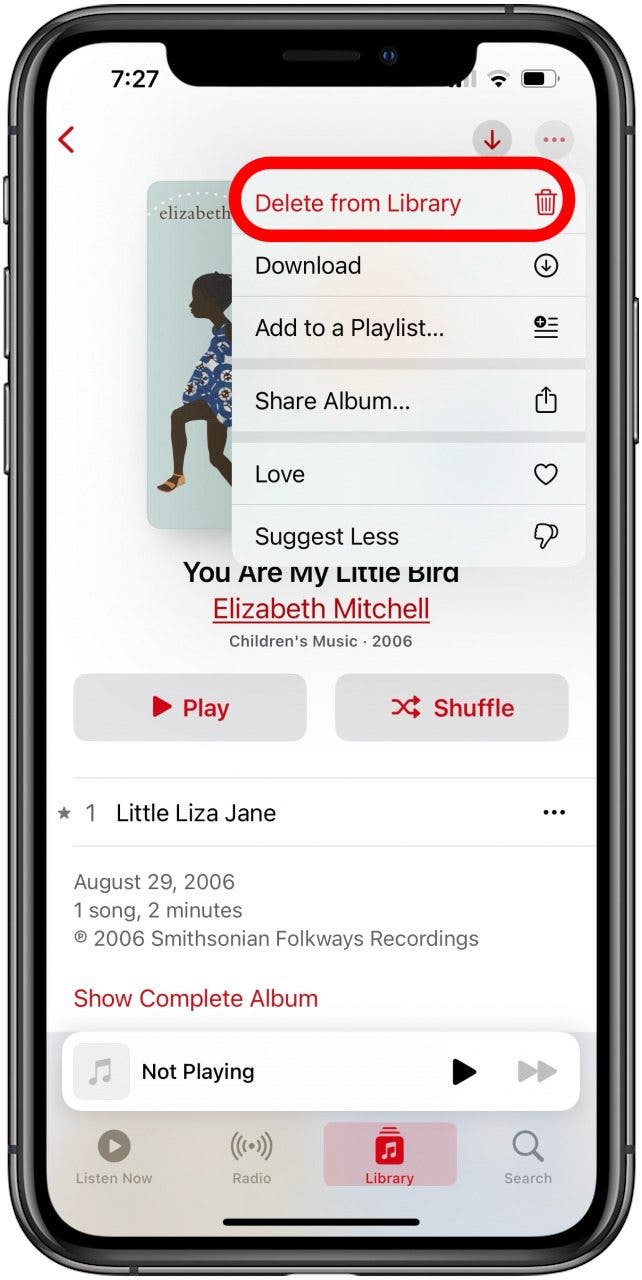 Removing music downloads will clear space on your iPhone or iPad. This gives you the best of both worlds: extra storage and lots of music.
Delete Videos from an iPhone & iPad
If you listen to a lot of podcasts or watch offline videos from Netflix, YouTube, Disney Plus, etc., the downloads can take up more space than you think. Your iPhone will detect when you have too many downloaded videos and will prompt you to delete them. Here's how to delete videos from an iPhone or iPad. Once you've done this, you can also delete downloaded podcasts and TV shows you no longer need to save.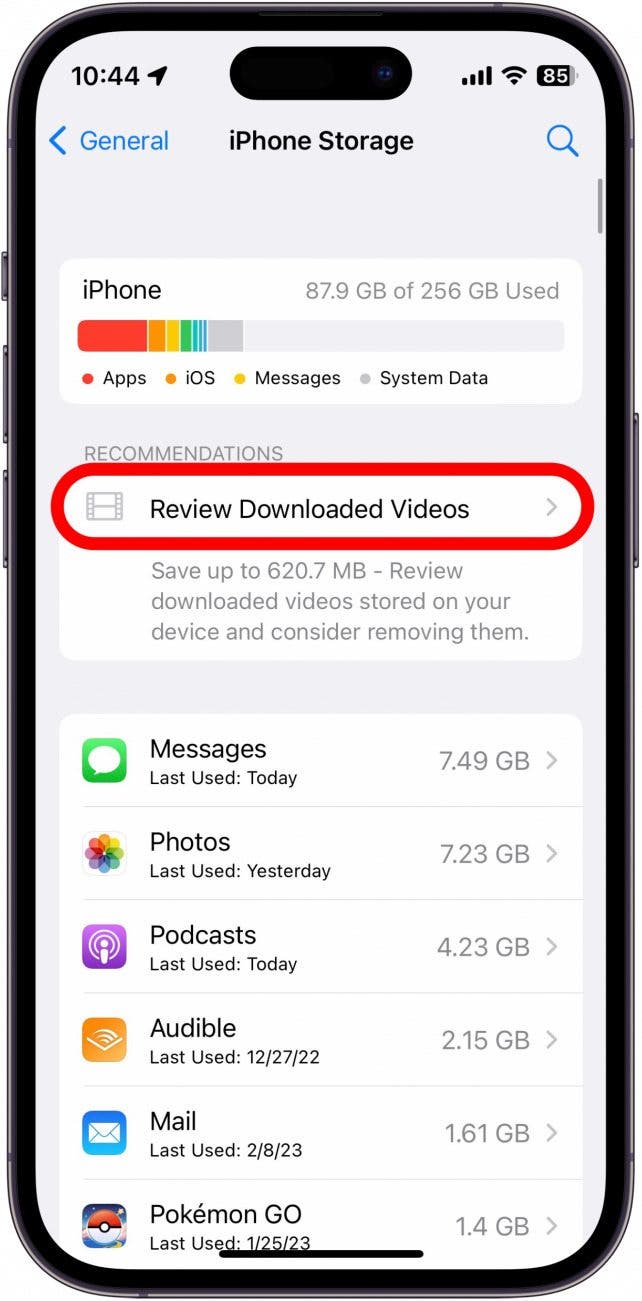 You might not see the Review Downloaded Videos prompt if you don't listen to podcasts or save movies and TV episodes offline. 
Delete Message Attachments
My friends and I love to send silly, funny pictures and GIFs to each other constantly. If you receive a lot of messages with attachments, those pictures or videos are probably using iPhone storage without you realizing it. Here's how to delete message attachments.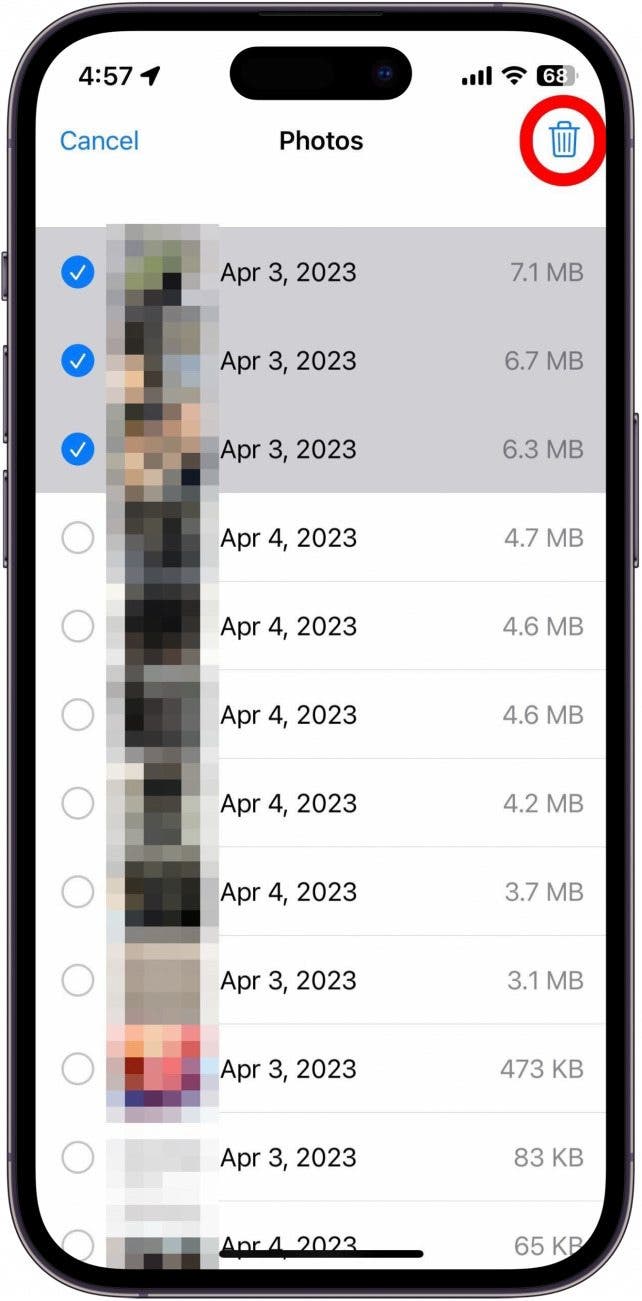 If you send or receive a lot of photos or videos in Messages, they quickly pile up and take up valuable storage space.
Delete Old Messages
As someone who is very sentimental, I keep all of my text messages. However, when you have years of text message history, this can end up taking up a lot of space. You can delete individual text messages, or, if you're not a sentimental person, you can set your messages to automatically delete after a certain amount of time. Learn how to delete old messages on an iPhone.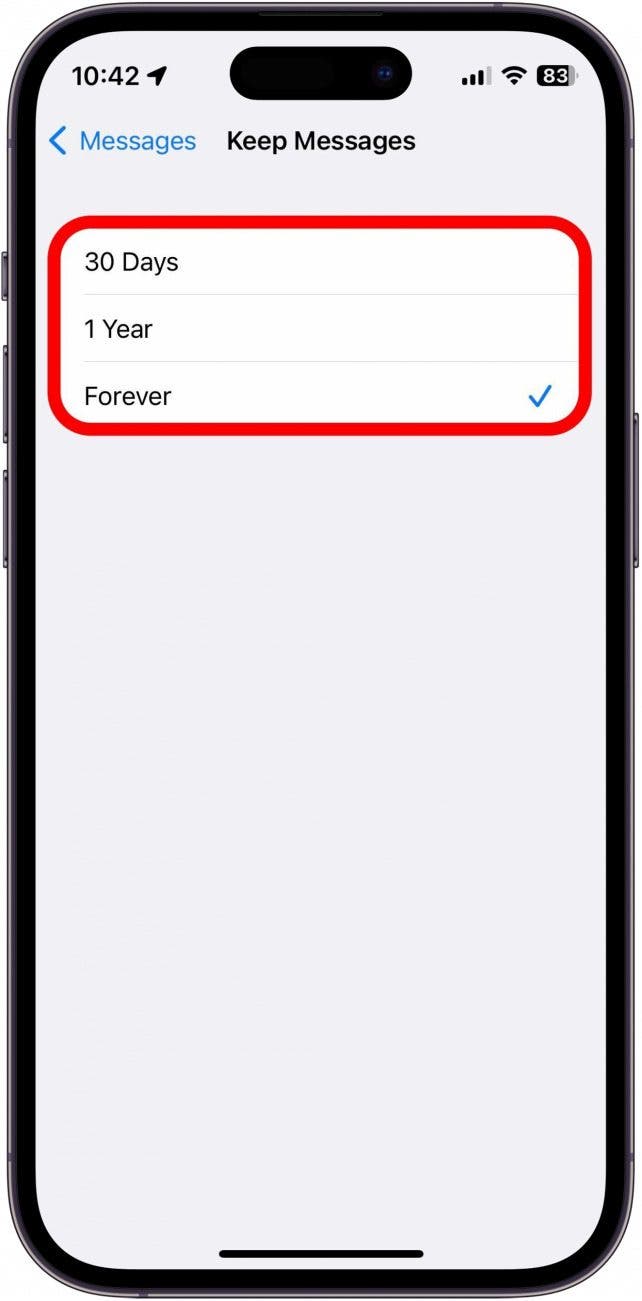 Depending on your selection, your messages will now be automatically deleted after the set period of time (unless you selected Forever).
Delete Apps That Take Up Too Much Storage
You can view which apps are taking up a lot of storage using the process below. If you love and often use an app, it may be worth keeping, even if it uses a decent chunk of space. However, if you have extraneous apps you don't often use that are taking up space, here's how to delete apps that take up too much space. You can also choose to offload the app to free up space on your iPhone or iPad. 
Open Settings, tap General, then tap iPhone Storage.


Scroll through the list of apps, and tap one to review your options.



Tap Offload App to remove the app from your phone but keep its data.


Tap Delete App to completely delete the app and its data from your phone.


If you find yourself frequently running out of space and you have a lot of apps that you don't use often, it's usually a good idea to regularly review your installed apps.
Clear Browser Cache
Safari collects information on websites you often visit and saves data in the cache to provide faster load times. If you need some extra storage, here's how to clear your browser cache. This will remove history, cookies, and other browsing data, which means you will get signed out of your online accounts, and you'll lose any recent websites you've visited, and need to sign back in. Here's how to clear your browser cache in Safari.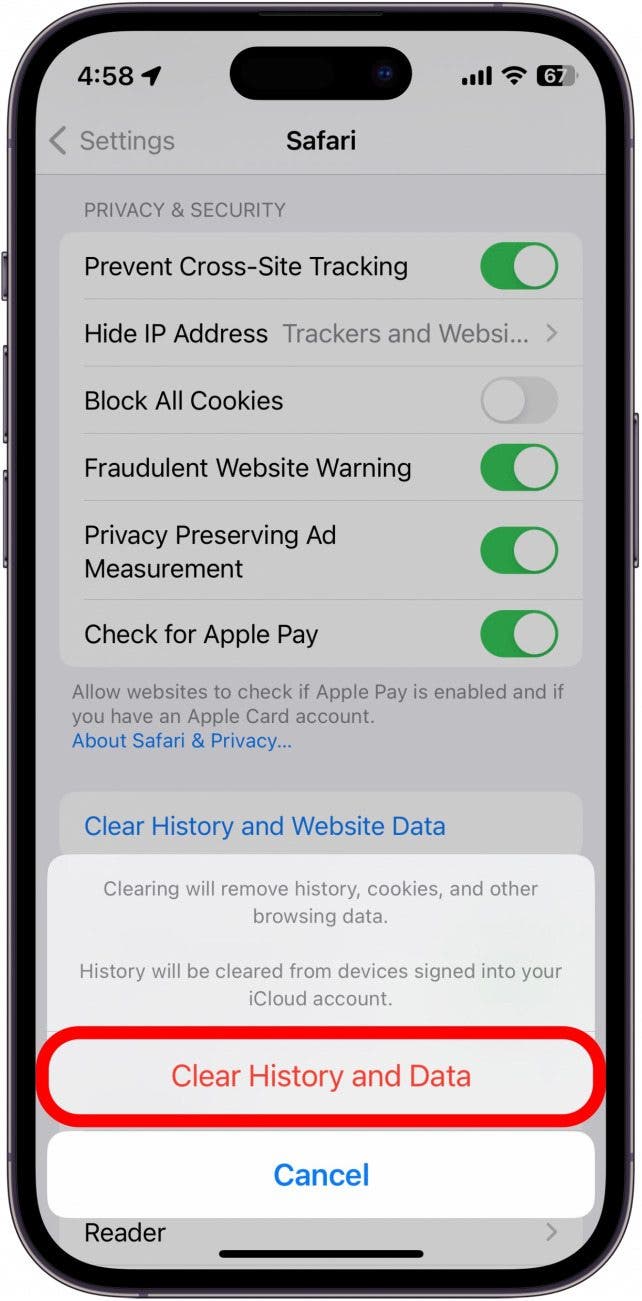 This should help remove excess data and clear iPhone storage.
Delete Duplicate Photos
Do a quick check of photos and delete any you don't want to keep. Photos can sometimes consume more storage than you realize, especially if your library is full of duplicates. Thankfully, the iPhone's Photos app has a built-in feature to help you go through your duplicate photos and delete any you no longer want or need. Once you do this, you should free up plenty of storage from your device.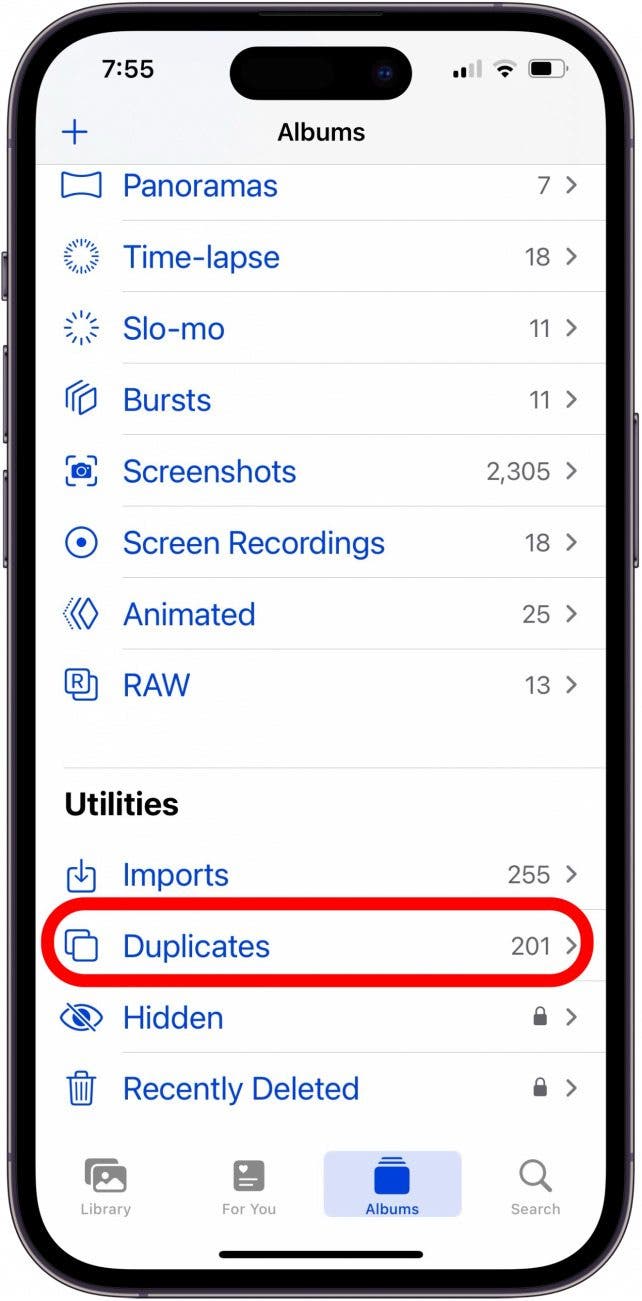 Optimize iPhone Storage
If you have an iCloud subscription, you can optimize your iPhone's storage by uploading your photos to iCloud and keeping lower-resolution versions on your device. You'll still have access to the full-resolution photos in your iCloud Photos, but you'll save space on your iPhone. Here's how to enable Optimize iPhone Storage.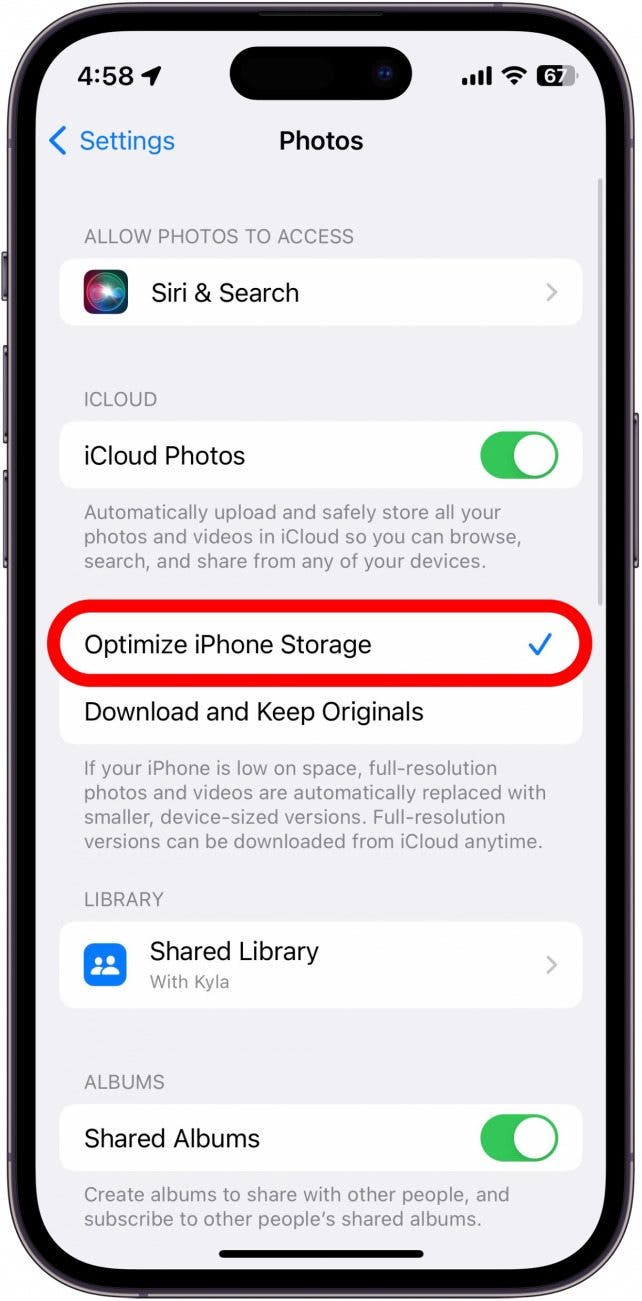 With Optimize Storage turned on, your iPhone will upload your full-resolution photos to the cloud, and keep smaller versions on your device, which will clear space on your iPhone.
FAQ
What happens when your iPhone storage is completely full? When iPad or iPhone storage is full, you'll get annoying error messages and warnings, and won't be able to save new photos and videos, save other files, or download apps. You'll also have a hard time syncing to iCloud Photo Library.
How do I free up space on my iPhone? There are lots of ways to get more storage on an iPhone or iPad. You can optimize iPhone storage of photos and videos, remove downloaded music and movies, offload apps, delete old messages, and more!
I want to learn how to buy more iPhone storage. You can't buy more iPhone storage, only free up space or clear storage.  
Now you know how to get more storage on an iPhone and iPad! Next, find out how to reduce system data on an iPhone (this is the technical way of saying how to empty trash on an iPhone) and save even more storage space. You can also learn how to clear iCloud storage to free up iCloud storage space.