By

Olena Kagui
Mon, 10/09/2023
What to Know
iOS 17 introduced a fun new way to create custom photo stickers, but this feature can be glitchy.
Learn how to troubleshoot stickers not working correctly in a few easy steps.
Discover how to make a sticker on iPhone and share it without any hiccups.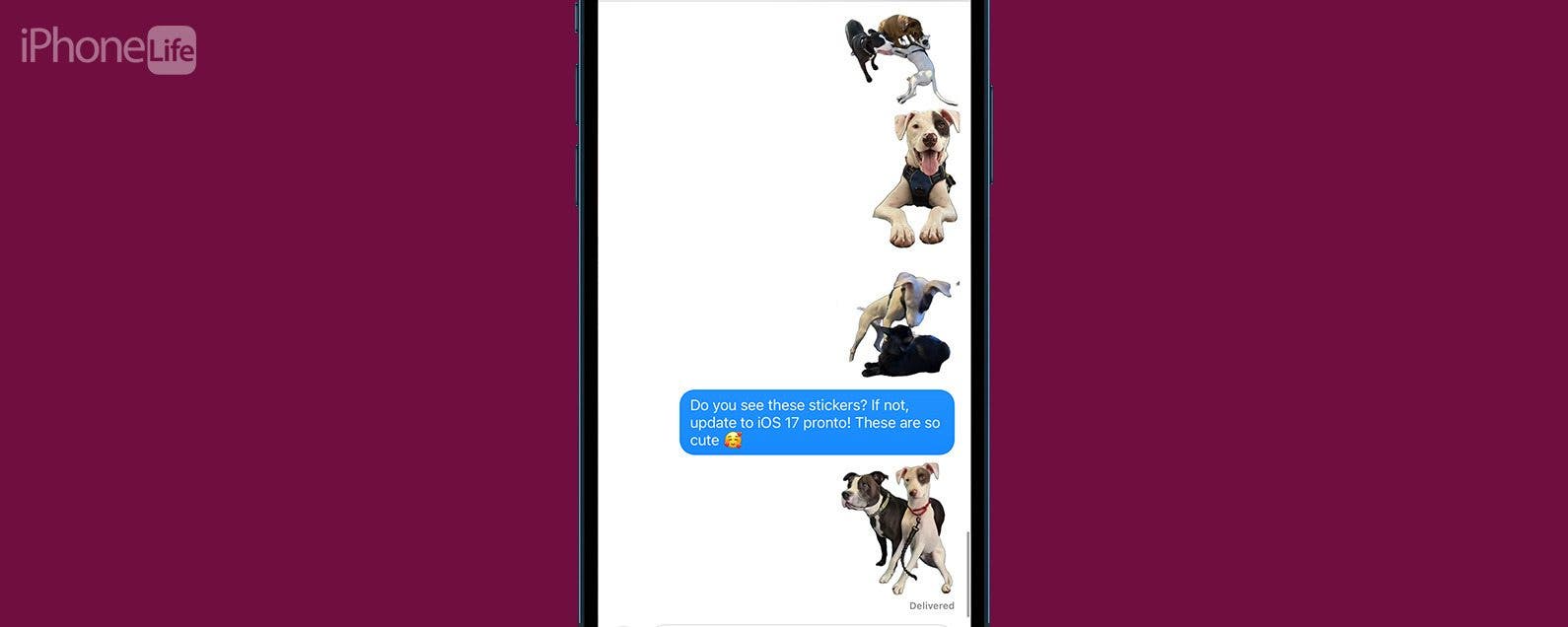 If your iPhone is running the latest software, then you can turn pictures into stickers to share with your friends and family! Unfortunately, this fun custom photo stickers feature can be a bit glitchy. So we'll teach you how to create stickers from photos that are live or still correctly and troubleshoot the most common issues.
Jump To:
Most Common Problems Making & Sharing Custom Photo Stickers (iOS 17)
If you already know how to use custom photo stickers but seem to experience problems creating or sharing them, you're not alone! Unfortunately, there seem to be many glitches when it comes to this fun feature that lets you turn photos into stickers. The most common iPhone sticker issues are:
How to Fix Live Stickers Not Working on iPhone
There are quite a few common issues with stickers, and we hope they will be fixed or at least improved with the next iOS update. Until then, here are a few explanations, fixes, and workarounds to make creating and sharing custom photo stickers more enjoyable!

Discover your iPhone's hidden features
Get a daily tip (with screenshots and clear instructions) so you can master your iPhone in just one minute a day.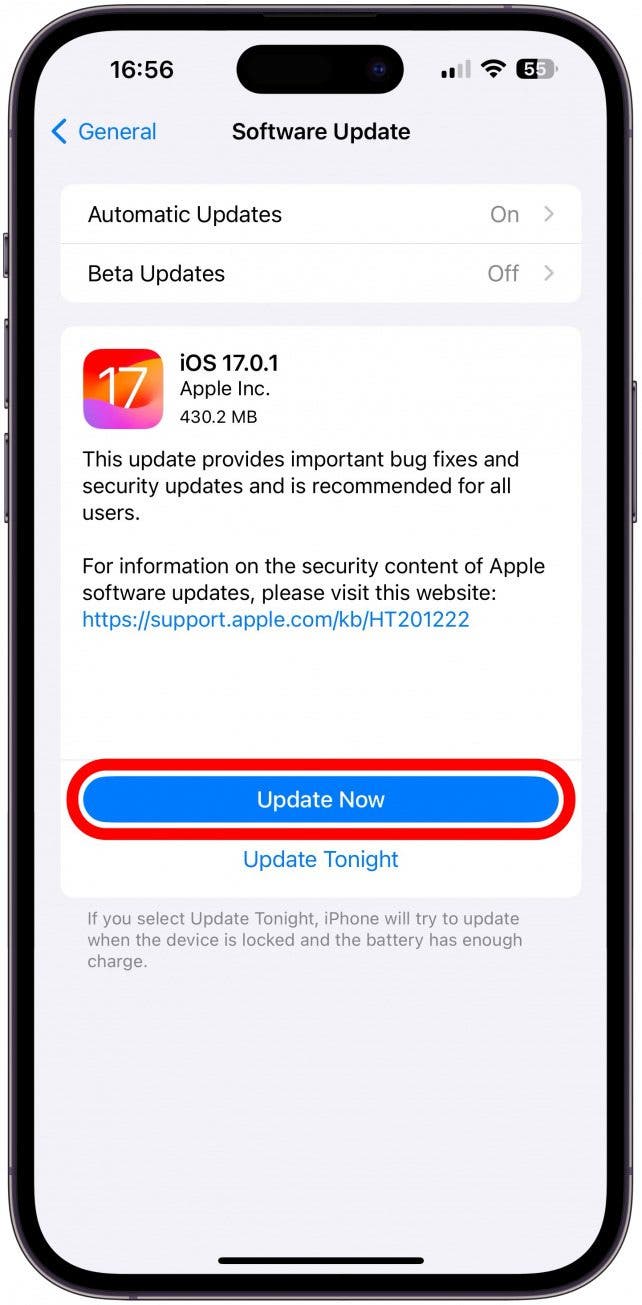 1. Make sure your iPhone is running the latest iOS version.
iPhone updates don't just introduce new features; they also fix common issues and security breaches, which is why you should always keep your iPhone up to date. You can only make custom photo stickers if you are running iOS 17, but you should have the latest version of iOS 17 in order to keep everything running smoothly and safely.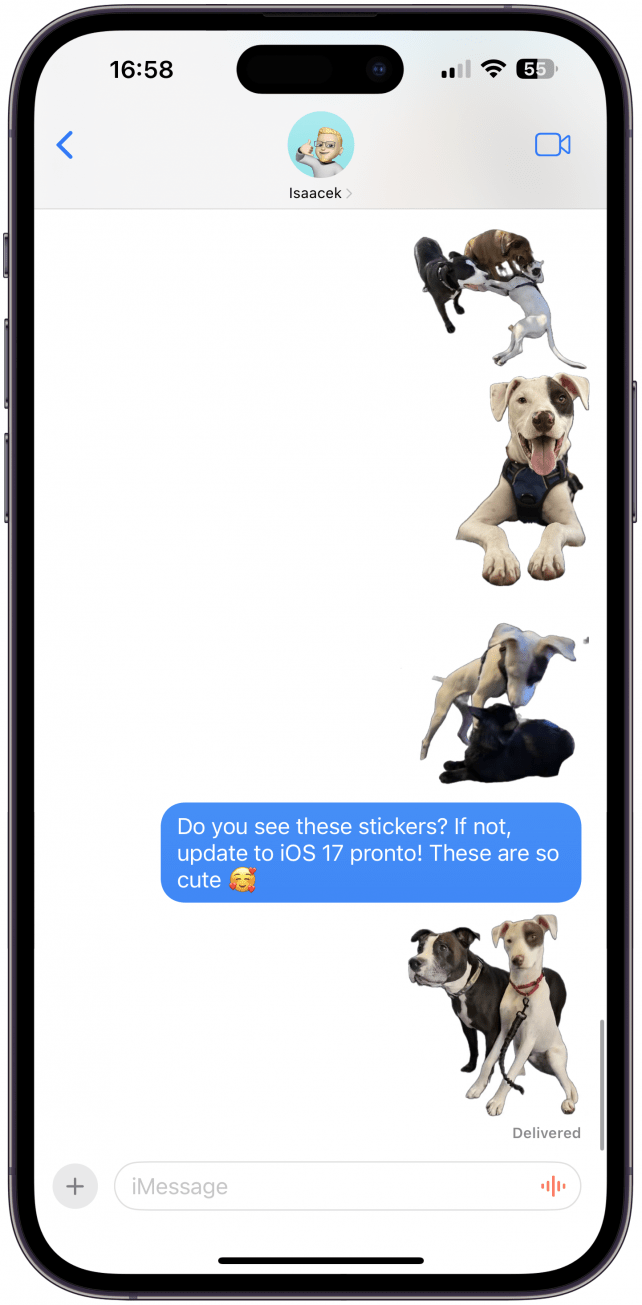 2. Make sure your recipient is an iPhone user running iOS 17 or later.
You can only share Live stickers with iPhone users running iOS 17 or later. If they are running an older iOS, they won't see your stickers at all. Android users may or may not get a still version of your sticker as a regular image. For more iPhone tips, check out our free Tip of the Day newsletter.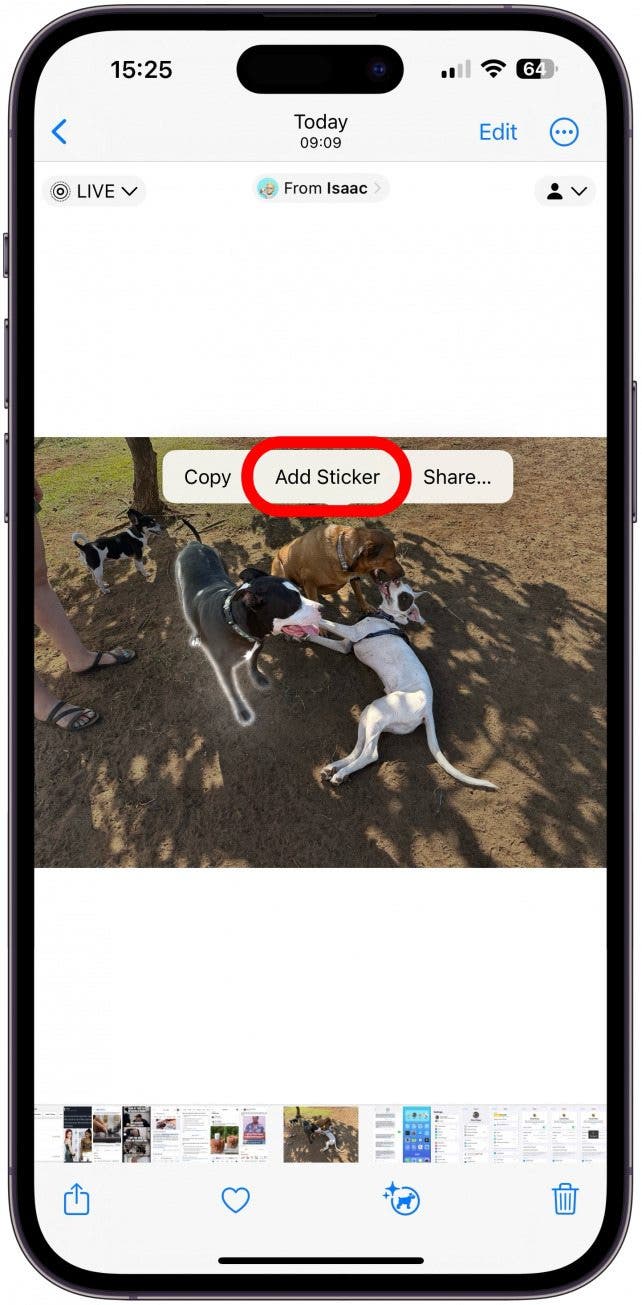 3. Select the subject and tap Add Sticker again if your first try didn't give you the Live sticker option.
When you create a sticker from a Live photo, you should be able to make it live by following these steps:
Locate and open a Live photo in the Photos app.


Make sure that the Live photo feature is on; if you turn Live off or Long Exposure, you won't be able to create a Live sticker. If you select Loop or Bounce, you won't be able to create a sticker at all.



Tap on the image, then long-press the subject. When you let go, you'll see a white light running along the outline of the subject and a pop-up menu.


Tap Add Sticker.



The sticker will be added to your sticker drawer, and you will see the option to Add Effect; tap it.


To the very left of the word Stickers, you should see the Live photos icon and the word OFF. Tap it.



Now, you will see the Live sticker. Tap Done.


An annoying glitch that seems to occur frequently is that in step 5, there is no Live photos icon. I have fixed this by returning to the photo and following steps 2–5 again, and this time you should see the icon there. Since this is a known glitch, it is expected to be resolved in future iOS updates.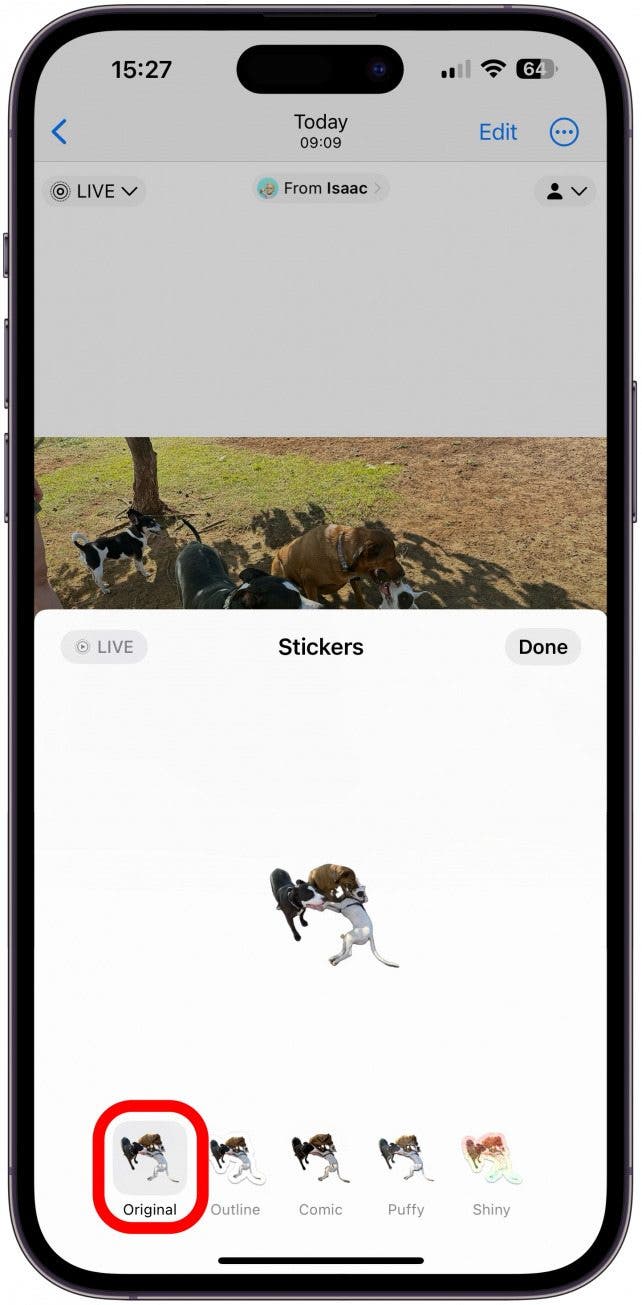 4. Adding an effect to a live sticker makes it static, but you can change it back in the Add Effect settings.
If you've already created a sticker and want to edit it without finding the original photo and starting from scratch, you can do it from the Messages app:
Open the Messages app.


Select a message thread or start a New Message. I prefer starting a New Message, so I don't accidentally send someone a silly sticker or risk a contact seeing those three dots that indicate that you are typing a long essay.



Tap the plus icon.


Select Stickers.



Long-press a sticker you want to edit.


Tap Edit Effect.



To make the sticker Live again, tap Original.


Tap the Live photo icon.



Tap Done.


You can just tap Cancel to leave the Messages app or type in a contact's name and select a sticker to send them.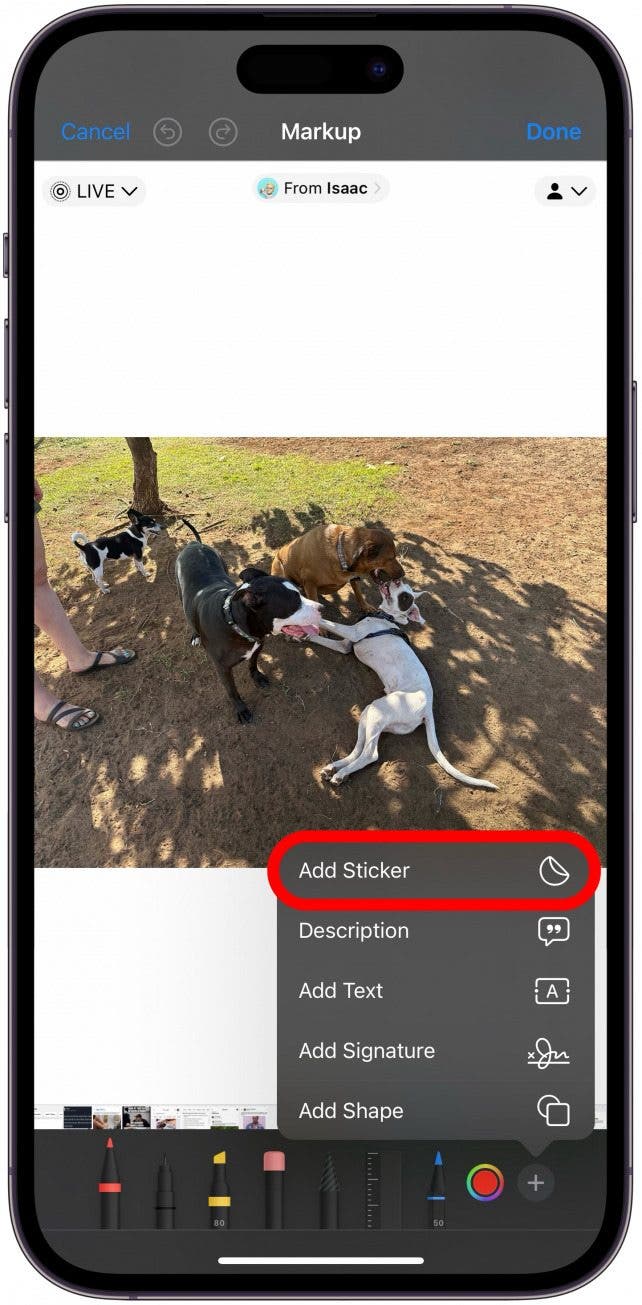 5. Learn how to access your custom photo stickers in apps other than the Messages app.
Apple claims that you can use stickers anywhere you can use emojis, including in third-party apps, but it isn't as intuitive in other apps as it is in the Messages app. To access the sticker drawer in most apps, tap the emoji icon and swipe right, then click on the sticker icon to see all your stickers and access sticker editing features. Here's how to do it on Facebook Messenger, for example:
Open Facebook Messenger and open a conversation thread. Tap Aa just as you would to type a message.


Tap the smiley face or emoji icon in the bottom left of your screen.



Swipe right over the emojis until you see your stickers.


Tap the sticker icon to access your Sticker drawer. You can scroll through all your stickers, rearrange them, edit effects, or delete them.


Pro Tip
Most apps outside of the Messages app will convert live stickers to static stickers or paste them as regular images. If you want to insert stickers while using Markup, you just tap the plus icon and select Stickers to access your sticker collection.

6. Make sure you pick the correct photo to turn into a sticker for the best results.
Most photos can be turned into stickers, but there are a few rules to follow if you want to get the perfect sticker! First, the photo should be clear, not blurry. Second, the subject should not be the same color as the background or any items in the background, otherwise, they may be included in the sticker, and there's no way to edit them out without using third-party editing apps like Photoshop or Canva.
Stickers also look their best if the subject doesn't have any cropped-out limbs or parts. Finally, if you have multiple subjects that are being selected, you can try to edit the image and crop out the unwanted subject, then create a sticker of the solo subject. When it comes to Live photos, there are even more rules to getting the perfect live custom photo sticker; read more about it here.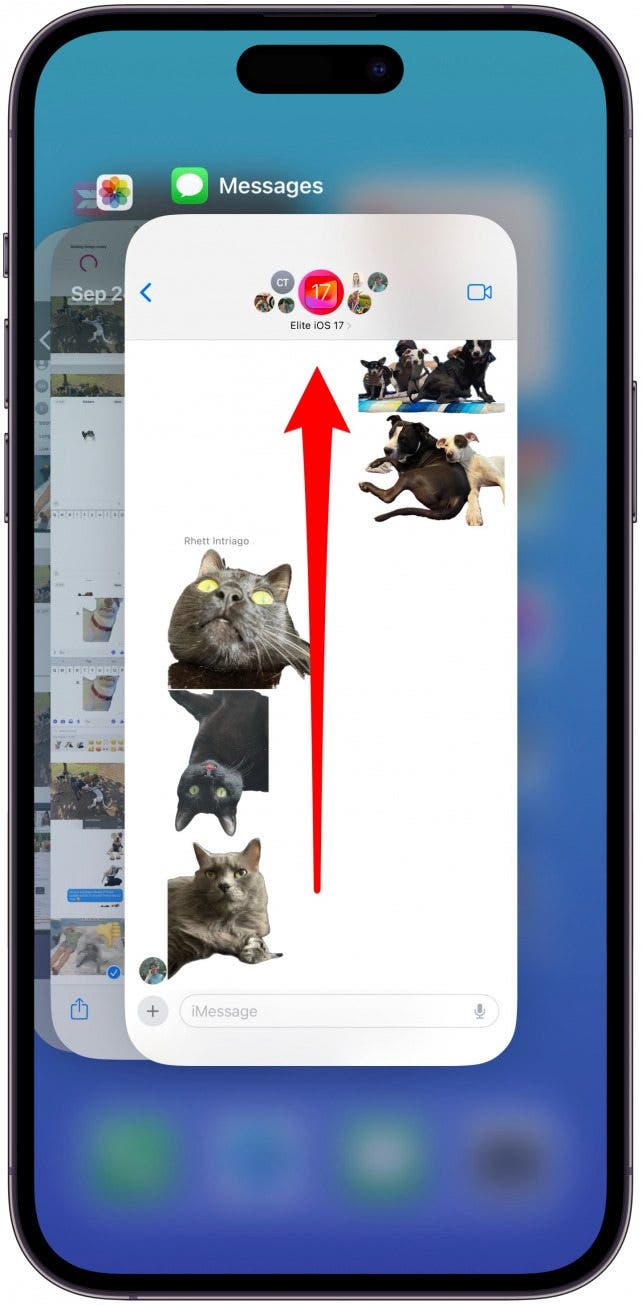 7. If your Sticker drawer is unresponsive, quit the app and try again.
You should be able to tap a sticker to use/paste it, but this isn't always the case. A common iOS 17 glitch required iPhone users to quit the Messages app and then reopen it before they were able to send someone a sticker. This is one of those issues that should be fixed in a future update, so make sure to keep your iPhone up to date!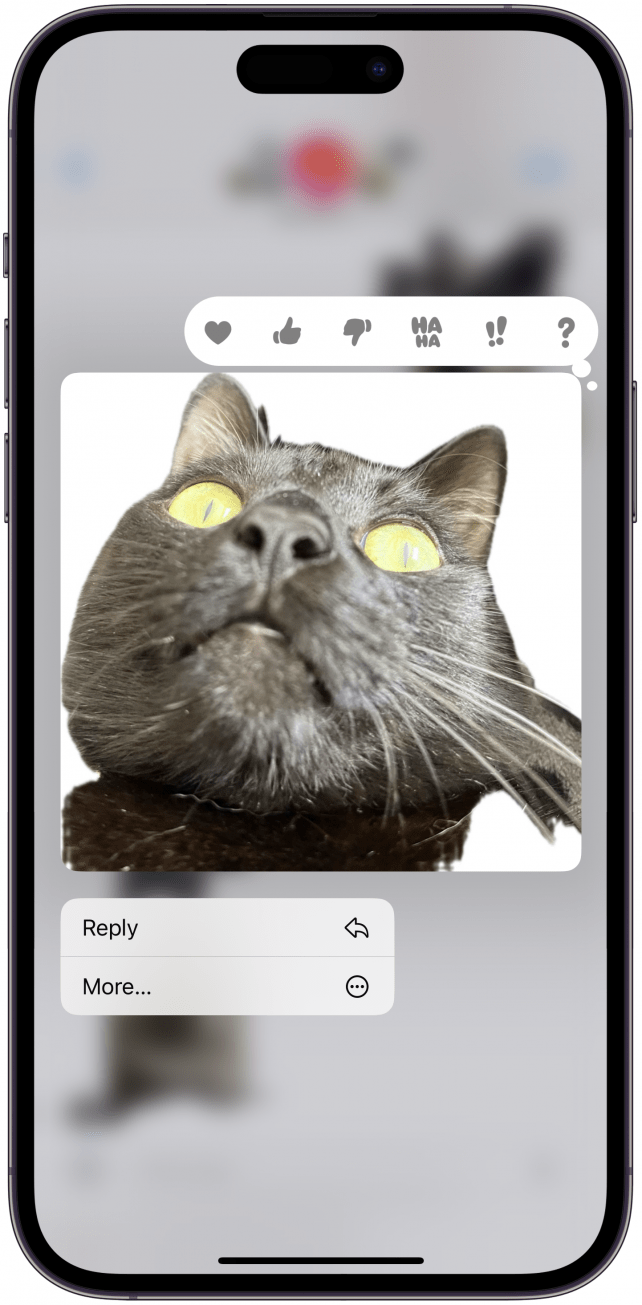 8. You can't save stickers that have been sent to you or even forward them to others, but there are two workarounds.
The best way to save a cool sticker that someone sent you is to ask them to send you the original image that your contact turned into a sticker. This will get you the best quality version of the sticker. If you don't want to go through the trouble, you can take a screenshot of the sticker, then open it in the Photos app and create the sticker like you normally would.
Note
The screenshot method only works to create static stickers; you'll need to be sent the original Live photo in order to create your own version of the live sticker.
Now you know the many ways to troubleshoot your custom photo stickers not working on your iPhone! We hope you enjoy this fun feature as much as we do. Next, learn how to turn live photos into live wallpapers, which hasn't been possible in over a year.