By

Conner Carey
Updated 08/30/2023
What To Know
With the release of iOS 17, you can now use a Live Photo wallpaper again!
iOS 16 allowed users to set a Live Photo as their Lock Screen, but the photo wouldn't animate.
Instead of tapping the Lock Screen to activate the Live Photo, you lift or unlock the phone and swipe down for notifications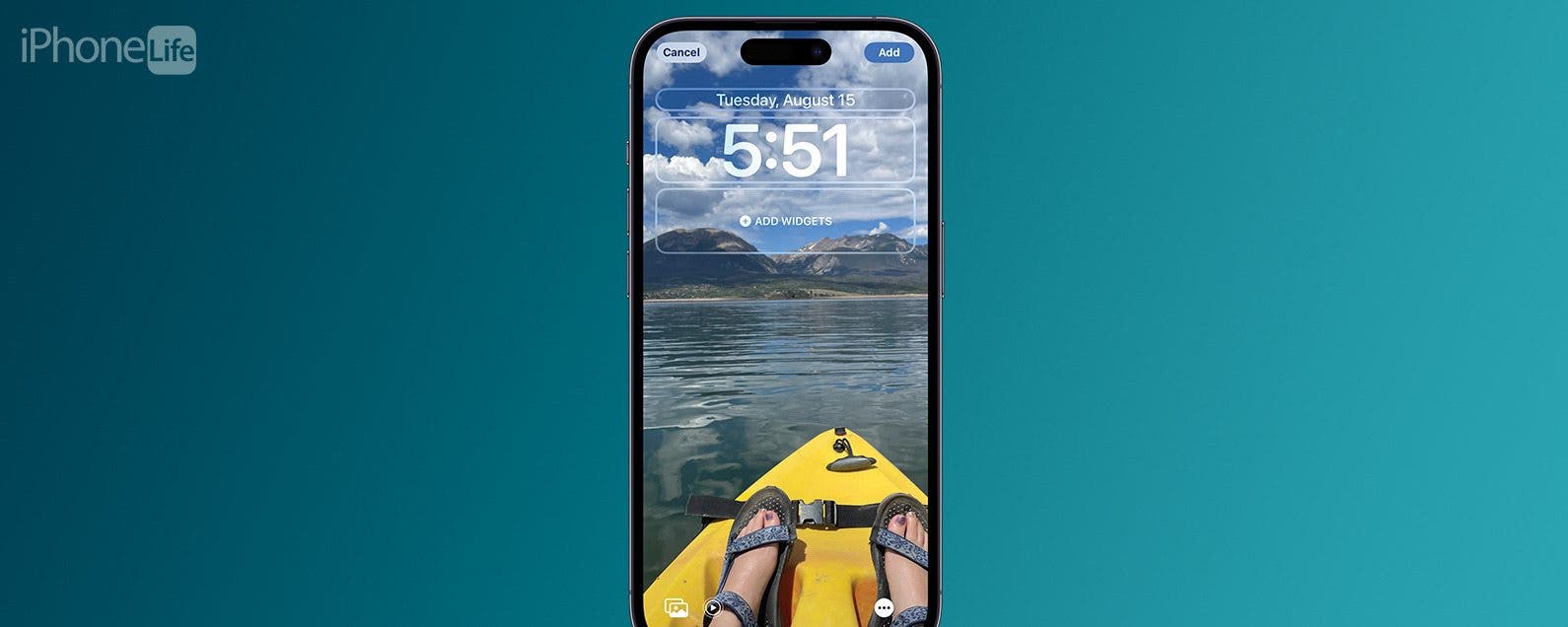 * This post is part of iPhone Life's Tip of the Day newsletter. Sign Up. *
If you're wondering how to set a live wallpaper on iPhone in iOS 17, you're in luck! With the iOS 17 software update that will release in September of 2023, we can now set iPhone live wallpaper as our Lock Screen backgrounds again! If you haven't already done so, you will need to update to iOS 17 to use this tip!
In iOS 16, Apple users lost the ability to set a Live Photo as their wallpaper, but with iOS 17, users can once again add Live Photos as a background image. Additionally, Apple removed most of its preset Live Wallpapers over the past couple of years. A few Live Wallpapers are still available for your iPhone, but your options are extremely limited. I'll walk you through which wallpapers still have animations. Here's how to activate Live Wallpaper so your iPhone background is animated.

Discover your iPhone's hidden features
Get one daily tip each day (with screenshots and clear instructions) so you can master your iPhone in just one minute a day.
Jump To:
How to Set Live Photo Wallpaper on iPhone in iOS 17
It's super exciting that Apple has added this feature back again. But, in order to set a Live Photo wallpaper as your background, you will need to have updated to iOS 17. If you like keeping up with the latest iOS releases, be sure to sign up for our free Tip of the Day! Here's how to set an iOS 17 live wallpaper as your background.
To see your iPhone live wallpaper in action, simply raise to unlock your iPhone or swipe down for notifications. You will see your image move slightly for a brief moment before slowing.
How to Choose a Free iPhone Live Wallpaper from Apple
If you're still running iOS 16, a few free iOS 16 live Wallpapers are available. Although Apple has removed many of its preset iPhone Live Wallpapers, these Live Wallpapers don't need to be tapped to animate. Instead, they usually animate when you lift your phone, unlock your phone, and swipe down for notifications. Let's learn how to find and set a live Lock Screen wallpaper, Home Screen wallpaper, or both.
Open the Settings app.


Tap Wallpaper.



Tap Add New Wallpaper.


From here, the Live Wallpaper options are: Weather & Astronomy.



Another iPhone Live Wallpaper option is under Collections. This option features subtly animated bubbles. Tap the Live option you like best.


From here, you will be able to customize the time display and widgets that will be featured on your lock screen.



When you're done, tap Add.


Next, you can either set the wallpaper as a pair, or you can set the Home Screen individually.



When you've finished customizing the Home Screen, tap Done.


This new wallpaper will automatically set as your current.


FAQ:
Did Apple remove iPhone Live Wallpaper? The iOS 16 Software Update removed the option to set a Live Photo as a wallpaper. However, instead of a moving photograph, you can set an entire photo album as a wallpaper that changes automatically or manually. But thankfully, Apple did bring back the ability to set a Live Photo wallpaper with iOS 17, coming in mid-September 2023.

Can I upgrade my iOS from 16 to 17? Yes, and it's quick and simple to do it! All you need to do is go to General Settings and tap on Software Update. iOS 17 will be made available to the public in mid-September of 2023. 

Can you customize iOS Lock Screen? Yes! iOS 17 allows you to customize your iPhone Lock Screen to your heart's content! You can change the color and font of the time and date, add widgets, and set dynamic wallpapers that change with your location, time of day, or activity, the current weather, moon phase, and so much more. If you miss the Live Photo wallpaper, you can always take burst mode photos, add them to an album, create a Photo Shuffle wallpaper, and set your Shuffle Frequency to On Tap.
And that's how to set a live wallpaper on iPhone in iOS 17!