Did you know that you can use the Maps app to top up the transit card in your Apple Wallet without going back and forth between the two apps?
By

Olena Kagui
Updated 03/07/2023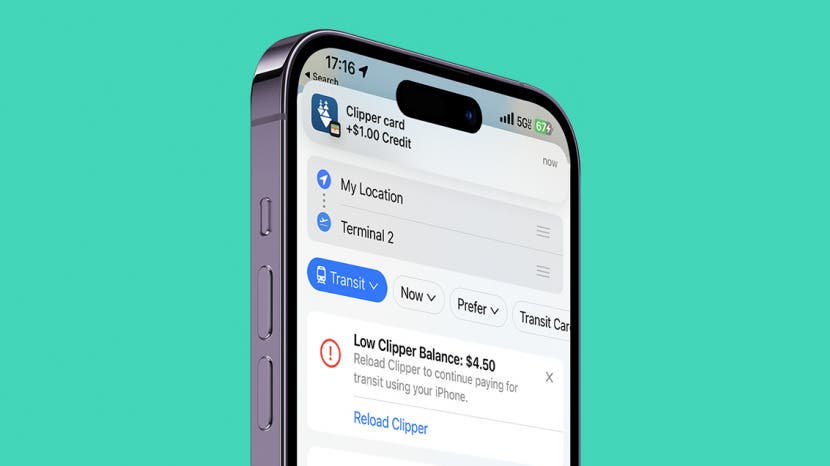 So many people are saving time by adding their transit cards to their Apple Wallets. But did you know that you can refill your transit card directly from the Maps app? The biggest reason to do this is that you can first check how much your commute is going to cost, then top up the correct amount. I'll show you how it works!
Jump To:
How to Top Up Your Apple Wallet Transit Card from Maps
Big cities worldwide are creating virtual transit cards that you can keep in your Apple Wallet. If you need to check if your area uses them, skip down to the section below. If you live in one of the compatible locations, you can refill your transit card directly from the Maps app for extra convenience. You'll need your iPhone updated to iOS 16 or later software for this to work. For more Apple Maps tips, such as how to add transit cards to your Wallet, don't forget to subscribe to our free Tip of the Day newsletter!
Open the Maps app.


Search your destination.


Tap to select it. 


Tap Directions.


Tap Drive or the auto-selected mode of transportation and select Transit.


Scroll down to see the various routes. You'll notice that each one includes the cost.


If you already have a transit card for your location in your Apple Wallet but don't have sufficient funds for the journey, you'll be prompted to tap Reload (Name of Transit Card).


You'll be taken to the Add Money page, where you can select the amount you wish to add. You will see your Current Balance on your display in gray.


Once you are satisfied with the amount on your screen, tap Add.


Next, you'll see your most recently used payment method. You can tap it to change your payment method if you want to use a different card or Apple Cash instead.
Once you are ready to pay and have selected a method with sufficient funds, you will be prompted to double-click your Side button and then use Face ID, Touch ID, or your passcode to authorize the payment.


When you're ready to scan your virtual card, just double-click your Side button (or Home button on an older iPhone) to open your Wallet, scroll to the correct card, and hold it near the scanner while following on-screen directions. If you experience any issues, check out our Apple Pay troubleshooting article.
Where Can You Use Apple Pay Transit Cards?
This new feature is only available in a few countries, but we expect it to become more widespread in the future. Check with Apple for an up-to-date list. At the time of writing, transit cards are available for Apple Wallet in the following North American cities:
USA:
Chicago (Ventra)
Los Angeles (TAP)
New York City (MTA)
Portland (Hop Fastpass)
San Francisco Bay Area (Clipper)
Washington, D.C. (SmartTrip)
Canada:
They are also available in places in Europe and Asia-Pacific. Keep checking it to see if your city is added to the list!
Now you know how to refill the transit card in your Apple Wallet via Maps using Apple Pay!