The Apple Watch Ultra has an 86-decibel siren that can be heard 600 feet away; learn how to use it in an emergency!
By

Olena Kagui
Updated 02/13/2023
What to Know
The Apple Watch Ultra siren can be heard from up to 600 feet away.
If your Apple Watch is wet, the siren will be quieter than 86 decibels.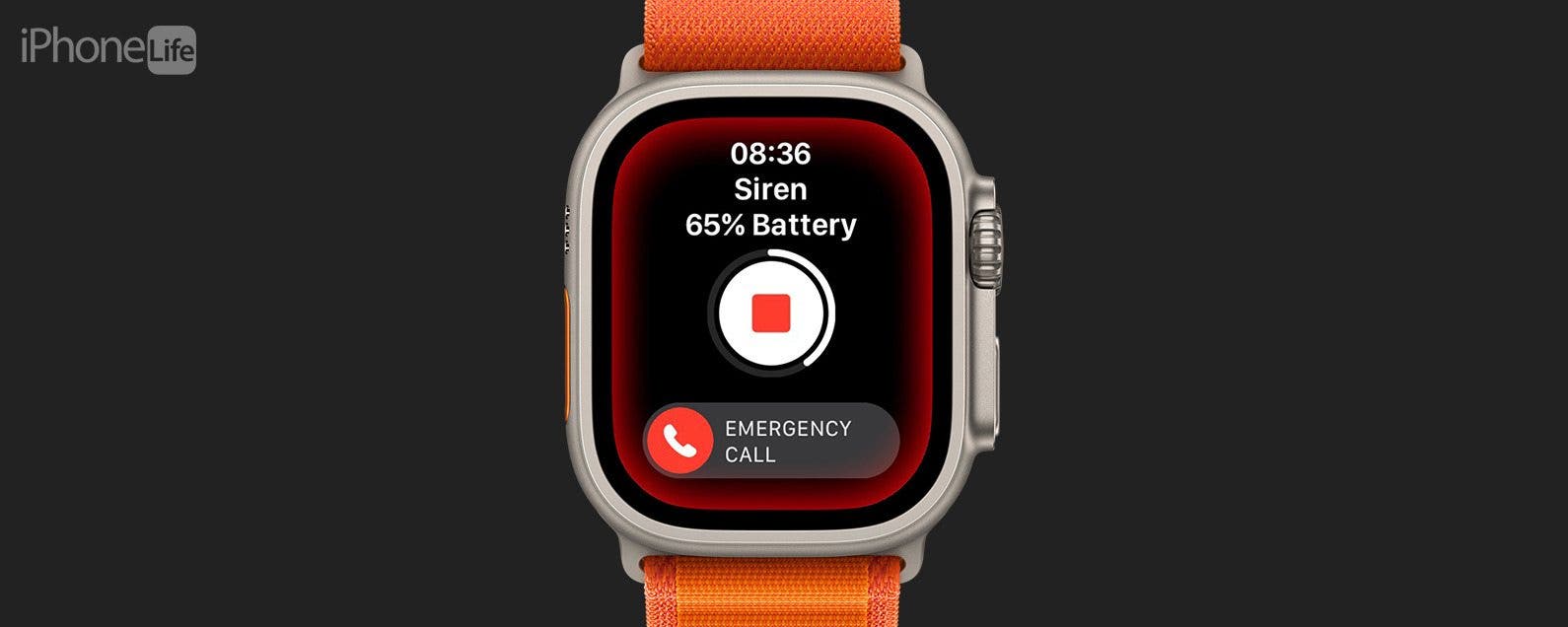 The Apple Watch Ultra is marketed for extreme athletes who may take on more risky activities in their lives. One of the most exciting features for hikers and off-road adventurers is the emergency siren that can be heard from up to 600 feet away! I'll teach you how to use the Apple Watch Ultra Siren, which has the potential to save lives.
How to Turn Your Apple Watch Ultra Siren On & Off
If you are in a pickle, using the Apple Watch Ultra siren can help summon help from someone passing by or the emergency services searching for you. To learn more about your Apple Watch Ultra, remember to sign up for our free Tip of the Day newsletter. To access the Apple Watch Ultra siren:
Hold in the Side button.


Swipe the Siren slider all the way to the right.


The siren will start sounding. You will see the time of day and watch battery life on your display.


Tap the stop button to end the siren if you want to take a break.


Tap the play button to start it again.


Click the Home button to leave the siren menu.


You can also find the Siren Menu by tapping the Siren app icon on your Home screen.


If you have internet or a cellular network, you can also activate Siri and say, "Open Siren."


I find decibels difficult to understand. Do you know how many dB is a police siren? Usually 110-120 dB! This means that your Apple Watch Ultra is quieter but still comparable to an emergency vehicle siren.
Now you know how to use the potentially life-saving Apple Watch Ultra siren feature! We hope it makes you feel safer on your adventures. Read
how to retrace your steps with Backtrack on the Apple Watch Ultra
next to learn about other safety features.